https://portside.org/2022-01-06/tidbits-jan-6-2022-reader-comments-green-new-deal-martin-luther-king-paul-robeson-40s
Author:
Date of source:
Portside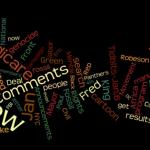 Resources:
Announcements:
Re: The Green New Deal and a Left United Front in 2022
A United Left Front? If it means a bloc of the left as a starting point and spark plug, very good. We even now have a Bill in the House, HR 5124, to get the ball rolling on bringing together environmentalists and trade unionists. See HTTP://mrcampaign.net

It allows us to build all the hardware the GND requires. But the formula is still too narrow. We need a far wider common front to defend democracy and defeat every GOPer, a front against fascism and the neoConfederates. especially on the statehouse level where they are trying to subvert elections. Time is short, Unite the many, defeat the few. The harder the core, the broader the front.
Carl Davidson
Posted on Portside's Facebook page
      =====
Ducks the crucial question: the ruling class and its party - the Democrats.
Permitting the DP into a United Front will be its death.
It's interesting that the author uses the term "United Front" not "Popular Front" to avoid the fact that the Pop Front included Democrats.
David Berger
Posted on Portside's Facebook page
      =====
What's to 'permit'? I would urge the Dems on in their public hearings on Jan 6 and their effort to pass the Voting Rights measures. You severely over-estimate the actual correlation of forces. Defeat every GOPers you can in November. Lead, follow, or get out of the way.
History is always being rewritten, largely for the better, and, fortunately, the future is open. The fascism of the mid1900s was defeated in the US and elsewhere, no? Did the workers do it alone? I think not. In any case, my conception of the common front is all those willing to fight, and if some come from the upper crust, so much the better. Emancipate your thinking.
Carl Davidson
Posted on Portside's Facebook page
      =====
I don't see how this unification can take place as long as we have labor unions that are differentiated by location, specific business, separate skills, or anything else that would put them in competition with each other or larger labor goals (e.g., Universal Health Care). Until we have one National Labor Movement, like we have now for Civil Liberties with cooperation between its separate location and interest sectors, we will have too many divisive issues among people on the left. Otherwise we would have to wait for all sectors of labor (farm workers, service workers, housekeepers, babysitters, etc.) to each get represented separately. One large National Organization should cover all needs.
The opposition to this goal will probably come from the Unions themselves, many of which see their own self-preservation as taking precedence over the needs of the workers.
Arlene Halfon
Washington CC
      =====
We all have to change our ways of life to bring about justice.  Your organization and many, many other progressive organizations have to change your messaging strategy: get off Facebook (its owners are not on our side and they do enormous harm to working people) and put more effort into face-to-face organizing (a fossil free world will be a labor intensive world because human labor is one of the key ways in which solar energy can produce goods and services for ordinary people without fossil fuels).
With appreciation for your progressive intentions,
Jim Lunday
Flags of Seditious, Losing Insurrections in U.S. History  --  cartoon by Nick Anderson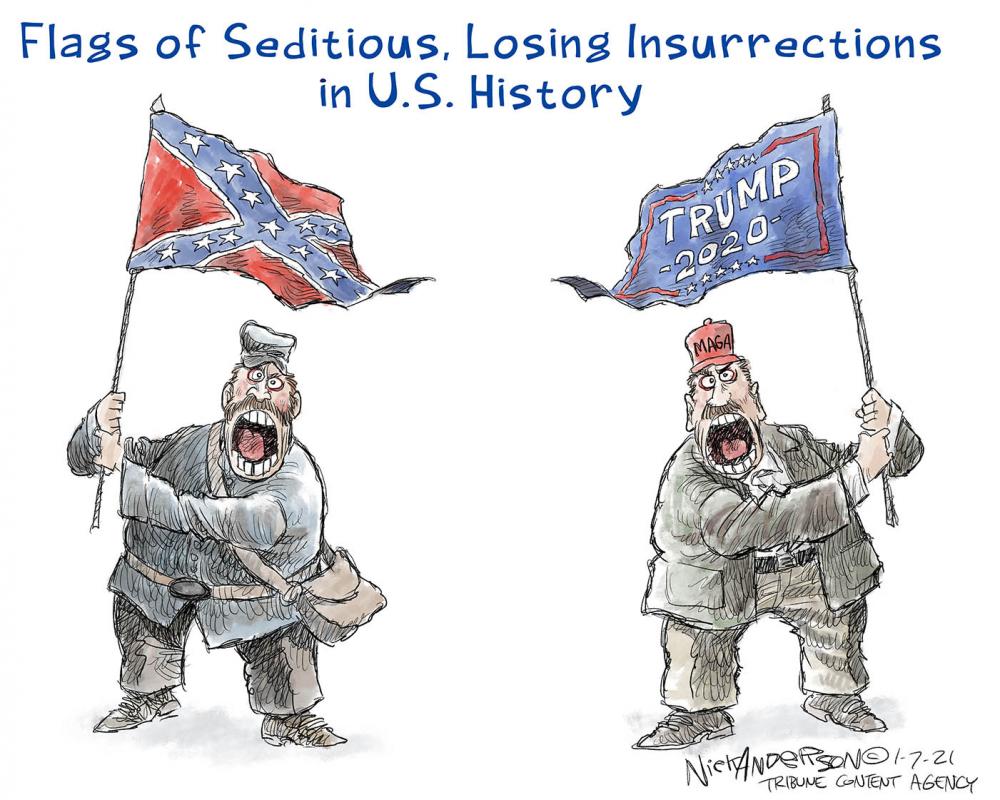 Nick Anderson
January 7, 2022
Re: 3 Retired Generals: The Military Must Prepare Now for a 2024 Insurrection
Tell me that this nightmare is impossible, please!!!
Joe Grogan/Bolton
Big Lies  --  cartoon by Rob Rogers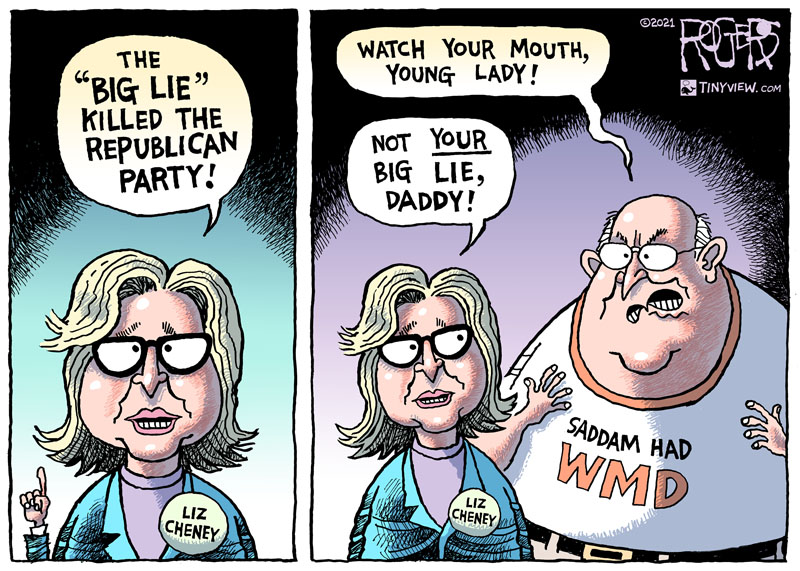 Rob Rogers
May 14, 2021
robrogers.com
 
Re: South Africa Says Its Omicron Wave Has Passed With No Big Spike in Deaths
I just read an article where microbiomed expert stressed the need to stay vigilant, partly because of long Covid.
Chelsea Earles
Posted on Portside's Facebook page
Re: Martin Luther King Was a Radical, Not a Moderate
An excellent article covering King and the many men and women who helped build the civil rights movement. Good to see two women, Rosa Parks and Ella Baker, who we sing about in the Newcastle Peoples Chorus, get a mention.
David Marley
Posted on Portside's Facebook page
      =====
Yes and committed to peace.  Being called a radical is a compliment because it means one so called, goes to the root of things and does not accept superficial analyses.  It takes guts/energy to continue to work for positive change in the face of violence, intimidation and other Right Wing strategies and actions.
Joe
      =====
The author correctly describes M.L.King's public evolution toward increasing radicalism, becoming more and more openly anti-imperialist and anti-capitalist.  But then the article becomes derailed when the author starts predicting what M.L. King's positions would be today.  I suspect they are simply the positions of the author, which do not seem to go beyond liberalism.  And if we are speculating, it would be more reasonable to suggest as an example that King would not only support voting rights but question whether the struggle was about voting for one or the other of the oppressor parties -- might even lead the struggle for independent politics.
Joseph Kaye
Have Gun, Will Travel  --  cartoon by Jack Ohman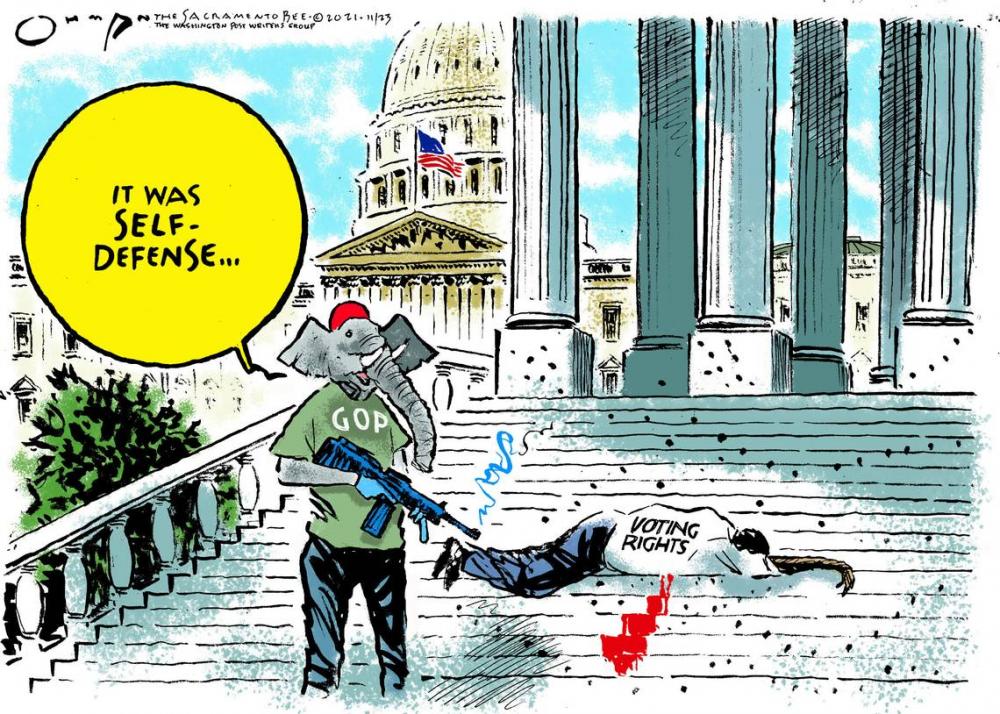 Jack Ohman
November 23, 2021
Sacramento Bee
 
Re: 70 Years Ago Black Activists Accused the U.S. of Genocide. They Should Have Been Taken Seriously.
I would call Atty. William Patterson a leader who deserves his legal title and recognition of his contributions as just that - a leader among activists.
Kay Anderson
      =====
Seventy years ago this month, on Dec. 17, 1951, the United Nations received a bold petition, delivered in two cities at once: Activist William Patterson presented the document to the U.N. assembly in Paris, while his comrade Paul Robeson, the famous actor and singer, did the same at the U.N. offices in New York. W.E.B. Du Bois, a leading Black intellectual, was among the petition's signatories.
The group was accusing the United States of genocide — specifically, genocide against Black people.
The word "genocide" was only seven years old. It had been coined during World War II in a book about Nazi atrocities, and adopted by the United Nations in 1948, though no nation had yet been formally convicted of perpetrating a genocide.
The 240-page petition, "We Charge Genocide: The Crime of Government Against the Negro People," was meant to be sensational. America had been instrumental in prosecuting the Nazis at Nuremberg, and now its own citizens were turning the lens back on the U.S. in the most horrifying, accusatory terms.
Instead, mainstream media largely ignored it. The New York Times and Washington Post mentioned the petition in brief stories buried in the back pages. The Chicago Tribune condemned it for "shameful lies." Raphael Lemkin, the Polish jurist who had coined the term "genocide," publicly disagreed with the whole basis of the petition, saying it confused genocide with discrimination.
The drafters of the document hadn't expected it to go anywhere; they knew the U.S. had too much power at the U.N. for the petition to be taken up. They had written it less as a formal charge than as a presentation of an allegation, loosely written in the model of a legal brief. They hoped, though didn't expect, that the General Assembly, Commission on Human Rights or another party at the U.N. might take up the issue for deliberation. That never happened.
But today, 70 years later, the document has a new resonance amid the patent injustices of police brutality that continue to occur and racial inequities in health care on display especially throughout the pandemic. "We Charge Genocide" explored these kinds of issues at length, making a compelling case for thinking about structural racism as genocide, which demands not only condemnation but also redress and repair. To consider the arguments in "We Charge Genocide," drafted by some of the most notable figures in the midcentury civil rights movement, offers important insights into the current moment and how to move forward.
David Raun
Posted on Portside's Facebook page
Rose-Colored Glasses  -- cartoon by Eric J. Garcia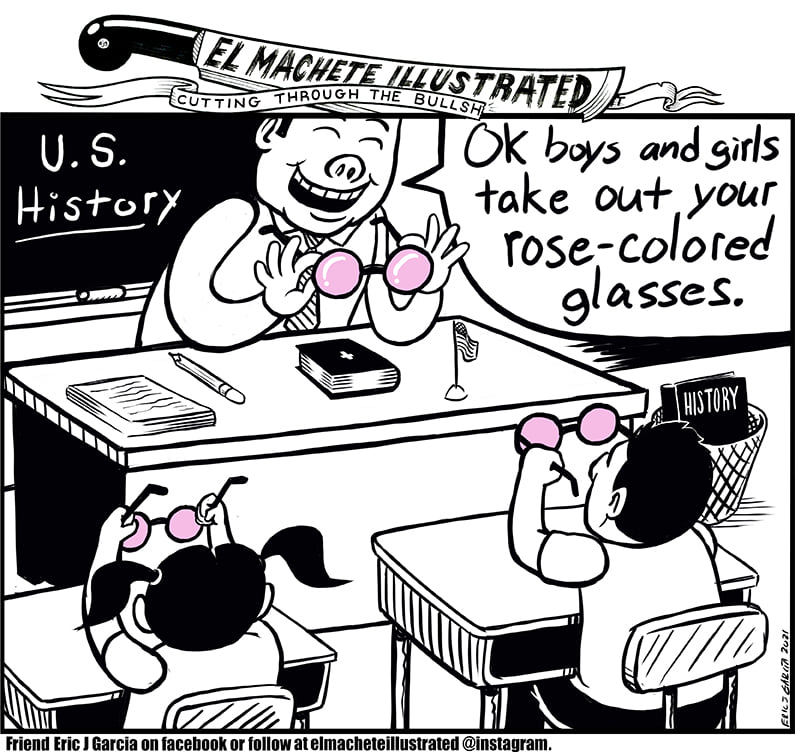 Eric J. Garcia
December 31, 2021
Facebook
 
Re: Angela Davis Speaks on Abolition, Justice for Palestine and Critical Race Theory
She was a Black Panther leader? I thought she left them formally to be a CP leader....
Charles Lenchner
Posted on Portside's Facebook page
Re: We Obtained New FBI Documents on How and Why Fred Hampton Was Murdered
The writers do us a service in revealing more about how COINTELPRO actually worked. But they're wrong that the tension between the Illinois Panthers and the Weathermen (who were headquartered in Chicago) was imposed by the Feds. No doubt the FBI took full advantage, but in fact the Weather were trying to break from the BPP's politics --without crossing the party, since of course the BPP were the main inspiration for Weather's whole schmear.
The rift was public. While never publicly criticizing the Panthers, Weather was focused AGAINST community organizing and service programs, which were central to what the BPP was doing nationally, and in Chicago in particular. It was this difference that provoked tension between the Illinois Panther and Weather leaders. Fred Hampton made criticism of Weather part of his standard speech before the planned national action, the 'days of rage' (which itself was more a West Side Story rehearsal than an assault on imperialism) in October 1969. He called them "anarchistic, Custeristic, Narodnik muddleheads."
Despite the fact that Weather refused to respond, they claimed loyalty to the BPP for being part of 'third world leadership'. But this meant nothing to the Panthers. Hitting up Weather and getting poor mouthed probably did spark the violence against Weather by Panthers. Many in Weather came from big money. Everyone knew the Panthers were on the spot.
Ethan Young
Posted on Portside's Facebook page
      =====
Chairman Fred lays out his criticism in this short TV interview a couple months before his murder.
Fred Hampton talks anarchists, SDS, Weathermen and the white working class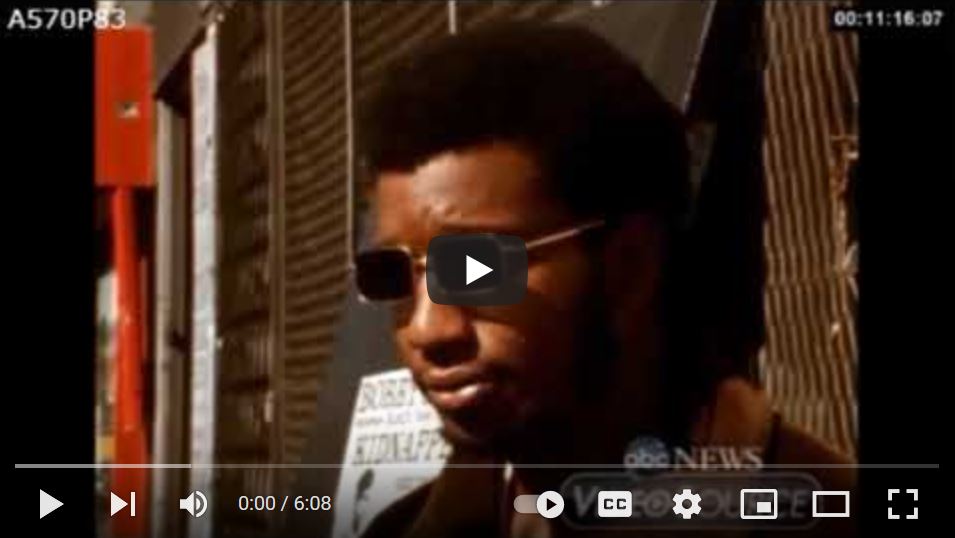 John Tarleton
Posted on Portside's Facebook page
      =====
I wish people would stop talking about the Weathermen as is they represented more than a minor offshoot of SDS. They were nothing, but the media loved them.
William Boardman
Posted on Portside's Facebook page
Re: Our New Year's Resolution for 2022: To Rise Up and Fight Back
It's come time to end corporate bribery there is no other solution.
Jennifer Nouri
Posted on Portside's Facebook page
Re: How CIA Plots Undermined African De-Colonization
I am happy that Portside https://portside.org/2022-01-02/how-cia-plots-undermined-african-de-col… chose to write about the assassination of Lumumba. As a direct result the people of Congo suffered intensely, and still suffer. The story is too big for a facebook post.
Sonia Cobbins
Posted on Portside's Facebook page
Re: A Year That Changed How Athletes Think About Mental Health
These individuals are humans first. Their chosen profession is no different than ours. We chose our professions because it's what we're good at. Their wealth sets is the only thing that sets us apart. They suffer mentally just as any other human. They love like any other human. They have families just like you and I.
I wish people would quit putting these individuals in bottles with screw tops. And only allowing them to escape when we want them to perform for our entertainment.
Wealth brings more opportunities, yes but on the other hand those same opportunities may create other stress factors.
That's my "rambling" for today!
Be well
Stay safe
Kate Smiley
Posted on Portside's Facebook page
      =====
This could also apply to ballet and other endeavors in which the practitioners can be abused by Svengalis like Balanchine.
Sonia
Re: It's a Wonderful Life vs. the FBI
(posting on Portside Culture)
 
Well, when you challenge the commodification of human life, even in an allegory, that'll happen.
Norm Littlejohn
Posted on Portside's Facebook page
 
Fossil fuel firms among biggest spenders on Google ads that look like search results
One in five ads served on search results for 78 climate-related terms placed by firms with interests in fossil fuels, research finds
Niamh McIntyre
January 5, 2022
The Guardian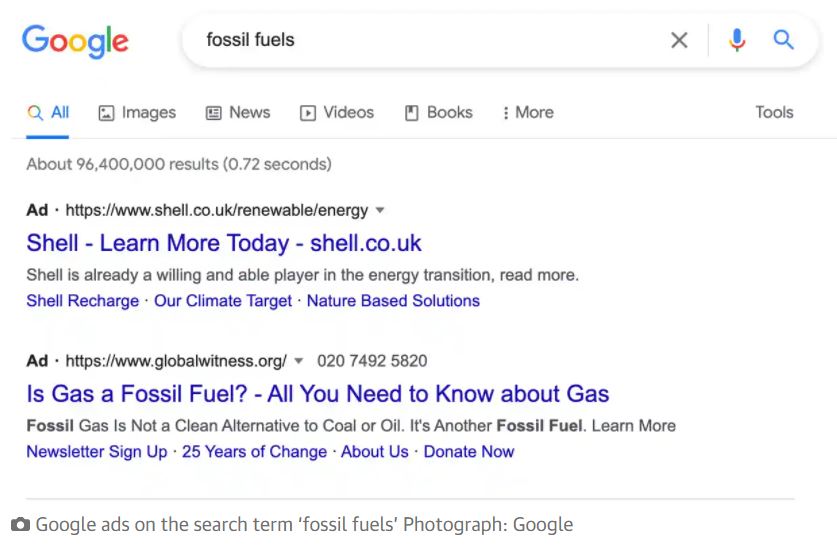 Fossil fuel companies and firms that work closely with them are among the biggest spenders on ads designed to look like Google search results, in what campaigners say is an example of "endemic greenwashing".
The Guardian analysed ads served on Google search results for 78 climate-related terms, in collaboration with InfluenceMap, a thinktank that tracks the lobbying efforts of polluting industries.
The results show that over one in five ads seen in the study – more than 1,600 in total – were placed by companies with significant interests in fossil fuels.
Advertisers pay for their ads to appear on the search engine when a user queries certain terms. The ads are appealing to businesses because they are very similar in appearance to search results: more than half of users in a 2020 survey reported they could not tell the difference between a paid-for listing and a normal Google result.
ExxonMobil, Shell, Aramco, McKinsey, and Goldman Sachs were among the top-20 advertisers on the search terms, while a number of other fossil fuel producers and their financiers also placed ads.
Read full story in The Guardian - click here
 
Exciting news from our campaign to end Medicare Direct Contracting (Physicians for a National Health Program)
January 5, 2022
Thanks to your calls to your Congressional representatives, I'm thrilled to announce that 54 members of Congress have signed onto Rep. Pramila Jayapal's letter to Health and Human Services Secretary Xavier Becerra, demanding an immediate end to the Medicare Direct Contracting (DC) program (read Rep. Jayapal's press release HERE).

The letter, sent today, was signed by several powerful members of the House, including Rep. Rosa DeLauro (CT-03), Chair of both the House Appropriations Committee and the Labor, Health and Human Services, and Education Appropriations Subcommittee; as well as Rep. John Yarmuth (KY-03), Chair of the House Budget Committee. 

While we have much more to do in our effort to end the DC program, this letter represents an extraordinary victory for our campaign. Back in May, four members of Congress (Reps. Mark Pocan, Bill Pascrell, Jr., Lloyd Doggett, and Katie Porter) sounded the alarm about the DC program with a letter to HHS. However, despite growing concern among Medicare-for-All advocates, when we traveled to Washington at the end of November, hardly anyone on Capitol Hill had even heard of the DC program, let alone opposed it. 

In just a few short weeks, PNHP members have made hundreds of phone calls to their reps, signed and shared our DCE petition (which now has more than 10,000 signatures), and shared anti-DC posts on social media. Our media outreach campaign has generated a variety of news stories, op-eds, and letters-to-the-editor, which can be found at pnhp.org/stopDCEs. And thanks to the leadership of Rep. Jayapal, dozens of additional Congresspeople have now joined the fight to protect Medicare. Check the complete list of signers at the bottom of this email to see if your rep. is among them.

As a reminder, the Medicare Direct Contracting program is an attempt to quietly privatize Traditional Medicare. Under this program, seniors who actively choose Traditional Medicare are automatically enrolled into a third-party "Direct Contracting Entity (DCE)" without their full knowledge or consent. Medicare then pays DCEs a lump sum to manage beneficiaries' care, allowing DCEs to keep up to 40% of what they don't pay for in medical services as profit — a dangerous incentive to ration and restrict care. And as we recently learned, once a senior is auto-enrolled into a DCE, their only way out of the program is to change primary care providers. 

Direct Contracting threatens the health of seniors and the future of Traditional Medicare, and it must be stopped. In the coming weeks, we'll contact you with more ways to get involved in this important campaign. 

In solidarity,

Susan Rogers, M.D.
President, Physicians for a National Health Program
Signers to Rep. Jayapal's DCE letter
Alma Adams (NC-12)
Karen Bass (CA-37)
Donald S. Beyer Jr. (VA-08)
Earl Blumenauer (OR-03)
Suzanne Bonamici (OR-01)
Jamaal Bowman, Ed.D. (NY-16)
Cori Bush (MO-01)
Salud Carbajal (CA-24)
Andre Carson (IN-07)
David Cicilline (RI-01)
Yvette D. Clarke (NY-09)
Steve Cohen (TN-09)
Gerald E. Connolly (VA-11)
Jim Cooper (TN-05)
Jason Crow (CO-06)
Danny K. Davis (IL-07)
Peter A. DeFazio (OR-04)
Rosa L. DeLauro (CT-03)
Mark DeSaulnier (CA-11)
Debbie Dingell (MI-12)
Mike Doyle (PA-18)
Adriano Espaillat (NY-13)
Sylvia R. Garcia (TX-29)
Jesús G. "Chuy" García (IL-04)
Raúl M. Grijalva (AZ-03)
Jared Huffman (CA-02)
Pramila Jayapal (WA-7)
Mondaire Jones (NY-17)
John B. Larson (CT-01)
Barbara Lee (CA-13)
Mike Levin (CA-49)
James P. McGovern (MA-02)
Joseph Morelle (NY-25)
Jerrold Nadler (NY-10)
Joe Neguse (CO-02)
Marie Newman (IL-03)
Eleanor Holmes Norton (DC-00)
Alexandria Ocasio-Cortez (NY-14)
Ilhan Omar (MN-05)
Donald M. Payne, Jr. (NJ-10)
Mark Pocan (WI-02)
Katie Porter (CA-45)
Ayanna Pressley (MA-07)
Jamie Raskin (MD-08)
Jan Schakowsky (IL-09)
Robert C. "Bobby" Scott (VA-03)
Mary Gay Scanlon (PA-05)
Mark Takano (CA-41)
Dina Titus (NV-01)
Rashida Tlaib (MI-13)
Bonnie Watson Coleman (NJ-12)
Peter Welch (VT-At Large)
Nikema Williams (GA-05)
John B. Yarmuth (KY-03)
Physicians for a National Health Program
29 E Madison St Ste 1412 | Chicago, Illinois 60602
312-782-6006 | info@pnhp.org
NYC Labor & the New Mayor: Prospects for Workers in a Post-Pandemic City - January 27 (CUNY School of Labor and Urban Studies)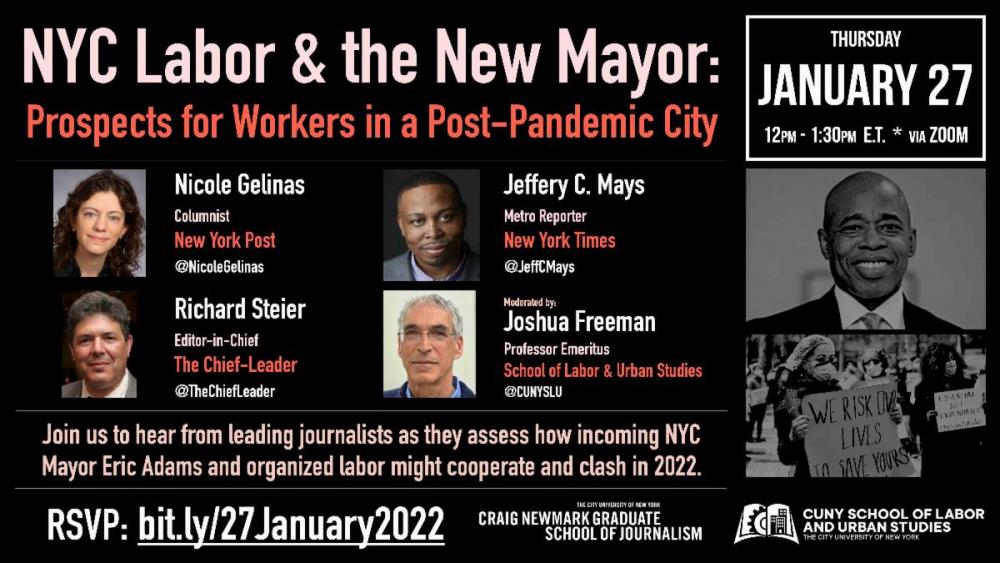 Thursday, January 27, 2022  
12:00 PM - 1:30 PM (E.T.)
Join us to learn from leading journalists as they assess how incoming New York City Mayor Eric Adams and organized labor might cooperate and clash in 2022.
SPEAKERS:
Nicole Gelinas - Columnist, The New York Post
Jeffery C. Mays - Metro Reporter, The New York Times
Richard Steier - Editor-in-Chief, The Chief-Leader
Moderator:
Joshua Freeman - Professor Emeritus, CUNY School of Labor and Urban Studies
CUNY School of Labor and Urban Studies
25 West 43rd Street, 18th Floor
New York, NY 10036