https://portside.org/2022-09-14/global-left-midweek-september-14-2022
Author:
Date of source:
Portside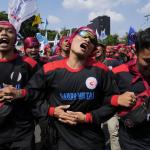 __________
Decolonization Needed for Eco-Justice in Africa
Mbong Akiy Fokwa Tsafack / Common Dreams (Portland ME)
From Somalia to Nigeria, from South Africa to Algeria, households across Africa are facing a worsening climate crisis, with  floods, extreme heat waves, wildfires, droughts and rising food prices. Yet our leaders are making a case for more oil and gas exploration at the upcoming climate conference in Egypt, an absurd choice that is bound to turn a bad situation even worse. 
__________
Cost-of-Living Protests Sweep the Planet
Jessica Byrne / Thred (London)
The cost of living is now higher than it's been in four decades. Citizen protests are erupting around the world, despite being granted government subsidies and promises of capped energy prices. What will happen when winter arrives?
__________
Afghan Girls Stand Against School Closure
Dozens of girls protest in Gardez city after the Taliban shuts four schools, which were reopened on the intervention of tribal elders and school principals.
__________
How These British Workers Won a 44% Raise
Polly Smythe / Novara Media (London)
Thanks to a campaign supported by Sheffield Needs a Pay Rise (SNAP) and the Bakers, Food and Allied Workers' Union (BFAWU), workers at a Sheffield food hall have secured a whopping 44% pay rise, an end to zero-hours contracts, and ready access to protective cleaning equipment.
__________
What Haiti Needs
Tanya Wadhwa / Peoples Dispatch (New Delhi)
On September 7, tens of thousands of citizens hit the streets in the capital Port-au-Prince and other major cities in rejection of widespread insecurity, severe scarcity of fuel, high cost of living, and the devaluation of the national currency against the USD. In Port-au-Prince, protesters organized roadblocks with burning tires, rocks, and trucks. 
__________
Kohei Saito's Capital in the Anthropocene
Justin McCurry / The Guardian (London)
A Japanese academic's book on Marxism and the environment has become a surprise bestseller, and will soon be available in English. It argues that capitalism's demand for unlimited profits is destroying the planet and only "degrowth" can repair the damage by slowing down social production and sharing wealth.
__________
More on Chile
Noam Titelman / NACLA Report (New York)
What one year ago seemed like it would be a formality to ratify the constitutional process ended up being a crushing defeat for progressive Chilean forces. How did a process that began with a historic level of support end up so truncated? What happened to the support for the constitutional process?
__________
LGBTQ in Eastern Europe
Ukraine   Enrique Anarte / Gay Times (London)
 
Poland   Daniel Tilles / Notes From Poland (Kraków)
 
Serbia   / Peoples Dispatch
 
__________
Running as Sewer Socialists in Vancouver
Dr. Karina Zeidler / The Georgia Straight (Vancouver)
The Sewer Socialists who ran Milwaukee in the early 20th century didn't just do a little trimming around the edges of the misery of American urban life. Instead, they made everyone's lives measurably better. In Vancouver, all levels of government have simply failed to tax the rich enough to pay for delivering safe air, and we are paying the price in needless illness, injury, and death. 
__________
Protests Push Indonesian Authorities
Stanley Widianto and Ananda Teresia / Reuters (London)
Indonesia will review minimum wage and other labour rules, the president's office said on Tuesday, after trade unions staged nation-wide protests against a recent hike in petrol prices that they say has come even as incomes stagnate.