https://portside.org/2023-01-12/act-fascism-and-supremacy-israel-bans-palestinian-flags-public-spaces
Author: Brett Wilkins
Date of source:
Common Dreams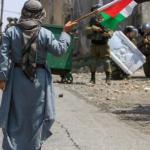 Israeli Public Security Minister Itamar Ben-Gvir, leader of the ultranationalist Otzma Yehudit (Jewish Power) party, said in a statement that he directed Police Commissioner Kobi Shabtai to implement the new policy, TheTimes of Israel reports.
"It can't be that lawbreakers wave terror flags, incite and support terror, and therefore I have ordered that terror-supporting flags be removed from the public space," explained Ben-Gvir—who was convicted in 2007 of incitement to racism and supporting a terrorist organization after he advocated the ethnic cleansing of Palestinians.
Husam Zomlot, who heads Palestine's diplomatic mission to the United Kingdom, on Monday called the flag ban "repressive, racist, and childish."
"Grow up," Zomlot tweeted. "Banning our flag—like it once was—is pointless posturing and a dog whistle to supremacists. It will backfire spectacularly."
"Like the original ban, it will encourage instead our people and freedom-loving people everywhere to brandish the Palestinian flag," he added, referring to a previous prohibition that sparked widespread defiance and creative acts of resistance before it was lifted in 1993 under the Oslo Accords.
Palestinian-American author and policy expert Yousef Munayyer tweeted Monday that "Israel holds an entire stateless nation under military occupation. They got enough nukes to start a regional conflagration. But they fear a piece of cloth."
On Monday, Palestinian Prime Minister Mohammad Shtayyeh accused Israel's new far-right government of pursuing policies "aimed at toppling the [Palestinian National Authority] and pushing it to the brink financially and institutionally."
Referring to policies including the withholding of $40 million in Palestinian tax revenue and the flag ban, Shtayyeh added that "we consider these measures a new war against the Palestinian people, their capabilities and funds, and a war against the national authority."
More than 1 in 5 citizens of Israel are Arabs, most of them descendants of people who remained in Palestine after the modern state of Israel was founded there in 1948, largely through terrorism and ethnic cleansing targeting Palestinians and British occupiers.
However, Israeli soldiers and police can remove the flags if they are deemed to pose a threat to public order.
In practice, Israeli occupation forces often target people carrying Palestinian flags during protests. Israeli police faced international condemnation after beating mourners and arresting people for raising Palestinian flags during the funeral procession for Shireen Abu Akleh, the Palestinian-American Al Jazeera reporter killed by occupation forces last May.
Ben-Gvir's directive also followed the release last week of 66-year-old Karim Younis, widely described as the "oldest Palestinian political prisoner," after 40 years behind bars for killing an Israeli soldier in the illegally occupied Syrian Golan Heights.
According to TheTimes of Israel, Shabtai was reprimanded by Ben-Gvir for failing an order to prevent public celebration in Younis' village of 'Ara, where a jubilant crowd waved Palestinian flags and chanted liberation slogans to welcome the freed prisoner home.
[Brett Wilkins is a staff writer for Common Dreams.]
Licensed under Creative Commons (CC BY-NC-ND 3.0). Feel free to republish and share widely.