https://portside.org/2013-09-02/where-papers
Author: Communication Workers of America
Date of source:
Communication Workers of America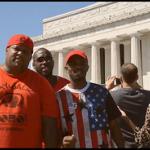 Brooklyn workers have been negotiating with Cablevision now for over 18 months. They have endured illegal terminations, threats, illegal surveillance, bad faith bargaining, and lower wages than all the other technicians at Cablevision. Despite all the harassment, the workers refuse to give up on the vision of a fair contract.
Tell Cablevision CEO James Dolan: It's time to sign a contract that pays Cablevision techs in Brooklyn fairly.
Take action at http://action.cwa-union.org/c/1660/p/dia/action3/common/public/?action_…
or Watch on youtube: "Where the Papers At? at http://www.youtube.com/watch?v=jX_M1zeuoR0