https://portside.org/2018-03-29/tidbits-march-29-2018-reader-comments-nation-demands-gun-control-parkland-manifesto
Author:
Date of source:
Portside
Announcements:
Re: Parkland Students: Our Manifesto

Note that they didn't propose "taking away everybody's guns" that will be the 2nd Amendment supporters response. BTW, the 2nd Amendment: "A well regulated militia, being necessary to the security of a free state, the right of the people to keep and bear arms, shall not be infringed." We now have the greatest armed forces in the world, what these young people propose makes perfect sense
Chas Paddock
Posted on Portside's Facebook page
=====
Excellent. I have read this carefully and I am in agreement with the entire proposal.
Nancy Madden
Posted on Portside's Facebook page
=====
I am in total agreement. As specific as you can get.
Bonnie Schollianos
Posted on Portside's Facebook page
Youth Of Color Are Demanding To Be Heard On Gun Reform - Let's Listen

This past weekend, as hundreds of thousands of people participated in 'March For Our Lives' events across the nation, youth of color demanded attention be paid to gun violence that exists in communities of color. Notably, 11 year old Naomi Wadler, delivered a powerful speech honoring Black girls and women of color who are victims of gun violence, whose deaths are underrepresented in media.
We must remember the issue of gun violence is intersectional. From Parkland, to Ferguson, to Standing Rock, to the mass shootings that occur in America each year, the increasing amount of violence calls for mindful strategies and solutions. Students of color are critiquing and condemning proposals to arm teachers or add additional officers to schools, citing the school to prison pipeline. The death of Stephon Clark, who was shot 22 times in his backyard by two police officers this March, shows why it is critical to apply a racial justice lens and systemic analysis to gun violence prevention proposals which can have dire consequences for communities of color.
Commit to helping others understand how carceral and surveillance-based anti-gun violence measures can lead to more criminalization of people of color. Visit our Mass Freedom website for tools and resources, as well as testimonies from those affected by policies that negatively impact marginalized communities.
Race Forward & Center for Social Inclusion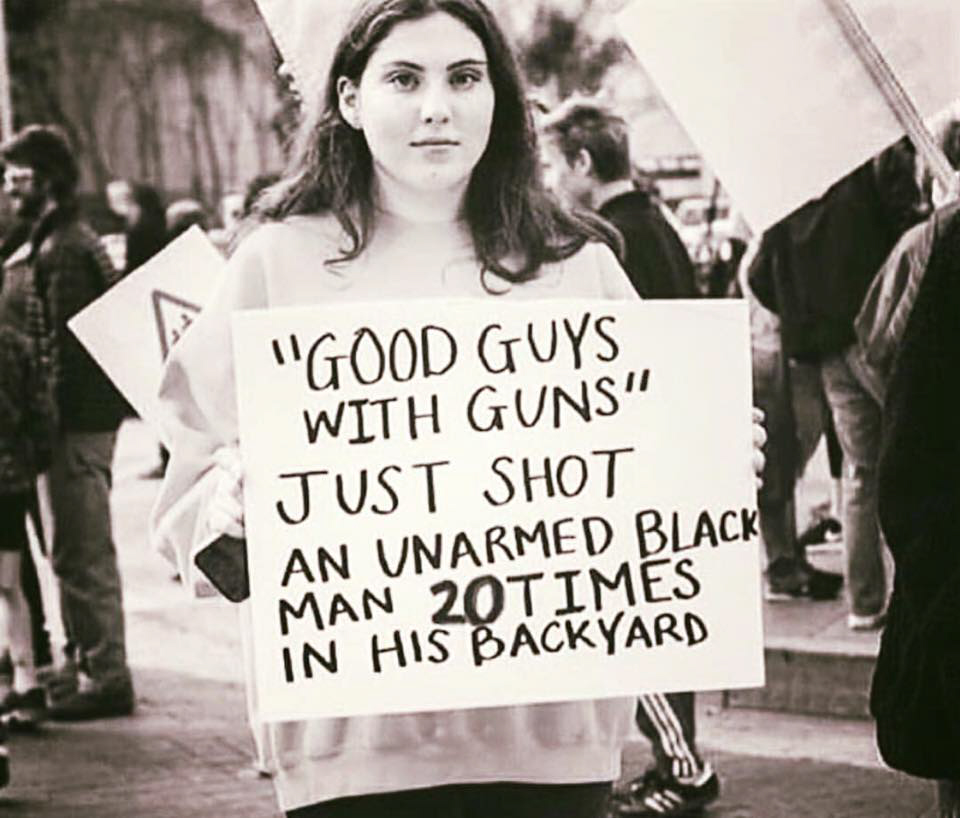 Oppressed People of America
posting on Facebook
The Other NRA - cartoon by Joe Heller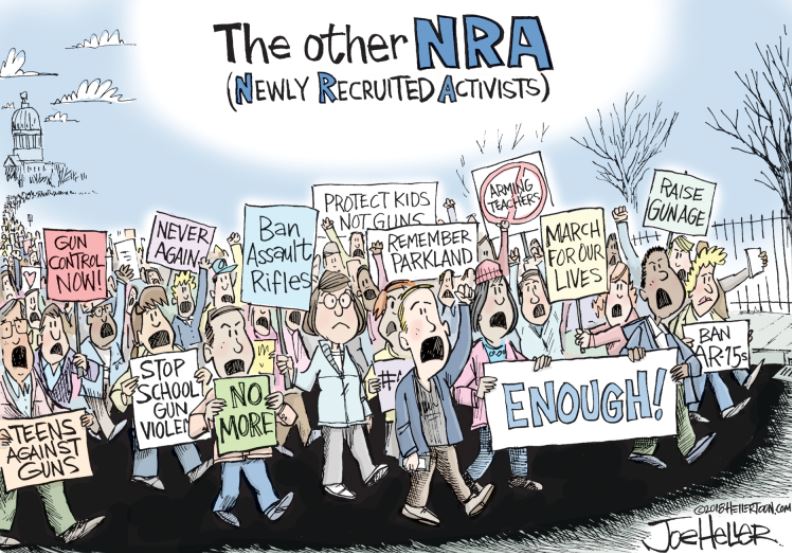 Joe Heller
March 24, 2018
Green Bay Press-Gazette
Re: 2018 Elections - How to Win; What are the Lessons of Lamb's Victory

Robert Borosage correctly pointed out in his article recently posted on Portside that the Democratic Congressional Campaign Committee model of supporting candidates for public office who embrace "the center" is a recipe for failure. United Way data-based reports of 15 state economies demonstrate that thirty to over forty percent of households live on less than a livable income. The United Way and other studies suggest that large segments of the potential electorate, working people, will be concerned about their economic futures. For Borosage the Congressional Progressive Caucus "People's Budget," which supports "major reinvestments in our country through infrastructure, education, and wage growth to increase opportunity for all" is more likely to address the needs of the vast majority of those who live in the United States. And candidates' support of a progressive agenda will not only affect the choices voters make but their likelihood to turn out to vote as well.
Harry Targ
March for our Lives - cartoon by Robert Ariail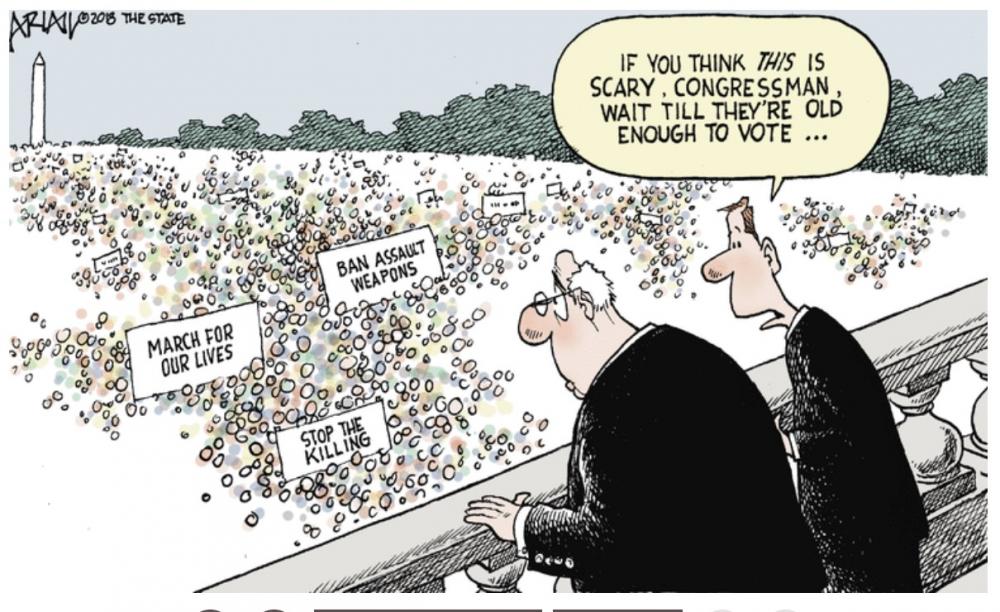 Robert Ariail
March 27, 2018
The State (Columbia SC)
Re: America Takes the Next Step Toward Tyranny

"a late-stage democracy, dripping with decadence and corruption, with elites dedicated primarily to enriching themselves, and a people well past any kind of civic virtue, morphs so easily into tyranny."
Craig Carl
Posted on Portside's Facebook page
=====
Let's not forget he asked attendees at his rallies to swear allegiance to him. In Vermont if you didn't raise your hand you were ejected. Several of the videos have been removed. Hitler like salute.
Donald Trump leads massive rally in pledge to vote for him -
'Raise your right hand': Striking photo shows Donald Trump leading massive rally in pledge to vote for him
Business Insider
David Denson
Posted on Portside's Facebook page
=====
"When fascism comes to America it will be draped in the flag and carrying a cross" - Sinclair Lewis 1936
Linda Cintrón
Posted on Portside's Facebook page
Re: As Trump consolidates his power, the history of 1930s Germany repeats itself

'I have been reading about Germany in the 1930s, about what happened when a great and cultured country was handed over to a gang of sadists, misogynists, and racists, when security services were given carte blanche to use the methods of the iron fist, and when torturers were rewarded by promotion rather than prosecuted for their crimes.
.
And I have been reading about what happened when the great mass of the citizenry either supported the transformation or sat back and did nothing, some mistaking their silence and disdain for effective opposition, others simply hoping against hope for "normalcy" to return.'
Hilda Marshall
Posted on Portside's Facebook page
Re: John Bolton's War: A Question Of When, Not If?

Never met a war he didn't like -- except, of course, Viet Nam, which he avoided fighting in.
Eric Ebel
Posted on Portside's Facebook page
Bolton, At Your Service - cartoon by Matt Wuerker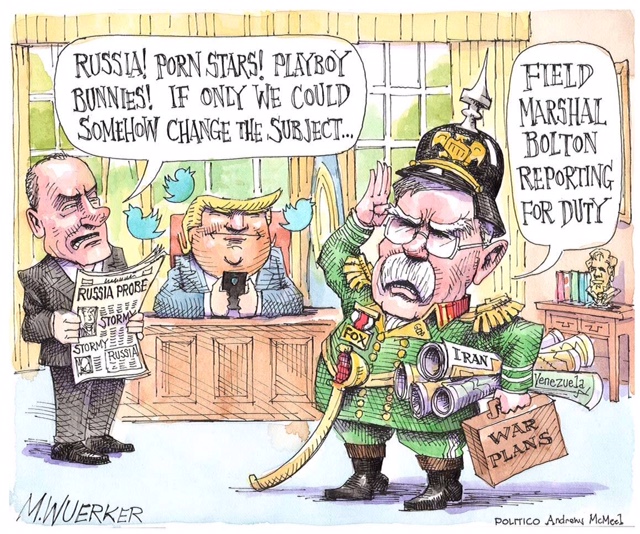 Matt Wuerker
March 1, 2018
Politico
What Was the Vietnam War About?

Well past time for all of us, especially those of us in the cold global north, to re-examine for ourselves the history we were taught in school and the diet we have been fed by our governments.
Sarah Grey
Posted on Portside's Facebook page
Re: An Incomplete List of Things Black People Should Avoid Doing So They Won't Be Killed by Police

My heart broke reading this. I can't imagine having to live this everyday. My hope is that most people of all colors don't experience it all day every day but even once in a while is too much. Just because of the color of your skin which you had no control over. Be proud of your heritage and know that some white people do see you simply as fellow humans.
Sandy Grubb
Posted on Portside's Facebook page
=====
There is not a thing funny about this situation or humorous about the way it was written. It's telling it like it is, in my mind, it's as good as "say their names". It is absolutely heartbreaking, and it ain't new. In fact, it's just a legal way to continue lynching. People in uniform acting as the defense for a city/state/nation do not like having power taken away from them, and as thee Black Lives Matter movement grows bigger and stronger, these racist cops, become more and more threatened.
Phyllis Mandel
Posted on Portside's Facebook page
Re: Puerto Rico - The Battle for Paradise

Shock Doctrine on full deployment!!
José M Hernández
Posted on Portside's Facebook page
=====
Excellent article that shows a myriad of insurmountable problems with some rays of hope...
Maria Elena Salinas
Posted on Portside's Facebook page
Re: U.S. Union Membership Data in Perspective
(posting on Portside Labor)
false dawn -- most growth is result of increased hiring in already unionized workplaces.
David H Slavin, PhD
Decatur GA
=====
The more important numbers are union membership about 14 million--same as in 1945 union membership in private sector--about 7%--same as in 1900. We have been pushed back 83 years and 118 years so don't let a slight increase fool us. We need new strategies and attitudes.
My new book, Don't Trump on Us: Making Our Unions Great Again which starts with these figures as a challenge for every one of us.
Bill Barry
(posting on Portside Labor)
A big part of the resurgence in support for unions is happening among the young , because of Bernie Sanders, yes, and their support for his fundamental democratic socialist ideals, but also because of a strong shift in attitude..which, for the young, means co-operative effort rather than competitive jostling , there is a ladder to climb, but young people support each other while climbing it, instead of climbing over, or on top of, each other..and that difference will mean success, ultimately..co-operation always works...
Wendi Galczik
Posted on Portside's Facebook page
Re: Why Europe's Center-Left Keeps Losing Elections

And WE Need to Learn This!
Mike Glick
Posted on Portside's Facebook page
=====
Globalism and the multi nationalists have sold the world a false ideology, that free . market capitalism would bring prosperity to the world. It's time for the "emperor" to be seen for what he is not: the only benefits to the world go to the very wealthy, their investors and their media supporters. Populist nationalism is a knee jerk reaction to the problem caused by "Free market Capitalism."
Don Cavin
Posted on Portside's Facebook page
=====
It would be interesting to incorporate the Venezuelan experience, or the Latin American experience more broadly, into this narrative.
Jay Jurie
Posted on Portside's Facebook page
Re: Brazilian Democracy in Peril

With the corrupted far right in power back by the USA, anything is possible...
Ariel Ayala Vera
Posted on Portside's Facebook page
=====
That's how the dictatorships work to silence the democratic right. Watch out [for] the dictatorships' followers and believers in our country. They are dangerous.
Jos' Collazo
Posted on Portside's Facebook page
=====
Democracy is in peril in Brazil as it is all over the world. Reagan and Thatcher started kicking a neoliberal ball down the way and that has snowballed into an ber capitalist monster that feeds on democracies and shits corporate oligarchies. And if you have a problem with that, they stand ready to send the United States Marine Corps over your way to see what the f**k is wrong with you.
Roberto Bouret
Posted on Portside's Facebook page
Re: The Case for Free Public Transport

Of course, I am for free public transportation and not only in Scotland but I love the political platform here of the Scottish Socialist Party. The benefits are clear: improved environmental quality, lower costs for most of us. Tax the rich to pay for it. Without political power, though, this a vision. How do we make this happen here? Thanks to Portside for sending this along.
Daniel Millstone
Posted on Portside's Facebook page
Re: The Pentagon's New Partner for Building Drones Should Make Us All Nervous

In every insurrection, revolt or revolution, there comes the moment when government troops are faced with the question of whether or not to fire on and kill citizens protesting or revolting against the government. At some point, soldiers, police, national guards, must decide to kill their relatives, neighbors, townspeople, fellow citizens -- or not. Military robots will have no compunctions about such killing. AI does not have compunctions. Robots will carry out their programming. Ah, freedom from the weakness and faults of human soldiers. Now that's a goal fascists and oligarchs can get behind.
Dr. Lapin
Petition: Keep Rosa Luxemburg's Birthplace Plaque in Zamosc!

Protest against the removal of a plaque commemorating the birthplace of Rosa Luxemburg in the Polish city of Zamosc.
We the undersigned protest against the removal of a plaque commemorating the birthplace of Rosa Luxemburg in the Polish city of Zamosc. We demand that the local government authorities in Zamosc return the plaque to its rightful place.
Rosa Luxemburg is a renowned historical figure of the international left. She was a believer in socialism, democracy and internationalism. Luxemburg was imprisoned on numerous occasions throughout her life and in 1919 was tragically killed by the Freikorps troops in Berlin.
She was also an important and original left-wing thinker and writer, whose work continues to have a lasting influence around the world. We believe that the removal of this plaque is unjustified and is another example of how history is being ideologically distorted by the authorities in Poland
Her memory and legacy should be preserved in the place of her birth. Rosa Luxemburg has an indisputable place in world history as well as in the history of the city of Zamosc!
This petition has jointly been created by transform!'s member organisation Fundacja "Naprzód and the Red, and Red and Black History Campaign. Action supported by: The Social Forum Discussion Club.
Sign the petition here.
There will be no Tidbits April 5 and April 12
May Made Me - An oral history of the 1968 uprising in France - New York - April 22


New Perspectives Theatre Company
458 W. 37th Street
New York, New York 10018
An oral history of the 1968 uprising in France with author Mitch Abidor
The mass protests that shook France in May 1968 were exciting, dangerous, creative and influential, changing European politics to this day. Students demonstrated, workers went on general strike, factories and universities were occupied. At the height of its momentum, it brought the entire national economy to a halt. The protests reached such a point that the French and international bourgeoisie feared civil war or revolution.
Fifty years later, here are the eye-opening oral testimonies of those young rebels. By listening to the voices of students and workers, as opposed to that of their leaders, May '68 appears not just as a mass event, but rather as an event driven by millions of individuals, achieving a mosaic human portrait of France at the time.
Published on the 50th anniversary of those days in the spring of 68, May Made Me presents the legacy of the uprising: how those explosive experiences changed the individuals who participated and their lives as lived since then.
Mitch Abidor is a translator from Brooklyn whose works among many translations include A Socialist History of the French Revolution by Jean JaurŠs and Anarchists Never Surrender and other works by Victor Serge.
Hosted by Marxist Education Project
¡Adelante, Cuba! Festival – A Celebration of the Rich and Vibrant Artists of Cuba - New York - Apr 22 – 28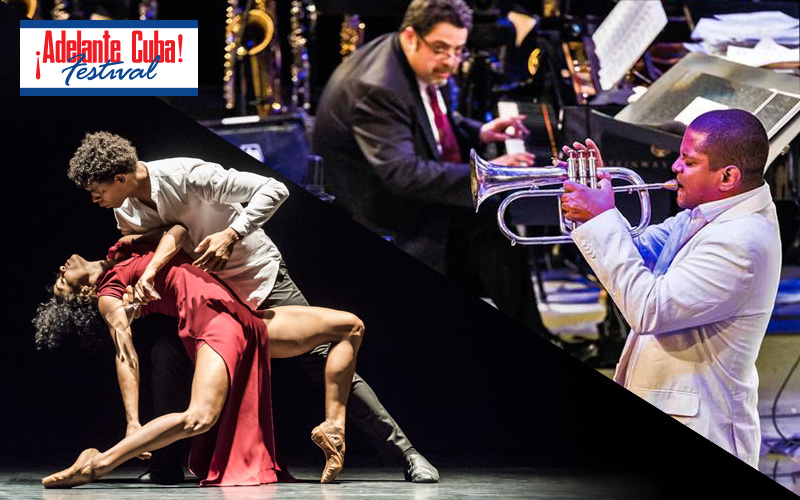 Take a trip to Cuba without leaving New York! The ¡Adelante, Cuba! Festival connects you to world-class dance, music, talks, and master classes at City Center, with a special event kickoff at The Greene Space on April 22. Festival highlights include acclaimed dance troupe Acosta Danza (Apr 25 – 27) in its US premiere and a night of performances from jazz giant Arturo O'Farrill, his Afro Latin Jazz Orchestra, and special guests—including Havana rapper Telmary Diaz, famed singer Omara Portuondo, jazz pianist Roberto Fonseca, Camerata Romeu, the first all-female string orchestra in Latin America, and trumpet player Yasek Manzano (Apr 28).
Tickets start at $25
New York City Center
131 W 55th St (between Sixth and Seventh avenues)
New York, NY 10019
Workers' Rights in the Gig Economy: A Conference on Policy and Organizing Responses to Precarious Work - New York - April 27 and 28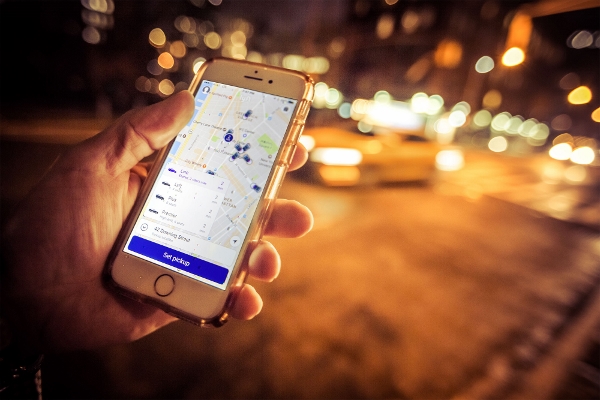 This multi-stakeholder convening uniquely brings together government agencies, labor organizations, and scholars to share experiences and best practices in dealing with the impact of non-standard work, also known as on-demand or gig-economy work. Participants will discuss new policy and organizing strategies, impacts of technological change, and the use of digital platforms to promote workers' rights.

Belfer Research Building
Weill Cornell Medical College
413 E 69th St., NYC
We are excited to welcome the following speakers – along with dozens of other experts – to share their perspectives:
Vincent Alvarez, President, New York City Central Labor Council (NYC CLC)
Irene Jor, New York Director, National Domestic Workers Alliance (NDWA)
Erica Smiley, Organizing Director, Jobs with Justice (JwJ)
KEYNOTE SPEAKERS:
Bhairavi Desai, Executive Director, New York Taxi Workers Alliance
Cyrus Vance, Jr., District Attorney, New York County
May Day The Historical Society of Forest Park (Chicago area)- April 29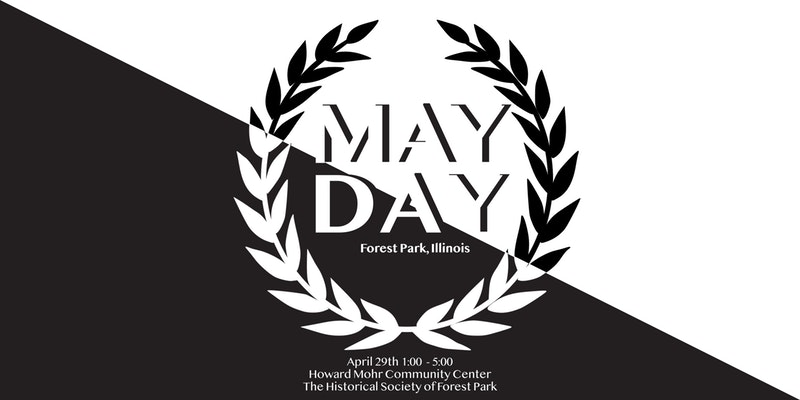 Sunday, April 29, 2018
1:00 PM - 5:00 PM
Howard Mohr Community Center
7640 Jackson Boulevard
Forest Park, IL 60130
In 1886 during a peaceful rally in support of workers striking for an eight-hour day and in reaction to the killing of several workers the previous day by the police. An unknown person threw a bomb at police as they acted to disperse the public meeting. The police panicked, and in the darkness, many shot at their own men. Eventually, seven policemen died, only one directly accountable to the bomb. Four workers were also killed.
Eight men, representing a cross-section of the labor movement were selected to be tried. On August 20, 1886, the jury reported its verdict of guilty with the death penalty by hanging for seven of the Haymarket Eight, and 15 years of hard labor for Oscar Neebe. The national and worldwide pressure did finally force the Governor to change the sentences of Samuel Fielden and Michael Schwab to imprisonment for life. Although 5 of the 8 were still to be hung the next day, on the morning of November 10, Louis Lingg was found in his cell, his head half blown away by a dynamite cap.
Forest Park Illinois is proud to be the final resting place for seven of the eight Haymarket Martyrs. Radicals still choose to be buried alongside the Haymarket Martyrs, referred to as Radical Row, including Lucy Parsons, Emma Goldman, and Ben Reitman. The Haymarket Martyrs Monument became a National Historic Landmark in 1997.
To celebrate our historical connection to International May Day, the Historical Society of Forest Park will present a Sunday afternoon of food, history, music, and fun at Howard Mohr Community Center. Tickets include a buffet of German food with vegan options. Musical performances by Jon Langford and Al Scorch.
Both the Howard Mohr Community Center and the Haymarket Martyrs Monument are a short walk from the Forest Park CTA blue line stop. A shuttle bus will be available between the community center and monument.
The following organizations and business will have tables during the event:
Illinois Labor History Society
Centuries and Sleuths Bookstore
Girls Rock Chicago!
League of Women Voters Oak Park-River Forest
Beer Sponsored by Revolution Brewery
Purchase tickets here.
Mother Jones May Day Birthday Party - Chicago - May 1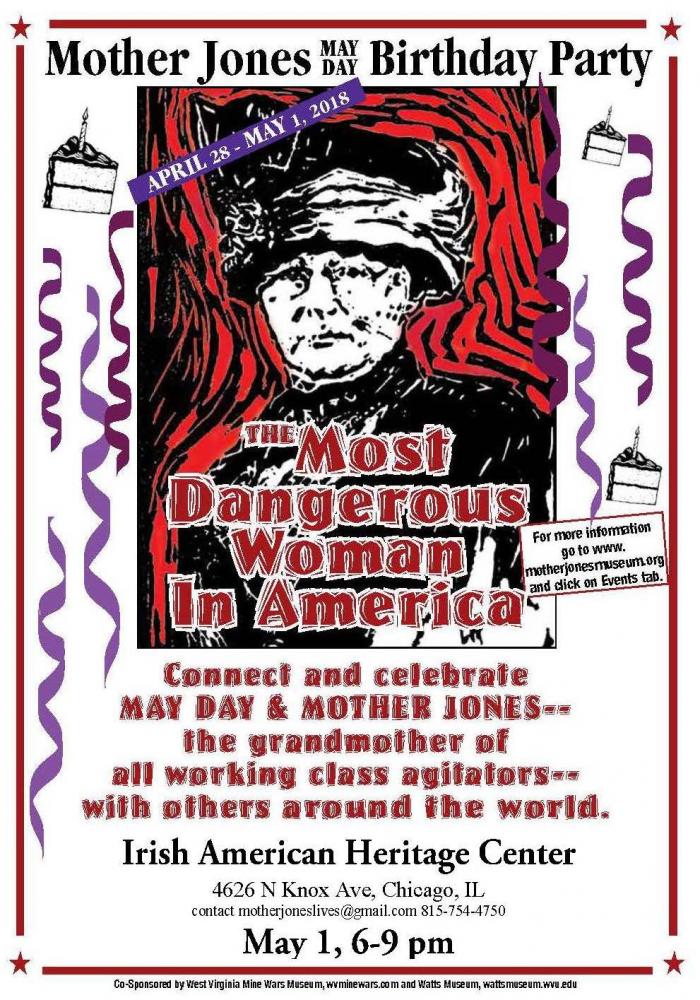 Tuesday, May 1 -- 6 PM - 9 PM
Irish American Heritage Center
4626 N Knox Avenue
Chicago, Illinois 60630
Co-sponsored by Mother Jones Heritage Project ; see more info about other parties April 28-May 1 here.
This event is co-sponsored by Working Women's History Project and is hosted by Irish American Heritage Society. The event is free and there is food available for purchase at the bar. We will likely have snacks as well.