https://portside.org/2018-07-19/tidbits-july-19-2018-reader-comments-democrats-cant-ignore-left-readers-debate-mueller
Author:
Date of source:
Portside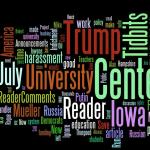 Resources:
Announcements/Take Action:
Re: Democrats Ignore the Left at Their Peril; They Had Money, We Had People - How Ocasio-Cortez Persuaded Thousands
 
Outworking opponents, giving people a reason to come out to vote, and demographics all factor into election victories. Demographics are very important; otherwise, elected officials won't reflect the population, which would be anti-democratic. Also important is expanding the electorate, not restricting it, and not having tortured, gerrymandered districts.
The left and liberals-we must work together-need it all: great candidates who outwork their opponents and who give the people great reasons to vote in districts that are fairly drawn and with electorates that aren't restricted by the Republican Party.
Mike Arney
     =====
And divide us again so that the GOP wins with or without Russia's help!
Olga I. Rodriguez
Posted on Portside's Facebook page
Re: America Must Deal with Donald Trump, the First Rogue President
 
This is pretty darned good!
The missing piece, though, is that although he closes with this comment: "Rogue Trump is a crisis made in America. America is where it must be fixed," Tisdale doesn't offer any thoughts about *how.* We all know that Trump is USica's problem to fix. So far, though, there is little agreement about what to do next that will actually fix it.
There are facing so many systemic obstacles that the "fix" will take decades, but most of us don't think that we have that kind of time, that it's already too late to reverse so much of the damage.
Alice Chan
Posted on Portside's Facebook page
Re: Robert Reich: How to Prevent Future Trumps
(posting on Friday Nite Videos)
Very interesting video, and Reich nails the connection between the frustration of many white working-class people and racism.  But his prescription addresses everything except the latter.
Genocide and enslavement of Native Americans and Africans is at the root of the system that exploits and oppresses everyone.  It continues today.  There are laws of political economy just like there are laws of nature. Capitalism and white supremacy are the twins of history that will inevitably take us to the end of the human race unless they are stopped.  This requires a conscious, mass fight against both at the same time.
Ted Pearson
Re: How the Mueller News Is an Indictment of.Donald Trump and His GOP Enablers
 
His enablers are as disgusting as he is.
Shawna McKellar
Posted on Portside's Facebook page
     =====
Rehashing old (and unsubstantiated) claims. David Corn.
Portside should know better.
Dale Jacobson
Posted on Portside's Facebook page
     =====
The Mueller indictments reinforce what we already know: That Mueller is an FBI guy, and the FBI wants the new Cold War with Russia.
David Corn? Oh please, spare me! Mueller's charges reinforce what we already knew: That Mueller is an FBI guy, and the FBI wants the Cold War to go on forever.
"I do not believe the establishment Russia narrative. I do not believe that Donald Trump colluded with the Russian government to rig the 2016 election. I do not believe the Russian government did any election rigging for Trump to collude with. This is not because I believe Vladimir Putin is some kind of blueberry-picking girl scout, and it certainly isn't because I think the Russian government is unwilling or incapable of meddling in the affairs of other nations to some extent when it suits them. It is simply because I am aware that the US intelligence community lies constantly as a matter of policy, and because I understand how the burden of proof works." 
    Five Things That Would Make The CIA/CNN Russia Narrative More Believable
    Caitlin Johnstone, Rogue Journalist
Alan Hart
Posted on Portside's Facebook page
Re: Will Trump Be Meeting With His Counterpart - Or His Handler?
 
I am shocked and saddened that Portside is printing the nonsense from Chait and Corn on Russian "collusion" with Trump in the US political process. This "demonization" of Putin and Russia is an obvious ploy by the Democratic Party (the supposedly more "liberal" wing of the US capitalist class) to divert attention from its own undemocratic "collusion" in--among other anti-democratic actions--sabotaging the Sanders campaign. 
Very sad that Portside is now caught up in supporting the age-old capitalist tactic of demonizing--during the Cold War it was the USSR, now it is its successor, Russia. The reality is that the whole business smells of a CIA operation--let us not forget that this whole affair was prompted by Wikileaks' revelation of the CIA's hacking into citizens' cellphones, TVs, etc., as well as the sabotage of the Sanders campaign by the "progressive" Democratic Party leadership. Suddenly, the tables have been turned, and the wonderful CIA, the NSA, and other reactionary institutions are the good people, protecting us from the evil Russians who are "meddling" in our "democracy" (incidentally, the US has been far and away the biggest meddler in elections worldwide). 
For Portside to print the trash of Corn, Chait and other "progressives"--who have become shills of the CIA and the most reactionary institutions of US capitalism--is a disgrace.
Jeff Surovell
Employee Review - Cartoon by Lalo Alcaraz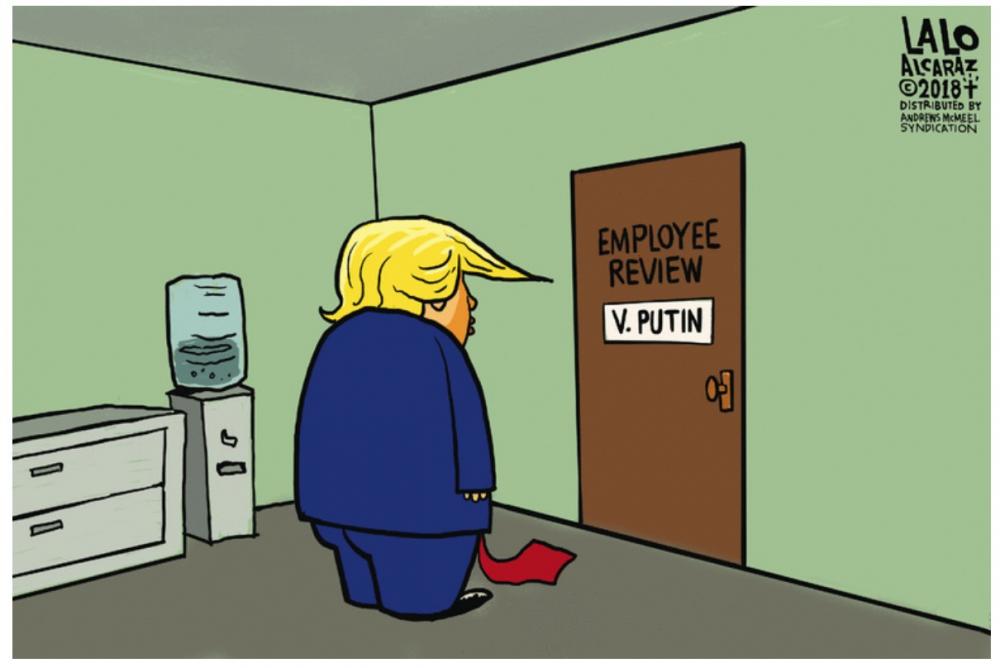 July 16, 2018
Re: What's Behind the Trade War?
 
The question is why? What's in it for him & his cohorts. How does destroying the underpinnings of your world, help you "stay in your place"?
Phroska McAlister
Posted on Portside's Facebook page
     =====
I think he's going to see it backfire big time!
Howie Leveton 
Posted on Portside's Facebook page
     =====
Following Putin's orders
Pat Storey
Posted on Portside's Facebook page
Who is the Current President - Herbert Hoover or Donald Trump?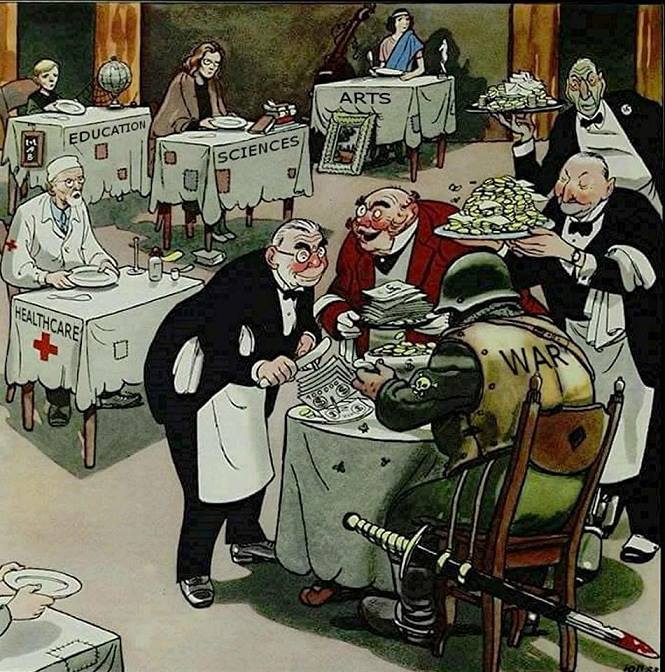 Re: America Now Has Its First Fascist President
 
Recently I read the article, "America Now Has Its First Fascist President," on Portside. As a longtime labor union activist, I must say, we continue to shoot ourselves in the foot.
This turgid article is a good case in point. It seems as if you guys will distribute anything that attacks Trump. But because such articles are way over the top, it makes the left ineffectual, just a bunch of hand-wringing crazies, IMHO.
I'm with Chomsky when he says there are two basic issues facing humanity: environmental degradation due to global warming, and the possibility of nuclear war.  To the extent that Trump is getting closer to Russia, that's a good thing for the second issue. We should do everything we can to decrease the possibility of nuclear conflict.
As for the first issue, there's no doubt that Trump is a disaster when it comes to the environment. Let's put that together with Bernie's program -- free college, universal health care, and a $15 minimum wage. Those four issues should be the pillars of the Left's program. All the other issues should fall by the wayside -- that is, immigration, transgender rights, abortion, gun control.
We can't have it all, guys. Let's not blow this.
Alan Saly
Sunset Park, Brooklyn
Re: What Does It Mean to Abolish ICE?
 
I hate to say it, but they will never abolish ICE in the sense that it will totally be gone. If anything, they will chip off pieces to make other units specifically geared to each area. There will be a new unit that strictly oversees immigration. will that be better?? I don't know!!
Gigi Morales
Posted on Portside's Facebook page
Re: Neglected Tropical Diseases: The Rural South's Invisible Public Health Crisis
 
But of course, the US gets offended by the UN report on poverty.
Victor Villariny
Posted on Portside's Facebook page
     =====
Alabama has more than 800,000 private septic systems for people not hooked up to municipal wastewater systems. About a quarter of them are failing.
That number isn't unusually high for a rural Southern state, said Mark Barnett, a professor of environmental engineering at Auburn University and American Society of Civil Engineers (ASCE) member. In the Black Belt, it's "even harder for rural residents to afford and maintain working septic systems," Barnett said, so finding ways to install, repair, and rehabilitate sewer and wastewater treatment plants are top priorities.
With ASCE, Barnett lobbies legislators to fund rural infrastructure improvements.
Our Wisconsin Revolution - Wolf River Chapter
Posted on Portside's Facebook page
Re: U.S. Opposition to Breast-Feeding Resolution Stuns World Health Officials
 
The data also demonstrate clearly that breast feeding offers protection against later breast cancers to the mother. Oh wait...this Administration only cares about women as incubators...what happens later is unimportant.
James Caola
Posted on Portside's Facebook page
Re: How Corporations Plan To Use Janus To Turn Workers Against Their Own Unions
(posting on Portside Labor)
Probably the canvassers are unpaid interns, too stupid and privileged to know they're complicit in their own oppression. When they come to your door, ask them how much they're being paid.
Eleanor Roosevelt
Posted on Portside's Facebook page
Re: See Teacher Run. Run, Teacher, Run.
 
Educators are teaching us the meaning of democracy...beginning with an educated and informed population.
Gary Kanter
Posted on Portside's Facebook page
Re: New Hampshire Reacts To Janus Decision
(posting on Portside Labor)
During strike time, couldn't union people conduct "schools" to teach folks social history? The uninformed public could then see that unions are "positive"---not just reactive and negative.
see here.
Dave Lewit
     =====
Dark money politics has Concord New Hampshire. Stop unions don't let people band together to sue employers corporations no matter what they do to you now which is a lot lied to you kill you can't sue them. New Hampshire motto live free and die now means corporations live free and you die that'll be a $8,000 fee to for dying at my job site
Todd Allen
Posted on Portside's Facebook page
     =====
What an assault to unions... the agenda continues to hurt workers.
Carmelo Gonzalez
Posted on Portside's Facebook page
     =====
Conservatives say they hate activist judges. Hahahahahahaha! Bullshit. They love activist judges who do what they want them to do. Don't deny it.
Dan Jordan
Posted on Portside's Facebook page
Re: OECD Employment Outlook 2018
(posting on Portside Labor)
Once again, seniors are let out of the picture entirely. Due to ageism, it's very difficult now to get a job after age 50, no matter how good your resume is. And if you can't find a job so you have a "gap" in your resume, it's even harder. What has been needed for at least 30 years is a Federal Jobs Program that is for everyone who wants apart time or full time job, including seniors. Some seniors want to work, at lest some days on and some days off, and some need financially to continue to work. What a waste of talent, experience, and work ethic!I hope you can support and encourage this.
Thank you.
Karen B. Holden
Re: The Vetting of Thurgood Marshall — and a Lesson for Today
 
Your article on Thurgood Marshall omits a crucial fact about Marshall relevant to the Left. Marshall spied for the FBI and gave them reports on individuals, such as Robert F. Williams, and on the Communist Party. This disgusting work goes hand in hand with other aspects of his career.
This article, while justifying what Marshall did, provides a summary of his work.
Thurgood Marshall Had a Secret Relationship with the FBI
David Berger
Re: The Zombie Guest Worker Bill
 
It sounds like Goodlatte wants to bring back the antebellum plantation system in place before the Civil War.
James Vaughn
Posted on Portside's Facebook page
Re: Taking on Dirty Power in Richmond, California
(posting on Portside Culture)
Grateful to Mike for penning such a thoughtful review.
In solidarity, 
Tim Sheard, Hard Ball Press
Re: Washington State Will Likely Vote on a Carbon Price in November. The Oil Industry's Already Fighting It
 
Interesting. Tax proposal for industries who discharge carbon emissions. Gas companies oppose the bill meaning this tax is bad for them and good for everyone else.
Luis RiosPerez
Posted on Portside's Facebook page
Re: Methane Leaks from Oil and Gas 60% Higher Than EPA Estimates, New Study Finds
 
Have you been following this? Methane, a highly potent greenhouse gas, leaks into the air during oil and gas production and shipment. The Environmental Defense Fund has been touting gas as a transition fuel but the levels of leaks make gas an extraordinary pollution source. Under already incredibly lax rules fossil fuel folk have not reduced emissions. We need to step away from fossil fuels. Thanks Sharon Kelly for the very clear report and to Portside https://portside.org/2018-07-16/methane-leaks-oil-and-gas-60-higher-epa… for the link.
Daniel Millstone
Posted on Portside's Facebook page
Re: North Korea Agreed to Denuclearize, but When Will the US?
 
To counter the MIC's potential losses if peace breaks out in Korea, Trump urges NATO to make up by increasing investments in war by 4%
mike munk
Re: Green Day - American Idiot
(posting on Friday Nite Videos)
Small correction:  Green Day are an American band from California. They are not British.
Delfina Vannucci
Posted on Portside's Facebook page
Sexual harassment at Anglo-American University - Red Alert from Prague
 
Below is a link to an article from a left journal here in Prague. It refers to a case we have been supporting for the past three months.
Sexual harassment at Anglo-American University
The Anglo-American University is a private institution set up about 20 years ago. It is accredited by the Western Association of Schools and Colleges in the US. Additionally, the law degree at AAU is accredited by the University of London. There are at least four teachers who are involved but our hardest evidence refer to the Dr Dix. Everything that was included in the published article was cleared by our lawyers. However, we have witness statements, audio recordings, letters and e-mails which show systematic abuse in the university. We have one uncorroborated claim of rape by a member of the teaching staff. 
I was wondering whether you would be interested in this article given that there will be some US students who may be thinking of attending this university but also given that it is a US accrediting body which has oversight.
Read full article here. 
Sexual harassment at Anglo-American University
Veronika Pehe, Apolena Rychlíková
July 16, 2018
A2larm (Praha, Czech Republic)
Inappropriate emails with a sexual subtext, unprofessional behaviour, and abuses of power.
NEW TOOLKIT: Take your Cuba Advocacy to the Next Level!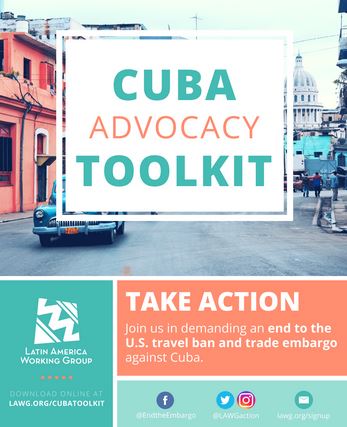 Today we're launching our brand new Cuba Advocacy Toolkit! This comprehensive resource contains everything you need to educate, advocate, and mobilize for a forward-looking U.S. Cuba policy.
Current U.S. policies towards our island neighbor make visiting far from easy. And more importantly, our outdated and inhumane embargo against Cuba is hurting ordinary cubanos—keeping families apart, harming small business owners, and depriving normal citizens of basic goods. 
This toolkit is meant to empower YOU to take action to end the travel ban and trade embargo against Cuba. It includes an overview of U.S. policy changes under the Trump Administration, a timeline of events since the historic thawing of relations in December 2014, a list of progressive Cuba bills currently in Congress, and ideas on how to use your own experience to help chip away at these nonsensical, Cold-War-Era policies.
Together we will stand up for what's right and speak out for Cubans and Cuban Americans on both shores. And we hope you find this toolkit helpful along the way.
¡Adelante!,
Mavis Anderson for the LAWG team—Lisa, Mavis, Daniella, Andrea, and Lily
2029 P Street NW, Suite 301, Washington, DC 20036
Phone: (202) 546-7010
Email: lawg@lawg.org
Save Our Labor Center - Join the fight to preserve the University of Iowa Labor Center
 

The University of Iowa is trying to close the UI Labor Center.
University of Iowa administrators have announced their intent to close the UI Labor Center — the only unit in the entire state university system that specializes in research and education for and about Iowa workers.
The decision was made without proper input.
The decision to close the Center was made with NO prior discussion with the Labor Center, UI faculty, workers, students, or community partners who rely on the Center's education and research.
The Labor Center belongs to Iowans!
The Center was established in 1951 and has been built by the contributions and support of generations of Iowans for nearly 70 years. 
The Center educates thousands of Iowa workers each year.
The Center provides direct education for more than 2,500 Iowa workers annually across the state. It impacts many thousands more as these continuing education students bring knowledge of health and safety laws, antidiscrimination rights, and leadership skills back to their workplaces and communities to grow Iowa's economy. 
The Center is critical to student success, faculty research, and teaching.
Faculty who study and teach on labor and employment law, immigration, public policy, Iowa history, occupational health and safety, and the economy rely on the Center as a resource and hub for coordinating interdisciplinary research on a wide range of work-related issues. Center staff teach undergraduate classes, mentor students, supervise experiential student learning, research projects, and internships, and support student job placement in labor and employment-related fields. These functions are not duplicated anywhere else in the Regents system.
The Center is a model public-private partnership.
The work of the Center is sustained by funds from program fees, competitive grants, and a small but essential University funding commitment. 
Closing the Center is a money grab.
Now the University is trying to hijack the only university funds across the state that are committed to serving Iowa's workers.
It's not about state funding cuts.
The Labor Center's annual General Education Fund (GEF) allocation from the UI has already been cut multiple times and is now less than one-thousandth of one percent (0.00075) of the UI's total GEF budget. The Center's entire 2018 GEF allocation is less than the UI President's annual salary.
The costs of destroying the Center are immeasurable.
Iowans are at risk of losing access to critical education and leadership development programs. Because worker education has a proven track record of decreasing problems like workplace fatalities, harassment, discrimination, and wage payment violations, Iowans can expect these and other serious problems to increase.
The UI is at risk of losing:
Public trust, if it destroys a commitment generations of state leaders and UI administrators have made to Iowa workers, and attempts to repurpose the Labor Center's small funding allocation.
Consideration for federal grants in areas of Labor Center expertise, such as the $950,000 in competitive federal funding the Center has secured since 2002, and tens of thousands of dollars annually raised by the Labor Center from program fess and sponsorships.
Crown jewels of the University, such as the Iowa Labor History Oral History Project, the Center's entire repertoire of high-quality educational manuals and curricula, and continually in-demand resources created by initiatives such as the Iowa Worker Rights Project and the Child Labor Public Education Project.
Discussions are ongoing — join the discussion!
The Labor Center reports that they are in dialogue with University of Iowa administrators about the Center's future. Join the discussion! 
Save Our Labor Center - supporters and friends of the University of Iowa Labor Center