The Vetting of Thurgood Marshall — and a Lesson for Today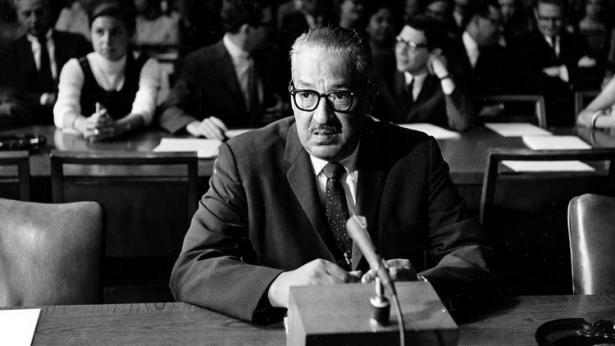 Solicitor General Thurgood Marshall, nominated by President Lyndon B. Johnson to the U.S. Supreme Court, sits at the witness table before testifying on his fitness for the post before the Senate Judiciary Committee, in Washington, D.C., July 18, 1967.,Associated Press
Thurgood Marshall was not the best choice for the open seat on the U.S. Court of Appeals for the 2nd Circuit in the fall of 1961. At least that's what many Southern white attorneys stated when the FBI interviewed them as part of a nationwide investigation for President John Kennedy.
It would be two full years before civil rights leaders would see Kennedy as an advocate of their cause, but the president pleasantly surprised them with his bold decision to appoint Marshall to the federal bench not long after the FBI concluded its investigation.
Many of the FBI reports from the South were damning. A report from Richmond, Va., quoted a prominent attorney as saying that "If Marshall were a white man, he would never be considered for a judgeship." The dismissive attorney also described Marshall as a "run of the mill" attorney with "below average" legal abilities, no experience beyond civil rights, and "biased and bigoted in his approach to issues concerning members of his own race."

Perhaps there was something to this criticism. Marshall, after all, received his legal training not from Harvard, Yale, Chicago, or any other fertile ground for future federal judges, but from a school that he considered below average — Howard University School of Law. At the time, it was a school that Marshall knew he could gain admission to, even with his average grades from Lincoln University in Pennsylvania.
Marshall's legal experience was also very limited, though by his own design. At Howard, he received the education of a lifetime from the rigorous Charles Hamilton Houston, a proponent of using law to advance the cause of civil rights. Marshall became a fervent disciple, and rather than accepting a full ride for a Harvard J.D. following graduation, the young attorney steered his budding career toward a job that would make history — legal counsel for the NAACP.
Marshall won that job in his mid-20s, and for the next quarter-century he built a career that earned him a nickname known to everyday African-Americans across the country — "Mr. Civil Rights." As special counsel of the NAACP, and later as director-counsel of the NAACP Legal Defense and Educational Fund, Marshall won landmark Supreme Court cases that desegregated schools from kindergarten to the graduate level, dismantled "the white primary" (long used to disfranchise blacks in the South), and invalidated property covenants that prevented African-Americans from owning or occupying real estate in white areas.
The Southern critic was right: Marshall's experience was limited in focus. But it was limited to the honorable cause of wielding the Constitution, especially the 14th Amendment, as if it were a sword designed to cut down anyone who dared to suggest that African-Americans were second-class citizens. Marshall's focus on fighting for civil rights also meant that he did not have even an ounce of judicial experience in 1961.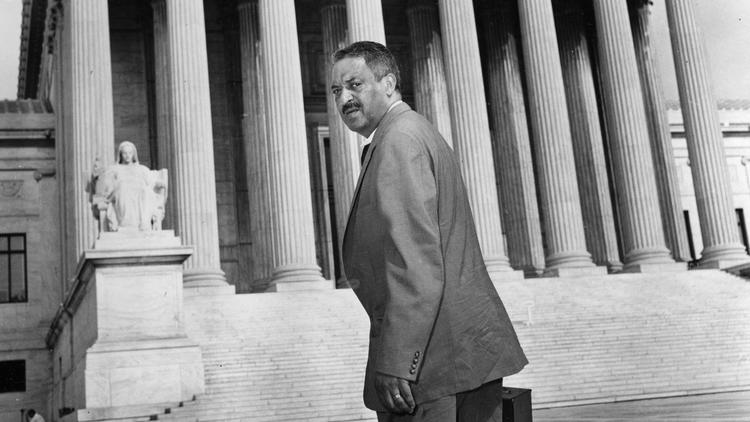 But the Southern attorney and his fellow critics were also wrong, and there was at least one among them who knew exactly that — Virginia Gov. J. Lindsay Almond Jr. In his prior role as the state's attorney general, Almond had argued against Marshall numerous times in federal court, and his knowledge of Marshall's legal temperament was extensive.
Almond did not draw attention to Marshall's obvious lack of a pedigree when the FBI interviewed him; nor did he dispute Marshall's s narrow focus. Instead, the governor characterized Marshall as "a very capable lawyer; level-headed and highly experienced." He also said "that as far as deciding matters concerning racial segregation … Mr. Marshall as a judge would lean over backwards in order to decide a case strictly on its merits," and that "many people who might question the qualifications for Mr. Marshall for the judiciary would be highly influenced in their judgments because of Mr. Marshall's race." And to top it off, the Southern governor added "that Marshall might place a more liberal interpretation on some matters of law, particularly those dealing with segregation, than many other lawyers would," but that "Mr. Marshall's courtroom demeanor and legal talent" would make him "a very fine judge."
History proved Almond to be a good judge of Marshall's abilities. Although he had neither a Harvard degree nor a wide range of legal experiences, Marshall possessed an extraordinary judicial temperament and proved to be an outstanding federal judge. Of his 98 majority decisions on the circuit court, not even one was overturned by the Supreme Court, and in his later role as solicitor general, he won 14 of the 19 cases he argued before the Supreme Court.
Almond, of course, also correctly predicted Marshall's liberal leanings. As associate justice of the Supreme Court, Marshall sought to assure that our legal system would be better attuned to the needs of minorities, pregnant women, people on death row and everyday citizens in need of protection from corrupt companies, thuggish police officers and criminal politicians.
The surprising part of all of this is not that Almond's predictions came true but rather that he dared to make them in his racially charged context. For those of us who are as liberal as Marshall, and who miss him especially now, as the court leans to the right, perhaps the best we can do as we debate the next nominee is to insist not on a Thurgood Marshall but on another rarity — a Gov. Almond. Whether we can find someone like the judicious governor is another question.
---
Michael G. Long is the editor of "Marshalling Justice: The Early Civil Rights Letters of Thurgood Marshall" (Amistad/HarperCollins). He is an associate professor of religious studies and peace and conflict studies at Elizabethtown College and is also the author or editor of several books on civil rights, religion, and politics in mid-century America, including First Class Citizenship: The Civil Rights Letters of Jackie Robinson and Billy Graham and the Beloved Community: America's Evangelist and the Dream of Martin Luther King, Jr. He holds a Ph.D. from Emory University in Atlanta and resides in Highland Park, Pennsylvania.