https://portside.org/2019-10-10/tidbits-oct-10-2019-reader-comments-impeachment-turkey-kurds-climate-change-and
Author:
Date of source:
Portside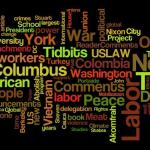 Resources:
Announcements:
Re: No, Impeachment Is Not a Coup - It's a way of bringing politics back to normal.
 
Exactly correct. But, then, the ignorant grifter/liar knows nothing about how government actually works. It's his gargantuan ego that is getting bruised, sooooo, it's a "coup".
Jack LaSalle
Posted on Portside's Facebook page
     =====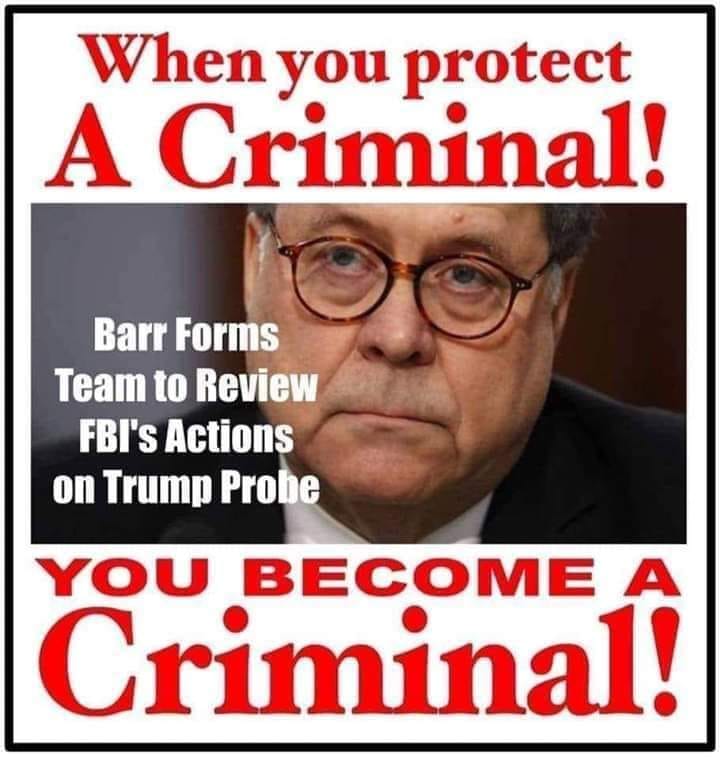 Roberto Rosario
Posted on Portside's Facebook page
     =====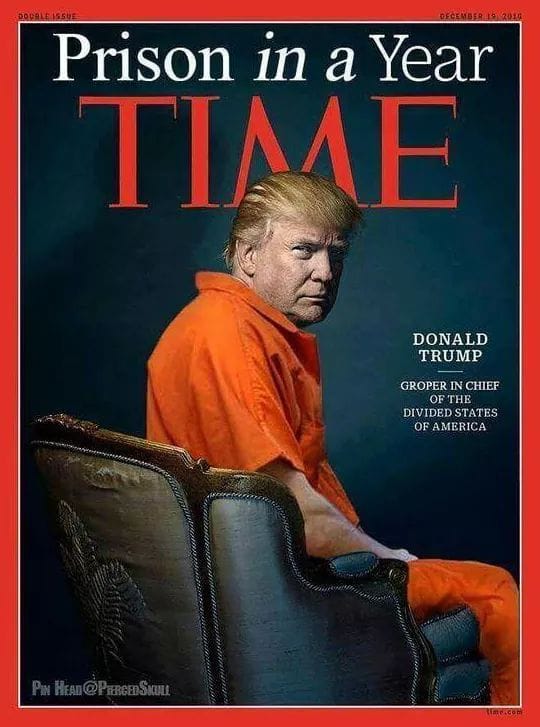 Roberto Rosario
Posted on Portside's Facebook page
Maxine Waters: Trump should be imprisoned and 'placed in solitary confinement'
 
"I'm calling on the GOP to stop Trump's filthy talk of whistleblowers being spies & using mob language implying they should be killed. Impeachment is not good enough for Trump. He needs to be imprisoned & placed in solitary confinement."
Rep. Maxine Waters (Calif.), one of the first Democrats to call for President Trump's impeachment, went a step further on Tuesday by saying he should be imprisoned and placed in solitary confinement.
By Cristina Marcos
October 1, 2019
The Hill
Trump has betrayed the American people. He's used Americans' hard-earned tax dollars to attempt to bribe a foreign official for his own selfish ends. 
In a sign of his weak re-election prospects, he turned to a foreign leader to dig up dirt on a case that was debunked years ago. 
Trump flip flopped on Russian interference in the U.S. election -- something the entire intelligence community and the Mueller report demonstrated happened in 2016. And now, he's inviting foreign interference again in the 2020 American election! 
Trump is undermined U.S. national security interests by withholding funding needed to ward off a Russian invasion of Ukraine, just so he could score some political points.
The founders of the United States made bribery an impeachable offense. The contacts of Trump and his personal attorney, Rudy Giuliani, with Ukrainian officials is bribery, betrayal, and most certainly a high crime against the American people.
A. G.
Re: President Trump Is at War with the Rule of Law. This Won't End Well.
 
It is truly ironic that Trump managed to hijack the conservative Republican party, champion of law and order.
Philip Specht
Posted on Portside's Facebook page
Re: Impeachment Features Trump vs CIA Whistleblower
 
Dis-like. To frame this situation as simply a CIA-Trump clash is narrow-sighted, simplistic comfortable "left" narrative of plague on both your houses, always focusing on warning us not to have "illusions," as though we are dummies. This struggle is far broader than that and yes, there are complex motives involved, as is always the case and as anyone with political depth understands. Unfortunately this article fits the pattern of simplistic, narrow "left" takes
Susan Vago Webb
Posted on Portside's Facebook page
President Trump doesn't need a whistleblower  --  cartoon by Kevin Siers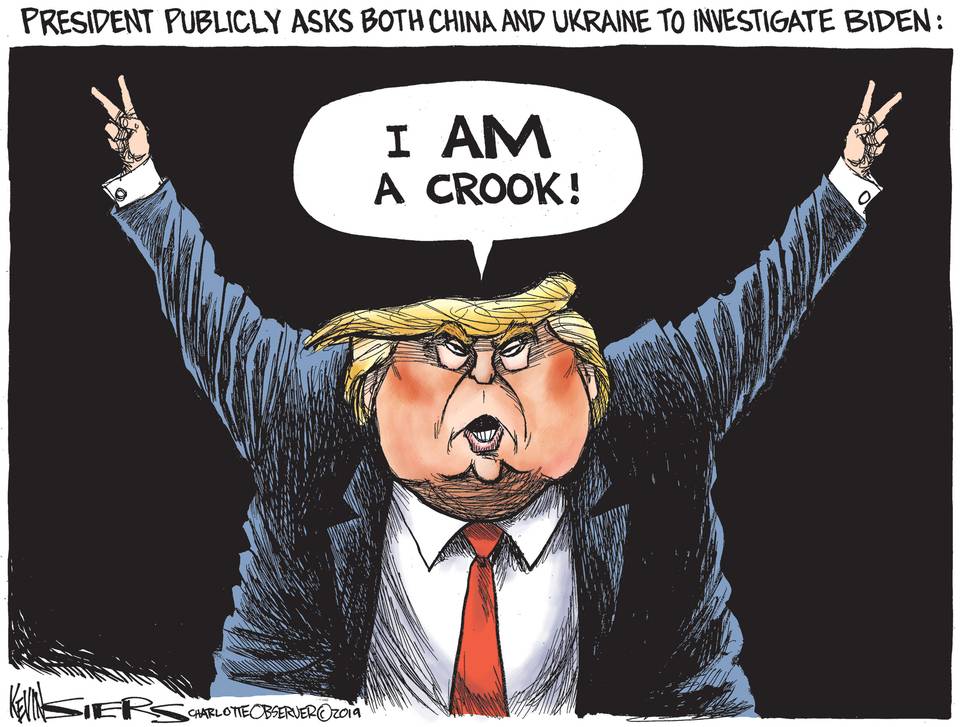 Kevin Siers
October 3, 2019
Charlotte Observer (North Carolina)
Some of us who fought the freedom fights of the '60s still remember with bitterness the Nixon impeachment. Angry not that he was impeached, but bitter for what he was *not* impeached. The House Judiciary Committee considered five articles of impeachment. Two of them related to the Watergate break-in crimes committed against the Democratic Party and subsequent cover-up and a third related to Nixon's refusal to respond to congressional subpoenas were adopted and sent to the full House for action. 
Two articles were *not* adopted by the committee. One accused Nixon of cheating on his taxes through deliberate fraud and accused him of violating the Emoluments clause to enrich himself from the public purse. The second was that he ordered the secret and illegal bombing of Cambodia in violation of Congressional power to declare war and then lied to both the public and Congress to conceal it from the American people. Tens of thousands of Cambodians were killed or maimed and the Vietnam War prolonged and expanded. By not impeaching Nixon for financial crimes, the House condoned acts that would have sent an ordinary citizen to jail. 
By not impeaching Nixon for waging a secret illegal war, the House condoned the abrogation of their own constitutional authority over use of military force. Had Nixon been impeached for his financial crimes, it would have put subsequent presidents on notice that their high office did not confer upon them impunity. Had Nixon been impeached for waging a secret and illegal war it might have made it more difficult for those who followed him into the Oval Office to unilaterally bomb and invade countries all over Asia, Africa, and Latin America. 
Now we have a president whose crimes go far, far beyond abuse of power against the Democratic Party and its candidates -- incitement to racial violence, collusion with foreign enemies, violation of fundamental human rights, bribery, sabotage of healthcare and the environment, and on and on. If the House does not impeach him for at least some of those crimes then in essence they condone them. And future presidents will take careful note of that precedent.
Bruce Hartford
http://www.crmvet.org
Re: Winners and Losers From Trump Throwing Syrian Kurds Under the Bus
 
Uh you mean they didn't learn from Iraq ?
You know the saying fool me once ........
Craig Keene
Posted on Portside's Facebook page
     =====
As usual, worth reading Juan Cole... still some things I'd like to add 
1. Very little in this piece (there is a bit at the end) that Turkey is invading a sovereign (if informally partitioned) Syria - what is the Syrian response? Why is it so muted in this article? You'd think Damascus has nothing to do with the Turkish invasion or that it hasn't responded.
2. All the crocodile tears coming from the likes of Lindsay Graham and Hillary Clinton - the bi-partisan hawkish team should be more than a little hint that there is something "amiss" with their sympathy for the Kurds.The Kurds would do far worse than realigning with Damascus rather than sucking at the tit of Washington or Tel Aviv (or both) as Kurds have done for decades
3. Trump did not withdraw the 1000 or so (known) troops in Syria, simply located a a few dozen away from the Turkish border... There is NO U.S. withdrawal from Syria, just a re-positioning.
4. This is not the first time Turkey has intervened in Syria - and they did in Iraq as well - laying the groundwork for more permanent occupation and expansion. This intervention will backfire on Erdogan. Couldn't happen to a nicer guy. Occupation in the name of a "national threat"...hmmm, seems to be a theme in the Middle East. Ottoman Zionism with a green light from Washington? 
5. Finally, this cynical move on Trump's part - the whole U.S. posture in Syria is UNSUSTAINABLE. The US has lost in Syria. Period. It has failed to partition the country using its well known and well funded proxies. Washington is overextended but a victim of its own rhetoric... Can't stay in, can't get out. 
Rob Prince
Posted on Portside's Facebook page
Kurds Couldn't Do What Turkey Can  --  cartoon by Joe Heller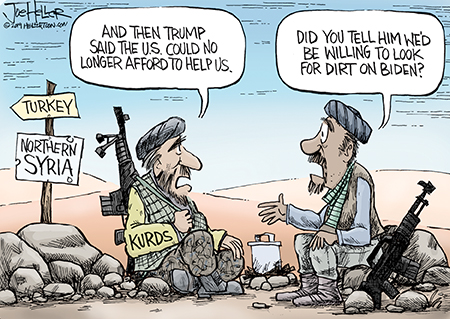 Joe Heller
October 8, 2019
Capital Gazette (Annapolis, Maryland)
Re: The New Age of Protest; Veteran Activists Express Hope, and Caution
 
People are hitting the streets to protest government inaction, repression, and corruption. Does that mean democracy is in trouble or stronger than ever? Youth have "unbounded energy and optimism coupled with idealism." That energy, however, can't be sustained without organization, activists warn.
Progressive Truth Seekers
Posted on Portside's Facebook page
Re: 10 Ways that the Climate Crisis and Militarism are Intertwined
 
Medea Benjamin gives an excellent summary. https://portside.org/2019-10-07/10-ways-climate-crisis-and-militarism-a… Besides the nearly $2 trillion a year of global military expenditures, with nearly half from the U.S. here is an important addition to her list: Militarized fossil capital and its political instruments such as Trump actively block the global cooperation and equity required for a successful prevention program avoiding catastrophic climate change (C3). 
The military industrial complex is the main obstacle to achieving global cooperation for a rapid curb on global greenhouse gas emissions and a full transition to wind/solar power. Global cooperation would make possible using the minimum necessary amount of the lowest GHG footprint fossil fuel, conventional oil, as an energy source to replace itself with wind/solar power, noting 80% of present global energy supplies comes from fossil fuels. Oil producing countries such as Saudi Arabia, Iran and Venezuela have a critical role to play in this transition, while leaving most of their oil in the crust. 
But perpetual wars fueled by the imperial regime change agenda make a prevention program much harder to implement as tipping points for C3 loom ever closer . 
Read more about this issue in our book, The Earth is Not for Sale.
David Schwartzman
Washington DC
Re: 5 Things to Know About Eugene Scalia, Trump's New Labor Secretary with a Famous Dad
(posting on Portside Labor)
 
If he accepted a job in the Trump Cabinet he is not trust worthy. Lets see how he deals with the worker protections that were put in place.
Rita Aponte
Posted on Portside's Facebook page
     =====
This darn "President" has decided to destroy everything that Obama had touched. DO NOT VOTE 4 him pls in 2020!!!!
Alicia Torres-Ferrer
Posted on Portside's Facebook page
     =====
If He Works For Trump.. He Is Like Him.. Noooo Gooood!
Ivan Porrata
Posted on Portside's Facebook page
Re: Comcast Urged By NAACP To Stop "Attack" On Civil Rights Statute
 
NAACP Statement of discrimination law suit: "In several weeks, the Supreme Court will hear one of the most important civil rights cases to come before it this term. Comcast - the second largest broadcasting and cable television company in the world - is poised to take an unprecedented step.
Because of a dispute with an African American businessman, the company has urged the Supreme Court to roll back the crucial protections of one of the nation's oldest civil rights laws, Section 1981 of the Civil Rights Act of 1866."
Progressive Truth Seekers
Posted on Portside's Facebook page
Re: Southern Worker Strikes Show The Power of Solidarity
(posting on Portside Labor)
 
Connor Harney's otherwise excellent article repeats the common error of mistaking a "union shop" (everyone must join the union after a certain point, in order to maintain the job) for a "closed shop" (The employer must hire only people who already belong to the union).  The Taft-Hartley act outlawed the closed shop, except under certain circumstances (like when the union doubles as the hiring hall).
James Young
Harrisburg, PA
Re: Fifty Years of Fred Hampton's Rainbow Coalition
This is really important historical record with current developments
Jeff Jones
Posted on Portside's Facebook page
Re: America's Last Slave Ship Could Offer a Case for Reparations
 
Nora Zeale Hurston interviewed the last surviving slave, Cudjo Lewis, from the Clothilda and wrote a book about it - "Barracoon."
Georgia Wever
Re: At Both the State and Federal Level: Oil Lobbyists Attempt to Criminalize Pipeline Protests
 
If leaving water for people dying of thirst in desert is illegal and punishable by up to 20 years in prison, why not protesting a pipeline? Why not jaywalking?
Bobbi Goodman
Posted on Portside's Facebook page
Re: How Can We End Child Sexual Abuse Without Prisons?
 
Maybe I'm thrown especially by the article's title, but why in the world would we NOT want to imprison pedophiles? Even if the prison system has monstrous problems, does that mean that no one should be locked up? For any reason? Jesus, if the left talks likes this, we will never gain the support of masses!
Michael Arney,
Bronx, NY
Re: Meat Is Unhealthy, Meat Is Okay: Why Science Keeps Overturning What We Thought We Knew
 
The article on the recent study on red meat from Vox made no mention of the following conflict of interest that was reported in the NYTimes on Oct 4, which is the same date as the original Vox piece. That could be the reason though you guys ran the article on Oct 7 so this info was out in the world. Just thought I'd bring it to your attention. And thanks for your fantastic pub.
Scientist Who Discredited Meat Guidelines Didn't Report Past Food Industry Ties
The lead researcher, Bradley C. Johnston, said he was not required to report his past relationship with a powerful industry trade group.
Nina Felshin
     =====
I think it would behoove the authors of this article to mention that one of the main contributors (Bradley Johnston) to this new research on meat consumption did not report his strong connections to the meat industry:
Scientist Who Discredited Meat Guidelines Didn't Report Past Food Industry Ties
Lori Berlin, RN, PHN
Re: How China Continues While the USSR Did Not: A Modest Summary
(Item in Portside Tidbits - Oct. 3)
 
"the People's Republic is an engine of the world economy, the largest exporter at once to the EU, Japan and the United States;" The largest exporter to the US is Canada.
B Fearn
Re: Pasta Straws, The Nearly Perfect Solution To Our Plastic Problem
(posting on Portside Culture)
 
Great idea but what about people who have food allergies? Celiac Disease for example...
Joe Mills
Re: Science Education Is Under Legislative Attack
 
Another reason china will likely surpass us. If it hasn't already. Actually, Finland already has. How do they do it? One Finnish educator quipped, 'watch what the US is doing and do the opposite.' For example, Students in Finland aren't given any standardized tests, and their teachers are paid around $100,000.
Carl Davidson
Posted on Portside's Facebook page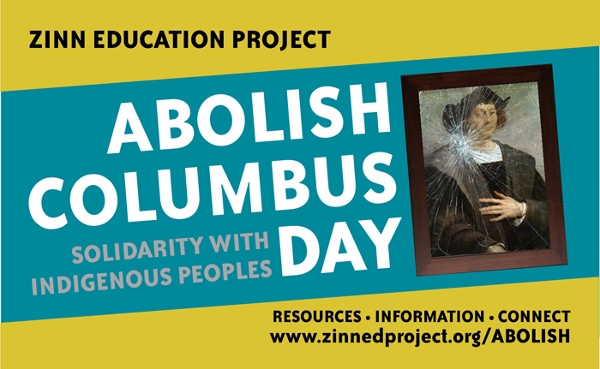 Celebrating Columbus means celebrating colonialism, celebrating racism, celebrating genocide. It's time that instead we paid tribute to the people who were here first, who are still here, and who are leading the struggle for a sustainable planet.
 
With three more states (Maine and New Mexico; and now Wisconsin) and many more cities (including Columbus, Ohio, and Alexandria, Virginia) abolishing Columbus Day and recognizing Indigenous Peoples Day, now is the time to add your school or city to the list.
It is time to stop celebrating the crimes of Columbus and stand in solidarity with the Indigenous people who demand an end to Columbus Day. Instead of glorifying a person who enslaved and murdered people, destroyed cultures, and terrorized those who challenged his rule, we seek to honor these communities demanding sovereignty, recognition, and rights. We encourage schools to petition their administration and for communities to introduce legislation to rename Columbus Day to Indigenous Peoples' Day. Below we provide information and resources to join the campaign to Abolish Columbus Day.
Time to Abolish Columbus Day
By Bill Bigelow
When the school curriculum celebrates Columbus, children are taught that it's OK for white people to rule over peoples of color and that militarily powerful nations can bully weaker nations. By his own account, Columbus enslaved people, destroyed cultures, and terrorized those who challenged his rule. It's time to abolish Columbus Day.
Continue reading.
Resources from the Zinn Education Project
Abolish Columbus Day Packet (PDF)
A 14-page packet that includes sample resolutions, resources, and articles.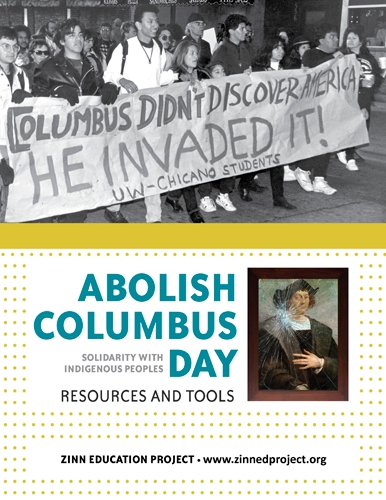 Zinn Education Project
A collaboration between Rethinking Schools and Teaching for Change
PO Box 73038
Washington, D.C. 20056
Phone: 202-588-7205 | Email: zep@zinnedproject.org
Knights of Labor history : new mapping site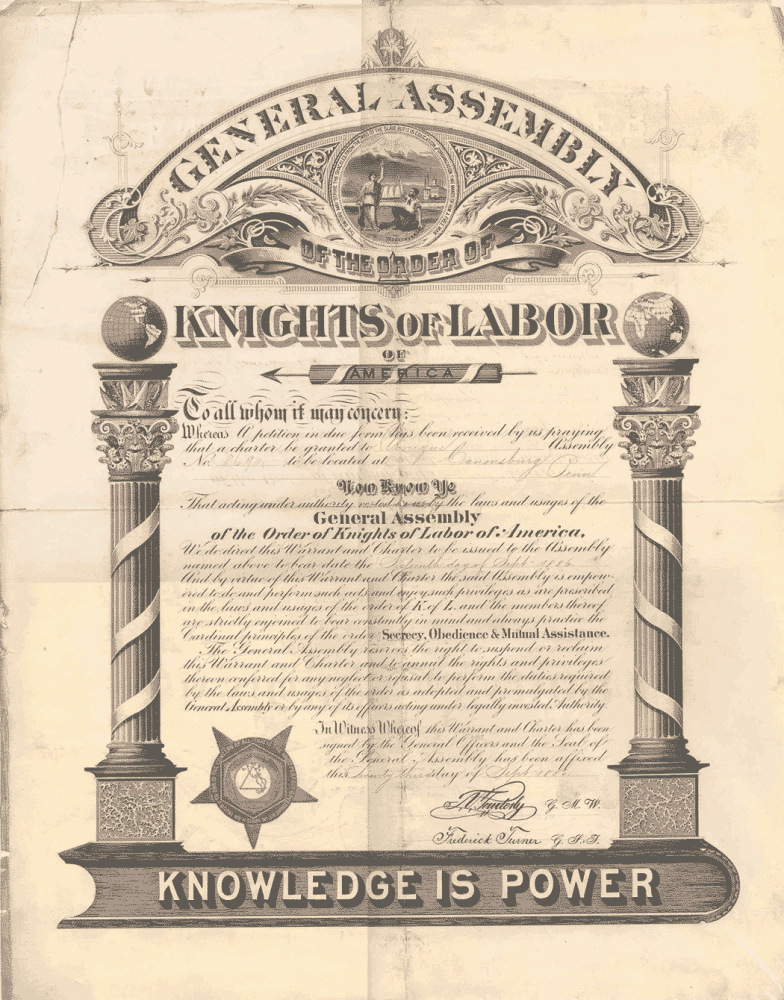 2019 marks the 150th anniversary of the Knights of Labor, the most important labor movement of the Gilded Age. It is worth thinking anew about that organization and not just because of that anniversary. We are now deep in the second Gilded Age and if we look back to that earlier age of plutocrats, it becomes clear that we are repeating more than a label. There are similarities in the challenges that workers faced in the 1870s and 1880s and also, curiously, in some of the strategies that workers in that distant age tested. With that in mind, the Mapping American Social Movements Project is proud to introduce "Knights of Labor History and Geography 1869-1899" an online set of maps and visualizations that vividly display the remarkable growth and geography of the Knights of Labor.
The maps are a revelation. It is one thing to know that Knights membership approached the one million mark in 1886-87 and another to see the distribution of Knights Local Assemblies in more than 5,600 cities and towns, and to be able to see year by year where new LAs were formed and how long they lasted. Other maps show the 182 Local Assemblies that were led by Black workers and the 246 established by women workers while also identifying each Assembly according to whether it was "Mixed" or associated with a particular craft or industry. This is a resource that will be useful in history classes while also helping scholars see the Knights in new ways.
Remembering and Mapping the Knights of Labor - see full story here
The Labor and Working-Class History Association (LAWCHA)
226 Carr Building (East Campus)
Box 90719
Duke University
Durham, NC 27708-0719
Email: lawcha@duke.edu
Stand Up for Education Justice - Chicago - October 14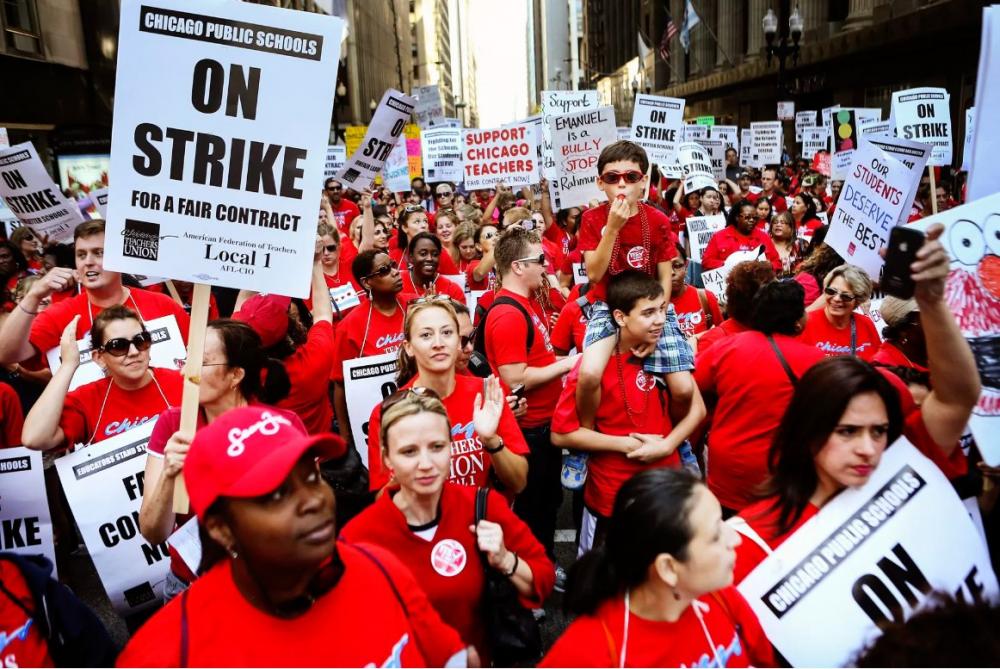 Two unions. Teachers, staff, and park district workers—35,000 strong. Standing together in solidarity for one purpose: to build a movement for the schools Chicago's students deserve.
On Monday, October 14, the Chicago Teachers Union and the Service Employees International Union will hold an indoor rally followed by a march through downtown. And if Mayor Lightfoot still won't put it in writing, we'll be on strike in front of the schools, instead of in them, starting on October 17.
We ask you to stand with us, too.
Indoor Rally at 2pm (doors open at 1:30) at the Chicago Temple Building with march through downtown Chicago to follow.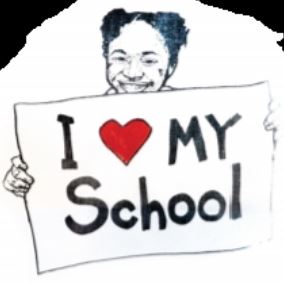 Stand Up for Education Justice
Start: Monday, October 14, 2019 • 2:00 PM
Chicago Temple• 77 W. Washington, Chicago, IL 60602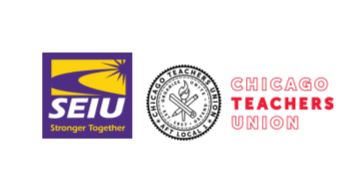 Book Talk - Beaten Down, Worked Up: The Past, Present and Future of American Labor with Steven Greenhouse - Berkeley - October 15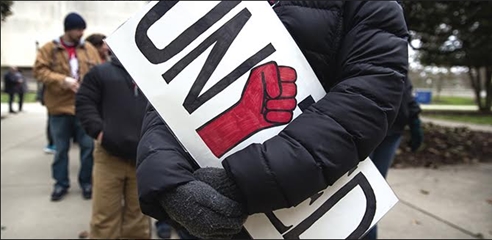 Tuesday, October 15, 2019, 5:00-6:30 PM
ESC-IFPTE Local 20
810 Clay St.
Oakland CA
Co-Sponsored by the UC Berkeley Labor Center and CA Labor Federation
Event Speaker: Steven Greenhouse
Join us for a conversation with book author and longtime New York Times labor correspondent, Steven Greenhouse. His latest book, Beaten Down, Worked Up: The Past, Present, and Future of American Labor, is an in-depth look at working men and women in America, the challenges they face, and how they can be re-empowered.
ABOUT BEATEN DOWN, WORKED UP
In an era when corporate profits have soared while wages have flatlined, millions of Americans are searching for ways to improve their lives, and they're often turning to labor unions and worker action, whether #RedforEd teachers' strikes or the Fight for $15. Wage stagnation, low-wage work, and blighted blue-collar communities have become an all-too-common part of modern-day America, and behind these trends is a little-discussed problem: the decades-long decline in worker power.
Steven Greenhouse sees this decline reflected in some of the most pressing problems facing our nation today, including income inequality, declining social mobility, the gender pay gap, and the concentration of political power in the hands of the wealthy. He rebuts the often-stated view that labor unions are outmoded–or even harmful–by recounting some of labor's victories, and the efforts of several of today's most innovative and successful worker groups. He shows us the modern labor landscape through the stories of dozens of American workers, from G.M. workers to Uber drivers, and we see how unions historically have empowered–and lifted–the most marginalized, including young women garment workers in New York in 1909, black sanitation workers in Memphis in 1968, and hotel housekeepers today. Greenhouse proposes concrete, feasible ways in which workers' collective power can be–and is being–rekindled and reimagined in the twenty-first century.
This event is free and open to the public.
Register for the event on Eventbrite or by visiting the Facebook event page.
Islamophobia and Racialized Harassment on University Campuses - New York City - October 25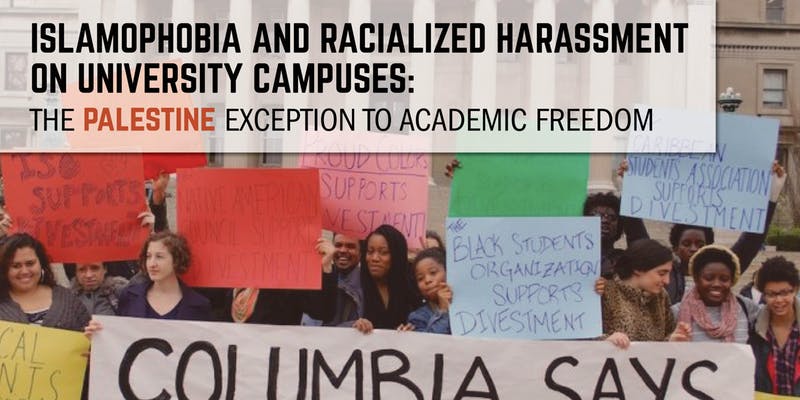 Friday, October 25, 2019  --  4:00 PM – 6:00 PM EDT
Columbia University
Alfred Lerner Hall. Room 555 (Columbia University)
New York, NY 10027
Please join JVP-NYC, Columbia Students for Justice in Palestine, Center for Constitutuional Rights, Palestine Legal, National Lawyers Guild and other supporters of Palestinian human rights on Friday, October 25th for a symposium and fundraiser for Professor Rabab Abdulhadi, director of the Arab and Muslim Ethnicities and Diaspora Studies program at San Francisco State University.  For details go here
Across the country and on a global scale, student groups and faculty members who attempt to teach or speak out about the unjust conditions facing Palestinians have collided with "the Palestine exception to free speech." University administrations have become complicit in a McCarthyite campaign to falsely conflate criticism of Israeli and Zionist policies with anti-semitism. Administrations are imposing bureaucratic obstacles, withholding resources, bowing to legal intimidation tactics by right-wing pro-Israel organizations such as Lawfare, or are even failing to address outright bullying, harassment and death threats on social media and in the classroom. In the now raging case of the Duke-UNC Middle East Studies consortium, the federal Department of Education is attempting to subvert basic principles of academic freedom by demanding that curricula and program content be more Israel-friendly and anti-Islam.
Professor Abdulhadi was hired by San Francico State University in 2007 to head and develop a new Arab and Muslim Ethnicities and Diaspora Studies program (AMED), the first of its kind in the country. But SFSU has not fulfilled its promise to provide support to the program, instead caving in to deep-pocketed pro-Israel organizations who accuse Professor Abdulhadi of anti-Semitism because of her support for Boycott, Divest and Sanction (BDS), her work with students at SFSU, and her organizing international conferences on "Teaching Palestine." Professor Abdulhadi's funding has been cut, her requests for approval to travel and pursue research denied, and the vicious harassment and death threats she has undergone online and in her SFSU mailbox are virtually ignored by the administration.
Lawfare's legal suit charging Prof. Abdulhadi and SFSU with creating a hostile climate for Jews on campus was dismissed by a federal judge before trial as without merit. This was a major victory. Now Prof. Abdulhadi is bringing legal action against SFSU for its failure to honor the terms of her appointment and the pattern of racist discrimination against her and her program.
If she wins, it will set a precedent that challenges attempts to repress all those on university campuses who support teaching and learning about Palestine, white supremacy and the history of apartheid.
To support Prof. Abdulhadi's case ( and its implications for other such cases at the City University of New York , Boston University, Rutgers, Fordham and elsewhere) a number of organizations have come together to co-sponsor this symposium and fundraising event for Rabab's legal action. In addition to a keynote by Professor Abdulhadi, a panel representing academics (students and faculty) and civil rights attorneys will address the profound issues of academic freedom and campus-based struggles against Islamophobia, misogyny and racism that her case exposes. We hope you and your organization will join us in this vital project.
Follow this link to see the event details and secure your ticket:  rababcase.eventbrite.com    
PLEASE SPREAD THE WORD, POST ON YOUR FB PAGE, AND PURCHASE TICKETS - THANKS SO MUCH!
Book Talk - Peter Duffy- The Agitator: William Bailey and the First American Uprising against Nazism - New York City - October 29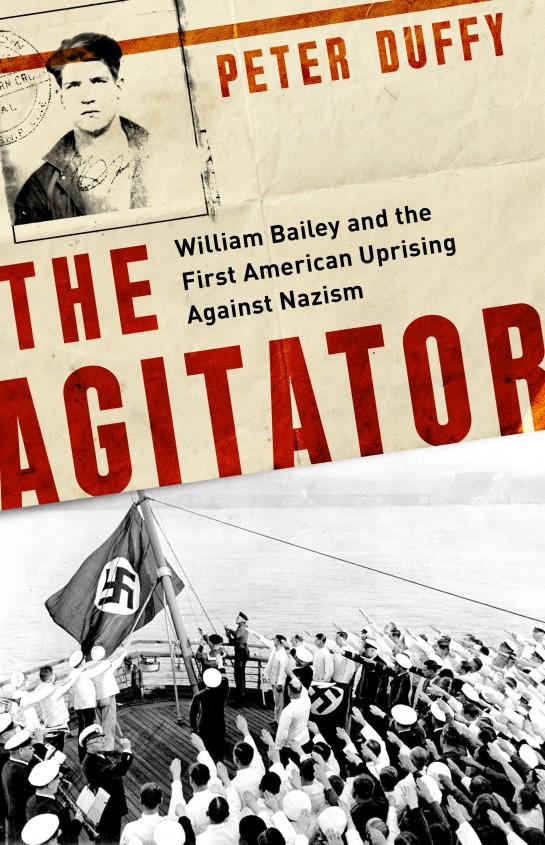 Peter Duffy will discuss his book The Agitator: William Bailey and the First American Uprising against Nazism (New York: Public Affairs, 2019) on Tuesday October 29 at 4:30 PM. A reception with wine and cheese will follow the lecture. This event is sponsored by the Frederic Ewen Center.
Peter Duffy is an author and journalist based in New York City. He has written three books of historical non-fiction—The Bielski Brothers (HarperCollins, 2003); The Killing of Major Denis Mahon (HarperCollins, 2007); and Double Agent (Scribner, 2014). His journalism has appeared in The New York Times, New York magazine, The Wall Street Journal, Slate, the New Republic, and many others.
 
Tuesday, October 29  - 4:30 PM
Tamiment/NYU Special Collections
Elmer Holmes Bobst Library
70 Washington Square South
Room 251
New York, NY 10012
 ​
RSVP: Please RSVP via the NYU events calendar.
Help Marathon Man Max Elbaum surpass his fundraising goal for USLAW (contribute before November 3)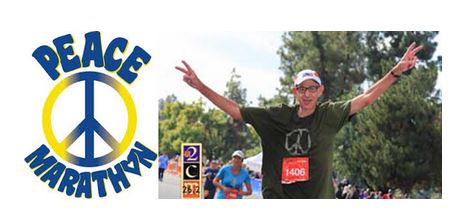 Once again this year, Max Elbaum is running a marathon to raise funds for USLAW - this time in North Carolina on November 3.
With your help, this year he'll reach or exceed his $7500 goal, just as you helped him exceed his goal in the last two years.
* Max will run for peace.
* He will run for justice.
* He will run for the environment.
* He will run for USLAW.
He will also be running for you!
Max says,
Family and Friends
I'm running my 14th annual Marathon for Peace in Raleigh, North Carolina November 3 to raise money for US Labor Against the War (USLAW) and I'm asking for your support.

This year's run is a half, not a full, Marathon. After pounding out 39,000 miles, including 40 Marathon races, in the last 24 years - and spending 72 years on the planet - my body is no longer able to cover 26.2 miles without injury. So this year I'll do just 13.1 miles.

But since each mile is tougher, I'm asking for $1.50 or $3.00 per mile rather than just one dollar or two. So please consider donating $20, $40 or more to USLAW to reach this year's $7,500 goal.
U.S. militarism is shedding blood across the globe, accelerating climate change and feeding a national security state that threatens every domestic social justice movement. And even if we succeed in defeating Trump and his white nationalist coalition in November 2020, it will take massive pressure from the grassroots to stop U.S. wars, end the military's grip on the federal budget and clear a path to radical change.

USLAW is vital component of what's needed to build that pressure.

USLAW stands out in building solidarity and direct connections with workers and antiwar partisans across the globe.
Can you pitch in a $1.50 or $3.00 (or more) for each of my upcoming half-marathon's miles to support these kinds of make-a-difference efforts?
Thanks, Peace and Hope!

Max
Donate here with a credit card or send a check payable to USLAW to 1030 15th Street, NW #153, Washington, DC 20005. (If you want to claim a tax deduction, make your check payable to "USLAW-AFGJ")
Waging Peace in Vietnam - On the Fiftieth Anniversary of the Great Mobilization March on Washington - Washington, DC - November 11 - 15
 
image - Waging_Peace_DC
Partnerships for International Strategies in Asia and the Elliott School of International Affairs present an exhibit, book launch and conference, https://www.vietnamfulldisclosure.org/event/waging-peace-in-vietnam-exh… along with cultural events commemorating the 50th anniversary of the Mobilization for Peace
https://www.vietnamfulldisclosure.org/event/waging-peace-in-vietnam-exh…
Partnerships for International Strategies in Asia and the Elliott School of International Affairs present an exhibit, book launch and conference, along with cultural events commemorating the 50th anniversary of the Mobilization for Peace.
Download the PDF schedule with details for all November 11-15, 2019, Waging Peace in Viet Nam conference events.
CO-SPONSORS
The George Washington University: The Leadership, Ethics, and Practice Initiative – Elliott School Public Affairs – Elliott School Sigur Center for Asian Studies – GW Law School – GW Peace Studies Program – Columbian College of Arts and Sciences – The Documentary Center, School of Media and Public Affairs – Theatre and Dance Program, Corcoran School of Art & Design and Chino Cienega Foundation – Fund for Reconciliation and Development – Institute for Policy Studies – Kroc Institute for International Peace Studies, University of Notre Dame – Split this Rock – Vietnam Agent Orange Relief & Responsibility Campaign – Veterans for Peace – Vietnam Peace Commemoration Committee
FOR MORE INFORMATION
www.WagingPeaceInVietnam.com and pisa.elliott.gwu.edu
image - RAP_poster
An imaginative multi-dimensional program begins on Veterans Day at the Elliott School of International Affairs. (available here) In summary
* November 11 Opening of the Waging Peace exhibit, launching of the companion book on U.S. Soldiers and Veterans Who Opposed the War.
* November 12 "Sir! No Sir!" documentary screening with filmmaker David Zeiger
* November 13 The War Comes Home: Moratorium and Mobilization, 1969, a VPCC panel (speakers here); peace poetry workshop and open mic
* November 14 Screening of fine cut of The Boys Who Said No with filmmaker Bill Prince, Re-enactment of the Cortright v Resor court case,Screening of The Whistleblower of My Lai with filmmaker Connie Field
* November 15 Full day symposium "The American War in Vietnam: Then and Now" with panels on The History of Diplomatic and Peace Movement Initiative to Bring About Peace in Vietnam, Teaching the American War in Vietnam, Mitigating the Legacies of War (Agent Orange, Unexploded Ordnance); Keynote addresses by Christian Appy and Cora Weiss; Candlelight vigil with re-enactment of March Against Death from GWU to the White House with comments by Rep. Jamie Raskin, (For information about the week and the walk to the White House, contact Terry Provance here.)
FOR MORE INFORMATION: https://wagingpeaceinvietnam.com/ and https://pisa.elliott.gwu.edu
Worker Solidarity Mission in Colombia - November 24 - December 4 - (Alliance for Global Justice (AfGJ) and United States Labor Against the War (USLAW))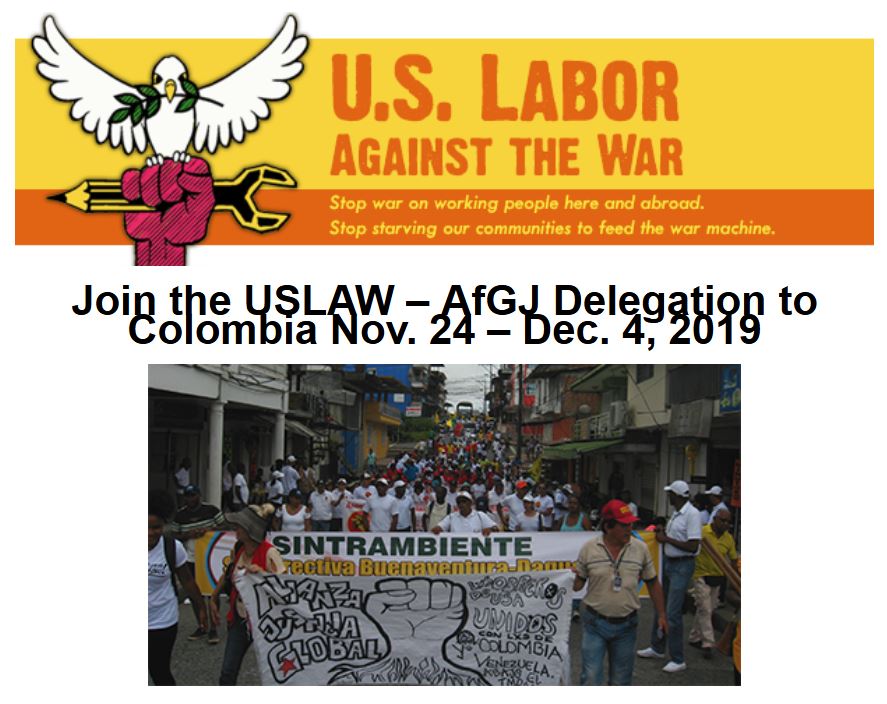 The Alliance for Global Justice (AfGJ) and United States Labor Against the War (USLAW) are pleased to announce a joint delegation to Colombia from November 24 – December 4, 2019. This is coming along quickly--make sure your place is secured for this exciting trip! We're asking people to get your applications and down payments to us over the next two weeks. This delegation is timed to coincide with the third anniversary of Colombia's peace accord that ended more than five decades of war between the government and the Revolutionary Armed Forces of Colombia – People's Army (FARC-EP). It will also occur 8 ½ years after the signing of the Labor Action Plan (LAP), a side agreement of the US-Colombia Free Trade Agreement to address repression of the labor movement. The delegation will assess the changing situation for Colombian labor unions and working and farming people since these key dates and will issue a comprehensive report on our findings. The delegation will provide a prime opportunity for the establishment of new, direct worker-to-worker solidarity among unionists. The cost for the trip is $1,400, not including international airfare.
FOR MORE INFORMATION, SEND AN EMAIL TO:
James Jordan, Alliance for Global Justice  -  James@AFGJ.org
or
Yasemin Zahra, US Labor Against the War  -  yasemin.zahra@gmail.com
 
Colombia's peace accord is in crisis and labor unionists are among the most affected. Since January 2016, 700 social movement leaders have been murdered, as well as at least 160 ex-insurgents and family members participating in the peace process. That is at least 860 persons killed in political violence at a rate of one victim every 1.5 days, or two victims every three days.
Between January 2016 and the end of 2018, 70 unionists were murdered. Since the adoption of LAP, 172 unionists have been murdered. While LAP was adopted to protect unionists, it has had no effective enforcement mechanism. Colombia continues to be the most dangerous place in the world to be a union member and its rate of unionization is lower than many countries where it is illegal to belong to a union. The Fensuagro union of agricultural workers has had more victims of political and anti-union violence than any other union. Fensuagro represents rural workers, the segment of society most targeted for repression and forced displacement. Fensuagro is a founding member of the Marcha Patriótica, a group that makes up more than 40% of the victims. The vast majority of acts of political and anti-union violence are committed by right-wing paramilitary death squads and Colombia's Armed Forces. The violence and displacement almost always happen in areas where transnational corporations and big landowners want to acquire and exploit resources for private profits.
The labor and peace crises are rooted in and exacerbated by US government policies. Through Plan Colombia, the US has provided more than $12 billion in mostly military and "security" funding. The administration of President Donald Trump has had Colombia's Peace Accord in its sights, attacking key components, including provisions designed to improve the conditions of rural workers.
This delegation will divide its time between the capital city of Bogotá and the Departments of Cauca and Valle de Cauca. Cauca is home to the largest indigenous population in Colombia, and has endured the highest level of political violence. Valle de Cauca is similarly impacted. It is also home to Buenaventura, with the largest urban concentration of Afro-Colombians. Buenaventura is Colombia's largest port on the Pacific Ocean and an important center for union activity. We are planning an agenda to include meetings with national and local leadership of Fensuagro as well as unions representing oil workers, miners, port workers, electricians, flower cutters, bottlers, injured workers, and more.
Part of the delegation price will include contributions toward a new community and workers center in Cali, which will be managed by the Permanent Committee for Human Rights (CPDH) serving the Cauca and Valle de Cauca areas. Besides providing a meeting space for social and labor movements, the center will include lodging for international accompaniment and for unionists and activists who are in need of transitional housing because of threats against them.
Join the USLAW-AfGJ delegation and help build lasting peace and labor rights in Colombia!
The Stuart Hall Project: A film by John Akomfrah - New York City - November 29
 

Friday, November 29, 2019 at 6:30 PM – 9 PM
The People's Forum
320 West 37th Street
New York, New York 10018
From the award winning documentarian John Akomfrah comes The Stuart Hall Project, a ground-breaking film that pioneers a new archival and sonic approach to forgotten histories, forgotten ideas and the untold stories of the politics of change. Visionary director John Akomfrah weaves between the musical archaeology of Miles Davis, the political narratives of the new post-war Left and the life and works of key architect, the cultural theorist Stuart Hall—one of the New Left's most prominent and influential intellectuals. Akomfrah carefully constructs archival sequences of rare forgotten and long since seen historical material together with Hall's extensive broadcasts and personal archives, taking the audience on a kaleidoscopic journey through the ideas and personal story of Stuart Hall. Imagined through a Miles Davis and an original sonic sound track, Akomfrah creates a vivid cartography of the twentieth century's defining political moments making a powerful portrait of Hall.
"John Akomfrah's film is a tribute to the critic and New Left Review founder Stuart Hall – a montage of existing documentary footage and Hall's own words and thoughts on film. It has an idealism and high seriousness that people might not immediately associate with the subject Hall pioneered: cultural studies. This is not about, say, postmodern readings of Lady Gaga, but a deeply considered project that reconsiders culture and identity for those excluded from the circles of power through race, gender and class. His is the progressive tradition of Richard Hoggart and Raymond Williams, unfashionable since Margaret Thatcher dismantled the welfarist consensus. Akomfrah finds a new and quietly moving significance in Hall's own life story: a man who came from Jamaica – which Hall elegantly calls the "home of hybridity" – and found himself not really at home there, nor in the postwar UK in which he began a brilliant academic career at Oxford. Akomfrah sees Hall as a calm figure who insists on the fundamental topic of equality – yet without getting angry at the surface flashpoints of history. I wondered sometimes at Hall's view on racial identity: it could well be, as he says, that race is an ideological construct – but does that help victims of racism? Anyway, an absorbing account."
—Peter Bradshaw, The Guardian, September 5, 2013
 
Hosted by Marxist Education Project, Revolutions Study Group and The People's Forum