Tidbits - Oct. 3, 2019 - Reader Comments: Impeachment; Global Climate Strike; Peggy Lipschutz Remembered; Science Education; Venceremos Brigade; Holocaust Partisans; China at 70; Resources; Announcements - New York, Brooklyn, New Haven, more...
Tidbits - Reader Comments, Resources, Announcements AND cartoons - Oct. 3, 2019,Portside
Resources:
Announcements: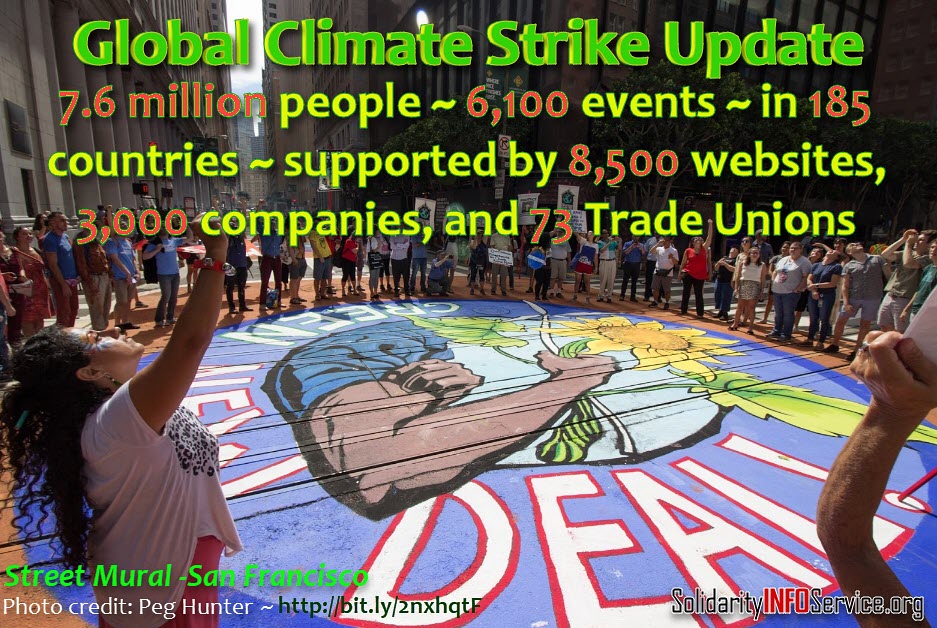 Re: The Left Needs to Seize Impeachment From Centrist Elites
 
Trump has done huge damage to the international working class, especially minorities, women, migrants and refugees, organized labor and the environment. Since impeachment is a political and not a juridical matter, all of these things could be cause for his impeachment, were it not for the class composition of the current membership of Congress. So the official impeachment narrative is very unsatisfactory from the point of view of the left. I want him gone, but I agree with the Portside article https://portside.org/2019-09-29/left-needs-seize-impeachment-centrist-e… that we should be giving voice to our own arguments on this rather than those of the corporate democrats. And galloping to the defense of Hunter Biden and his pa is not part of that argument;.
Emile Schepers
Posted on Portside's Facebook page
Re: Trump Can't Get Away With It Anymore
 
Trump is mentally unfit to be president. He has committed a number of impeachable offenses. He has no sense of right & wrong. Impeach!!!
Maureen Curtin
Posted on Portside's Facebook page
Walk the Plank  --  cartoon by Steve Kelley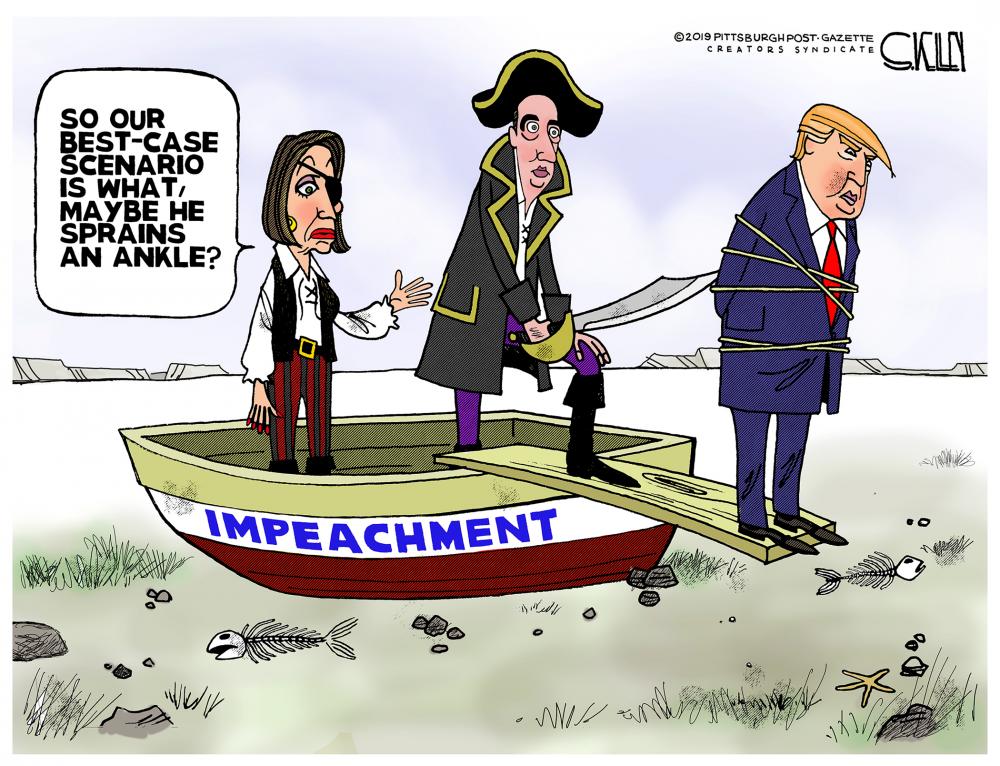 Steve Kelley
October 2, 2019
Pittsburgh Post-Gazette
Re: Is It Too Late to Impeach Trump?; The Whistle-Blower's Complaint Is Devastating for Donald Trump
 
In the days following the phone call, I learned from multiple U.S. officials that senior White House officials had intervened to "lock down" all records of the phone call, especially the official word-for-word transcript of the call that was produced-as is customary-by the White House Situation Room. . . . White House officials told me that they were `directed' by White House lawyers to remove the electronic transcript from the computer system in which such transcripts are typically stored for co-ordination, finalization, and distribution to Cabinet-level officials. Instead, the transcript was loaded into a separate electronic system that is otherwise used to store and handle classified information of an especially sensitive nature. One White House official described this act as an abuse of this electronic system because the call did not contain anything remotely sensitive from a national security perspective.
Patrick Suzeau
Posted on Portside's Facebook page
Another Shrimp On The Barbie  --  cartoon by Clay Jones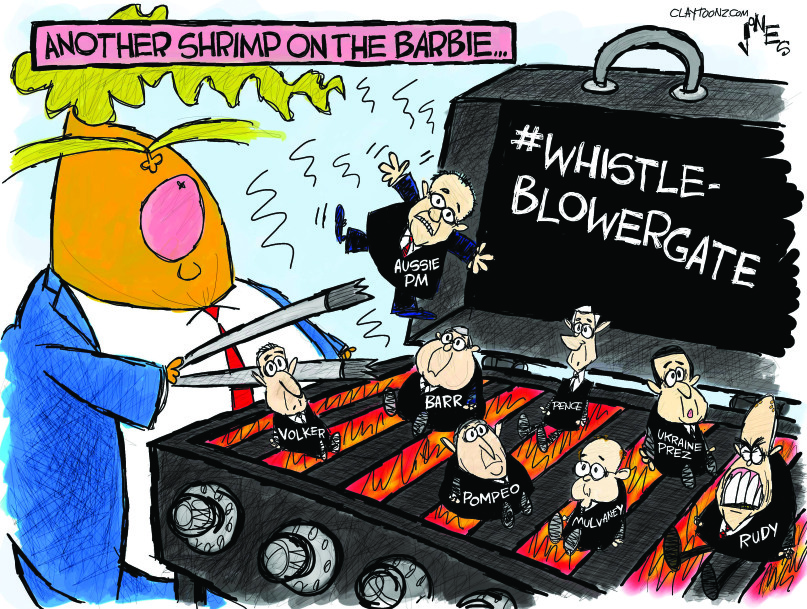 Clay Jones
October 1, 2019
Tucson Weekly
Re: Bernie Sanders' and Elizabeth Warren's Wealth Taxes, Compared
 
Warren's approach makes sense in being broader than Bernie's. Why is some of the left insisting on pitting Bernie and Warren against each other? The essential issue is who can run the broadest, most widely energizing campaign? We can love Bernie and also Warren.
Susan Vago Webb
Posted on Portside's Facebook page
Re: Sanders and Warren: The Need For a Progressive Front
 
The link to the WFP explanation of their process gives me pause, need to look further at their process. But even if their Warren endorsement was a fair reflection of their constituency, that doesn't make it a good decision. A party that dissed Teachout and AOC  needs to be taken to account.
John Kailin
     =====
Only if you subscribe to the PEP (Progressive Except for Palestine) perspective, and don't think opposing U.S. militarism is important. As a socialist for the past 50 years, I have no desire to support a candidate who says she's "capitalist to my bones" and who stood and applauded when Trump said, in the SOTU, "America will never be a socialist country." (ESPECIALLY when there's a socialist in the race with a solid chance of winning.) As a 45-year member of one of the most consistently progressive unions in the US, I am proud that UE unhesitatingly endorsed Bernie Sanders. I will bust my ass, from now through the primaries, to elect Bernie and defeat Warren and the rest of the fauxgressives in the race.


Elizabeth Warren's approach to Palestine resembles failed Obama policies.
Gage Skidmore  //  The Elecronic Intifada
Alan Hart
Posted on Portside's Facebook page
     =====
Provided the dnc doesn't interfere. But they have. So it's only bernie for me
Idwell Twiss Shanon
Posted on Portside's Facebook page
Re: Until Her Death at 100, Chicago Artist Peggy Lipschutz Loved Two Things: Art and Politics
 
Peggy came to a cultural conference in Kansas City in 1978, and recalled that during the WPA era of the 1930, the federal govt provided artists with materials for their work, and a modest stipend for living expenses PLUS venues for public exposure in schools, govt buildings such as post office murals, etc. Artists did NOT have to depend on corporate largess, apply for grants among hundreds of others while only a few receive support. A valuable lesson from history, then and now.
Fred Whitehead
Posted on Portside's Facebook page
     =====
It was such a treat growing up and seeing Peggy draw and perform; and then getting to know her; and to work with her in so many different movements and activities. This is an incredible salute to Peggy Lipschutz - the person, the artist and the activist - from the Chicago Tribune.
Jay Schaffner
Posted on Portside's Facebook page
     =====
A good story about a good life
Judith Disla
Posted on Portside's Facebook page
     =====
Rest in Power, Ms. Peggy Lipschutz
I had the privilege of seeing her do one of her "chalk talks," swiftly illustrating with colored chalk whatever song the musician with her was singing. It was like the birth of MTV - music and visual art. She was a very cool lady and I wish her a safe journey.
Patricia Dowling
Posted on Portside's Facebook page
     =====
Peggy Lipschutz: True, Beautiful & Strong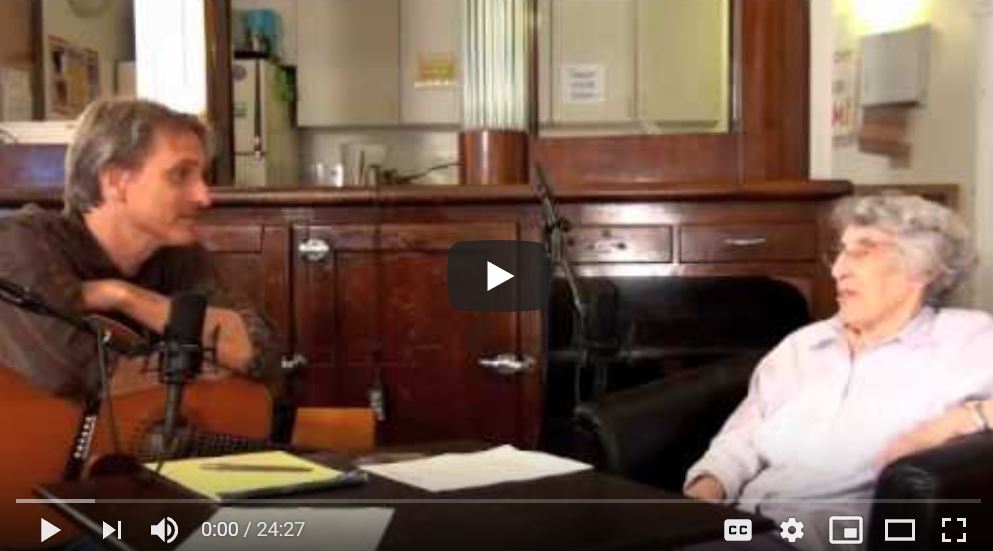 Watch here.
"From the Old Town School" is a series of interviews produced for WLUW fm 88.7 in Chicago. Host Mark Dvorak interviews artist Peggy Lipschutz, who created the famed portraits of Big Bill Broonzy, Woody Guthrie and Pete Seeger, which have hung at the Armitage Avenue location since 1970.
Post by Mark Dvorak
Re: Why Public Places Like Libraries and Parks are Critical for Bringing People Together
 
I have always felt this way about libraries. They are important community resources and sources of information beyond lending books and other materials.
Judith Eisenscher Schaffner
Posted on Portside's Facebook page
(posting on Portside Culture)
 
Gregory Heires reviews Gerald Horne's "Jazz and Justice" for Portside
 
Monthly Review
Posted on Portside's Facebook page
Re: Science Education Is Under Legislative Attack
 
This is what happens when Evangelicals are let loose on the body politic ..
The need to restore the separation of Church from State
Rob Prince
Posted on Portside's Facebook page
     =====
Ignorance is religion's handmaiden...
Gordon Galland
Posted on Portside's Facebook page
     =====
Just so you know, there are different views of evolution theory amongst scientists and tweaks are made on a regular basis as archeology and DNA science, as well as geological analysis make discoveries. This means that if someone wants to claim that it is set in stone, they are talking about religion of evolution not science. Science is open to inquiry.
Manuel Tamargo
Posted on Portside's Facebook page
     =====
Along with music, art, foreign languages, special ed and actual teachers
Jim Price
Posted on Portside's Facebook page
Re: Evil in the Delta: Elaine, Arkansas, 1919
 
" ... In 1919, the United States was in the grip of a racist, anti-labor and anti-communist fervor. The Russian Revolution, the Seattle General Strike, and union unrest set off a massive propaganda campaign by the media and government against the left, unions, immigrants, Latinos and African Americans. Mass deportation of immigrants, shootings, and arrests followed. But racism lent a special viciousness and violence to the Red Summer, weaponizing white workers and white ethnics to attack black neighborhoods and black workers, some of them brought in by employers to break strikes.
In 1919, employers played off workers against each other to kill a national strike of 350,000 Steel Workers, destroy interracial packinghouse worker organizing in Chicago, and undermine unions everywhere. ... "
Christopher Peragine
Posted on Portside's Facebook page
Re: Why is Greta Thunberg so Triggering for Certain Men?
 
At least she's trying, what are you doing to make this better? With opinions you don't do shit, were supposed to help each other! Hell is going to be a paradise for some people!
Ariel Cotte Lugo
Posted on Portside's Facebook page
     =====
But who's the real freak - the activist whose determination has single-handedly started a powerful global movement for change, or the middle-aged men taunting a child with Asperger syndrome from behind the safety of their computer screens?
Valishandra Kothari
Posted on Portside's Facebook page
Re: The Venceremos Brigade at 50: Challenging Empire, Uplifting Solidarity Since 1969
 
The Venceremos Brigade was an important event in US left history. I was on the first one, and a bunch of others with me (most of whom I didn't know) went on to make a big mark, particularly in the New Communist Movement. I only encountered them later. Some temporarily rejected Cuba to side with China's anti-Soviet position. Others joined the CP. One went on to single-handedly topple a nuclear plant tower. Many became union organizers, feminists, gay rights activists (!). A writer for the Chicago Daily News with CIA connects claimed we were trained in guerrilla warfare - we weren't, but few would have minded.
I made it into the Congressional Record when someone quoted me from an interview in a neighborhood paper, calling Fidel "a dynamite cat!" I was 17.
For some the high point was meeting Fidel. For others, including me, it was meeting young Vietnamese communists from the historic town of Hue. That made me grow a spine.
I never did get the hang of cane cutting though. And the cane harvest failed to reach its goal, which was a big lesson in the importance of combating idealism.
Ethan Young
Posted on Portside's Facebook page
     =====
The VB probably has many parents. But two of them were myself and Tom Hayden, who proposed it in our meeting with Fidel in 1968.
Carl Davidson
Posted on Portside's Facebook page
     =====
And a third: Carl Oglesby also proposed it and received an official "yes" as part of the SDS contingent during the 10th Anniversary in Havana in 1968-. (Success has a thousand parents...)
Bruce Goldberg
Posted on Portside's Facebook page
     =====
I do not accept the "pretty picture" of the Cuban Revolution or the Venceremos Brigade (VB) itself that characterizes the Diana Block article. I continue to be proud of my role, as a journalist and gay activist and original organizer and treasurer of the VB, revealing the truth about Cuba's homophobia and repression. I maintain that Cuba is still a police state where dissidents are jailed and civil liberties are non-existent. My 1982 book, "Gays Under the Cuban Revolution," is truthful and well-researched, though obviously not current. These VB alumni are narrow-minded leftists who won't face the facts and who continue to denigrate the exiles -- more than a million people -- who have another more honest perspective on what's happened to their beautiful island under the tyrannical Castro regime.
Allen Young
Progressive Directory Launched - 7000 listings - Add Your Group
 
Join the Network

You can now find more than 7,000 group listings, and more than 200 resources for activists at www.actlocal.network.
We think this free and public tool will enable groups in local areas to find allies, will support better coalition building, will help volunteers connect to groups they want to support, and will help funders identify groups worth supporting. But for all this to happen, we need your help to spread the word.
Can you please join us in sharing the news of the directory?
You can do this by:
    Amplifying on social media (SAMPLE TWEET and SAMPLE POST)
    Add your organization or make sure your listing is accurate www.actlocal.network
    
Find organizations, chapters, and groups that are leading the progressive movement.
Explore resources from across the progressive movement designed to support you and your communities.
ActLocal works with local leaders across the country to promote allyship and coordination, and creates infrastructure to strengthen leaders and activists across the progressive movement.
Remembering Ayotzinapa | Poster of the Week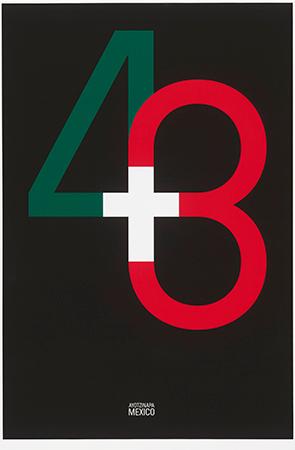 On September 26, 2014—five years ago today—students from the Escuela Normal Rural de Ayotzinapa in the Mexican state of Guerrero boarded buses towards the town of Iguala, where they planned to protest a political event hosted by the mayor and his wife. As the students arrived in Iguala, the buses were stopped by local police. While details of the violent confrontation remain unclear, the police eventually opened fire, killing six and wounding 25. Another 43 student teachers were herded into police vehicles—and never seen again.
After months of inaction, the Mexican government released an official statement claiming that the Iguala police had handed the students over to a local drug cartel, the Guerreros Unidos, who later incinerated all 43 bodies in a nearby garbage dump. While the Mexican government hoped to close the case on the missing students, experts pointed out that their claims were implausible, inconsistent, and scientifically unsound. The families of the missing students—with the support of the international community—continue to search for the truth.
Just eight weeks after the disappearances, internationally renowned artist and activist Francisco Toledo—who died Sept. 5, 2019—in conjunction with the Instituto de Artes Gráficas de Oaxaca (IAGO), launched an open call encouraging artists from all over the world to submit work about the 43 missing students for an exhibition titled Carteles de Ayotzinapa.
Over 700 designs were submitted by artists from Mexico, Iran, Poland, Spain, Portugal, China, Greece, and other countries. Forty-three were displayed at the Museo de Memoria y Tolerancia in Mexico City along with an installation of 43 kites—each displaying the face of one of the missing students—created by Toledo and participants of an "Art and Paper" workshop in Oaxaca. Proceeds raised by the exhibition went to the families of the disappeared students.
Recordando Ayotzinapa
El 26 de septiembre de 2014— hace cinco años hoy—estudiantes de la Escuela Normal Rural de Ayotzinapa en el estado mexicano de Guerrero abordaron autobuses con rumbo a la ciudad de Iguala, Guerrero donde planeaban protestar un event politico organizado por el alcalde y su esposa. A medida que los estudiantes llegaban a Iguala, los autobuses fueron detenidos violentamente por la policía local. Aunque los detalles de la confrontación siguen sin estar claros, la policía finalmente abrió fuego, matando a seis personas e hiriendo a otras veinte y cinco más. Cuarenta y tres estudiantes fueron conducidos en vehículos propriedad de la policía y de los cuales nunca más fueron vistos o se supo de ellos.
Después de una investigación inconclusa e incompetente, el gobierno mexicano lanzó un comunicado afirmando que la policía de Iguala habrían entregado a los estudiantes al cartel local de droga, conocido como "Los Guerreros Unidos", y que más tarde se dijo que los 43 cuerpos fueron incinerados en un basurero cercano. Aunque el govierno mexicano esperaba cerrar el caso de los 43 estudiantes desaparecidos, los expertos señalaron que sus afirmaciones son inverosímiles, inconsistentes y carecen de rigor científico. Las familias de los estudiantes desaparecidos con el apoyo de la comunidad internacional, aún continúan en la búsquedad de la verdad.
A sólo ocho semanas después de la desaparición de los estudiantes, Francisco Toledo, artista y activista reconocido internacionalmente—quien falleció el 5 de Septiembre de 2019—en conjunto con el Instituto de Artes Gráficas de Oaxaca (IAGO), puso en marcha una convocatoria abierta para exhorter a artistas de todo el mundo a crear un trabajo en base a los 43 estudiantes desaparecidos para montar una exposición titulada Carteles de Ayotzinapa. Más de 700 obras fueron presentados por artistas de México, Irán, Polonia, España, Portugal, China, Grecia, por mencionar algunos.
Cuarenta y tres fueron exhibidas en el Museo de Memoria y Tolerancia en la Ciudad de México, junto con una instalación de 43 cometas-papalotes, cada uno representando la cara de los estudiantes desaparecidos, estas piezas fueron creadas por Toledo y participantes del taller "Arte y Papel" en Oaxaca. Los fondos recaudados por la posición fueron destinados a las familias de los estudiantes desaparecidos.
Center for the Study of Political Graphics
3916 Sepulveda Blvd, Suite 103
Culver City, CA 90230
For more information please contact 310.397.3100 or visit our website.
Discover the Unknown History of the Holocaust - Jewish Partisan Educational Foundation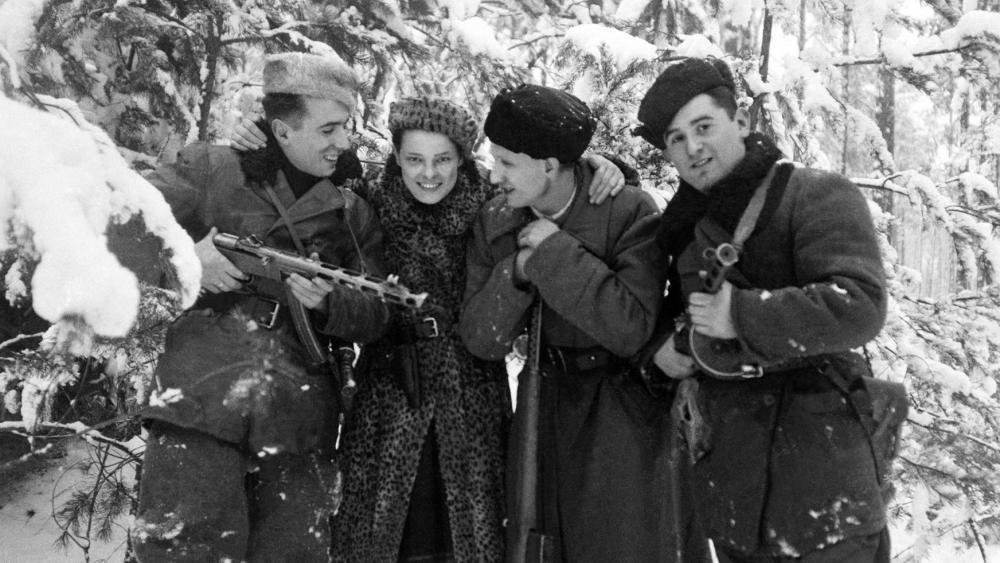 They were Jews in Europe, many of them teenagers, male and female, who fought against the Nazis during World War II. The majority were regular folks who escaped the ghettos and work camps and joined organized resistance groups in the forests and urban underground. Non-Jewish partisans could sneak back to their homes for security and safety. The Jews had no place to go and so they were constantly moving through the shadows on the edges of cities and towns.
Some, like Polish teenager Frank Blaichman, knew their village would be turned into a ghetto; Frank escaped and joined a group of partisans in a forest. Others, like Abe Asner, were among the very few Jewish partisans with military training. Most partisans knew nothing about guns and ammunition, so people like Abe became important teachers and leaders.
People who had guns and knew how to use them were mostly welcomed with open arms. If someone wanted to join and had no weapon, some groups required them to get one, in whatever manner they could. Outsiders who came to fight the Nazis – like Russian partisan groups in Poland – valued Jews who knew local terrain and could act as their scouts.
Less than ten percent of the partisans were women. Some were fighters and scouts; the majority were part of the vital infrastructure, cooking for the group and caring for the sick.
Those with young children often stayed in hidden enclaves in the forests. Some partisan groups, like the Bielski Brigade, accepted these families, but most groups did not.
Jews who joined non-Jewish partisan groups often hid their Judaism because of antisemitism. Norman Salsitz, for example, used seven non-Jewish identities while fighting the Nazis and was able to save dozens of Jews from certain death.
A partisan is a "member of an organized body of fighters who attack or harass an enemy, especially within occupied territory; a guerrilla."
During World War II, the majority of European Jews had no idea that the Nazis were conducting a meticulous disinformation campaign to convince them that they were going to work camps instead of being exterminated. Yet between 20,000- 30,000 Jews escaped from Nazi ghettos and camps to form or join organized resistance groups.
These Jews joined hundreds of thousands of non-Jewish partisans who fought the Germans, but they had to worry about local antisemites. Often they formed all-Jewish groups to protect themselves from their old neighbors.
Jewish resistance took on different forms. Physical resistance by the partisans was something that hurt the Germans. Spiritual resistance may not have affected the Germans and their collaborators directly, but it was important to the Jews, since the Nazis wanted to take away their dignity and self-respect.
In defiance of the laws, the Jews held prayer services, or taught children to read Hebrew; those who performed in theater groups or in concerts, who painted pictures and wrote poems, were part of the resistance, though they had no guns.
There were smugglers who sent children to safety and couriers who carried messages between the ghettos, as well as forgers who created documents for use in the outside world. Jews in the work camps sabotaged guns and other products they were making for the Germans.
Partisans with ammunition blew up thousands of Nazi supply trains, making it harder for the Germans to fight the war. In Lithuania, Jewish partisans were responsible for significant damage to Nazi trains. Partisans also destroyed numerous Nazi power plants and factories, and focused their attention on other military and strategic targets, rather than on civilians.
Read more here.
Jewish Partisan Education Foundation
PO Box 159004
San Francisco, CA 94115
415-563-2244
info@jewishpartisans.org
How China Continues While the USSR Did Not: A Modest Summary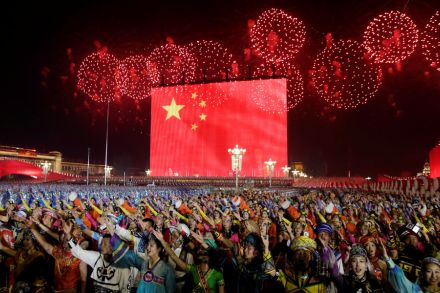 TWO REVOLUTIONS - Rough Notes
By Perry Anderson
New Left Review 118
July-August 2019
If the twentieth century was dominated, more than by any other single event, by the trajectory of the Russian Revolution, the twenty-first will be shaped by the outcome of the Chinese Revolution. The Soviet state, born of the First World War, victor in the Second, defeated in the cold replica of a Third, dissolved after seven decades with scarcely a shot, as swiftly as it had once arisen. What has remained is a Russia lesser in size than the Enlightenment once knew, with under half the population of the USSR, restored to a capitalism now more dependent on the export of raw materials than in the last days of Tsarism. While future reversals are not to be excluded, for the moment what has survived of the October rising, in any positive sense, looks small. Its most lasting achievement, huge enough, was negative: the defeat of Nazism, which no other European regime could have encompassed. That, at any rate, would be a common judgement today.
The outcome of the Chinese Revolution offers an arresting contrast. As it enters its seventh decade, the People's Republic is an engine of the world economy, the largest exporter at once to the EU, Japan and the United States; the largest holder of foreign-exchange reserves on earth; for a quarter of a century posting the fastest growth rates in per capita income, for the largest population, ever recorded. Its big cities are without rival for commercial and architectural ambition, its goods sold everywhere. Its builders, prospectors and diplomats criss-cross the globe in search of further opportunities and influence. Courted by former foes and friends alike, for the first time in its history the Middle Kingdom has become a true world power, whose presence reaches into every continent. With the fall of the ussr, no formula to describe the turn of events it signified became so canonized as 'the collapse of communism'. Twenty years later that looks a touch Eurocentric. Viewed in one light, communism has not just survived, but become the success story of the age. In the character and scale of that achievement, of course, there is more than one—bitter—irony. But of the difference between the fate of the revolutions in China and Russia, there can be little doubt.
Read full article here.
Dissident Arts Festival 2019 -Silent No More - Brooklyn - October 5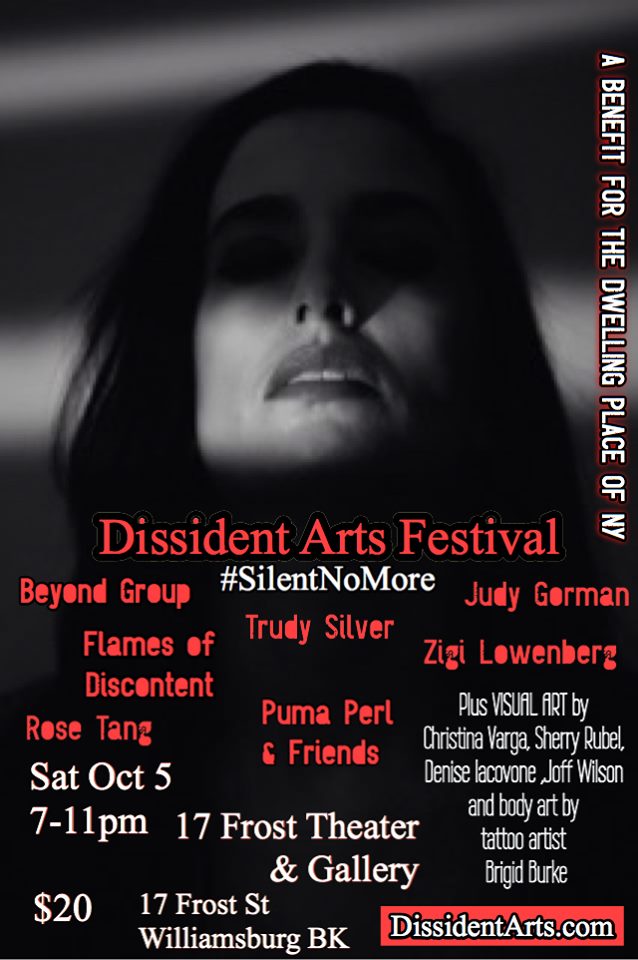 Dissident Arts Festival 2019 -- Our theme is #silentnomore - the fight for women's rights - and serves as a benefit for the Dwelling Place of NY, a transitional program for homeless women. The Dissident Arts Festival, founded 2006, is the annual gathering of revolutionary creativity.
17 Frost Theatre & Gallery
17 Frost Street
Brooklyn NY 11211
Admission: $20 donation
The Dissident Arts Festival, the annual assembly of "rad words and sounds from beneath the underground", returns to 17 Frost Theatre & Gallery in Williamsburg Brooklyn, October 5. This year's theme, #SilentNoMore , is in honor of the greater feminist cause with an accent on the voice of women. All proceeds will benefit the Dwelling Place of NY, a transitional facility and program for homeless women in midtown Manhattan.
The Festival will present free jazz, protest poetry, post-punk rock, and topical song. Each set will be woman-led or inclusive of a female artist in a primary soloist role. And this year, a visual art exhibit will also be part of the proceedings. It will include multi-media works of Christina Varga (Varga Gallery, Woodstock and Phonecia NY), paintings and drawings of Denise Iacovone, photography by Sherry Rubel (Sherry Rubel Productions) and paintings by artist/musician Joff Wilson (Soul Cake). A local woman tattoo artist TBA will also be with us for this special occasion.
FESTIVAL PERFORMERS:
Avant Jazz Griots the Beyond Group- Cheryl Pyle-C flute, alto flute, poetry; Michael Eaton-soprano saxophone; Larry Roland-bass, poetry, spoken word; Francois Grillot-bass; Reggie Sylvester-drums
Post-Punk Neo-Beat Duo Flames of Discontent John Pietaro-poetry, spoken word, vocals, electric guitar; Laurie Towers-lead electric bass, backing vocals
Singer/Songwriter/Feminist Activist Judy Gorman vocals, guitar
"Upsurge!" Performance Poet Zigi Lowenberg poetry, spoken word with Russell Dale-guitar
Rock 'n' Roll Poet Puma Perl &Friends; Walter Steding-violin; Joff Wilson-guitar; Joe Sztabnik- electric bass; John Pietaro-drums
"Where's the Outrage?" Pianist-Composer Trudy Silver piano
Poet/Tiananmen Square Survivor Rose Tang poetry, spoken word, electric guitar; Ayumi Ishito-tenor saxophone; Wen-Ting Wu-drums
Guest Speaker Sister Joann Sambs, Administrator, the Dwelling Place NYC
John Pietaro -- DISSIDENT ARTS/NEW MASSES MEDIA RELATIONS    
    (646) 599-0060
    leftmus@earthlink.net
    http://TheCulturalWorker.blogspot.com
Valuing Women's Work and Building Women's Empowerment: The Centenary of the ILO and the Future of Women's Labor Rights - New Haven - October 10 - 12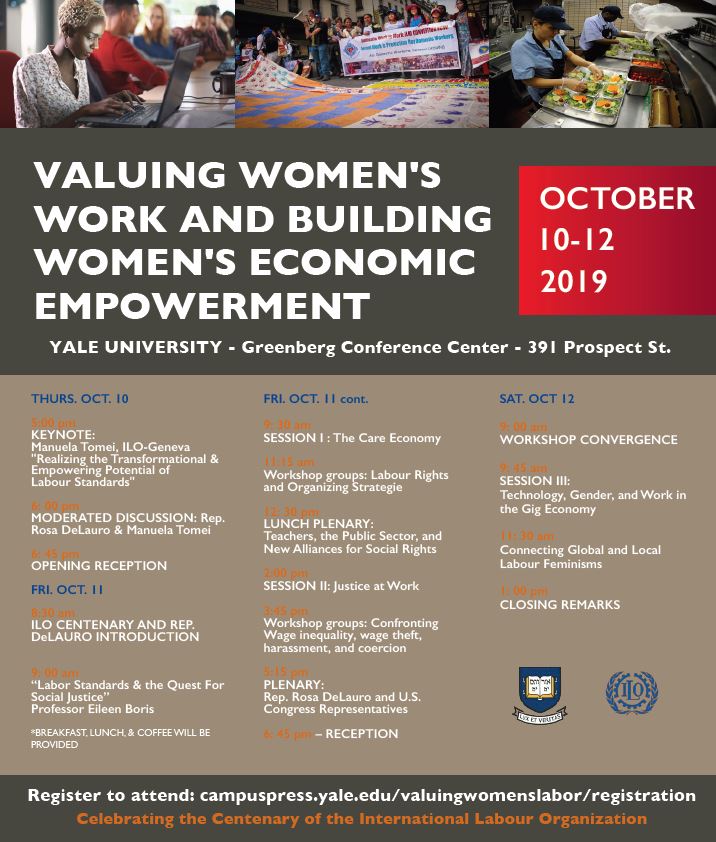 Maurice R. Greenberg Conference Center
Yale University
391 Prospect Street 
New Haven, CT 06511
Valuing Women's Work and Building Economic Empowerment: Celebrating the Centenary of the International Labor Organization and the Future of Women's Labor Rights is a working conference that will bring together scholars, union members and leaders, lawyers, immigrant rights' advocates, entrepreneurs, and legislators from Connecticut state government and the U.S. House of Representatives. The conference will take place on October 10-12, 2019 at Yale University.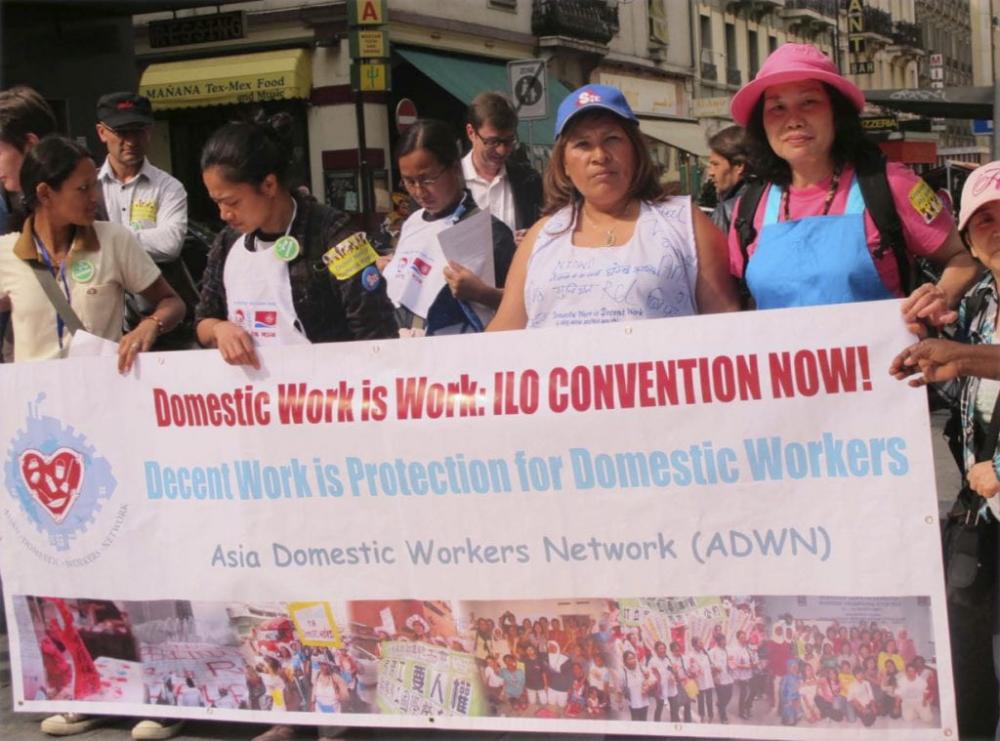 The event has been organized with the International Labor Organization Office for the United States (ILO-USA) and Congresswoman Rosa DeLauro (D-CT), a long-standing leader in the U.S. House of Representatives and Chair of the Labor, HHS, and Education Appropriations Subcommittee.
The occasion of this conference is the centenary of the ILO, one of the most enduring of the international normative organizations established in the wake of World War I to create more humane work and improve social conditions in the new industrial age. The ILO continues to adopt international labor standards that set the framework for the way we experience work.
Uniquely, this conference focuses specifically on women's rights at work and women's labor rights within a shifting political economy. Since the creation of the ILO, women's labors have moved from the periphery to the center of modern economies—in hospitals, nursing homes, food services, hotels, schools, offices, social agencies, building cleaning services, retail enterprises, and homes. Yet women comprise the majority of minimum wage workers in the U.S. They also continue to do the unpaid labor within families.
Today we confront the imperative of generating new conversations and strategies to advance women's economic security. With speakers and facilitators coming from across the U.S. and other countries, this conference aims to forge strategic alliances and generate new possibilities for action at the local, state, national, and transnational level.
Conference registration is FREE
For information about the conference, please contact puya.gerami@yale.edu, mie.inouye@yale.edu or jennifer.klein@yale.edu.
Come Build the People's Sukkah! - Embrace sanctuary and solidarity, not policing, racism, or militarism - New York - October 15
 
If there is one thing you do with JVP-NYC this year, this is where we need you most: 
On October 15th at 6:30pm, march with us to ADL headquarters to demand an end to their US-Israel police exchanges. It's going to be an incredible action at a pivotal point in our campaign! 
The tide is turning: Durham City Council voted to prohibit their police from going on these exchanges, and the city of Northampton and state of Vermont pulled their police off these trips. New York City is obviously a totally different (and frankly much more challenging) context — but that just makes your help even more important!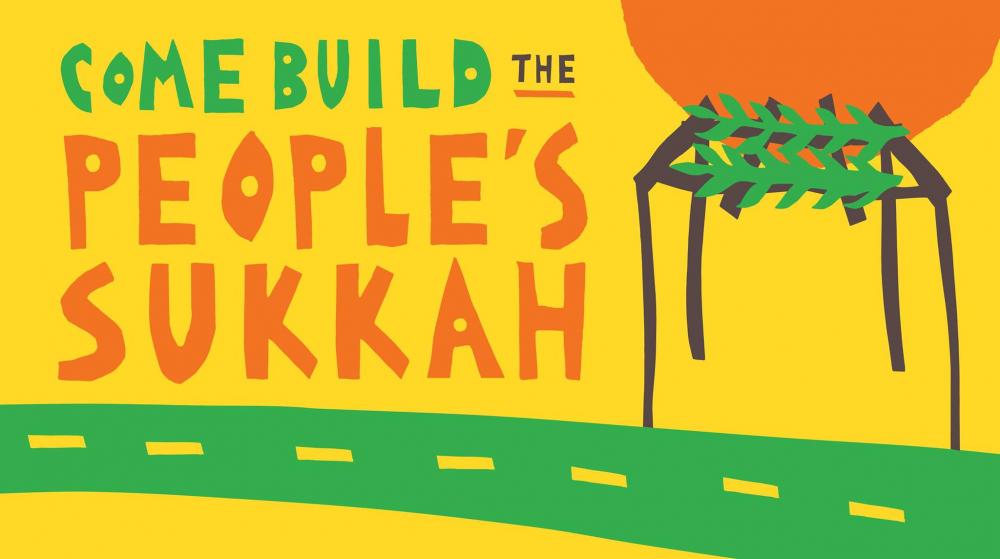 Come Build the People's Sukkah!
Embrace sanctuary and solidarity, not policing, racism, or militarism
Tuesday, October 15, 6:30-8:30pm
New York New Church
114 East 35th Street 
New York, NY 10016
Last year we brought 400-people to the ADL for a People's Menorah action during Chanukah — were you there? If not, check it out here.
This year we're organizing around Sukkot, the Jewish harvest holiday of Sukkot that's all about gathering community, sharing bounty, and keeping all of us safe and secure.
It would mean so much if you would join us. Every person counts as we build the pressure to stop the exchanges - and the impact they have not only on the Israeli Police and NYPD, but ICE and CPB too.
And with the action's mix of anger and joy, speakers and spectacle, we promise it will be worth your time.
Jewish Voice for Peace – NYC
info@jewishvoiceforpeace.org
Jewish Voice for Peace
P.O. Box 589
Berkeley, CA 94701
Book launch - Waging Peace in Vietnam: U.S. Soldiers and Veterans Who Opposed the War - New York City - October 18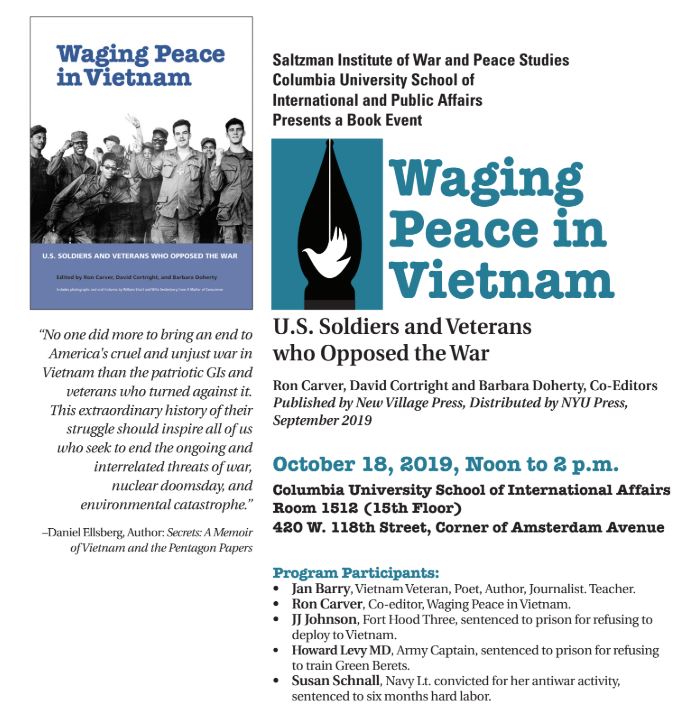 Friday, October 18, 2019  --  Noon to 2 p.m.
Columbia University School of International Affairs
Room 1512 (15th Floor)
420 W. 118th Street, Corner of Amsterdam Avenue
Manhattan
Beaten Down, Worked Up: An Evening With Author Steven Greenhouse - New York City - October 28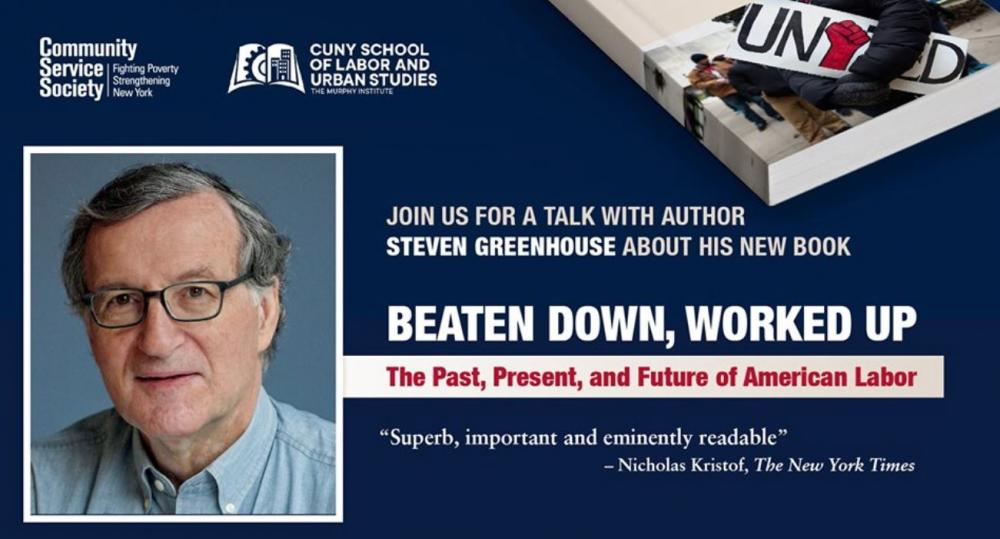 Monday, October 28, 2019 at 6 PM – 7:30 PM
The Community Service Society of New York
633 Third Ave, 10th Floor
New York, NY 10017
Opening Remarks
David R. Jones - President and CEO, Community Service Society of New York
Stephanie Luce - Chair and Professor of Labor Studies, CUNY School of Labor and Urban Studies
Moderator
Liz Vladeck - Senior Labor Policy Adviser, Mayor's Office of Policy and Planning 
Join us for a conversation with Steven Greenhouse about his acclaimed new book, Beaten Down, Worked Up: The Past, Present, and Future of American Labor.  Greenhouse, who covered labor issues for The New York Times for two decades, recounts pivotal episodes in the labor movement's history and explains how unions lifted millions of workers and helped build a fairer nation. He then examines the decline of unions and how that has hurt workers, and concludes with inspiring stories of recent events, like the teachers' strikes and Fight for $15, that are sparking a resurgence for labor.
STEVEN GREENHOUSE was a reporter for The New York Times from 1983 to 2014 and covered labor and the workplace for nineteen years there. He also served as a business and economics reporter and a diplomatic and foreign correspondent. He has been honored with the Society of Professional Journalists Deadline Club award, a New York Press Club award, a Gerald Loeb Award for Distinguished Business and Financial Reporting, and the Hillman Prize for Book Journalism for his last book, The Big Squeeze: Tough Times for the American Worker.
A book signing and wine and cheese reception will follow.
Reserve your ticket(s) before the event. Space is limited.