https://portside.org/2022-03-31/tidbits-march-24-2022-reader-comments-ukraine-war-ketanji-brown-jackson-war-aggression
Author:
Date of source:
Portside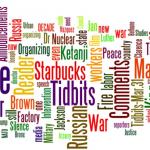 Announcements:
Today I made a very difficult decision for me.
 
Olga Davydova (Photo by Aleksandr Podanev)
Briefly:
I, the champion and record-holder of Russia in freediving, is one of the top athletes in this sport, a freediving instructor with 9 years of experience and a yoga teacher.
I am a mother of two children and a citizen of Russia.
I have decided not to represent my country anymore in international competitions, even if it means the end of a sports career.
It may be soon enough already none of Russian athletes will have the opportunity to participate in international competitions, but I made my choice not from the fact of inevitability, but according to my own beliefs.
Long:
What I declare is insignificant in the wake of the nightmare that is happening now. But it's important for me to express my position. (It is completely unclear how I, with my inability to be silent, will continue to live in a country where 15 years in prison for "betraying the homeland". But I still don't know how to be silent. I still cannot imagine and do not want to think about how people in North Korea live. )
I am categorically against Putin's regime and the war in Ukraine unleashed by the Russian government. I do not see any excuse for the current policies of other states involved in this bloodshed. I am a citizen of THIS country and because, as a Russian, I bear responsibility for what is happening here and now.
I am ethnic Russian, I do not have Ukrainian blood, but I have a lot of friends and relatives in Ukraine, and I have enough information about what is happening there now. And no matter who and how wrong was in the past: today millions of people live in hell. And these Russian tanks crossed the border of Ukraine.
Since childhood, I grew up with the idea of a feat of the Soviet people during World War II. About the fact that we, Russians, are the heirs of a heroic past: a nation-winner, a nation-liberator, and we will never allow war. I am one of those who hear the sounds of the USSR anthem goosebumps. As I got older, I learned about the horrors of GULAG and millions of denunciations.
I remember the collapse of the USSR and the incitement of nationalist wars throughout the post-Soviet space, and I thought that we, the Russians, would not fall into the rods of politicians who confront nations. My government has finally deprived me of these patriotic illusions, and thank God. One step from patriotism to nationalism. I'm ashamed of my country. I believe that humanity is above state interests.
Olga Davydova
Post on Facebook
Judge Ketanji Brown Jackson's Trial Experience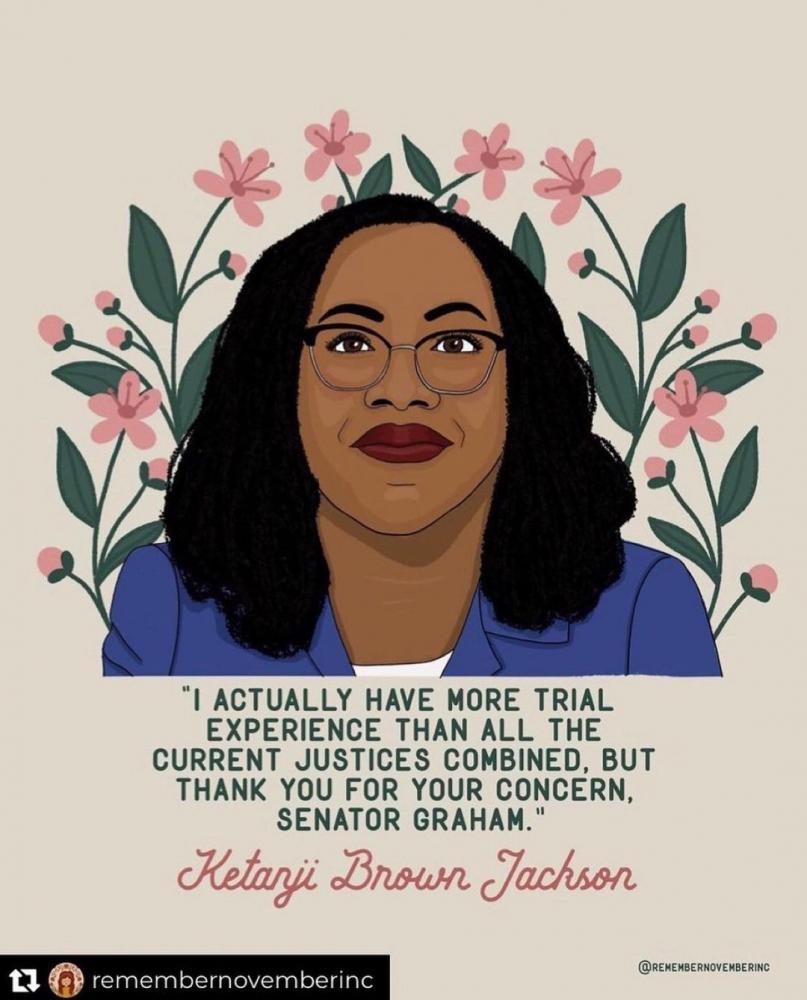 Posted on Facebook by Rhiannon Giddens
Ketanji Brown Jackson Supreme Court Justice nomination hearings  --  cartoon by Bill Bramhall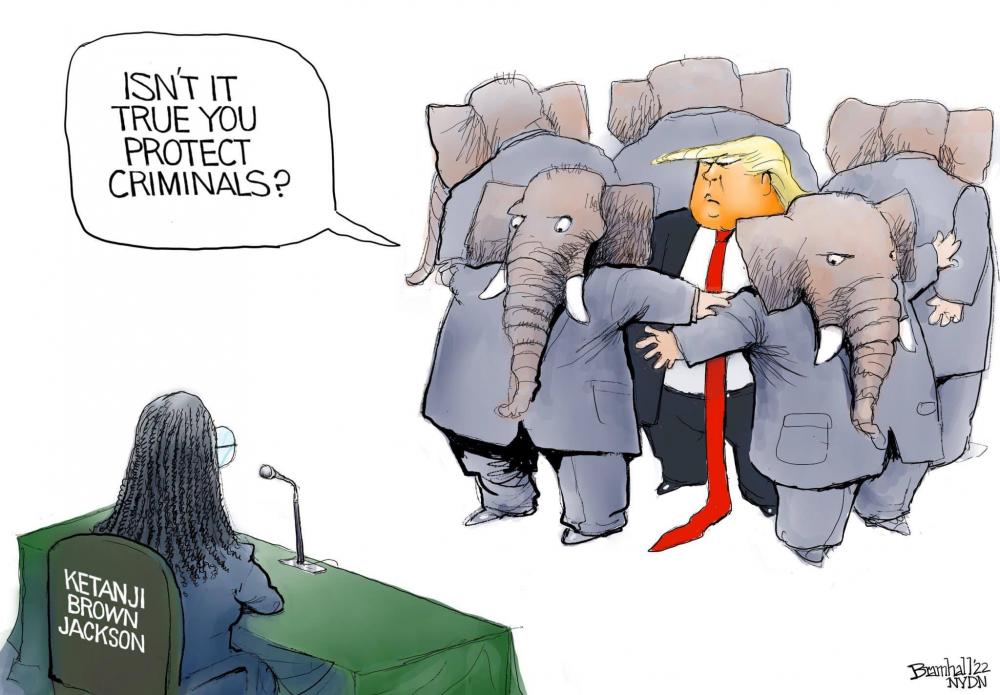 Bill Bramhall
March 24, 2022
New York Daily News
Re: Putin and Trump Have Convinced Me I Was Wrong About the 21st Century
 
Democracy is inevitable. I formed this belief in the early 1990s when the Soviet Union had imploded and China was still poor. It seemed to me that totalitarian regimes didn't stand a chance in the new technologically driven, globalized world. Sure, petty dictatorships would remain in some retrograde regions. But modernity came with democracy, and democracy with modernity.
Both Trump and Putin have shown how wrong I was on this, too.
Van Caldwell
Posted on Portside's Facebook page
      =====
So goodbye to the liberal version of historical inevitability.
Jay Mazur
Posted on Portside's Facebook page
      =====
We can always count on Reich to say it clearly, concisely, and accurately. I feel like I've been communicating with him without knowing it.
Arlene Halfon
More on the U.S. Peace Council Statement on Russia's Military Intervention in Ukraine
 
I was shocked by the U.S. Peace Council's statement re the Russian invasion of Ukraine. Blaming provocation by NATO for Russia's aggression is ridiculous. While I don't and never have defended NATO, I couldn't believe my eyes when I read this: "We should not allow ourselves to be duped by imperialism's 'blame the victim' narrative when the victim is forced to defend itself." Really? Russia, which invaded Ukraine, is the victim?
It also uses the phrase "demonizing the Russian president." Well, let's have a look: Jailing political opponents, poisoning a few, strangling opposition in the media, and jailing thousands of protesters across the country. With that record, you don't have to demonize a demon.
The main problem with their position is its lack of recognition of change. Yes, NATO was formed to defend capitalism, not to defend against aggression, as it claims. There was no military need for it from the outset, and especially after the demise of the Soviet Union. But there is no way Putin's aggression can be excused, especially since the change in Ukraine to a more democratic government.
...
I don't get it. You print the crap from the U.S. Peace Council, then you (I mean Portside) double down with more crap from Joe Lauria of Consortium News. What's going on? I'm in favor of publishing differing views on how to cope with a sticky situation, but not to distort the fundamental facts: (1) Russia invaded Ukraine; (2) Putin is an autocrat, whose only difference from Trump is that he is smarter; (3) The government of Ukraine, though still not rid of its neo-Nazi tinge, has become more democratic with the election of Zelensky; (4) The invasion was not a devious plot by Joe Biden. At very least, Portside should publish a disclaimer — and stop giving voice to damaging (not differing) material.
Seymour Joseph
      =====
That was Putin's rhetoric, nationalist and reactionary. But his stated war aims now are quite different: "the status of Ukraine as a neutral state, a state that does not pursue an anti-Russian policy, a state that is not militarized, and a state as our normal neighbor," I saw this on a Chinese news site. In short, what they want is more or less what should have been implemented by the Minsk agreements. Putin was provoked into an illegal and cruel war but it is in essence a proxy war with NATO.
Dan Morgan
Posted on Portside's Facebook page
      =====
Provoked? I get provoked all the time, but I've yet to use weapons as a response. Of course, countries are another matter, but it's still a very bad precedent. The US might claim it's being provoked by any of many other governments building up their armed forces or forming partnerships with, say, China. Does that justify invasions? I think not. Better to turn to the UN Charter and negotiating tables.
Carl Davidson
Posted on Portside's Facebook page
      =====
I notice the torrent of criticism and even abuse concerning the U.S. Peace Council's position on Ukraine.  The critics do not seem to mind that they are objectively giving aid and comfort to the main enemy in the world today --US world domination.  But then that's an old story
Joseph G. Kaye
      =====
I wasn't going to write Portside because I thought this was the first attempt at satire for a stab at leftist humor. Apparently I was wrong. Aggressor right wing nationalist Russia needs to get out of Ukraine.
Paul Friedman
      =====
A calendar year should be more than adequate for many/most in this mishmash of commentary to change their tunes!
Gary Hicks
      =====
Kudos to Portside for publishing the US Peace Council statement on the war in Ukraine, one that captures the complexity of the conflict and finally breaks with the groupthink mentality infesting even the Left on its root causes. Too bad the publication did not include the tab for folks to join the USPC, a genuine peace organization in need of revitalization.
Peace,
Werner Lange
Nuclear Weapons 101  -- Answers to Nuclear Quiz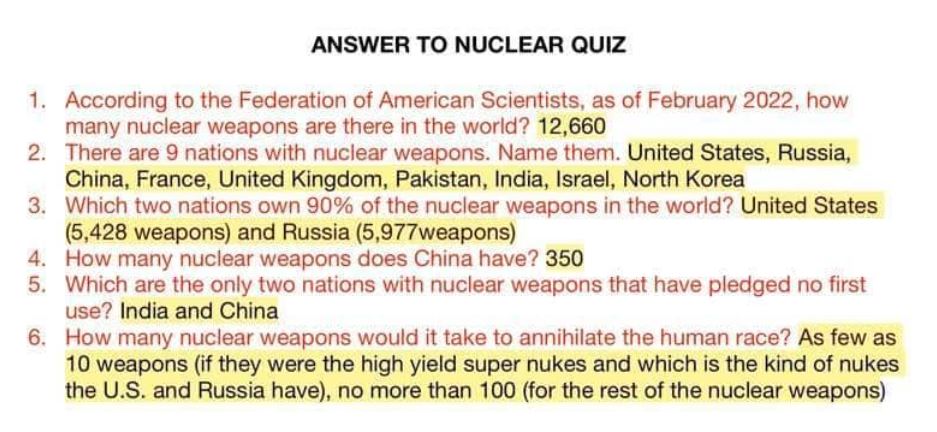 Re: Will War in Ukraine Hasten the End of Fossil Fuels?
 
People need to consume less, because products must be made and transported using fossil fuels. If we can't cut our demand, energy will be supplied by nuclear power or coal. We're trained from birth to buy stuff we don't need, but this habit will kill us if we let it.
Jane Collins
Posted on Portside's Facebook page
Re: Why Stop at the Russian Oligarchs?
 
Do the American oligarchs next.
Michael Dunn
Posted on Portside's Facebook page
Justice Thomas at Home  --  cartoon by  Chris Britt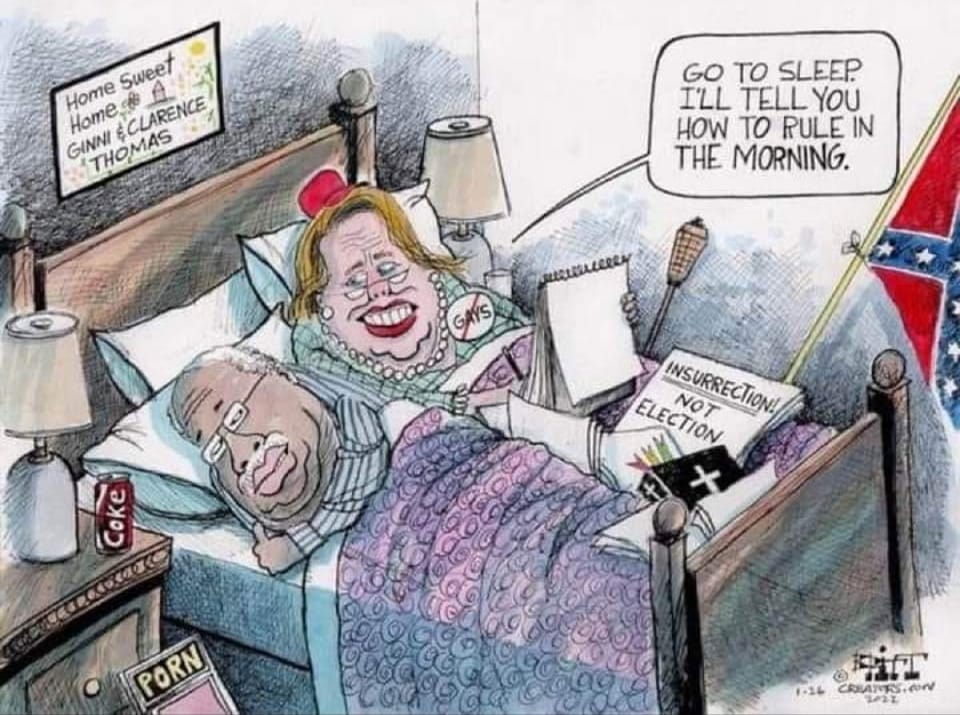 Chris Britt
January 28, 2022
Re: The Odyssey of the Triangle Shirtwaist Factory Fire Memorial
 
The mother of one of my parent's friends was one of the lucky ones. She was able to escape from the fire.
Jan Bauman
Posted on Portside's Facebook page
      =====
Today, March 25, is the 111th anniversary of the Triangle Shirtwaist Factory Fire. Trapped inside because the owners had locked the fire escape exit doors, workers jumped to their deaths. On March 25, 2023, a new memorial will be placed at the site in New York City's Greenwich Village where 123 women and girls and 23 men garment workers, mostly recent Jewish and Italian immigrants, died. Activist academic Mary Anne Trasciatti, president of the Remember the Triangle Fire Coalition, talks about the long road taken to finally bring to fruition this long overdue memorial.
Elena Marcheschi
Posted on Portside's Facebook page
Re: Why There's More Labor Media Coverage
(posting on Portside Labor)
 
It seems like workers and their unions are in the news more than ever lately.  Starbucks baristas, Amazon warehouse workers, John Deere strikers, and even New York Times tech workers, who just unionized, have all starred in the recent swell of labor coverage. The pandemic launched essential workers out of the media's shadows, making this largely Black, brown, and female workforce much harder for reporters to ignore.  Yet the shift in the media's coverage of labor has been a dozen years in the making. It started before  the pandemic and even predates the current upsurge in union organizing. Why are we seeing this increase in working-class and labor reporting? And how does it connect with larger shifts in how Americans view class itself?
But it's not just the reporters who are changing; their readers' worldview is changing, too. The neoliberal, markets-fix-everything mindset had already taken a hit in the 2008 crash. Then during the pandemic, many middle-class professionals watched from the safety of home as essential workers, largely working-class people of color, braved the virus.  They saw that these workers didn't get treated better or paid more for their labor, even as housing and living costs continued to skyrocket. Thus, the stories that new labor reporters offered about workers and their experiences found an intense interest among readers.
The new upsurge in labor media coverage is anchored in fresh awareness about class and its role in America today, a growing understanding that is stripped of the anti-Communism that shaped ideas about class for much of the twentieth century.  It's not yet clear how fully this working-class renaissance will develop. What is clear is that a new generation of labor reporters is standing ready to report on it. 
* https://www.facebook.com/kilwp and https://lwp.georgetown.edu/
Lane Windham, Associate Director, GeorgetownU's Kalmanovitz Initiative for Labor and the Working Poor
Posted on Portside's Facebook page
      =====
Excellent round-up of what progressive unions are doing to pushing forward.
Miriam Frank
Re: Sacramento Teachers Are Striking for Fair Pay and More Student Support
(posting on Portside Labor)
 
To striking Teachers in Sacramento from teachers in Minneapolis. Fair wages and support for students - Be strong, stay united and value and promote the support of students and community. We did it for now. Then we return and do it again.
Claire O'Connor
(posting on Portside Labor)
 
Whenever I hear people whine about the player's union, I think about the players of the 1940s who were blacklisted because of their efforts to organize. Some of them went to their graves still fighting for justice.
Eleanor Roosevelt
Posted on Portside's Facebook page
Re: How the Starbucks Worker Organizing Model Can Accelerate Unionization Across the Country
 
The unionization drive at Starbucks is indeed a terrific development. But this article's presentation of "the Starbucks Worker Organizing Model" is off base, since the author mischaracterizes Starbucks Workers United. Workers United is an affiliate of the Service Employees International Union (SEIU), the second largest labor union in the country. Props to SEIU for nurturing this organizing drive, but it's simply not true to state that "[T]he key to the success of SB Workers United is that they have built an independent organization of workers seeking to unionize..." It's a worthwhile endeavor to analyze why the Starbucks organizing has been so successful, but that analysis has to start from the facts.
Mike Mauer
Posted on Portside's Facebook page
Virtual Gathering: King and Breaking Silence 2022 - April 4 (King and Breaking Silence and Fellowship of Reconciliation)

Monday, April 4 at 7:15 PM
April 4, 2022 is the 54th anniversary of Rev. Dr. King's assassination, and the 55th anniversary of his historic "Beyond Vietnam: A Time to Break Silence" speech delivered at The Riverside Church in New York City. This speech went beyond civil rights to condemn militarism, racism, and extreme materialism, enforced by a culture of violence, as the source of the ills that plague U.S. society. This speech stands as one of Rev. Dr. King's greatest accomplishments.
Join thousands of people nationwide for a very special virtual event that will evoke Rev. Dr. King's prophetic lessons, ground ourselves in these timeless truths, and keep his words alive by using them to guide our thoughts and actions.
Our virtual gathering on April 4 @ 7:15 pm (EDT) will include a pre-recorded reading of the speech and a live panel discussion by well-known social movement leaders, artists and activists. We are also encouraging local readings, organizing events, and media outreach with suggestions in our Organizers' Guide and Toolkit. 
Please register for the webinar
"Decade of Fire" virtual film screening / director Q&A - April 5 (CUNY School of Labor and Urban Studies)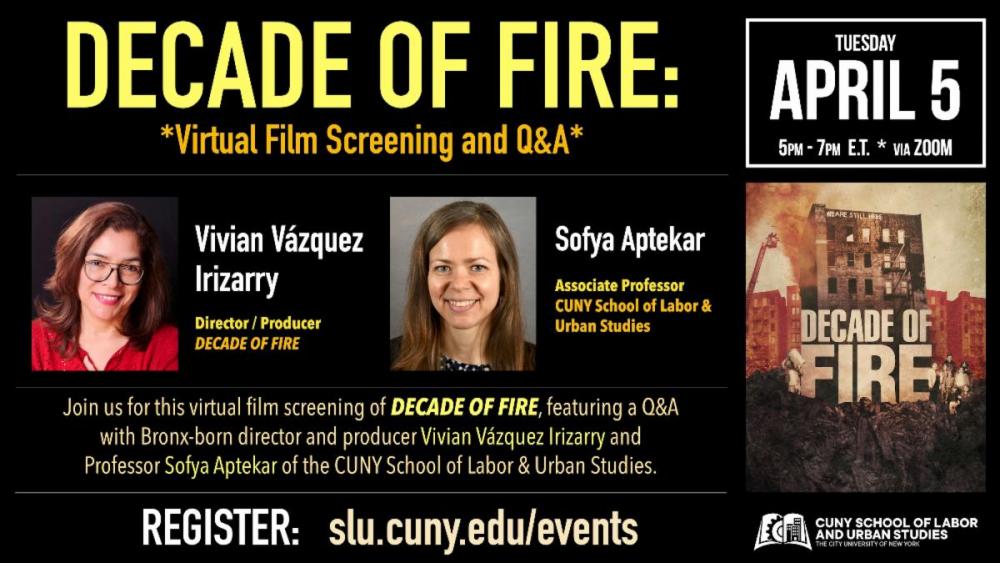 DECADE OF FIRE
Virtual film screening & director Q&A featuring director/producer Vivian Vázquez Irizarry
Tuesday, April 5, 2022
5:00 PM - 7:00 PM ET
(find your local time here)
Join us for this virtual film screening of the award-winning documentary, DECADE OF FIRE.
 
After the film, join us for an exclusive Q&A with Bronx-born director and producer Vivian Vázquez Irizarry and Professor Sofya Aptekar of the CUNY School of Labor & Urban Studies.
About the film:
Throughout the 1970's, fires consumed the South Bronx. Black and Puerto Rican residents were blamed for the devastation even as they battled daily to save their neighborhoods. In DECADE OF FIRE, Bronx-born Vivian Vázquez Irizarry pursues the truth surrounding the fires – uncovering policies of racism and neglect that still shape our cities, and offering hope to communities on the brink today.
Through a rich seam of archival and home movie footage, DECADE OF FIRE confronts the racially-charged stereotypes that dehumanized residents of the South Bronx in the 1970's, and rationalized their abandonment by city, state and federal governments. Vázquez Irizarry, in her role as the film's central character and co-director seeks not only healing for her community, but to redeem them from the harmful mythology spread by the media that has continued largely unchallenged to this day. She tells the story of a people who held on, worked to save their community and start anew against impossible odds. The accounts she gathers are supported by extensive research, archival footage, print and broadcast news excerpts, testimonials from retired FDNY firefighters and brass, as well as Bronx historians.
Through exposing the history, and lifting up the stories of survivors whose deep commitment to their homes and communities saved the borough, DECADE OF FIRE offers the emergence of a new narrative for the South Bronx and places like it across the nation.
WATCH THE TRAILER:
CUNY School of Labor and Urban Studies
25 West 43rd Street, 18th Floor
New York, NY 10036
A Left Response to the Russian Invasion of Ukraine - April 7 (Liberation Road and 15 co-sponsoring organizations)
Join the internationally respected linguist and analyst Noam Chomsky and well-known socialist Bill Fletcher Jr.
Tune in to a discussion about the roots of Russian aggression in Ukraine, the background to the conflict, the US role, and how the Left can respond.
April 7, 2022
7:00 PM – 8:00 PM EDT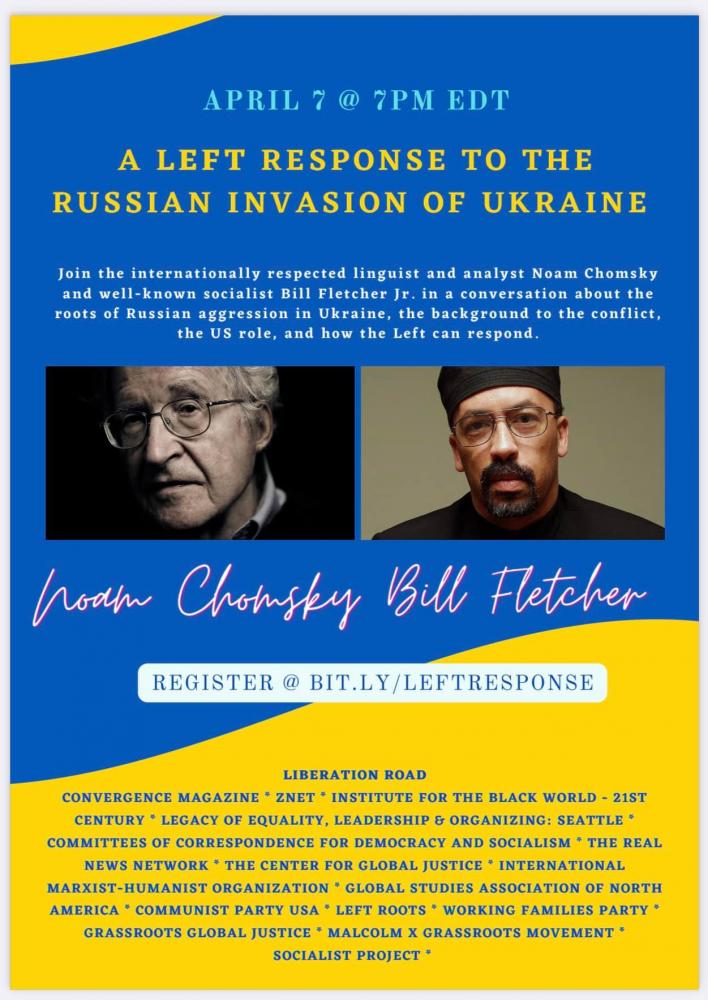 Chicago Celebrates Mother Jones on May 1st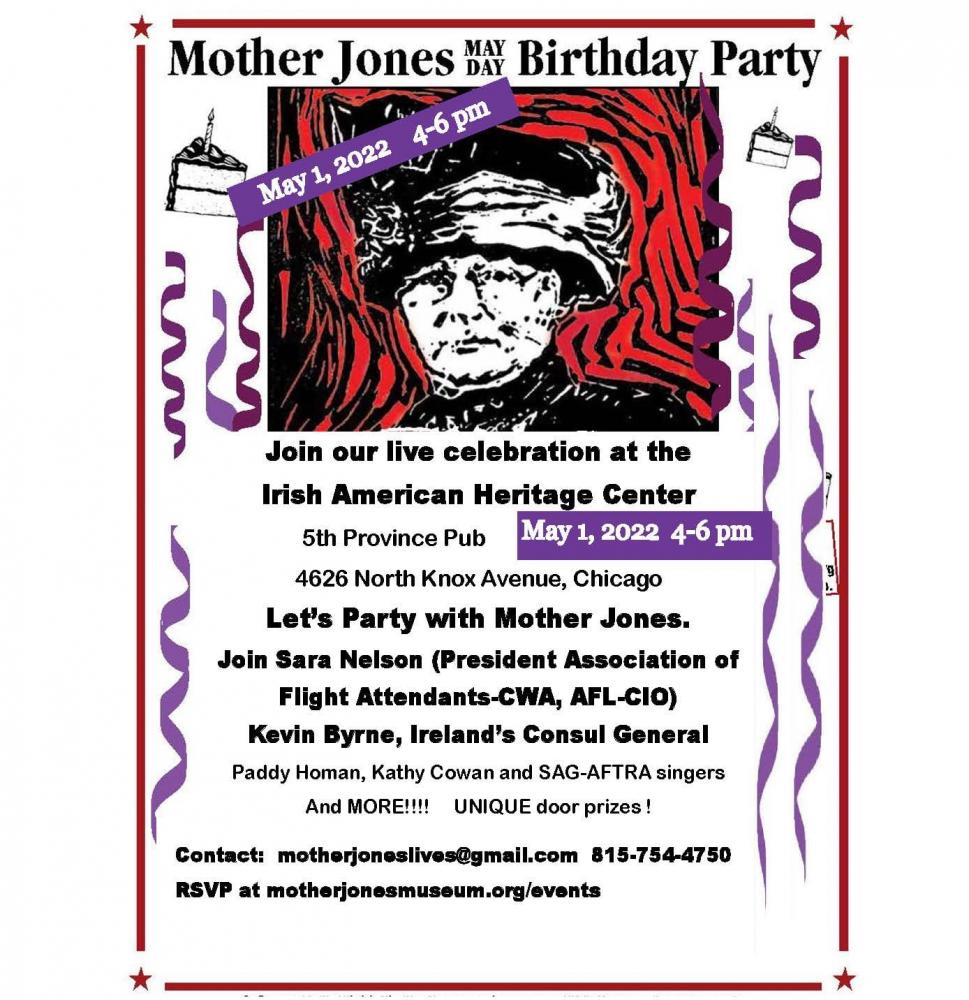 Web discussion of "The Scalpel, The Sword" the biography of Dr. Norman Bethune - May 7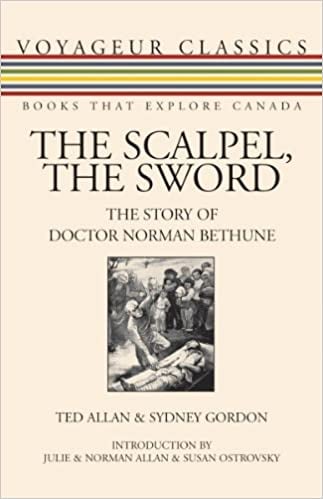 You are invited to a live discussion of "The Scalpel, The Sword" the biography of Dr. Norman Bethune by Ted Allan and Sydney Gordon. It will take place on Saturday May 7 from 3:00 - 4:00 PM EDT NYC. It can be accessed by everyone from this link https://us02web.zoom.us/j/85242711201
Dr. Bethune invented the lifesaving mobile transfusion unit on the battlefields of Spain.
It may be downloaded in PDF format here. It can also be obtained on Kindle.