labor
Sacramento Teachers Are Striking for Fair Pay and More Student Support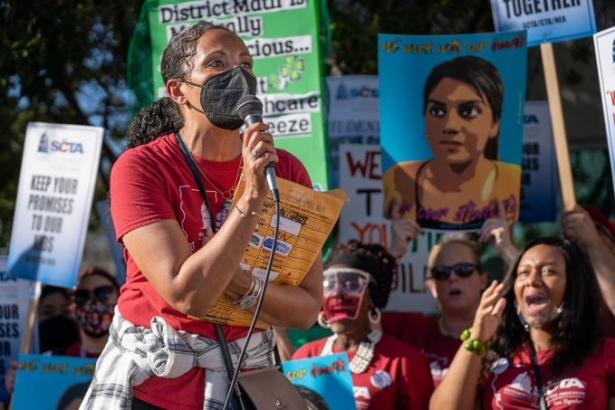 Teachers and school workers attend a rally in Sacramento, California.,(Ian Lee / Jolie Media)
Three years after a one-day strike, Sacramento teachers are back on the picket line — this time for however long it takes to win a new contract.
The 2019 demonstration was unique in that it was not over unaddressed workplace issues or to reach a deal on an upcoming contract. Instead, teachers walked out to defend their already agreed-upon contract, which the district reneged on after its signing. That one-day strike culminated in a rally at the district building where thousands of educators, school workers, and community supporters gathered to demand the district honor the contract.
Now, almost three years later, teachers have walked out again — but this time they don't know when they're going back. Sacramento teachers are on an open-ended strike to demand pay that reflects the cost of living under inflation, more support for students, and the preservation of their health care plan.

The Sacramento City Teachers Association (SCTA) announced the strike date at a rally last week attended by an estimated twenty-five hundred people, including teachers, school staff, and supporters. Among them was Sacramento City Council Representative and Democratic Socialists of America (DSA) member Katie Valenzuela.
"The district's messaging — implying that teachers are putting students at risk by striking — is disgusting." Valenzuela, who previously worked in education policy, told Jacobin. "No one cares more [about students] than the school workers."
Roughly eighteen hundred classified school staff — including bus drivers, cafeteria workers, yard monitors, and custodians — represented by the Service Employees International Union (SEIU) Local 1021 are also striking.
Olivia Minor has worked transportation services in Sacramento City Unified School District's (SCUSD) for ten years — nine as a bus driver before getting promoted to dispatcher last year. Her kids also attend SCUSD schools. When asked about her working conditions she told Jacobin, "Things are getting out of control. I have to call more and more parents to say their bus route is getting canceled because there isn't enough staffing."
According to Minor, 25 percent of the district's drivers have left over the past eighteen months. "Given all the requirements and restrictions to be a driver — including [monitoring] the medication someone takes — it's such a stressful job for not enough pay."
The school workers' contract expired in June of 2020, but the district has not responded to proposals made in bargaining back in October, according to the union. The union also claims that requests to bargain throughout the past weekend have been ignored. Instead the district offered a bargaining date of March 30 — which will be six days into the strike.
Striking teachers and school workers on the picket line in Sacramento, California. (Ian Lee / Jolie Media)
On Tuesday, the United Public Employees (UPE), representing principals, vice principals, and other administrators in Sacramento schools, sent out a letter claiming that its members have "lost confidence in the district's ability to provide effective leadership." The letter includes a survey that shows more than 70 percent of its members believe the union should take a vote of no confidence in the superintendent Jorge Aguilar, and that more than 40 percent of UPE members support the SCTA strike.
Aguilar recently received a raise of $34,126, earning him a total salary of $414,818 — at a time when the district is pleading poverty when teachers demand equitable pay. Since Aguilar became superintendent of SCUSD in 2017, SCTA has filed eighteen unfair labor practice charges against the district.
Nate Starace, who has been teaching at McClatchy High School for almost twenty years, says the letter bodes well for SCTA. In addition to the encouraging support from admin — which has typically sided with the district on workplace issues — Starace says the fact-finding report has bolstered their case. The report, which was conducted under the the California Public Employment Relations Board after the district declared an impasse and whose findings were unanimously endorsed by SCTA, concluded that the district ought to provide employees with a retroactive across-the-board cost-of-living increase.
Belén Moreno, who is in her first year of teaching in SCUSD, explained why she is walking off the job despite not having been in the district for long:
My students and my coworkers have inspired me. My students deserve the very best from their teachers which means their teachers have to be treated like humans. A stronger contract would provide us with enough security — a fair salary that reflects the market — to allow me to catch my breath and refocus, spend more time on teaching than figuring out how to live on month-to-month pay, and attract more qualified teachers to a district that is suffering from a shortage.
ABOUT THE AUTHOR
Peter Lucas worked on the Zohran Mamdani campaign and is a member of Democratic Socialists of America in New York City.
HAVE YOU READ JACOBIN IN PRINT? SUBSCRIBE AT A SPECIAL RATE AND DON'T MISS OUR LATEST EDITION.