https://portside.org/2022-07-14/tidbits-july-14-2022-reader-comments-hearings-gop-witnesses-show-trump-planned-armed
Author:
Date of source:
Portside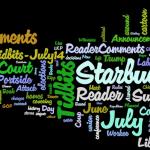 Resources:
Announcements:
Overturn the Hearings  --  cartoon by Mike Luckovich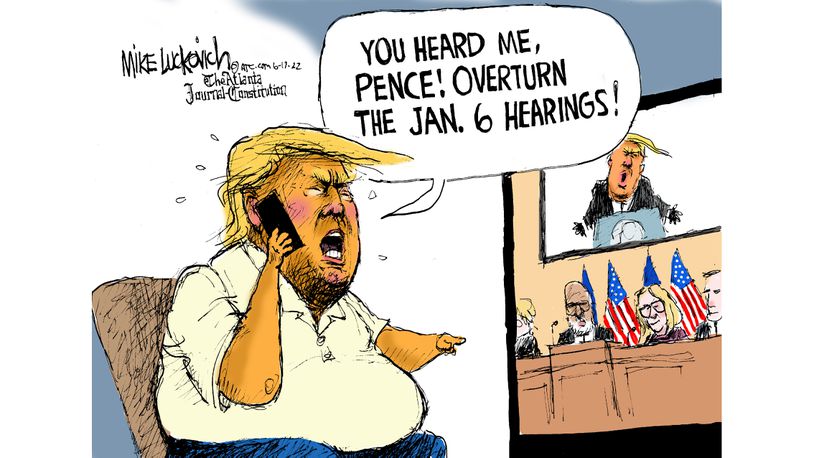 Mike Luckovich
June 17, 2022
Atlanta Journal-Constitution
Trump Supporters Be Like  -- meme by Diana Alarid Lockwood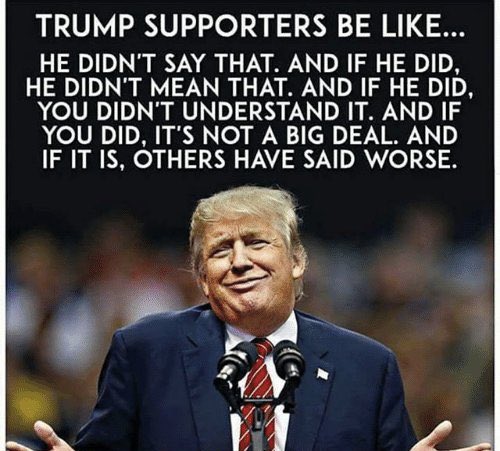 Retweeted by Lalo Alcaraz
July 12, 2022
MAGA Sinking  -- illustration by Kirsten Hubbard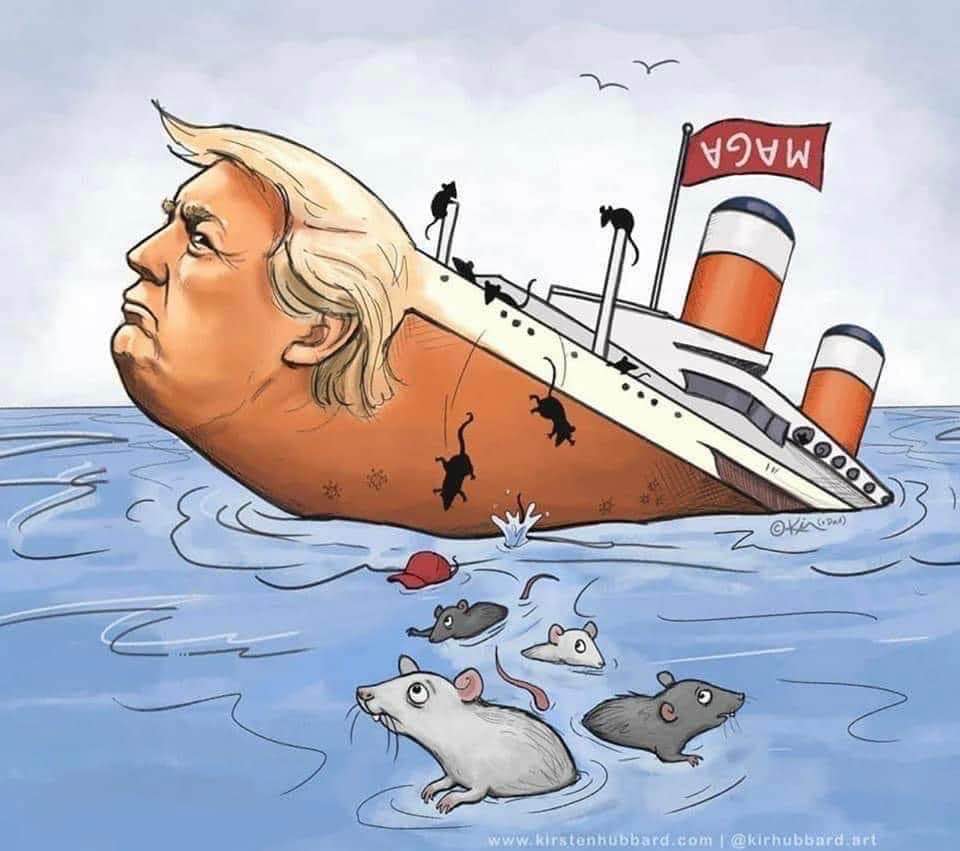 June 29, 2022
The Lincoln Project
Re: The Myth at the Heart of the Praying Bremerton Coach Case
 
The Supreme Court is illegitimate. Five of the six right wing injustices were appointed by Presidents who did not win the popular vote and the sixth should resign because he has a very serious conflict of interest.
Nora Lapin
Posted on Portside's Facebook page
      =====
It's time to start asking exactly why there are so many militant Catholics on the Supreme Court, and why Leonard Leo put them there.
Eleanor Roosevelt
Posted on Portside's Facebook page
      =====
This is Christian Nationalism. The Supreme Court has now served notice on all non-Christians in the U.S.: "Our tolerance for you people has its limits."
Alan Hart
Posted on Portside's Facebook page
      =====
THAT COACH DID NOT ENGAGE IN "SHORT, PRIVATE, PERSONAL PRAYER"     
Supreme Court now basing its decisions on "alternative facts" -- a Trump-like intentional detachment from reality.
Jeff Cohen
Posted on Portside's Facebook page
Welcome to New Mexico  --  cartoon by John Trever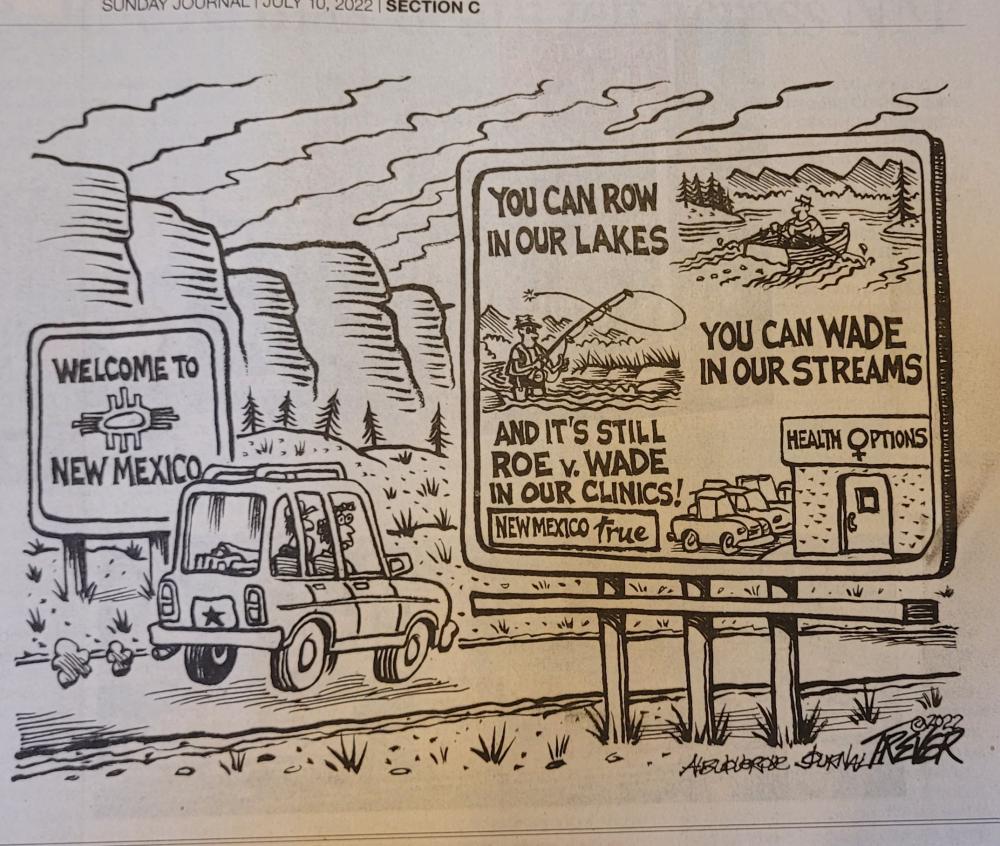 John Trever
July 10, 2022
Albuquerque Journal
Re: With Rising Book Bans, Librarians Have Come Under Attack
 
This article was originally published in the New York Times. I posted the Portside version so that people could read it without the firewall. Here is the original, which is word for word the same.
Kipp Dawson
Posted on Portside's Facebook page
      =====
Librarians will handle this. They stood up to the Patriot Act. They will figure out a way for the books to be checked out, lost, only to reappear when this blows over.
Appolonia DePerro Matz
Posted on Portside's Facebook page
      =====
Librarians do some amazing things, and yes, rely on them and Tipperary it to them. But. A big butt. They also are human. And they need our solidarity and support, loud and clear and always. I got to be one of them for a while. I was a school librarian. Until those jobs were eliminated in so many schools.But I've been trained with them, and worked with him, I deepened my respect. Make no mistake. We can't leave them out in these winds without strong, consistent, and then strong again solidarity and support
Kipp Dawson
Posted on Portside's Facebook page
Re: Pressure To End Protests at Supreme Court Justices' Homes Is Mounting, but Activists Refuse To Back Down
I am against these protests at the homes of elected officials and judges. The family members (except in the case of a Clarence Thomas), especially children or grandchildren, have little or nothing to do with the decisions and votes of the targeted officials. So why go there? And the decisions aren't made at home—they are made at the court, in the legislature, in the governors' offices, etc.
Besides, are we arguing that it is OK for the left to protest against rightwingers at their homes, but it is horrifying for the right to protest at the homes of leftwingers? Because I have seen plenty of progressive voices express horror at rightwing protests at the homes of progressives and leftwingers. If the answer to the question is YES, the hypocrisy is well noted. If we answer NO, then we shouldn't target homes. If we argue that the process doesn't matter, that only the results do, how can we honestly argue for an expansion of democracy while holding such a position? Go argue that position to the general public, and see the puzzled responses.
Mike Arney
Bronx, NY
Conservative Parties  --  cartoon by Rob Rogers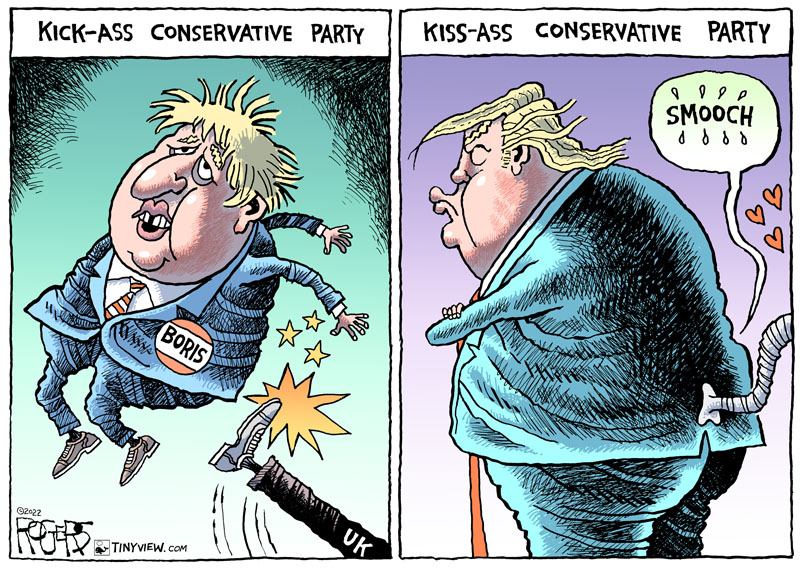 Rob Rogers
July 12, 2022
robrogers.com
Re: 15 Years Ago, Mad Men Quietly Began Its Engagement With Leftist Ideas
 
(posting on Portside Culture)
 
But did Weiner read Stuart Ewen's Marxist history of the advertising industry?
Alan Hart
Posted on Portside's Facebook page
Starbucks Union Grows to 5,000 Workers in June
 
The Starbucks Union won 82 elections in June, its best month so far.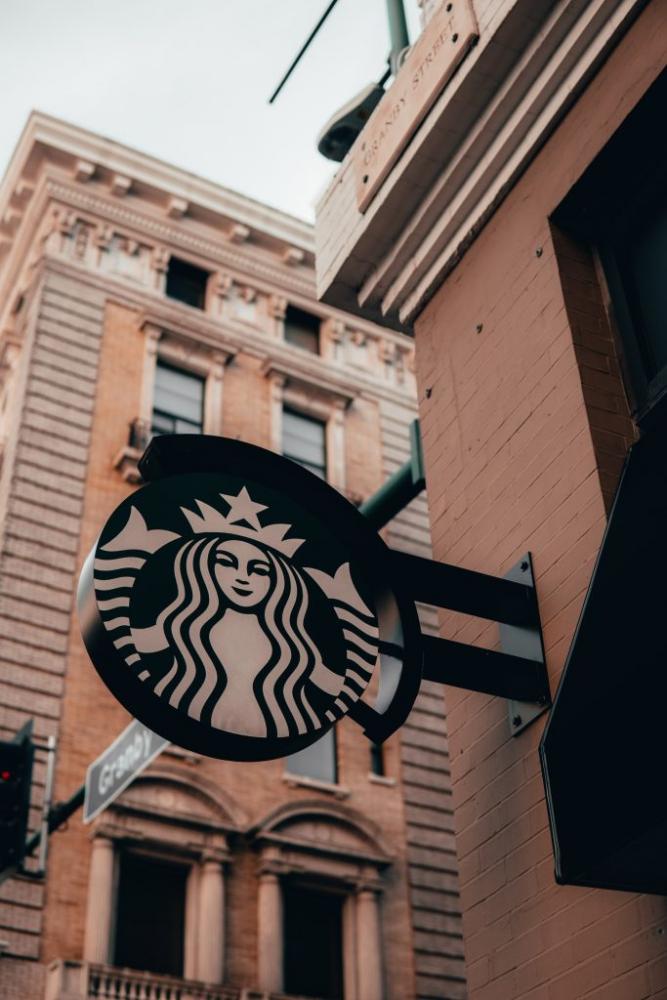 By Matt Bruenig
July 4, 2022
People's Policy Project
Every very month, I release a report on the the Starbucks unionization drive (see May 2022) using data from the National Labor Relations Board supplemented by data from More Perfect Union. This is the report for June 2022.
Union Elections and ULP Charges
In June, the Starbucks Union filed 40 unfair labor practice (ULP) charges against Starbucks, bringing the total number of ULP charges to 225. These charges typically allege that Starbucks has engaged in retaliation of one sort or another.
The Starbucks Union won 82 union elections last month, which increased the size of the union by around 2,193 workers. At the end of June, the Starbucks Union had successfully organized 187 stores covering around 5,080 workers.

Also in June, the Starbucks Union filed for elections at 28 new Starbucks stores. So far, the union has won around 84 percent of the elections that have been run, with each election victory adding an average of 27 workers to the union. If these same numbers hold going forward, then the 28 election filings in May will eventually yield 24 election victories covering 648 Starbucks workers.
By the end of June, there were 123 open election filings where an election had not yet been run. If past success rates hold, these 123 elections will result in 104 union victories covering 2,815 workers over the next few months.
Combining the results from the 187 elections that have already been won with these 104 projected election victories puts the likely current size of the Starbucks Union at 291 stores covering 7,895 workers.
Socialism 2022 in Chicago this Labor Day Weekend! The largest socialist conference in North America - Sept 2 - Sept. 5

Friday, Sep 2, 2022 3:00 PM - Monday, Sep 5, 2022 4:00 PM CDT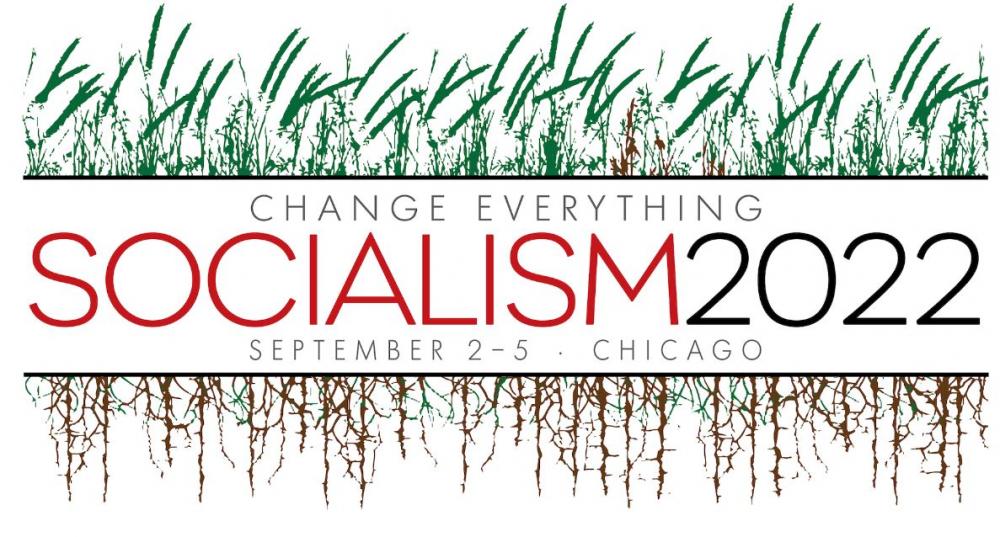 Join thousands of leftwing activists and authors in Chicago to share lessons from history, learn about socialist and abolitionist ideas and organizing, discuss current struggles, and debate current issues on the left.
Early Bird Deadline EXTENDED!
Register before July 22 for the discounted rate.
SPEAKERS


WHAT TO EXPECT
Over 100 talks, workshops, and meetings
Covering debates on the left today and the hidden history of working-class and socialist struggles.
Expand your political toolbox
We are committed to fighting injustice and oppression and building a socialist future. Join us!
Free, professional, on-site childcare
Parents can fully participate in the conference knowing their children are enjoying themselves.
Socializing with comrades
You are not alone! Meet with comrades from across the country and around the world.
VENUE
Hyatt Regency McCormick Place
2233 S. King Dr.
Chicago, IL 60616
Conference attendees will receive discounted, on-site parking at a rate of $24 per day.
Special room rate: $114/night
Use this link to book your room at the Hyatt with the Socialism Conference discount.
Or call +1 312 567 1234
Who should come?
Everyone with an interest in overthrowing capitalism (so, everyone!). The Conference draws people new to politics as well as experienced political organizers and academics. Students receive 50%
Brought to you by Haymarket Books | Mission Statement
Register for the Worker Co-op Conference - Philadelphia - September 9 & 10
Join cooperators around the country for two exciting days of in-person connection, innovative strategy, collective learning, and celebration September 9th & 10th, 2022. 
The first day will include an outdoor table fair for worker cooperators and political rally and our USFWC Fall Member Meeting. Daylong workshops in themed tracks will take up most of the second day, and the conference will end with an outdoor party, featuring our Worker Co-op Awards ceremony.
Find the latest information about registration, day-long track content, scholarships, location, lodging and COVID-19 safety at conference.coop
USFWC Members are eligible for a discount on conference registration – email membership@usworker.coop to request a discount code.   
We are so excited to see you in Philadelphia this fall!
The Worker Co-op Conference is a co-production of the U.S. Federation of Worker Cooperatives and the Democracy at Work Institute