The Truth About Busing Migrants From the Border to DC: A Story of Welcoming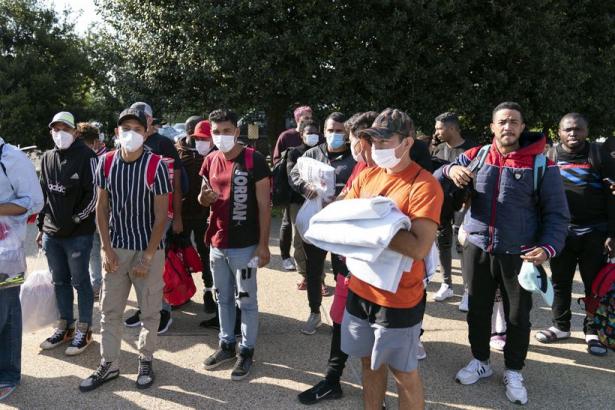 Migrants hold Red Cross blankets after arriving at Union Station in Washington, D.C., from Texas on buses, April 27. Under directives from Texas Governor Greg Abbott, the state has been providing migrants arriving at the US-Mexico border bus charters to W,Jose Luis Magana/Associated Press
In April, Governor Abbott of Texas began sending migrants from the US southern border to Washington, DC, with Arizona joining soon after. So far, Texas and Arizona have collectively bused over 7,000 migrants from the border to DC, and now Texas is beginning to send buses to New York City as well.
The narrative cycling around conservative media outlets is that Governors Abbott and Ducey have "stuck it to the Dems" by "bringing the border crisis" to their front doors. Abbott and Ducey are using migrant families, who are real people with hopes, dreams, and unimaginable journeys, as political pawns to spin a media narrative about an "immigrant invasion." There are anecdotal reports of migrants being coerced onto the buses, told that they will be taken to their desired destination, and then sent to DC or New York instead.
At the same time, many migrants have also been able to benefit from the program, because DC or New York are much closer to their final destination than the Texas or Arizona border. Others don't have a final destination in mind. Forced to flee their homes, they are content to board a bus to DC or New York City, where, they are told, there will be resources and jobs waiting for them. 

In the case of DC, it is true that the buses have overwhelmed these resources. But this is not the fault of a "migrant crisis," or the migrants themselves, but of a lack of institutional will to act.
From day one, a mutual aid network of volunteers, activists, and immigrants' rights advocates has been mobilizing to welcome and assist migrants arriving in DC despite a vacuum of institutional support from local or federal government. Though FEMA has provided federal funds to SAMU First Response, the main nonprofit officially in charge of coordinating, it has been woefully inadequate to keep up with the needs of receiving, housing, and transporting migrants.
Sanctuary DMV, through the organizing and willpower of its volunteers, has been able to welcome thousands without such support. In New York City, a mutual aid and solidarity network led by Grannies Respond and their affiliate Team TLC-NYC  is already assembling volunteers to greet and process migrants.
Both cities' governments have struggled with how to respond, further complicated by a lack of communication and cooperation from Texas regarding the arrivals. 
The DC Department of Human Services has been illegally excluding migrant families from the shelter system despite available bed space, denying them critical resources such as a case manager, who could assist in school enrollment, health insurance, and receiving medical treatment.
In DC, neither the city nor the federal government is willing to play a direct role in addressing what immigrant advocates say is a building humanitarian crisis. Indeed, the government's failure to act is causing the humanitarian crisis in the first place. DC's Mayor Bowser has not allocated any local funds or government resources to welcoming efforts, despite being eligible to apply to FEMA for reimbursement, and city officials have been encouraging nonprofits to seek additional federal aid instead.
On Friday, Mayor Bowser renewed her request for assistance from the National Guard to process migrants, which the Pentagon previously denied. Sanctuary DMV has pushed back on this request, noting that doing so only serves to further militarize the reception of migrants, and that the city should instead focus on existing services, such as expanding shelter capacity, social services, and language access.
The DC Attorney General's office, whose funding is separate from that of the mayor's office, announced a grant program of $150,000 to aid nonprofits leading the welcoming response. Sanctuary DMV applauded Attorney General Racine's decision but noted that it was simply a "band-aid" for more systemic issues, calling on the city to expand social services and utilize some of the millions of dollars in available FEMA grants to create a respite center.
New York's Mayor Adams claimed that migrants were overwhelming the shelter system before Governor Abbott had even begun sending buses. As aid groups pointed out, the shelter system was already overwhelmed by a variety of factors, such as understaffing and rising evictions.
To his credit, Adams quickly mobilized emergency measures to accommodate migrants in the shelter system and appeared in person to greet migrants. Serious challenges still remain, as a new report shows that migrant families are being separated when entering the NYC shelter system. But perhaps Mayor Bowser can consider following in New York's example and finally commit to welcoming.
It is important to remember despite the murky intersection of city, state, and federal politics, and despite the narrative being further weaponized by anti-immigrant media outlets and politicians, the communities of DC and New York City have stepped up.
"We recently learned that people have donated about $160,000 to Governor Abbott's effort to bus people to DC. And we—the DC community—have raised over $350,000,"  said Amy Fischer, Americas Advocacy Director at Amnesty International USA, and who has been actively welcoming with Sanctuary DMV.
"While politicians on both sides of the aisle use fear-mongering tactics to undermine the human right to seek asylum, we know that is not reflective of communities. When we feel overwhelmed with the numbers arriving, or the lack of capacity, our answer is not to tell people not to come. Our answer is to call for more support to expand our capacity to welcome, not shut the door."
Ways to Help
There are several ways that anyone, anywhere, can take action:
If you are based in DC, there are a couple of ways to help aside from making a donation: 
In New York City, Grannies Respond and Team TLC-NYC have been leading the welcoming efforts. Click HERE to support.
===
Alexandra Gulden is the Program and Outreach Coordinator at the Quixote Center. She works in digital communications, advocacy and education around immigration policy, and maintains the Center's partnership with the Red Franciscana para Migrantes, a network of migrant shelters in Latin America.