https://portside.org/2021-01-21/tidbits-jan-21-2021-reader-comments-hes-gone-trump-gop-past-present-and-future-tax-rich
Author:
Date of source:
Portside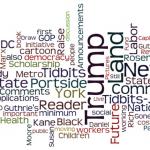 Resources:
Announcements:
Student Activist Applications Available for 2020/21 (Davis-Putter Scholarship Fund)
Beyond the Dream:  A Call to Conscience - A Special Episode of StandDown Live - January 22 (Veterans for Peace)
They Still Draw Pictures: Children's Art in the Spanish Civil War - Interactive Workshop - January 24 (Abraham Lincoln Brigade Archives - ALBA)
Unequal Treatment: The Death of Dr. Susan Moore - January 26 (Physicians for a National Health Program - New York Metro Chapter)
Restoring The Wall Street Stock Transfer Tax - January 27 (Metro New York Labor Communications Council)
WEBINAR: Confronting the Digital Workplace - January 27 (The Kalmanovitz Initiative for Labor and the Working Poor and the Friedrich Ebert Stiftung)
AFT Black Caucus Chicago Presents "Black Freedom and Justice: The Way Forward for All of Us" - February 17 (CTU Black Caucus and Chicago Teachers for Social Justice)
Re: The Capitol Riot: Documents You Should Read
 
Thank you for this very important documentation.  In my view what happened last week was a terrible experience for which Trump must bear full responsibility.  In addition, given how the events developed, it is obvious that the coup planners had inside help, before, during and after the attack on the Capitol.  It would be absolutely irresponsible to not pursue all who must be held accountable under criminal and other law, up to and including Trump of course.
Joe Grogan/Bolton
Ohhhh yeahhhhh. He Gone  --  cartoon by Lalo Alcaraz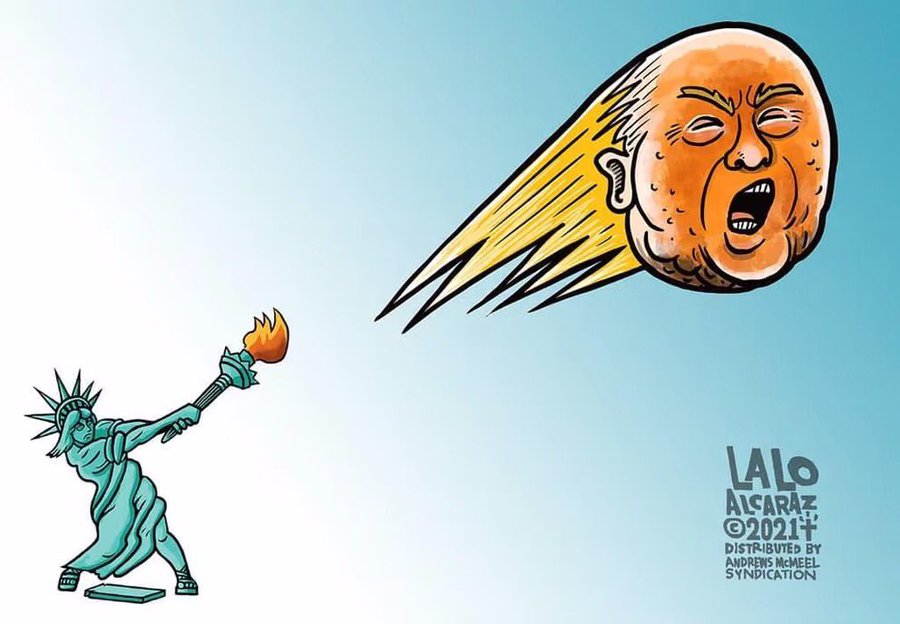 Lalo Alcaraz
January 20, 2021
Fanning the Flames  -- cartoon by Duff Moses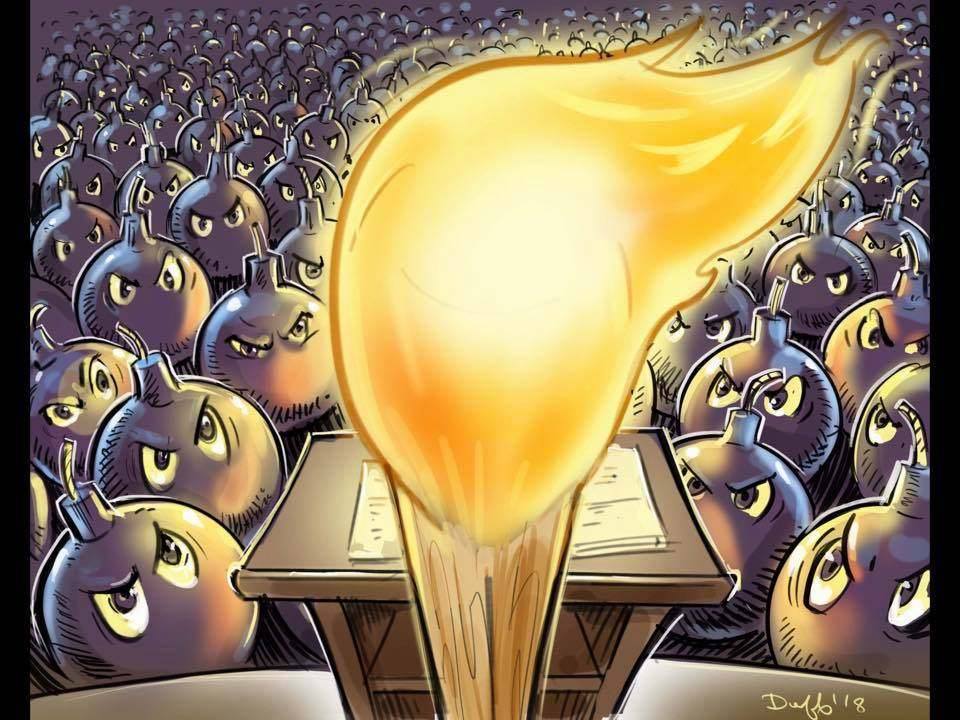 Duff Moses
October 31, 2018
Re: Trump Is the Republican Party's Past and Its Future
 
Nice reading of an in-depth, clarifying article about "this minute" -  actual political reality in the US..!
Victor Colorado
Posted on Portside's Facebook page
     =====
The GOP base is an uneasy alliance (Axis?) of libertarians (who bring money),
Jesus freaks (who bring manpower) and
neo-Nazis (who bring youthful enthusiasm).
Trump rewarded all three:
Libertarians got tax cuts;
Jesus freaks got a packed Supreme Court;
and neo-Nazis got concentration camps.
Alas, their continued support of Trump makes a certain sense..
Gordon Gland
Posted on Portside's Facebook page
Goodbye Trump  --  cartoon by Bill Bramhall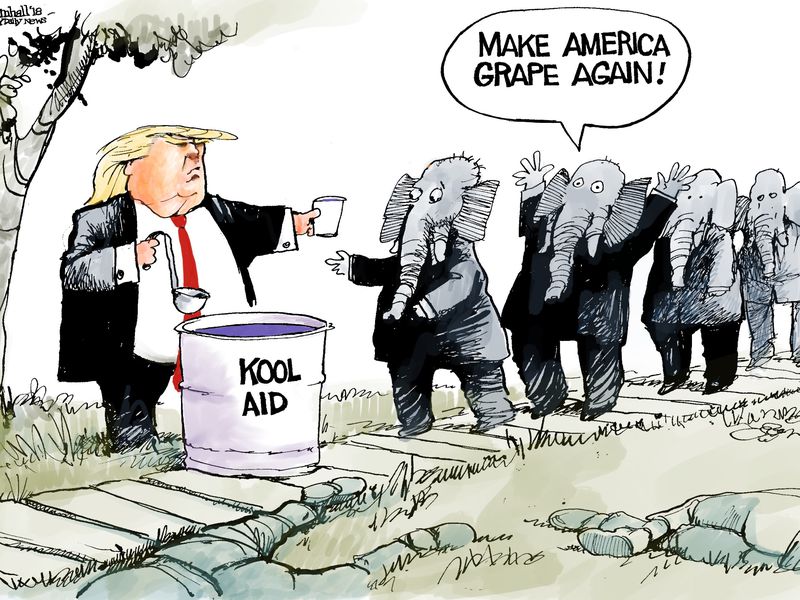 Bill Bramhall
January 18, 2021
New York Daily News
Re: Joe Biden Must Put an End to Business as Usual. Here's Where to Start
 
Ultimately, we must confront the grotesque level of income and wealth inequality and create a country that works for all and not just the few. Americans should no longer be denied basic economic rights that are guaranteed to people in virtually every other major country.
Sal Mangiagli
Posted on Portside's Facebook page
Re: New York Coalition Pushes 'Tax the Rich' to Raise State Revenue
 
Many of you, like me, spent the last many months helping electoral campaigns in swing states and close to home. In the Democratic Party primaries in New York, several DSA endorsed and allied candidates won. How do we continue the struggle? Here in New York, a broad coalition of activists ally with our office holders to demand that the rich pay for the services we need instead of the rest of us. State and local taxes fall more heavily on the 99% than on the rich. We can fix that. We can build affordable housing, great schools, beautiful parks even in the midst of the fiscal crisis created by the virus. Thanks to Portside for this. If you live in NY, you can help. If you live elsewhere? What do you see as the opportunities for moving the ball forward where you are?
Daniel Millstone
Posted on Portside's Facebook page
Re: The Insurrection is Happening at State Capitols; Pennsylvania GOP Prevents Seating of Elected Democrat
 
While we were riveted on the Capitol insurrection, protests and mobs gathered around the country. An alert, via Portside,
The second article in this set talks about Pennsylvania Republicans' refusal to seat properly elected State Senator Jim Brewster. He did get sworn in, a week late.
Posted on Portside's Facebook page
Re: Statehood for the District of Columbia Is More Urgent Than Ever
 
We may have just come up against an issue in which the "Originalists" on the Supreme Court must agree. Despite the fact that the Second Amendment has generally been used to "protect individual gun rights" it actually gives the gun rights to State Militia, now the State National Guard, and so controlled by the individual States. 
We have generally discussed the need for DC Statehood in terms of disenfranchisement. Not only do residents of DC have no voting Representative in the House nor any Senators but we have a Congressional Committee that can overrule what our own elected Mayor and City Council can do. This has ranged from "bottle bills" to "Medicaid". 
Now, we know it also affects our "Originalist" Second Amendment Rights. The Federal Government called out our National Guard to violate the rights of peaceful Black LIves Matter protestors despite DC not asking for it. We also had to wait over an hour to get National Guard to the attempted Coup despite asking for it. In both cases, it was a Federal, not local, decision. How does that protect us from the Federal Government's tyranny as purported to do by the Second Amendment? I hope the ACLU, our Bill of Rights protectors, adds this argument to their reasons that DC Statehood is necessary.
Arlene Halfon
Washington, DC 
Re: 'A Jim Crow Relic That Must Be Abolished': Demand to End Filibuster Grows
 
"Do Senate Democrats want to keep the filibuster or do they want to pass comprehensive democracy, anti-corruption, and voting rights legislation to realize the promise of a multi-racial democracy?"
Posted on Portside's Facebook page
Final Days  --  Doonesbury cartoon by Garry Trudeau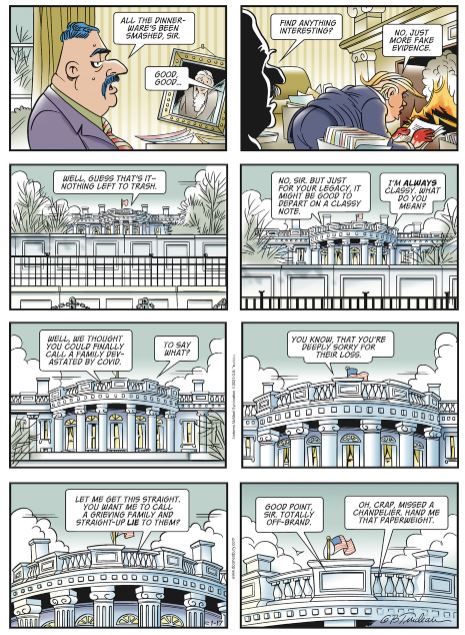 Garry Trudeau
January 17, 2021
Re: SAG-AFTRA Board Moves to Expel Donald Trump
(posting on Portside Labor)
 
Better late than never I suppose
Marilyn Katz
An open letter to members of Congress. Portside says it well!
"The fear you felt that day was an authentic reflection of what millions of people have endured because of the votes you and past colleagues cast as they authorized trillions upon trillions of dollars to feed and unleash the largest war machine ever."
Kipp Dawson
Posted on Portside's Facebook page
Re: Amazon Warehouse Workers to Vote on Union
(posting on Portside Labor)
 
Thanks to Portside for this report on an important effort by the Retail, Wholesale and Department Store Union (RWDSU) (a union to which many in my family belonged) to organize Alabama Amazon warehouse workers. If the union can win this it will be the start of a very difficult process. Oddly, I've seen social media posts, by those claiming to be leftists, opposing the organizing drive. They argue that workers would be better off with independent worker-committees. Divided we fall.
Daniel
Posted on Portside's Facebook page
Re: The For-profit Barbarity of Mercenary Erik Prince
 
Erik is a danger to human lives the way his sister Betsy De Vos is a danger to human minds.
Kevin McDougall
Posted on Portside's Facebook page
     =====
Building walls and hiring mercenaries are sure signs of an empire in decline...
Gordon Gland
Posted on Portside's Facebook page
     =====
"Donald Trump violated the U.S. government's "obligations under international law" when he pardoned American mercenaries Nicholas Slatten, Paul Slough, Evan Liberty and Dustin Heard, according to the United Nations Working Group on the use of mercenaries, a division of the Office of the U.N. High Commissioner for Human Rights (OHCHR).
The four men were employees of Blackwater, a private security firm owned by Erik Prince, a loyal Trump ally and brother of Betsy DeVos, the Secretary of Education."
Opitz Patty
Posted on Portside's Facebook page
     =====
Consequences necessary. Yesterday I reposted my "memories" of this, just goes to show people weren't paying attention. Here we are.
Years of impunity for right-wing extremists began with the Bundys and led to the failed Capitol Hill coup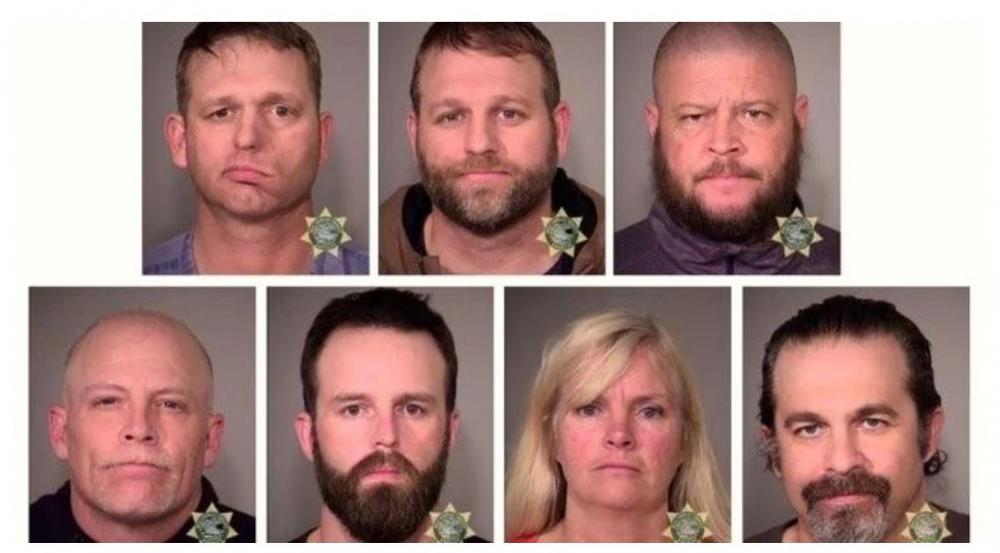 Miriam Haiman-González
Posted on Portside's Facebook page
Re: Two Different Futures - Multiracial Democracy or Fascist-Like Autocracy -- What You Can Do to Determine Which Future Will Win
 
Georgia. MAGA insurrection. Impeachment. Conviction? Two different futures, an inclusive multiracial democracy or a fascist-like autocracy -- are colliding right now. This is about what we, and you, can do to determine which future will win.
We at Portside are convinced that we cannot go back. We must shape a vision to achieve a society beyond capitalism, one based on social and economic justice, racial and gender equality. We must advance toward a truly multiracial, inclusive, radical democracy or we will have no democracy at all. Please help - Portside's annual fund appeal.
Tony Austin
Posted on Portside's Facebook page
     =====
"Fascist-like"? What's that supposed to mean? No "-like" is necessary. They are 21st century fascists, different from 1920s and 1930s fascists in many ways, but sharing the basic characteristics of fascism with them.
Maybe it's time to end the discussion called "Is this really fascism?" and say the simple truth: it's fascism, all right -- our own century's version of it.
Lee Zaslofsky
Posted on Portside's Facebook page
     =====
I'll take number 1
Richard Chauvin
Posted on Portside's Facebook page
No, no, no, Trump as HarryLime with his hands reaching up out of the sewer.
Frank Bardacke
     =====
Solid piece. However, it isn't the Susan character who warns Kane that his precious "working man" will morph into a robust, independent phenomenon called "organized labor." It's the Jedediah character. Nitpicking, I conceded. But facts is facts. Your analysis is interesting and on target.
Luis Torres
Re: The Rosenberg Orphans and the Power of Radical History
 
The Book of Daniel  (1983 by Sidney Lumet) is also a pretty good movie 
Michael Munk
     =====
This last week, news announcements about the coming, and then past, execution of extremely mentally ill Lisa Montgomery usually said that this was the first federal execution of a woman in 68 years.  Very few knew, but many should, that the execution victim was Ethel Rosenberg, fewer still how weak the case was against her (not that the one against her husband warranted the penalty!).
Joseph Maizlish, Los Angeles
     =====
I thought Levin's article was interesting and had many good points. Aaron Sorkin has always been a formulaic producer of pablum telling smug and sanctimonious stories of good liberals and I liked Levin's digs at him. However to say that E. L. Doctorow is Sorkinesque is wrong. I come from the Rosenberg's orphans' generation and I have many links to the old CP's community links and I read Doctorow's Book of Daniel [and unsuccessfully tried to get my in-laws and my parents to read it]. I thought it was a fine historical novel that was enormously sensitive about the personal traumas of victims of the Red Square. I think Levin should read the book again and then proffer up an apology to Doctorow for slandering him. Sorkinesque!? Come on
Louis Segal
Re: The Enduring Lessons of a New Deal Writers Project
 
President Biden finds himself coming into his administration during a time of great strife and turmoil. America has experienced this before during the Great Depression and was guided out of it by the effective leadership of Franklin D. Roosevelt. Perhaps a lesson that this administration can take from FDR is his support of the arts, that much ignored and derided form of labor. The Federal Writers' Project supported literature projects of all kinds during the Depression, and Portside reports that experts like David Kipen recommend that Biden resurrect the initiative. Rod Davis, board member of the National Book Critics Circle and award-winning novelist — his newest book, East of Texas, West of Hell, NewSouth recently released — writes that doing so might "help the country snap out of its poisoned trance and find again its true meaning and purpose." More here 
Posted on Portside's Facebook page
(posting on Portside Culture)
 
please don't promote people who praise the long since discredited "white helmets".  As an anti-zionist Jew the slogan never again was and is used by the zionists, especially their most right wing sectors, like the Jewish Defense Fund to justify their fascist repression of the Palestinian people and stealing the land.  
Gavrielle Gemma
The Story Of Woody Guthrie's 'This Land Is Your Land'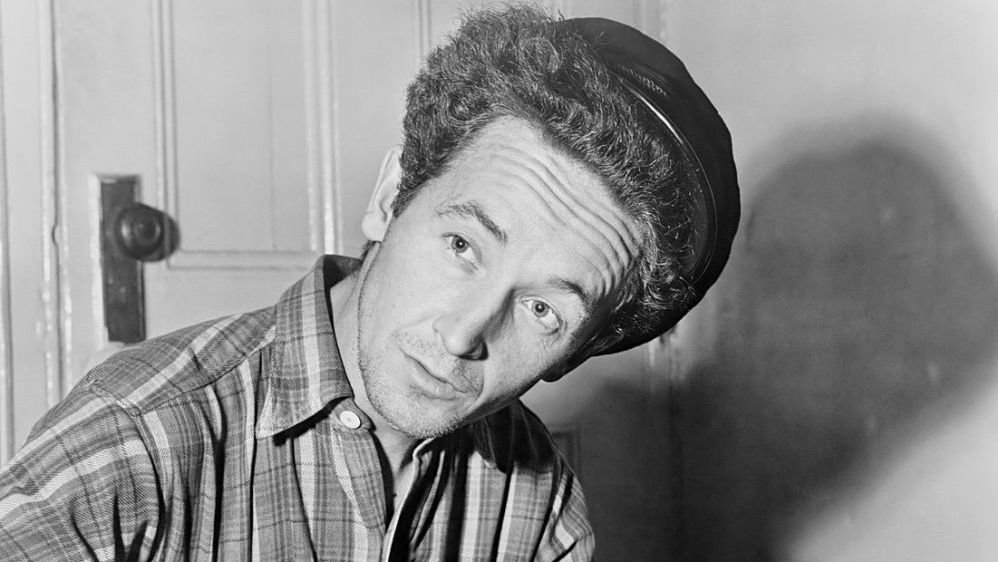 By Nick Spitzer
NPR
Some have called "This Land Is Your Land" an alternative national anthem. Others say it's a Marxist response to "God Bless America." It was written and first sung by Woody Guthrie. Over time, it's been sung by everyone from Bruce Springsteen to the Mormon Tabernacle Choir. Folklorist Nick Spitzer has the story of an American classic.
Woodrow Wilson Guthrie was born in 1912 in Okemah, Okla. He recorded "This Land Is Your Land" during a marathon April 1944 session in New York for Moses Asch, who founded Folkways Records. Guthrie was on shore leave from the Merchant Marines, one of his many occupations during the Depression and war years.
...
A man happier on the road than at home, he'd walked, hitched and ridden the rails all over the country. He went first to the Gulf Coast, then west to California, where he joined the half-million so-called Okies and Arkies — Dust Bowl refugees migrating in search of better lives. Although Guthrie purposefully threw himself into these travels partly to escape family troubles and his disintegrating first marriage, what he saw and experienced as he cris-crossed the country contributed to his emergence as a social commentator.
He was irritated by Irving Berlin's "God Bless America," sung by Kate Smith, which seemed to be endlessly playing on the radio in the late 1930s. So irritated, in fact, that he wrote this song as a retort, at first sarcastically calling it "God Blessed America for Me" before renaming it "This Land Is Your Land." Guthrie's original words to the song included this verse:
    There was a big high wall there that tried to stop me.
    The sign was painted, said 'Private Property.'
    But on the backside, it didn't say nothing.
    This land was made for you and me.
Read full story here
Celebrating We the Future — Amanda Gorman (Center for the Study of Political Graphics)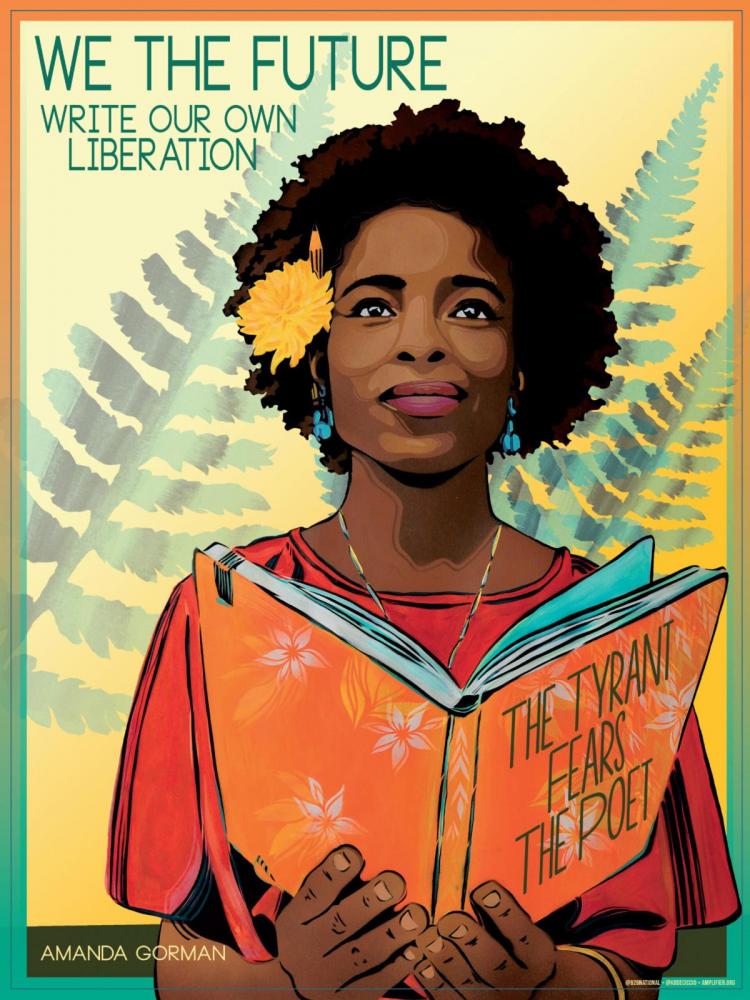 Amanda Gorman read her moving poem, "The Hill We Climb," at today's inauguration. She finished the poem after the attempted coup on January 6, 2021. The 22-year-old activist was the youngest poet to read at a presidential inauguration. At 16, she was named the Youth Poet Laureate of Los Angeles and in 2015 became the first National Youth Poet Laureate.
Excerpt from "The Hill We Climb" 
We've seen a force that would shatter our nation rather than share it,
Would destroy our country if it meant delaying democracy.
And this effort very nearly succeeded.
But while democracy can be periodically delayed,
It can never be permanently defeated.
In this truth, in this faith, we trust.
For while we have our eyes on the future,
history has its eyes on us.
Sources:
Free Download of this poster: https://myhero.com/celebrating-we-the-future-amanda-gorman-2
For full text of poem and to see her read it:
https://www.oregonlive.com/nation/2021/01/watch-youngest-ever-inaugural-poet-amanda-gorman-read-poem-the-hill-we-climb.html
Center for the Study of Political Graphics
3916 Sepulveda Blvd, Suite 103
Culver City, CA 90230
New report - Low-wages cost taxpayers $107 billion a year (University of California - Berkeley Labor Center)
 
The Raise the Wage Act, passed by the U.S. House of Representatives in 2019, proposes a national $15 minimum wage to be fully implemented in 2025. This paper looks at the cost of five public safety net programs for families of workers who would receive a direct wage increase under this bill. We find that close to half of these families (47%) are enrolled in at least one program, at an annual cost of $107 billion.
President-elect Joe Biden campaigned on raising the federal minimum wage to $15 an hour. The minimum wage has been $7.25 since 2009 – the longest-ever period without an increase. Eight states and the District of Columbia have already passed laws that will raise their wages to $15 an hour, most recently Florida, with a ballot initiative this past November. There are 21 states with a minimum wage at the federal level of $7.25, and 10 others with minimum wages under $10.
In July 2019, the U.S. House of Representatives passed the Raise the Wage Act, which would increase the federal minimum wage in steps to $15 by 2025. Should the Raise the Wage Act become law, upwards of 23 million Americans would receive a direct boost in their pay, including over 9 million parents and 14 million persons over age 24.
The increased income would materially improve the lives of these workers and their families. It would also reduce the burden placed on federally- and state-funded public safety net programs, which working families turn to when they do not earn enough to meet their basic needs. This mitigation of some of the public cost of low wages takes on added salience in the context of state budget shortfalls precipitated by the COVID crisis.
Building on our previous research, this report estimates the public cost to states and the federal government from the use of public safety net programs by low-wage working families who would be directly affected by an increase in the minimum wage to $15 an hour by 2025.
2521 Channing Way # 5555
Berkeley, CA 94720
Phone: (510) 642-0323
Fax: (510) 643-4673
Email: laborcenter@berkeley.edu
New Book - Between Capitalism and Community by Michael A. Lebowitz (Monthly Review)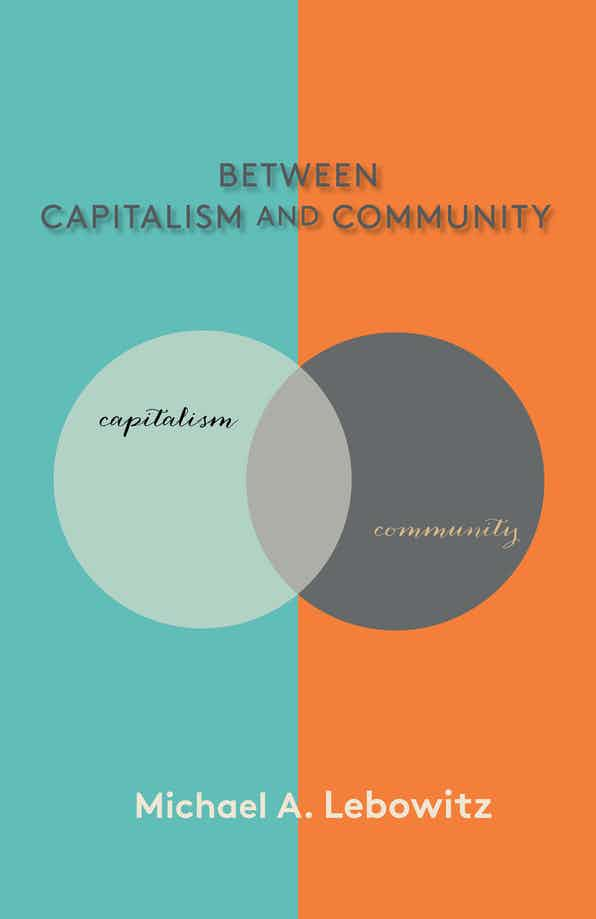 "Michael Lebowitz is certainly no faithful disciple of Marx. But he can claim to incarnate the best type of 'Marxist' that we need to break the circle of the capitalist rush to the destruction of the planet...  A book as clear and straightforward as it is radical."
    —Etienne Balibar, coauthor, Reading Capital
"This book is in the Monthly Review tradition of not only showing with great perspicacity the breadth and depth of Marx's remarkable examination of capitalist society, but also understanding that radical scholars have an obligation to further deepen and extend Marx's work."
    —Michael D. Yates,  author, Can the Working Class Change the World?
"This book, a peak in his series of interconnected books starting in 1992 with his Beyond Capital, is extremely important, scientifically as well as politically. It will provoke exactly the deep theoretical struggle that a non-dogmatic, non-authoritarian left needs."
—Michael Heinrich, author, Karl Marx and the Birth of Modern Society
In this book, Michael Lebowitz deepens the arguments he made in his award-winning Beyond Capital. Karl Marx, in Capital, focused on capital and the capitalist class that is its embodiment. It is the endless accumulation of capital, its causes and consequences, that are central to Marx's analysis. In taking this approach, Marx tended to obscure not only the centrality of capital's "immanent drive" and "constant tendency" to divide the working class but also the political economy of the working class ("social production controlled by social foresight"). In Between Capitalism and Community, Lebowitz demonstrates that capitalism contains within itself elements of a different society, one of community.
Order here
134 W 29th St., Rm. 706
New York, NY 10001
Tel: 212-691-2555
Student Activist Applications Available for 2020/21 (Davis-Putter Scholarship Fund)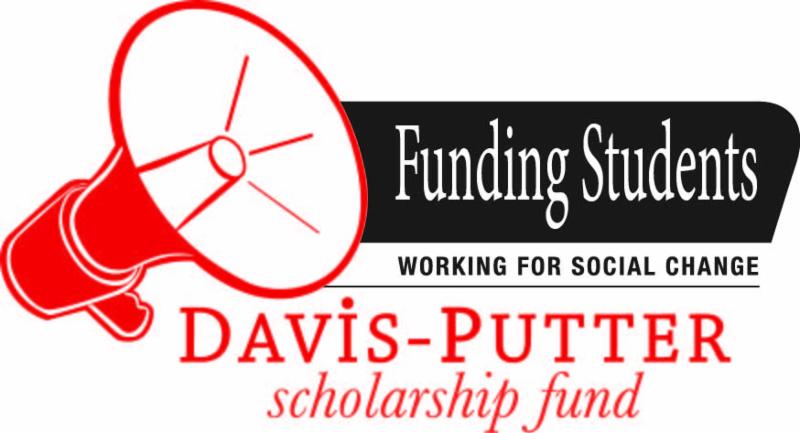 Davis-Putter Scholarship Fund - Student Activist Applications Available for 2021/22
Our online application for academic scholarships up to $15,000 is available for student activists who are organizing for radical social change and building progressive movements on campus and in community. Please direct students working for peace and justice to:  www.davisputter.org
Deadline is April 1, 2021
P.O. Box 7307
New York, NY 10116
Beyond the Dream:  A Call to Conscience - A Special Episode of StandDown Live - January 22 (Veterans for Peace)
 

Beyond the Dream:  A Call to Conscience - A Special Episode of StandDown Live
When: Friday, January 22nd, 3-5pm PT, 4-6pm MT, 5-7pm CT, and 6-8pm ET
Two-hour program with speakers, music, and a round table discussion focused on remembering Dr. King's legacy to stand up and organize for a better today and tomorrow - not just on his birthday but every day.  Topics covered will include the intersectionality of people's struggles to include addressing racism, heterosexism, poverty, male supremacy, and nuclear weapons.  January 22nd, 2021 was chosen for this special edition of StandDown Live as it is the date that the UN has chosen to take a stand against nuclear weapons - and this was also a message of Dr. King's call for people to mobilize and organize for change. 
Participants:  
MC & VFP board member: Natasha. 
Speakers - 
Rev. Yearwood - Hip Hop Caucus by recorded video
Jamala Rogers - Organization for Black Struggle
VFP member Michael McPhearson
VFP board members - Miles Megaciph Thomas, Michael Dempsey, VFP President Adrienne Kinne
Register here
3407 S. Jefferson Ave, #219
St. Louis, Missouri 63118
(314) 725-6005 | vfp@veteransforpeace.org
They Still Draw Pictures: Children's Art in the Spanish Civil War - Interactive Workshop - January 24 (Abraham Lincoln Brigade Archives - ALBA)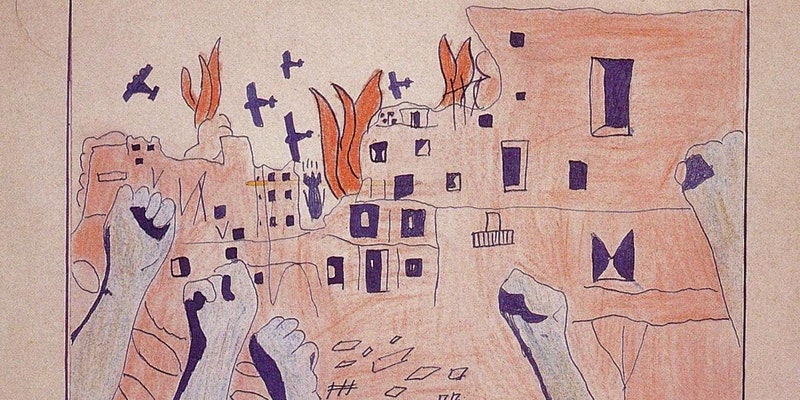 A Live Interactive Online Workshop:
They Still Draw Pictures: Children's Art in the Spanish Civil War
ALBA is offering a live interactive workshop featuring the beautiful and heart-rending art of children in wartime.
These haunting images of the Spanish Civil War have been exhibited around the world and are now available online. The horror of bombing civilians, the impact of families torn apart, and the indomitable spirit of hope that lived on despite the terror, are all depicted.
Conducted via Zoom by experienced presenters, "They Still Draw Pictures" is a moving experience, and one you will not soon forget.
Tickets are limited. Register now to ensure your participation.
Register here
Registration Fee $10.
Workshop Length: 60-90 minutes
After registering, you will receive an email confirmation of your order.
Before the event begins, registrants will receive an email with the login information for the Zoom workshop session.
If you have any issues registering, or connecting to the Zoom session, please contact info@alba-valb.org.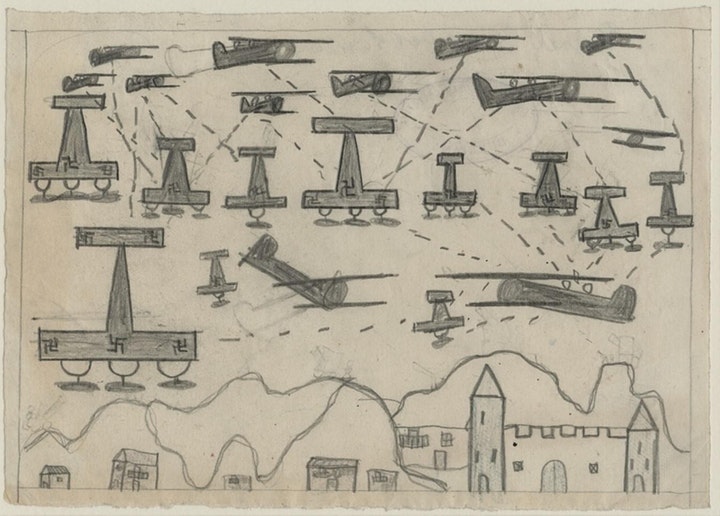 For further information on "They Still Draw Pictures", visit ALBA's website
The following were comments made at the opening reception of They Still Draw Pictures at the AXA Gallery in New York City, February 18, 2004.
"Powerful and moving"
"Inspiring…gives me hope"
"What a comment on the human spirit"
"Reminds us of our need to put pen to paper" "The most moving art I've seen in a long time"
Abraham Lincoln Brigade Archives
239 West 14th Street, Suite 2
New York, NY 10011
Email: info@alba-valb.org
Phone: 212-674-5398
Unequal Treatment: The Death of Dr. Susan Moore - January 26 (Physicians for a National Health Program - New York Metro Chapter)
 

Unequal Treatment: The Death of Dr. Susan Moore
Tuesday, January 26, 2020 at 7:00 PM EST
(RSVP to receive Zoom link)
Note: You can join by phone or computer.
All are welcome. Closed captions will be provided.
The circumstances surrounding the treatment and subsequent death on December 20, 2020, of Susan Moore, MD, a Black physician, cannot go unaddressed. We must confront institutional racism in health care by fighting not only for equitable and universal coverage, but for substantive institutional accountability and the eradication of racism in all forms. 
We are honored to announce our speakers for this important discussion, all of whom have made significant contributions to the ways we understand, discuss, and organize around these issues:
SPEAKERS:
Mary Bassett, MD, MPH, François-Xavier Bagnoud Center for Health and Human Rights at Harvard University
Mary Charlson, MD, William T. Foley Distinguished Professor of Medicine, Director of Center for Integrative Medicine, Weill Cornell Medical College
Camara Phyllis Jones, MD, MPH, PhD, Senior Fellow Satcher Health Leadership Institute, Morehouse School of Medicine
MODERATORS:
Donald Moore, MD, MPH, President of Provident Clinical Society
MaryLouise Patterson, MD, MPH, Board Member of PNHP - NY Metro
This virtual forum is co-sponsored by Provident Clinical Society, an affiliate of the National Medical Association, and Physicians for a National Health Program - New York Metro Chapter.
And supported by the Campaign for New York Health, Commission on the Public's Health System, Healthcare Equity Action League of NY, and NYC Coalition to Dismantle Racism in the Health System.
Please share widely the Facebook Event
131 W 33rd St., 4th floor
New York, NY 10001
Restoring The Wall Street Stock Transfer Tax - January 27 (Metro New York Labor Communications Council)
 
Join Metro NY on Wed., Jan 27, 10 am for an important discussion about restoring the Stock Transfer Tax to help lift NY out of its economic crisis and rebuild our infrastructure. Hear Labor's stake in this important issue.
Please share with friends and colleagues.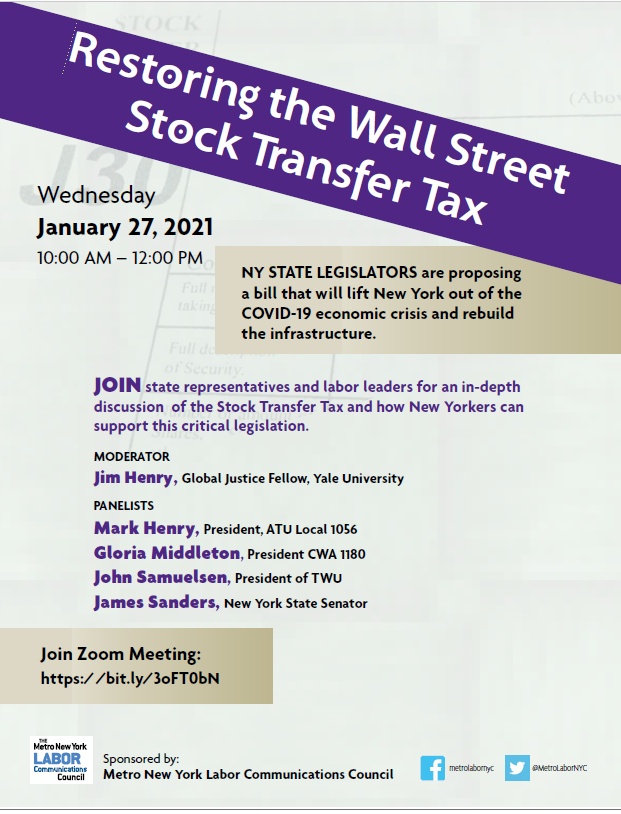 WEBINAR: Confronting the Digital Workplace - January 27 (The Kalmanovitz Initiative for Labor and the Working Poor and the Friedrich Ebert Stiftung)
 
The Kalmanovitz Initiative for Labor and the Working Poor and the Friedrich Ebert Stiftung invite you to a digital conversation:
Confronting the Digital Workplace: Whose Power? Whose Voice?
Wednesday, January 27th 2021
11:00am - 12:30pm EST/5:00pm - 6:30 pm CET
Register here.
The Covid-19 pandemic has been a catalyst for economies and labor markets around the world, accelerating existing trends and reinforcing structures. It has laid bare the inequalities in our societies. While much debate has focused on health and economic inequities, we would like to shed light on the 'Digital Divide' that the pandemic has deepened.
This divide is not just a question of who has access to the internet, but who has control and who is controlled by new technology affecting both consumers and workers. This international forum brings together activists and analysts of some of the biggest battles for power and voice currently affecting the world's most dynamic worksites including Uber, Amazon, Tesla, and Google. 
Featured Panel:
Christy Hoffman, General Secretary, UNI Global Union
Katie Wells, Postdoctoral Fellow at the Kalmanovitz Initiative and Author of "Just-in-Place Labor: Driver Struggles in the Uber Workplace"
Dania Rajendra, Director of Athena, a national coalition taking on Amazon
Hannah Johnston, Postdoctoral Researcher on platform-based work, Northeastern University
Leon Fink, moderator, Kalmanovitz Initiative Senior Resident Scholar
Please RSVP to attend this digital event and email labor@georgetown.edu for any accommodations or questions.
Kalmanovitz Initiative for Labor and the Working Poor
37th & O Streets, NW Maguire 209
Georgetown University
Washington, District Of Columbia 20057
AFT Black Caucus Chicago Presents "Black Freedom and Justice: The Way Forward for All of Us" - February 17 (CTU Black Caucus and Chicago Teachers for Social Justice)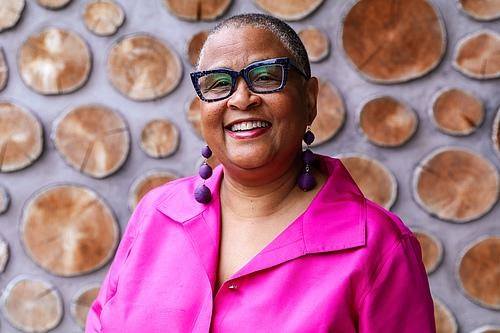 Wednesday, February 17, 2021 at 7 PM EST – 8:30 PM EST
Free · Duration: 1 hr 30 min
The last 20 years have focused on deficit-driven, data-focused, standardized solutions to creating equity in education for black students and other people of color and various identities. This approach has created more problems, while steadily feeding the opportunity gap and creating more racial polarization within education. How do we create an effective, inclusive approach that leaves those old ways behind and allows flexible leadership and better ideas for black educators and students? How do we go about introducing a change in the way school is relating to black communities? You don't want to miss this interactive discussion!
More information here