labor
Amazon Warehouse Workers to Vote on Union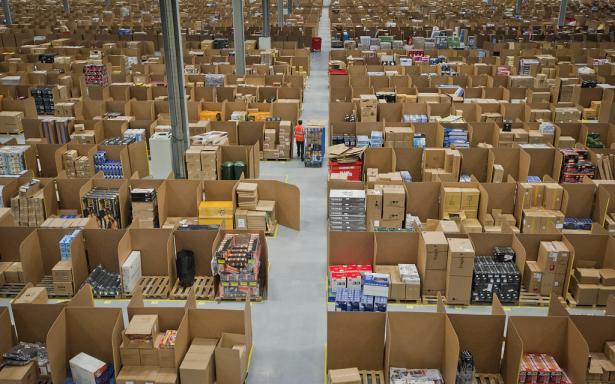 Scottish Government is licensed with CC BY-NC 2.0.
Amazon warehouse workers at an Alabama warehouse can begin voting by mail in early February on whether to form a union, a National Labor Relations Board hearing officer ruled Friday.
The ruling kicks off what will be a closely watched union vote at one of the nation's largest employers. Unions have a stronger foothold among some of Amazon's European workforce, but the company has largely manage to thwart organizing efforts in the U.S.
About 6,000 employees at the fulfillment center in Bessemer, Alabama will cast their ballots beginning on Feb. 8 to be represented by the Retail, Wholesale and Department Store Union. Ballots must be received by the NLRB's regional office by March 29, then the board will begin counting the ballots beginning at 10 a.m. CT on the following day.

The decision represents a blow to Amazon, which had pushed for the election to be held in person at the Bessemer facility, known as BHM1.
A RWDSU spokesperson declined to comment. Amazon didn't respond to a request for comment. An Amazon spokesperson previously said the company doesn't believe the RWDSU "represents the majority of our employees' views."
Last November, workers at the Alabama facility notified the NLRB of their plans to hold a vote on whether to be represented by the RWDSU. During a three-day hearing in December, Amazon and the union ironed out details around which employees should be allowed to vote in the election, as well as the election setting.
Amazon advocated for an in-person election, but the NLRB raised concerns that holding the election at the facility would require board agents to travel into Jefferson County, which has a high Covid-positive rate.
Lisa Henderson, acting regional director for the NLRB, said in the decision that a mail ballot election will "protect the health and safety of voters, Agency personnel, the parties' representatives, and the public during the current health crisis."
Amazon has set up a website to advertise its position on the Alabama warehouse union drive, urging workers to "do it without dues," referring to the cost of membership when joining a union.
"We've got you covered with high wages, health care, vision, and dental benefits, as well as a safety committee and appeals process," according to the website, which was first reported by The Washington Post. "There's so much MORE you can do for your career and your family without paying dues."
Amazon hasn't faced a substantial union vote since 2014, when repair technicians at a Delaware warehouse failed to garner enough votes to form a union. However, since then, protests tied to Prime Day and other events, as well as the coronavirus pandemic, have laid the groundwork for rising organizing efforts among some parts of its workforce across the country.
Amazon spokeswoman Heather Knox told CNBC in a statement that the company maintains "the best approach to a valid, fair and successful election" is one that's conducted in-person near the Alabama facility.
"We will continue to insist on measures for a fair election, and we want everyone to vote, so our focus is ensuring that's possible," Knox added.
A RWDSU spokesperson declined to comment.