https://portside.org/2021-10-07/tidbits-oct-7-2021-reader-comments-35-trillion-build-back-better-progressives-congress
Author:
Date of source:
Portside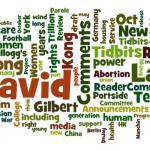 Take Action:
Resources:
Announcements:
Re: For America's Sake, We Can't Afford to Cut $3.5 Trillion Spending Plan
Yesterday I heard a recorded clip from Sen. Joe Manchin saying that "in my heart" he believed that anything over 1.5 billion for the human infrastructure bill (he didn't call it that) would change our culture to an "entitlement culture." 
 
How characteristic of us humans at times, and of some of us all the time, not to notice the privilege that gives us narrow security at the expense of others -- and not to be able to enjoy dedicating ourselves to the greater security which comes with recognizing that we are all one, and from acting in accord with that inescapable fact. 
 
The panicked and narrow individualist mindset is appropriate in immediate physical emergencies and adaptive for human survival.  In the moment of an earthquake we dive under a table, perhaps grabbing the person next to us and taking them too.  But if our lives, culture, and conditioning have been such that the emergency mindset continues to prevail long after the immediate crisis has passed, we may be unable to consider how to strengthen buildings and systems of relief and reconstruction -- the relief and reconstruction our social systems need and towards which the fullest human infrastructure bill is a step. 
 
(I invite any readers interested in the above perspective on public policy and its implications for activism to write me at an address I'll reserve for this effort, goodwork@igc.org and let's explore or swap experiences). 
 
Joe Maizlish, Los Angeles
      =====
"Now is the time, finally, for Congress to stand up for working families" --- Bernie Sanders
David Zaiss
Posted on Portside's Facebook page
      =====
Thanks for this. Bernie is right. But. My guess is that the spending plan will end up being cut in half yet again. The question for the rest of us may be whether we can campaign well enough on the issues of virus/vaccine, climate change and human welfare to change the composition of congress for the better in 2022.
Daniel Millstone
Posted on Portside's Facebook page
Re: Manchin: One Mean Megalomaniac
He and Sinema are definitely owned by the GOP lobbyists. This makes me soooo damned angry.
Marlene D McArthur
Posted on Portside's Facebook page
Re: No, Progressive Challengers Are Not 'Far Left'
And this is why I donate my pittance to individual candidates rather than committees or the Dem party.
Stephanie Robinson Borgman
Posted on Portside's Facebook page
      =====
What establishment Democrats and Washington Post and NBC News editors are telling readers and voters is that advocacy for Medicare for All, a Green New Deal, and housing for all is some fringe "far-left" agenda 
Harry Rado
PPosted on Portside's Facebook page
The pervy right exerts its might — deep in pants of Texas  --  cartoon by Lalo Alcaraz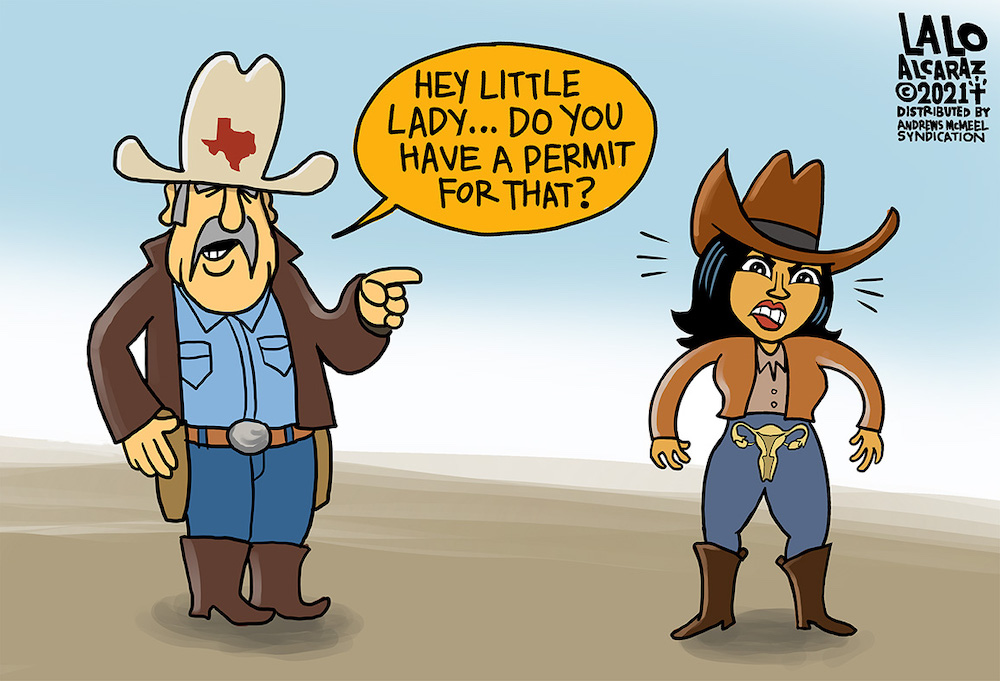 Lalo Alcaraz
September 9, 2021
Pocho
The corporate media has made much of the publication of the Pandora Papers. All these millions of documents reveal, however, is that wealthy politicians and business interests cannot resist their avaricious appetites often at the expense of ordinary citizens. Ten years ago, we in the Occupy Movement dubbed them the 1%. The real question, then, is not how do they stash their often ill-gotten gains, but rather when are governments and mobilized citizens going to go after these greed seekers who are in the business of making and perpetuating the 99%?
Jeffrey Kerr-Ritchie
Re: The Mind-Blowing Political Potential of a College Football Players Union
The Civil War ended 156 years ago, but Mississippi did not remove the Confederate flag from its state flag until 2020, when it was threatened with losing access to college football championship games. That is how powerful college football is. Do not underestimate it.
Marlena Santoyo
Posted on Portside's Facebook page
Re: Emancipation Statue Unveiled in Virginia After Removal of Lee Monument
The Emancipation and Freedom Statue consists of two bronze statues depicting a man and a woman holding a baby after being freed from slavery. It also includes the names of 10 Virginians who fought for emancipation, including Dred Scott.
Van Caldwell
Posted on Portside's Facebook page
Re: Wave of US Labor Unrest Could See Tens of Thousands on Strike Within Weeks
(posting on Portside Labor)
On March 8th, seven hundred nurses marched out of Saint Vincent Hospital in Worcester, Massachusetts to fight for safer staffing. They are still out. In 2000, they secured their first union contract and a safer workplace through a forty-nine-day strike against Tenet Health Care, one of the largest hospital corporations in the world.
As of today, sufficient agreement on safe staffing levels is on the table, but this marathon strike goes on because of the lack of a mutually-agreeable back-to-work settlement. Tenet failed to smash the union, but it is hell-bent on punishing the strikers by retaining the "permanent replacements" it's hired over the months, thereby displacing many of the experienced nurses with the guts to strike for the safety of their patients and themselves. 
The Massachusetts Nurses Association has filed nine unfair labor practice charges against Tenet, and adjudication of these may quickly settle the "permanent replacement" issue, since it is not allowed in a ULP strike. So we keep up the pressure until victory. The Worcester community needs all of its experienced and dedicated nurses back at the bedside. Solidarity will make this happen!
Sandy Eaton
Posted on Portside's Facebook page
Kellogg's Workers - Nationwide Strike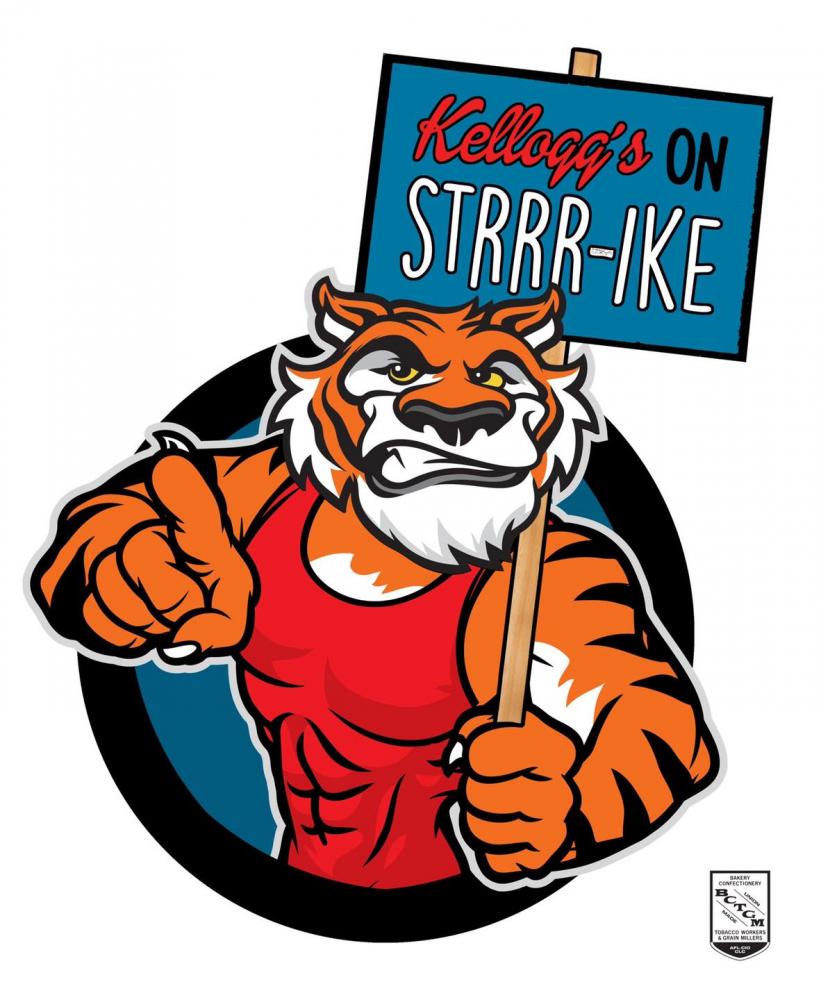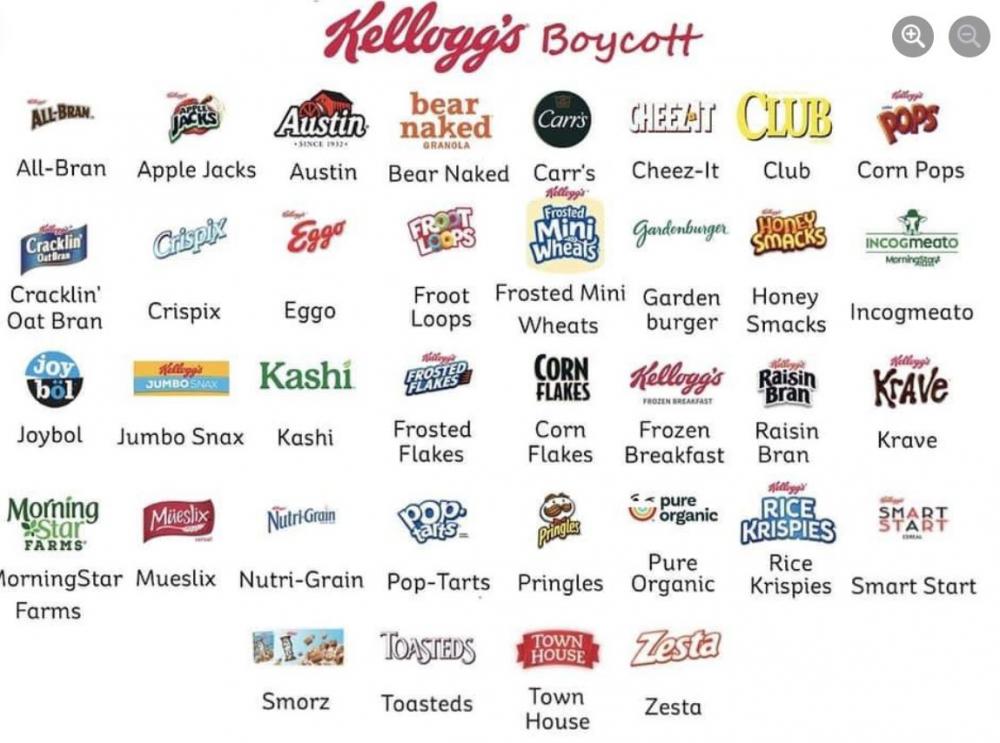 Re: Left Labor Project, New York City Closing Statement
Thanks for sharing this. These project summaries are important for people to read and learn from. I hadn't thought of LLP in awhile but this brings back memories of LLP's attempts to create a more ecumenical left at a time when the socialist horizon was far, far away.
John Tarleton
Re: Teamster Rank-and-File Reformers Are Making a Bid for Union Leadership
It is seriously disappointing that this rank and file movement had nothing to say about women and people of color.  Or did the reporter leave it out? YES--I EXPECT THESE ISSUES TO BE ADDRESSED BY A TRULY PROGRESSIVE UNION INITIATIVE.  If not, its not really democratic and does not represent everyone.
Joy Ann Grune
Re: 'Fire DeJoy' Demand Intensifies as 10-Year Plan to Sabotage Postal Service Takes Effect
DeJoy is deeply reviled by postal customers, ie, the US population and postal workers. His continuing in office is the best example I can show of the failure of bipartisanship. Loved by Trumpists, ignored by corporate Democrats and Republicans. I suppose you could argue that Biden has bigger fish to fry, but I think it is just another example of oligarchical indifference to popular needs by the corporate elite of both parties.
Jay Mazur
Posted on Portside's Facebook page
      =====
There is no excuse for him to be there. The president who installed him has left office. Everyone goes with him. I have to think Biden also wants to destroy the post office.
Tina Braxton
Posted on Portside's Facebook page
      =====
Why is it taking so long to get that dickwad out of there?
Michael Kaufman
Posted on Portside's Facebook page
      =====
Why can't we get rid of this monster?
Felice Sage
Posted on Portside's Facebook page
Green Energy  --  cartoon by Rob Rogers
image - Green_Engergy_Rogers
https://robrogers.com/wp-content/uploads/2021/10/20211006_Green_Energy…
Rob Rogers
October 6, 2021
rogrobers.com
Texas - From Abortion to Voting....
I think we are emphasizing the wrong issue to get through to Texas. Of course, we care about human rights (including ownership of women and freedom). Texas' decision-makers, however, care more about money. Why don't we emphasize:
Immediately: Tourist Boycotts and Corporate Boycotts because educated employees won't want to live there
For the future: Only the poor (which includes minorities) will be stuck with more children; my family won't no matter where they live. That means: More money is needed for education; child care; health services; housing; and other financing for single and unemployed parents. Also, fewer people will be available to fill low-wage jobs because they'll be taking care of more children.
Hit the misogynists in their wallets and (unfortunately) they will be back to forcing women to NOT have children. After all, it will be their own faults if "they have too many children."
What A Reversal!!
Arlene Halfon,
Washington, DC
Re: Ariel Dorfman: Chile is Taking the Final Steps of Dismantling Dictatorship
Today, inside the building in Santiago that once housed the Chilean Congress, a Constitutional Convention has assembled, with the express purpose – ratified by more than 80 % of the Chilean electorate – of writing a new Constitution that will replace the one that Pinochet fraudulently pushed through in 1980. Orlando and Ronni would be thrilled by this Convention. Noteworthy is that it is presided over by Elisa Loncón, a Mapuche woman, embodying indigenous rights, a cause  central to the heart of Orlando's widow and in which Eliana was so invested. And Elisa Loncón, by the way, has just been named by Time Magazine as one of the most influential leaders of the year.
    
The Convention is discussing how to inscribe in the new Magna Carta a series of rights, all of them so central to the struggles in Chile, in the United States, in the whole world: water and ecological rights, LGBTQ rights, health care and education and pensions that are meant to lift the majority and not enrich a small group of profiteers, the establishment of a pluri-national, multilingual republic, the end to police brutality, especially against the young, because it is always the young who get beaten and always the young who rise and rebel.
Jose Luis Medina
Posted on Portside's Facebook page
Re: A hard loss and a triumph: Berlin Bulletin No. 196
Thanks to Portside and Victor Grossman for this analysis.  I especially appreciate his emphasis on the need for grassroots organizing and his pointing out places where it has been successful in Germany as well as in Graz Austria. But when he notes that " 600,000 former Left voters switched to the SPD" it leads me to question the notion that taking a harder line against NATO & German armaments would have helped Die Linke hold on to large numbers of defecting voters--after all they defected to a party which ran against Die Linke on precisely the grounds that it was not supportive of NATO. As for the Berliner vote to take over thousands of apartments at market prices, that might well be popular at the moment, but I think that Berlin SPD leader Gifford is right that spending €25-35 billion to build new city owned apartments would be a far better way to spend the money than to further enrich large scale real estate companies while doing nothing to increase the supply of housing. In the 1920s Red Vienna and Red Berlin were successful because they built housing for the workers and didn't take over their existing housing. There's a lesson in that history.
Stan Nadel
      =====
Excellent and principled analysis!
Joseph G. Kaye
Re: Independent Media Crushed in Hong Kong - Media Bits and Bytes - October 5, 2021
It is what is not said in the note "Independent Media Crushed in Hong Kong" that is important. Firstly, the context: Hong Kong was torn from China by British imperialism, as part of that country's century and a half of humiliation. It has now been returned but maintains a different economic system and significant autonomy. It will never be independent, though, because it is part of China. Now, as part of the Cold War II, British and US imperialism are trying to revive left-over colonialist feelings, including with finance from the ever-present NED. This led to violent demonstrations, including burning a police station. The 'independent' media mentioned stirred up these demonstrations, which included many people calling for independence. The result? More restrictions on autonomy and free expression, because the Chinese people and government will NEVER contemplate Hong Kong's independence again.
Dan Morgan
Posted on Portside's Facebook page
      =====
Is Hong Kong media not in sympathy with how the mainland governs, a threat to China? Not if we separate the issues of press freedom in HK, and integrating HK into China. As long as the question of erasing the colonization of Hong Kong any way the mainland government sees fit (long after the handover), takes precedence over the question of speech and media rights, then speech and media rights as set by the government will be heavily restricted. 
The point of the post was not to argue that the CPC has no claim on the governance of Hong Kong. It was to show what is happening. To some, the movement for HK autonomy (more parties in government, local publications from different political directions) is reactionary and suppression is necessary. Global Left Midweek disagrees. The movement has progressive and reactionary tendencies, and it reflects a real hostility toward and fear of the CPC for a big portion of Hongkongers, including workers who don't yearn for a cult-, crown- or church-run HK. They don't deserve the level of repression that is ongoing.
Beijing does not need to go to this extent of repression to make HK more fully part of China. Its jurisdiction will survive, whether or not all Hongkongers approve. Don't point the bayonet at popular media, organizations, unions and movements. 
Ethan Young
Re: New Superconducting Magnet Breaks Magnetic Field Strength Records, Paving the Way for Fusion Energy
Let's assume that this fusion power source will be online producing energy for use in a few decades, probably too optimistic given its history. The alternative is already here of course, energy from the fusion power reactor 93 million miles away, the core of the Sun, available for capturing with current wind/solar technologies.
This source should be the priority now, rapidly replacing fossil fuels. The $ billions spent on the technology highlighted in this article should rather have gone to providing wind/solar power now especially for most of humanity suffering from energy poverty in the global South. For example, ITER, the fusion reactor under construction in France, costs at minimum $25 billion https://physicstoday.scitation.org/do/10.1063/PT.6.2.20201013a/full/)
David Schwartzman
      =====
Regarding Portside's reprint of David Chandler's piece
I highly suggest listening to physicist Sabine Hossenfelder's video on Youtube. She debunks the hype and lays out some heretofore seldom understood facts. Sabine points out the difference between Q-plasma and Q-total. If you do not keep those two things in mind you are likely being fooled.
Just as the military industrial complex has a whole pr industry hyping military solutions and glorious things, the nuclear fusion industry has its own pr machine hyping misleading if not false promises.
Chuck Willer
Corvallis, OR
      =====
Reading David Chandler's article was like picking up a copy of Popular Science from twenty years ago. That new developments in superconducting magnets have opened the path to an engineering solution of fusion power generation is welcome news, but hardly unexpected. But what made it a sort of retro experience was this claim:
"That advance paves the way, they say, for the long-sought creation of practical, inexpensive, carbon-freepower plants that could make a major contribution to limiting the effects of global climate change."
Twenty years ago that would have been true, but the author apparently hasn't noticed that in the interim we've actually already developed a "practical, inexpensive, carbon-free power" generating technology. Two technologies, as a matter of fact: wind and solar. Once you cancel out all subsidies to power generation, nothing on the planet right now beats wind power for cost-per-kilowatt. The only thing that comes close is solar, and the next generation of solar will probably beat out wind. (Maybe. The new generation of taller wind turbine towers may grab the lead back.)
Much as I always loved the idea of fusion power generation, it's unlikely to be much more than a scientific curiosity and a niche technology--great for long-duration space flights but essentially useless as a mass power generating system on earth. Not because it won't work, but because its still-substantial up-front capital investment in physical plant renders it incapable of competing economically with either wind or solar.
Frank Chadwick
Re: Maid Review – Netflix Eschews Misery Porn With A Potent Poverty Drama
(post on Portside Culture)
I don't believe in coincidences, this show was the first thing I seen when I clicked on Netflix… by episode 3 it had me ugly crying, I had to pause it. The effects of PTSD, having suffered domestic violence & being in poverty once you decide to leave.. all the flashbacks. Whew 🥺😭 sums it up!!
Brøökē Łøvē
Posted on Portside's Facebook page
Very short turnaround: Write in support of David Gilbert by October 9th (Monthly Review)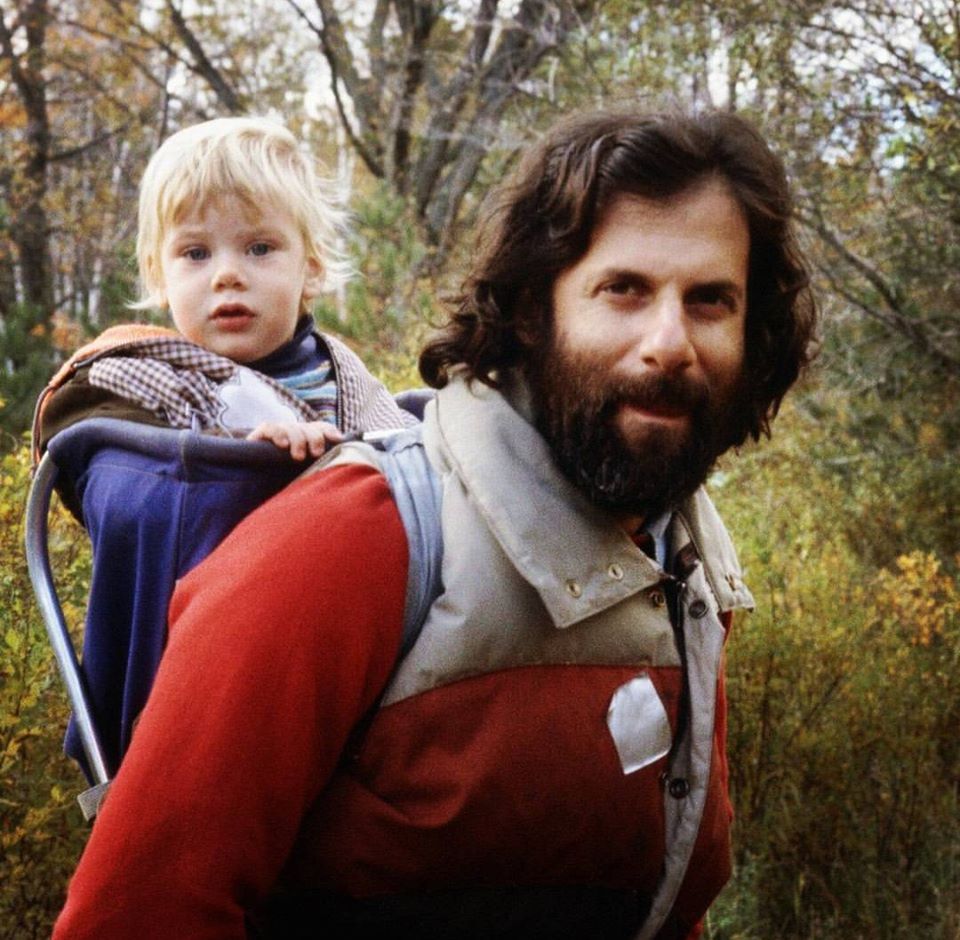 Monthly Review author David Gilbert, a valued member of the Monthly Review community, imprisoned in New York State for forty years for having been the unarmed getaway driver in a robbery with tragic consequences, had his sentence commuted, referring him to the New York State Board of Parole "for potential release." We have just been informed that David will be before the Parole Board on October 19th or 20th.
New York State Police Unions are engaged in a campaign against David. We have a narrow window in which we can let the Parole Board know that our community supports his release.
If, by Saturday, October 9th, you are able to write the Parole Board with copy to David's legal team, it can materially aid his chance for release. 
Your support for David in the requests for clemency sent to the Governor's office was a major factor in the commutation of his sentence.
A letter expressing support for David's release on parole from your own knowledge of the importance of redemption and rehabilitation, and of the negative results of vengeance and punishment without end, can make a difference.
Here is what you need to know...The basic facts about David:
David Gilbert is 76 years old and has served 40 years in New York State maximum security prisons.  During a 1981 armored-car robbery, a guard for the Brink's security company and two Nyack, NY, police officers were killed.
David acted as a getaway driver. He did not injure anyone, nor was he armed. Under New York State's felony murder law, any participant in a robbery bears full legal responsibility for any deaths that ensue. David has expressed profound remorse for the terrible damage caused by his crime, and his conduct over the last 40 years is the living expression of that remorse.
David Gilbert has been a force against violence in every institution where he has been incarcerated. He has mentored countless young men in finding ways other than violence to resolve disputes and to guide their lives. David's pioneering work on HIV/AIDs education in prison saved many lives and became a national model.  David's freedom is urged by four Nobel Peace Prize Laureates, including South African Archbishop Emeritus Desmond Tutu, along with many others of all walks of life. (See also: https://www.thenation.com/article/society/david-gilbert-parole-new-york)
Our great appreciation and thanks, for your support for David Gilbert's freedom! 
-The editors of Monthly Review and the Directors of the Monthly Review Foundation

Monthly Review
134 W 29TH ST STE 706
STE 706
NEW YORK, NY 10001-5304
When Doctors Harm: End Disinformation Now (Physicians for Human Rights (PHR))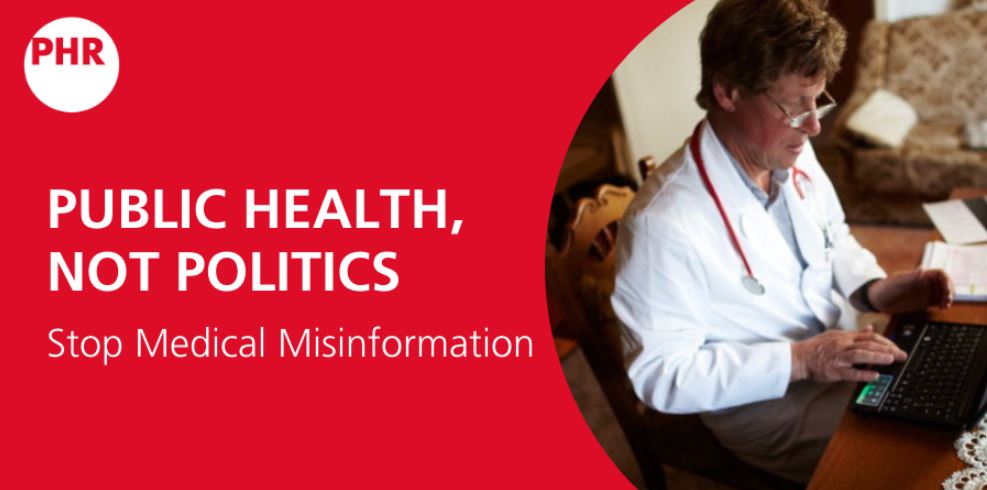 First: Do no harm.
Every physician learns this admonition of the ancient Greek physician Hippocrates. But during the COVID-19 pandemic, we're seeing alarming numbers of physicians and other health care professionals actively doing harm by spreading misinformation about vaccines, masks, and more.
As doctors, we at Physicians for Human Rights (PHR) are sickened to see members of our profession cause such harm. This is why PHR is calling on the Federation of State Medical Boards to double down on its urging of member boards to revoke the licenses of physicians who knowingly spread misinformation about the coronavirus and what the science says about vaccines and wearing masks. We urge you to join us in that call.
As an organization founded by physicians who believed health care professionals can prevent human rights abuses, this is not something we take lightly. It is imperative that we speak out when one of our own causes harm. Health professionals have an obligation to safeguard health and human dignity. Those who betray that obligation must be held accountable.
Health care professionals intentionally spreading lies about the efficacy of proven vaccines or undermining the rock-solid science on the protection provided by masks have arguably caused more erosion of public trust than any politician or celebrity. Their actions are dangerous – they are deadly – and the perpetrators must face consequences. If you agree, please demand their licenses to practice medicine be revoked immediately.
Sincerely,
Physicians for Human Rights
Physicians for Human Rights
256 W 38th Street, 9th Floor
New York, NY 10018
Tel: +1.646.564.3720
Fax: +1.646.564.3750
Women and the Draft - Webinar Video (Vietnam Peace Commemoration Committee)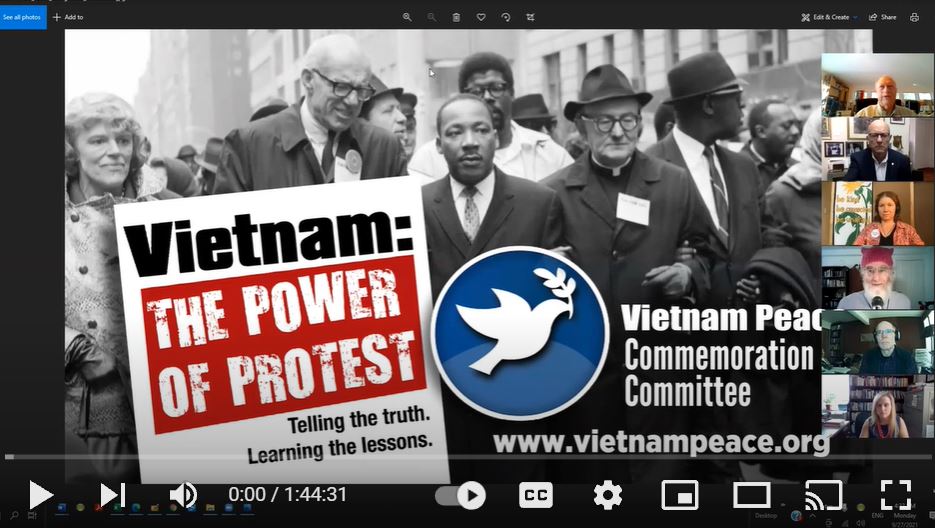 On September 27, 2021, this zoom program discussed the implications of legislation that will require women to register with Selective Service.   It was sponsored by the Vietnam Peace Commemoration Committee.
Speakers in order of their appearance:
John McAuliff, Moderator, VPCC, Fund for Reconciliation and Development
Kara Dixon Vuic, Prof. of War, Conflict, and Society, Texas Christian Univ. 
Robert Levering, Vietnam Resister, writer, film producer
Edward Hasbrouck, post Vietnam Resister, anti-draft organizer
Rivera Sun, author, activist
Lawrence Wilkerson, Lt. Col. (ret), All-Volunteer Force Forum
Speakers' bios and resources are at https://tinyurl.com/draftwomen
Resistance to the draft was a major factor in the movement against the US war in Indochina as dramatized in the recent documentary film, "The Boys Who Said NO!".
The Senate Armed Services Committee has proposed amending the Selective Service law to require registration of women in addition to men.   There will be coverage about this issue in the media this fall and debates in both the House and Senate. 
Traditionalists oppose including women in the draft.  Peace activists see this as an opportunity to eliminate or suspend an entire dysfunctional system of required registration.  Others believe as long as Selective Service exists and is registering men, equal treatment of women in the military and society means they should also register.   Feminists who reject war and militarism as linked to patriarchy oppose inclusion of women in the draft.
Critics of an All Volunteer Force decry an economic draft that puts the burden of repeated military postings on a narrow sector of US society and encourages Congressional irresponsibility and public indifference to forever wars.  A less discussed approach so far is creation of universal national service offering both civilian and military paths.
Our webinar will provide insight from different perspectives about how to engage in a vital national debate.
VPCC does not charge to watch our programs, but greatly appreciates tax deductible contributions to defray costs.
Vietnam Peace Commemoration Committee
The Boys Who Said No: Draft Resistance and the Vietnam War - Gala Film Launch - October 15 - 17 (The Boys Who Said NO!)

GALA ONLINE FILM LAUNCH - OCT. 15-17, 2021
Join us starting October 15 at 3 pm PT to view THE BOYS WHO SAID NO! online for 48 hours – and on October 17 at 5 pm PT for a livestream discussion featuring Joan Baez, David Harris, Daniel Ellsberg, Mandy Carter, film director Judith Ehrlich and others.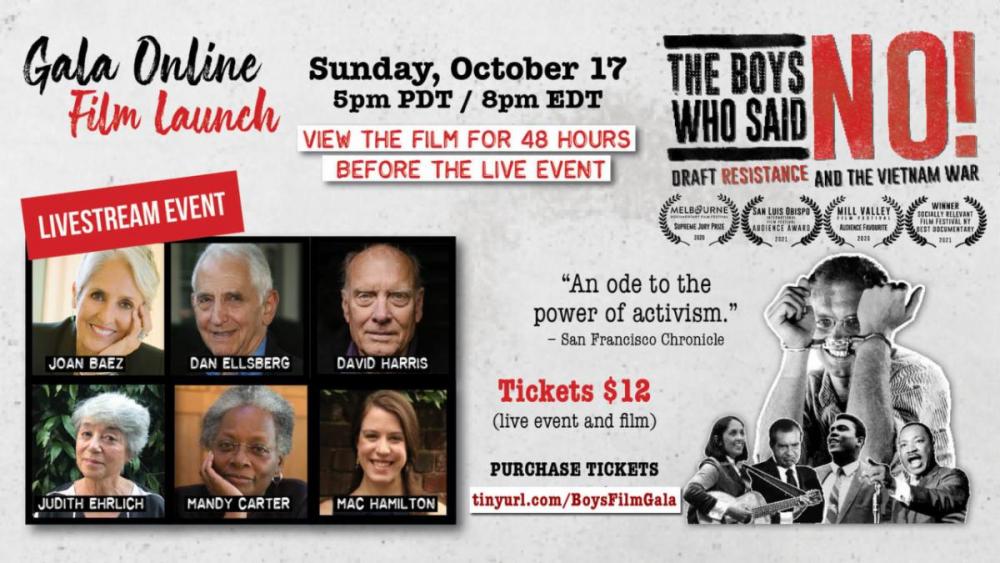 Labor History course - November 3 - December 15 (Labor Education Action Research Network - LEARN)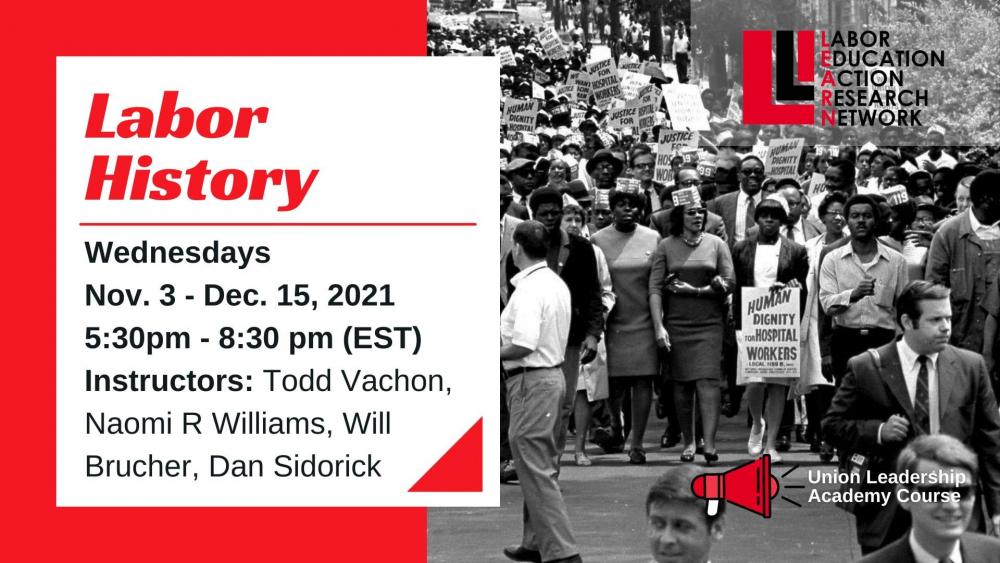 Rutgers is offering a 6-week labor history class with three leading labor historians for $90. Seems like a really cool/fun course!
LEARN is the educational extension division of the Department of Labor Studies and Employment Relations (LSER) in the Rutgers University School of Management and Labor Relations (SMLR). The State of New Jersey established the Rutgers Institute for Management and Labor Relations in 1947 in order to provide extension services that would both help to foster labor – management cooperation in New Jersey workplaces and educate labor- management representatives and the general public about the advantages of such cooperation as well as the means to achieve it.