labor
Labor Board and Union Reach a Deal for a 60 Day Moratorium on Walmart Pickets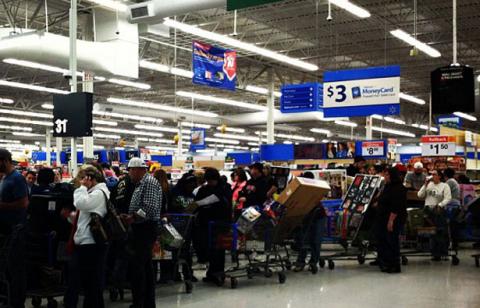 Black Friday at Walmart., Flickr/Adam Caudill
Both sides claimed victory this afternoon after the National Labor Relations Board announced an agreement to resolve allegations by Walmart that the recent union-backed pickets outside its retail stores broke the law.
As The Nation has reported, in a charge filed one week before November's Black Friday strike, Walmart had accused the United Food & Commercial Workers union of organizing illegal pickets for the purpose of winning union recognition (the protests were spearheaded by the UFCW-backed group OUR Walmart). The UFCW maintained that it was supporting workers' protests of illegal retaliation by Walmart, not demanding unionization. Under US labor law, pickets motivated by illegal crimes by an employer have the strongest legal protection, while pickets designed to pressure a company to bargain with a union face the greatest restrictions.
According to a letter released by the NLRB, the UFCW has agreed not to picket Walmart for sixty days, and to distribute a statement clarifying that it is not demanding union recognition from Walmart. If a regional NLRB director finds the UFCW to be engaged in illegal picketing in the future, the agreement paves the way for an injunction against the union. On the other hand, if the union complies with these commitments, the NLRB will dismiss Walmart's charge.
In an e-mailed statement, Walmart Vice President for Communications David Tovar said the agreement "will bring the union's unlawful tactics and disruptions towards Walmart, our associates and our customers to an end…This is good news for our associates, who have asked us to stand up to this conduct because they understand better than anyone the opportunities Walmart offers."
In contrast, OUR Walmart claimed the agreement as a victory on the grounds that it does not limit workers' right to hold strikes or many other forms of demonstrations. In an e-mailed statement, Lancaster, Texas, OUR Walmart activist Colby Harris said, "OUR Walmart has been able to raise the voices of workers at Walmart stores across the country and this resolution ensures that will continue." OUR Walmart also noted that it has filed more than 80 charges of its own against Walmart with the NLRB.
Former NLRB Chair Wilma Liebman told The Nation that the resolution "would suggest that there was something" in the evidence presented by Walmart "that precluded an outright dismissal. It may be that it was borderline, and so it made sense to accept an agreement like this." She noted that under legal precedent, the sixty-day moratorium on picketing would not prevent UFCW-backed groups from using protest tactics like leafleting outside of Walmart stores, or mounting an inflatable rat, or holding a mock funeral.
Reached by e-mail, University of North Carolina law professor and former NLRB attorney Jeffrey Hirsch said Walmart's allegation that the picketing was designed to win union recognition had appeared "pretty weak on the facts to begin with." John Logan, the director of labor and employment studies at San Francisco State University, said that "in many ways, what the UFCW and OUR Walmart have agreed to simply reaffirms the position they taken all along…"Cornell University Director of Labor Education Kate Bronfenbrenner e-mailed that the agreement "in no way means the Walmart campaign has been slowed down," because the campaign would have needed to vary its tactics over time anyway. "The idea," she added, "is never become predictable."
Other experts cited today's de facto settlement as evidence that US labor law does too much to restrict workers' free speech rights. "Picketing is a form of speech whether or not it is done for recognitional purposes…" e-mailed airline union negotiator Joe Burns, the author of Reviving the Strike. "What this shows is while unions and worker groups are getting creative in devising new ways of confronting these massive corporations, they continually bump up against the limits imposed by labor law."
University of Texas law professor Julius Getman e-mailed that the picketing restriction currently being enforced by the NLRB "is probably unconstitutional" given the Supreme Court's 2011 ruling defending the right of the anti-gay Westboro Baptist Church to hoist "Thank God for dead soldiers" signs outside of military funerals. If that speech "is entitled to constitutional protection," asked Getman, "why isn't the UFCW?"