In France Left Party & Greens Strengthen Ties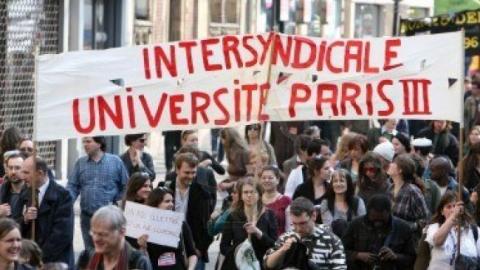 French Student Protest,Press TV
Whereas the Socialist Party redoubled its attacks last week against Left Party chair Jean-Luc Mélenchon, he met the leadership of the Greens (Europe Ecologie Les Verts, EELV) on Tuesday. The Left and Green parties want to work together.
"I want the [left-of-centre parliamentary] majority to be as big as possible. And above all, I want changing things to be its destiny." The message, formulated yesterday by the Greens' national secretary, Pascal Durand, at the end of a meeting with the leaders of the Left Party, is clear: he does not intend to exclude the latter from the left's debates, as the Socialists are trying to do (having last week launched a particularly virulent onslaught against Mélenchon).
We need everyone's strength

"We need all the forces of social transformation in order to push at the boundaries," Pascal Durand declared, judging that "the worst thing would be to continue with a model that is very clearly running into the wall." An observation shared by both parties despite their "two different strategic choices", confirmed the Green leader and Eric Coquerel, the Left Party's national secretary, speaking with one voice.
The two parties therefore decided "to build bridges" in the form of "workshops in concrete political ecology" which would need to quickly see the light of day and would focus on, among other things, the transition to green energy, taxation, the sea, and housing. It was a shared perspective which, Eric Coquerel insists, is "not contradictory but complementary" to the steps outlined by the Left Front. He recalls that his party, like the Greens, has the "particular characteristic of laying claim to political ecology".
United activism
Beyond that, the two groupings could act jointly in "united activism" on the Notre-Dame-des-Landes airport, on banking legislation, or on the (pro-management) agreement on employment, the Left Party leader suggests. Though Pascal Durand refuses to take a position on this last point before the debate has taken place in his party, he nevertheless concedes that he has "a critical attitude" towards it.
As for the elections in 2014, they were not the subject of the discussion that morning. "For us, it's much too soon, but [electoral cooperation of some kind between the two parties] is a debate which [already] exists" was as far as Pascal Durand would go.
________
Translated by Richard Pond and reviewed by Derek Hanson