Dancing the World into Being: A Conversation with Idle No More's Leanne Simpson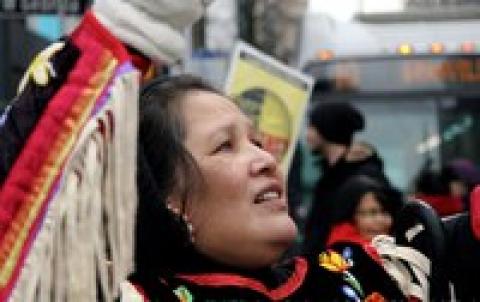 Motivated by ancient traditions of female leadership as well as their need for improved legal rights, First Nations women are stepping to the forefront of the Idle No More movement.,
In December 2012, the Indigenous protests known as Idle No More exploded onto the Canadian political scene, with huge round dances taking place in shopping malls, busy intersections, and public spaces across North America, as well as solidarity actions as far away as New Zealand and Gaza. Though sparked by a series of legislative attacks on indigenous sovereignty and environmental protections by the Conservative government of Stephen Harper, the movement quickly became about much more: Canada's ongoing colonial policies, a transformative vision of decolonization, and the possibilities for a genuine alliance between natives and non-natives, one capable of re-imagining nationhood.
Throughout all this, Idle No More had no official leaders or spokespeople. But it did lift up the voices of a few artists and academics whose words and images spoke to the movement's deep aspirations. One of those voices belonged to Leanne Simpson, a multi-talented Mississauga Nishnaabeg writer of poetry, essays, spoken-word pieces, short stories, academic papers, and anthologies. Simpson's books, including Lighting the Eighth Fire: The Liberation, Protection and Resurgence of Indigenous Nations and Dancing on Our Turtle's Back: Stories of Nishnaabeg Re-Creation, Resurgence and a New Emergence, have influenced a new generation of native activists.
At the height of the protests, her essay, Aambe! Maajaadaa! (What #IdleNoMore Means to Me) spread like wildfire on social media and became one of the movement's central texts. In it she writes: "I support #idlenomore because I believe that we have to stand up anytime our nation's land base is threatened—whether it is legislation, deforestation, mining prospecting, condo development, pipelines, tar sands or golf courses. I stand up anytime our nation's land base in threatened because everything we have of meaning comes from the land—our political systems, our intellectual systems, our health care, food security, language and our spiritual sustenance and our moral fortitude."
On February 15, 2013, I sat down with Leanne Simpson in Toronto to talk about decolonization, ecocide, climate change, and how to turn an uprising into a "punctuated transformation." More