Mother Jones, Workers Resistance, and the Origins of Rank-and-File Unionism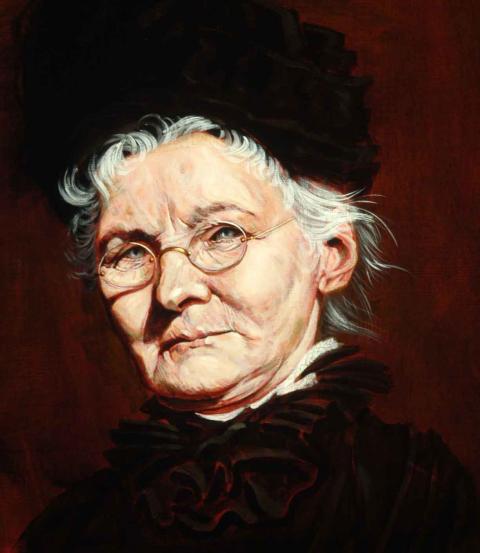 Mother Jones,
Mary Harris "Mother" Jones was a fearless fighter for workers' rights who shaped the concept of "rank-and-file unionism." When she was mocked as the "grandmother of all agitators," in the U.S. Senate, Mother Jones replied that she would someday like to be called "the great-grandmother of all agitators." And she is. She taught us that movements are theatres of battle, that strategy matters, and that unions can be vehicles for workers' power, not just a contract.
Mary Harris' early life was shaped by famine, fever and fire. She was born in 1837 in Cork, Ireland, enduring the Great Hunger where she witnessed starved corpses carted off while food was taken to the ports of the Lee River to be exported. Harris immigrated to Canada and then the U.S., earning a living as a teacher and seamstress, then moving to Memphis where she married union iron molder George Jones and started a family. But when yellow fever struck the city, "the rich and the well-to-do fled the city", while workers like her husband perished from it, and then "one by one my four little children sickened and died. . . I sat alone through nights of grief. No one came to me. No one could." Jones then moved to Chicago, where she sewed for the wealthy until the Great Fire of 1871 made her homeless.
Jones emerged from these tragedies as a survivor of class injustice who argued that workers might transform the "moneyed civilization" into a "higher and grander civilization for the ages to come." Her capacity to imagine workers' power was built by a series of rebel movements in the late nineteenth century. She joined the unemployed movement in 1894, one of the activists from the California labor movement who were involved in the "industrial armies," which were the Occupy Wall Street movement of their day. They launched more than 40 "armies" of marchers across the country, creating occupying encampments to publicize the injustices of Wall Street and to demand action from Washington, DC to create jobs for the unemployed. This movement became connected to the new industrial unions of the era, the American Railway Union (ARU) organized by Eugene Debs, and the miners union, which launched major strikes in mid-1894. While the armies and the strikes were bitterly crushed and ridiculed, they helped to shape Jones and others to create a movement that mobilized communities of struggle. 'MOTHER' OF INDUSTRIAL UNIONS
Jones became "Mother Jones" when she sought to save the life of a young California ARU activist who was falsely accused of derailing a troop train during the Pullman strike, and was sentenced to be hanged. She found her voice and became known as the "Mother of the ARU," travelling 15,000 miles to speak to workers and collect signatures petitioning the governor for a pardon. She took the petitions to the White House and boldly refused to leave until finally granted access to the president. The activist's life was saved. The repression exacted on the trade union movement further radicalized both Debs and Jones, who became advocates of socialism and militant trade unionism.
It was in the midst of this campaign that Jones landed in the heart of the 1897 great coal miners' strike in Pennsylvania. There she implemented strategies of family and community organizing as a foundational aspect of a rank-and-file unionism. The strike included union encampments styled on the unemployed movement, calls for a general strike (which the AFL derailed), and defiance of injunctions by putting women and children on the front lines. Massive marches and rallies, without precedent in Pennsylvania, Illinois and West Virginia, threw down the gauntlet for this new style of unionism. She reminded them that they were part of a longer history of struggle, one that had to have broad goals: "I long to see the day when labor will be in the White House and in the halls of Congress," and "We'll take the mines and run them for ourselves, rather than starve." Her key message was for the women. She advised them to organize independently of the men, to defy their husbands and fathers if necessary, to deny miners access to the home, and to "shorten their skirts and march." They did and became part of the organized theatre of battle.
The strike was won and established the miners' union in key areas of the country, but brutal repression and injunctions left other areas such as West Virginia and Colorado unorganized. Jones devoted much of the rest of her life to remedying this, facing down bayonets, defying injunctions, being arrested without charge, being deported, gaining a reputation as the nation's most fearless organizer. By 1907 she was called the most well known agitator in the world. "Someday we will have the courage to rise up and strike back at these great 'giants' of industry, and then we will see they weren't 'giants' after all -- they only seemed to because we were on our knees and they towered above us," she said. FIGHTER FOR EQUALITY
One of the Jones' key contributions was building a commitment to unionism that bridged racial and ethnic divisions. She condemned white supremacists in the union movement, and argued that the black miners of West Virginia were the best trade unionists. When an African-American woman, impressed with Mother Jones commitment to their cause, suggested she would kiss Jones' skirt hem in gratitude, Jones replied, "Not in the dust, sister, to me, but here on my breast, heart to heart." A friend observed that Jones "is above and beyond all, one of the working class... Wherever she goes she enters into the lives of the toilers and becomes a part of them."
Jones was also a transnational organizer who believed in a global labor movement. By 1910 she was the most well-known U.S. figure fighting for Mexican labor revolutionaries against the Diaz dictatorship and his U.S. corporate and political supporters. The Mexican rebels were part of the same cause as American unionists, she argued. When she traveled to Mexico in 1921, workers threw red carnations and blue violets around Jones, who they called Madre Juanita, until she was covered up to her shoulders.
Jones believed in democratic unionism, and that brought her into conflict with United Mine Workers union officials, especially John L. Lewis, whom she felt was stifling the voice of the ordinary miner. As she neared death at age 93, she declared she was still "a radical" who "longed for the day when labor will have the destination of the nation in her own hands, and she will stand a united force, and show the world what the workers can do." She asked to be buried in the Union Miners' Cemetery in Mt. Olive, Illinois, established as the resting place of rank-and-file unionists who had died in a shoot-out with company gun thugs in 1898. Tens of thousands of workers showed up to pay their respects when she was buried.
Every October, a small group of unionists still come to Jones gravesite to honor her and the cause of rank-and-file unionism. Last August, Cork, Ireland ignited a global commemoration of Mother Jones' birth and life. As a plaque in her honor was unveiled, local trade union activists claimed her as their own, not only as a legacy for their history, but as someone whose words and deeds are still relevant to the present movement. LEARN MORE
Mother Jones Museum is a website, run by Rosemary Feurer, where you can learn more about Mother Jones and find out where you can read more. The site's being redesigned as we write this. It's also the place to purchase the 24-minute DVD that Feurer made with Laura Vazquez, Mother Jones - The Most Dangerous Woman in America. (The $13 price includes shipping.)
The Autobiography of Mother Jones is short and a great read, written in her blunt, direct style. You can get it for $6.95 at akpress.org.
Mother Jones: The Most Dangerous Woman in America by Elliot Gorn (2002) is her most thorough biography. Other books about Jones are included in the Bibliography section of the Mother Jones Museum website.
Learn much more about our union heritage at the largest labor history site in the U.S., also run by Rosemary Feurer, Labor History Links.