50,000 Gather in Tunisia to Plan People-Powered Economy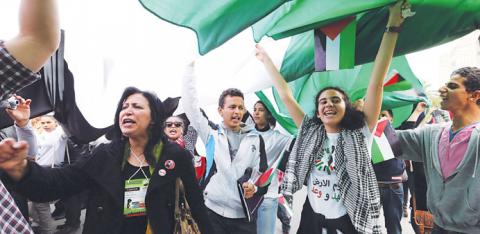 Participants at the World Social Forum hold Palestinian flags as they march in solidarity with the Palestinian people in Tunis, Gulf Times
Arab Spring Breakers: 50,000 Gather in Tunisia to Plan People-Powered Economy
    Tens of thousands of people from around the world gathered in Tunisia last week to talk about creating a fairer world. Here are some of the hottest topics   from the panels in Tunis.
By Signe Predmore
Yes
April 1, 2013
http://www.yesmagazine.org/new-economy/world-social-forum-gather-tunisi…
The springtime weather was hot and breezy as 50,000 people converged in the Tunisian capital of Tunis last week to discuss topics like debt, the Arab Spring, and drones. These were among the seemingly infinite variety of issues debated at the thirteenth annual World Social Forum.
The forum began in Brazil in 2001, and is held in a non-Western country every other year. The forum has emerged as a counterpoint to the World Economic Forum in Davos, Switzerland, where elite business and political leaders meet each year to discuss global issues from a largely corporate perspective.
In contrast, the World Social Forum is an open space for social movement participants, civil society, and individuals who are critical of imperialism and corporate-led global capitalism to network and exchange ideas on an international level.
Attendees have traditionally questioned the structural adjustment policies advocated by institutions like the International Monetary Fund and World Bank, in which countries are asked to balance their budgets by slashing spending, usually on items like the pay and pension of public employees. While the banks claim that these policies will lead to more prosperity, critics counter that they have more often led developing nations to accumulate crippling debts.
Flag-waving groups chanting "Free! Free! Palestine!" and tents filled with celebratory dancers dotted the campus of El Manar University, where the forum was held.
Getting in touch with the Arab Spring
Forum organizers chose Tunis as the host site this year in order to tap the energy of the grassroots mobilizations in the Middle East that overthrew dictatorial regimes in several counties and continue to struggle against them in others. Increasing the involvement of Arab activists has also been a goal of the forum for several years, according to a written statement released by organizers.
    The Arab Spring was not "just something we read on Facebook," Menon said.
Nearly everyone, from the local hosts to the foreign visitors, seemed to be thrilled with the selection of Tunisia as host. Arbia Oueslati, a young Tunisian woman representing ATADE, a local organization concerned with development and energy, saw the forum as a chance to counter negative perceptions of the country.
"It makes me so sad when embassies warn their citizens that it is not safe to travel here," she said. "This will be proof that our country is safe, and also that we are a land of dialogue. People are worried about radical Islam coming to power in Tunisia, but I say it will never happen because Tunisians don't accept extremists."
Meena Menon, of Focus on the Global South—a group that promotes social change in Asia, Latin America and Africa—and a former member of the forum's International Council, was excited that participants from other developing countries had the opportunity to interact with the Tunisian people. "Tunisia is the best thing that's happened to the forum in my view," she told a panel audience. Bringing foreign activists to Tunisia helped to show that the Arab Spring was not "just something we read on Facebook," she said, but "something that was done by real living, breathing people—and people who aren't even trained in mobilization."
The forum usually results in a huge manifestation of local civil society wherever it is held, and this year was no exception. The Organizing Committee estimated that around a quarter of the over 4,500 groups registered were Tunisian. Many of these groups are working to ensure that the goals of the Arab Spring revolution here remain in focus.
    Many were upset that the current Tunisian and Egyptian governments continue to negotiate with neoliberal institutions such as the International Monetary Fund.
Of these goals, democracy and fair elections were probably the most urgent. Prominent secular politician Chokri Belaid was killed by unidentified assassins in early February, provoking public outcry. His memory was honored widely at the forum, in forms that ranged from T-shirts and posters bearing his image to a moment of silence at the closing General Assembly to honor both Belaid and the late Venezuelan president Hugo Chavez.
While failures of the Tunisian and Egyptian governments to accomplish the goals of the revolutions that brought them to power were a key concern, forum participants remained hopeful that the populations in these countries will continue to hold them accountable. In one workshop, Nadeem Mansour of the Egyptian Center for Economic and Social Rights spoke of the more than 4,000 protests over financial issues that took place last year in Egypt.
"Large-scale social resistance, although it has not yet crystallized into a new economic plan, forces any government that might come to power to rethink current economic policy," he said.
Linking up personal and national debt
Many participants felt that a renewed focus on debt was a crucial piece of that process of rethinking. Sandra Nurse from New York City came to the forum as an individual, but was thinking about what she could bring back to her local chapter of Strike Debt, an Occupy-derived movement that works to "build popular resistance to all forms of debt." She said she was particularly interested in how Strike Debt might be able to evolve from its current focus on individual debt and forge a connection with groups that work to address the social impact of national debt.
Nurse said that the group chose to focus on debt because it's a personal experience and motivates people deeply. "But now our challenge is to really expand the analysis and connect personal debt to sovereign debt."
National debt was also on the minds of several Middle Eastern participants. Many were upset that the current Tunisian and Egyptian governments continue to negotiate with neoliberal institutions such as the International Monetary Fund. "One of the main challenges we face now is foreign debt," said one participant from Tunisia. "I cannot understand how a revolution can compromise on this issue. The current regimes should immediately stop paying the foreign debt."
Concern over drones
The seeds of a new global anti-drone movement seemed to emerge in a workshop led by U.S. feminist anti-war group CODEPINK. Participants from multiple countries expressed concern about their governments' interest in acquiring drones.
We know that drones kill civilians and inflame hatred against the United States—but can we stop them?
Even in cases where drones are only being considered for border-maintenance surveillance purposes, workshop attendees said this would ultimately lead to increased violence and repression of immigrants.
"Afghanistan has really been the testing ground for NATO countries in terms of drone usage," said CODEPINK co-founder Medea Benjamin. "Now they have a taste for it, and everyone wants to have the latest technology. None of the militaries want to be left behind. So we see this as the beginning of a global arms race in drone warfare."
Many of the workshop attendees stayed after the session was over to discuss organizing an international citizens' movement to advocate for global regulation on drones. E-mails were exchanged that very night in an effort to start planning a global gathering in a European city for the fall. One of the early tasks of the group will be to identify potentially sympathetic governments to work with.
Benjamin said more information would be available soon at droneswatch.org
______________________
Challenges of Arab Uprisings Reflected at World Social Forum
By Medea Benjamin
http://mondoweiss.net/2013/04/tunisia-reflects-challenges.html
"This was like a dream come true," said a radiant Sossi Mohamed Sadek, a Tunisian second year engineering student who was one of the hundreds of local volunteers at the World Social Forum in Tunis. "To see our university overflowing with over 50,000 people from Africa, Europe, Latin America, the United States, the Middle East—it was extraordinary. I came away with new ideas and new friends that will surely have a great impact on my life."
Many Tunisians were thrilled to have hosted the eleventh World Social Forum, held from March 26-30, 2013. It marked the first time that the world's largest global gathering of progressives—a gathering born in Brazil in 2001 out of the protests against corporate-dominated globalization—took place in an Arab nation. It came at a time when the world has been rocked by grassroots uprisings in the Arab world, but also increasing mobilizations to counter the climate crisis, and massive economic protests from southern Europe to "Occupy" groups in the United States to student movements from Quebec to Chile.
In recognition of the overarching danger of climate chaos, this was the first Social Forum to have a dedicated "Climate Space" with ongoing discussions about issues such as the need for food sovereignty, water justice and respect for the rights of indigenous and forest peoples. The climate sessions also denounced false solutions being put forward by many governments and corporations, including biofuels, GMO crops and geoengineering.
The debt/trade section of the Forum focused on ways to counter austerity measures, destructive free trade agreements and the onerous debts imposed by banks on both governments and individuals. Participants searched for alternatives to the undemocratic economic reforms being pushed by international lenders in countries such as Italy, Greece, and Cyprus, but also in Tunisia and Egypt, where the people are being asked to pay for debts incurred by previous dictators.
Interspersed throughout the forum's hundreds of workshops, dozens of assemblies and street rallies were the challenges, contradictions and unresolved clashing visions since the early heady days of the Arab Spring.
One of the contradictions involves the role of women. The Arab Spring has spawned a new women's movement in response to the rise of conservative religious governments in the region. According to Forum organizers, that's why a women's assembly was chosen to open the Forum. "The new regimes want constitutions to be more religious, and women all over the region are taking a stand against this," said Hamouda Soubhi from Morocco. In the raucous, jam-packed women's assembly, women cheered, chanted and applauded their sisters standing up to male oppression. "When we have situations like in Egypt where women are raped while attending demonstrations, we obviously have unfinished revolutions and need this kind of gathering to re-inspire us," said a beaming, young Egyptian activist.
This clash between Islamists and secularists in the Arab world was present throughout the Forum. Plastered on the walls was the photo of Chokri Belaid, a Tunisian lawyer, Marxist, and leader of the leftist Popular Front who was murdered in February. Many Tunisian leftists used the Forum to denounce the new government run by the Ennahda party. But government supporters insisted that Ennahda is a moderate, tolerant Islamist party and felt that the secular vision was overrepresented at the Forum. At one of the closing assemblies, a government supporter encouraged forum goers to talk directly to Ennahda members instead of simply talking about them.
But it was the conflict in Syria that really spilled over into the forum in an ugly way, with supporters of Syrian President Bashar al-Assad shouting down and beating up opposition supporters—even women. Rumor had it that the Assad government purposely sent provocateurs to the forum. The atmosphere was so explosive that a group wanting to discuss nonviolent alternatives in Syria felt compelled to leave campus and meet instead in a downtown hotel.
Other conflicts highlighted at the forum were the Palestinian struggle and the lesser-known 37-year-old liberation struggle of the people of Western Sahara, now occupied by Morocco. There were several confrontations at the Forum on this issue as well, when Moroccan government supporters—at workshops and on stage at a plenary—attempted to shout down (and on one occasion punch) the independence activists.
Given the life-and-death struggles in the region, coupled with government infiltrators and agitators, organizers were proud that they managed to calm tensions internally, without ever having to call the police, and that no one was seriously hurt.
At one of the closing gatherings, participants were asked to evaluate the forum. Many of the criticisms were about poor planning and logistics: 20 percent of the hundreds of workshops never took place; locations were hard to find and there were scores of last minute room changes; nothing started on time; translation equipment rarely worked; speakers spoke too long, leaving no time for discussion.
Some complained that for a forum that is supposed to pose alternatives, the sessions are old-fashioned "talking heads" instead of interactive. US environmental activist William Kramer said, "I'm used to more participatory processes, not just presentations. For me, it was really the spaces between events where I learned the most." Some of the younger folks, including US participants from the Occupy movement, created their own democratic space to have an open dialogue with Tunisians.
Other criticisms were about lack of concrete solutions. The larger assemblies often turned into simply denunciations of corporations, governments and capitalism.  "If slogans could win," said one participant, "the left would be in power. Chanting 'smash capitalism' might make us feel good, but it doesn't provide a path forward."
Others wanted more global actions to emerge from the summit, not simply statements. Past forums have led to critical global actions, such as the February 15, 2002 global day of protests against the pending US invasion of Iraq, or joint campaigns to stop international free trade agreements. At this forum, groups working on different issues came up with new networks and joint campaigns—for example, the anti-drone workshop was attended by people from 15 countries who decided to form a global anti-drones network—but there was no call for a particular global action coming from the Forum as a whole.
When asked if the forums should continue, there was unanimous support. "Where else could we possibly come together like this and inspire each other to create another world?" said Eyad Bilad, a Tunisian student. Evoking the name of Mohamed Bouazizi, the Tunisian fruit vendor who set himself on fire, triggering the events that led to the Arab Spring, he added, "For all those who have died struggling for justice, we must continue to learn from each other how to build a world that does not respond to the greed of dictators, bankers or corporations, but to the needs of simple people like Mohamed Bouazizi."