Does Raising the Minimum Wage Cost Jobs?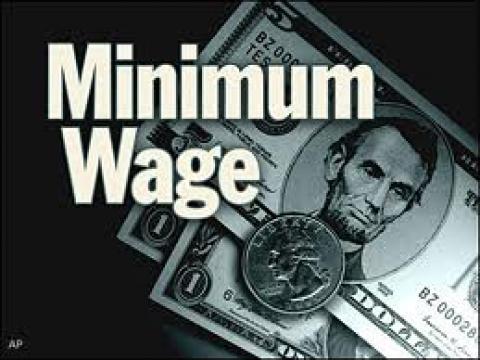 ,
A quick point on whether the minimum wage "costs jobs." An op-ed in today's San Jose Mercury News, Minimum wage: Credible studies show raising it costs jobs says,
The usual corporate nonsense, the usual "low wages create jobs" stuff, the usual "paying people hurts the economy" bullwaste, the usual this, the usual that…
Here is the reality: The minimum wage is now the lowest it has been in decades. In fact, 40% Of Americans Now Make Less Than 1968 Minimum Wage, if that wage had kept pace with productivity increases.
So, how's that low-wage "job creation" working out?
Please sign a SignOn.org petition posted by the Campaign for America's Future. The goal is to have several hundred thousand people calling for "the leaders of the House and Senate to allow an up-or-down vote on the Fair Minimum Wage Act of 2013, which would raise the minimum wage to $10.10 an hour and then index it to inflation." (Sign the petition here.)
Who Wrote This Op-Ed?
My local newspaper runs tons of of op-eds claiming that paying wages costs jobs, making companies pay taxes costs jobs, giving pensions or even reasonable pay to public employees is destroying the state, etc… But they often don't identify who is really paying the people who write those op-eds.
This op-ed comes from the Employment Policies Institute, a slick operation that offers little-to-no information about who they are and where their money comes from. A bit of research will tell you that this is one more Berman & Co. front group. According to the Center for Media and Democracy's SourceWatch, (click through for links and much more)
Berman & Co., a Washington, DC public affairs firm owned by lobbyist Rick Berman, represents the tobacco industry as well as hotels, beer distributors, taverns, and restaurant chains. Berman & Co. lobbies for companies such as Cracker Barrel, Hooters, International House of Pancakes, Olive Garden, Outback Steakhouse, Red Lobster, Steak & Ale, TGI Friday's, Uno's Restaurants, and Wendy's. It also operates a network of several front groups, web sites, and think tanks that work to keep wages low for restaurants and to block legislation on food safety, secondhand cigarette smoke, and drunk driving.
You can find more info on Berman & Co. here, here, here, here, here, here, here, here, here and all over the web.
But my local paper doesn't let readers know about that.