Spanish Unions to Protest Against Austerity Measures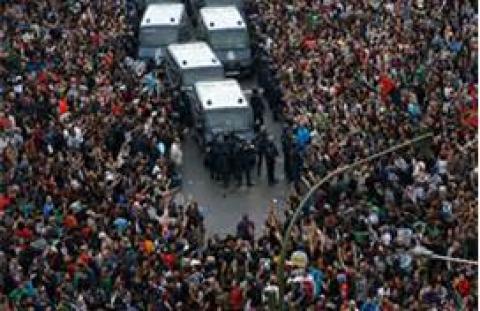 Protesters surround police vans close to Spain's Parliament during a demostration in Madrid on September 25, 2012. ,
Madrid
The main labor unions in Spain will develop a series of protests from next Thursday to reject austerity plans imposed by the European Union (EU) and abided by governments of the continent.
Organized by the European Confederation of Unions the campaign, under the theme: For a More Social and Democratic Europe, will start next June 13, with a concentration in front of the headquarters of the European Commission in Madrid.
The objective of the protests is to push institutions in the European Union to change radically their policies of social and labor cuts and to fulfil the commitments of promoting economy and employment.
Leaders of the General Union of Workers, Workers Commissions and the Workers' Trade Union explained the main demonstrations are schedule for next Sunday in Spain and in the rest of the EU countries.
Candido Mendez, secretary general of the General Unions of Workers said to the press that the idea is to show governments, before the Head of States Summit on June 27-28, the rejection of the citizenship to programs based in austerity, which caused suffering to the people and the deterioration of the social model.
Unionists demand a change in the stimulus policies, starting with the fulfilment of commitments assumed in last year Summit, in which presidents talked about a monetary union that was just an illusion, Mendez stated.