AFSCME and Michigan Working Families Respond to Detroit Bankruptcy Filing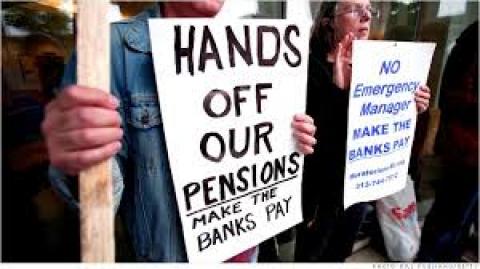 Protestors in Detroit last month objected to plans to cut pension benefits of city workers and retirees.,Bill Pugliano/Getty
Michigan Gov. Rick Snyder (R) authorized a bankruptcy filing yesterday  for the city of Detroit based on recommendations from financial manager Kevyn Orr, making it the largest city in the U.S. to ever take that step. AFSCME members and other public sector workers were not consulted for input before the filing.
AFSCME President Lee Saunders said in a statement:
Gov. Snyder's plan to suspend democracy, drive one of America's largest cities into bankruptcy and deprive workers of their hard-earned retirement security, moved dangerously closer to reality today when without a single negotiation with unions, workers or retirees, Snyder authorized Detroit's financial manager to file for bankruptcy.
Despite assurances from Snyder's hand-picked financial manager Orr that AFSCME would have ample opportunity to discuss alternatives, they unilaterally embarked on this treacherous path without meaningful input from those who would be most affected.
Orr had threatened weeks ago that the pension benefits earned by city retirees through their years of public service and in exchange for less pay could not be protected in bankruptcy.  Now it appears he and Governor Snyder are working hard to make good on that threat.  Detroit's public service employees worked hard and played by the rules, and now their freedom to retire with dignity is in peril.
As recently as two weeks ago, Orr's team refused AFSCME's request to meet and discuss retirement issues. Just last week, Orr's team claimed the union would have "months" to address these issues, and that meetings would soon be scheduled to do so.
This apparently wasn't the governor's true intent. According to published reports, Governor Snyder expressed disappointment with this pace to Orr on Monday, July 15, and the very next day, they began the process to rush Detroit into what could be a lengthy and what surely will be a very costly process.
It's no secret why Orr and Snyder are in such a hurry: a Michigan court is scheduled on Monday to decide whether Orr and Snyder are using bankruptcy as a backdoor around the state constitution's protection of pension benefits. Clearly, the Governor and the financial manager are eager to sacrifice the well-being of tens of thousands of workers and retirees, in violation of Michigan's state constitution.
Public workers are not protected by federal pension insurance.  The average public service pension is $19,000 per year. A bankruptcy and possible suspension or reduction in pension payments would result in profound hardship for workers, retirees and their families.  Apparently Governor Snyder and Kevyn Orr want Detroit's public service workers to rely on their children for food and shelter, or have to work until they die.
Metro Detroit AFL-CIO President Chris Michalakis and Michigan State AFL-CIO President Karla Swift released the following statement:
Every step of the way, the citizens of Detroit were told that they had to give up their right to democratic representation in order to avoid bankruptcy.  Now that this filing has come anyway, it is clear that either state control has failed or that Gov. Snyder and his emergency manager appointee were not honest about their intentions in the first place.
Today's action can be taken as confirmation that Orr was hired, secretly and ahead of a declared financial emergency, because he is a bankruptcy expert.
As Chapter 9 proceedings begin, Detroit cannot afford any further attacks on working families, who have already sacrificed so much without a say in the process. City workers have already made severe concession to keep the city afloat.  It is time to put the needs of Detroit residents above the interests of out of town creditors.