U.S. Prison Population Falls for Third Straight Year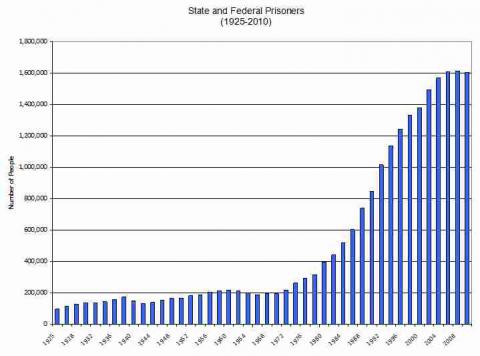 State and Federal Prisoners 1925 - 2010, The Sentencing Project
Today, the U.S. has the highest incarceration rate of any country in the world. With over 2.3 million men and women living behind bars, our imprisonment rate is the highest it's ever been in U.S. history. And yet, our criminal justice system has failed on every count: public safety, fairness and cost-effectiveness. Across the country, the criminal justice reform conversation is heating up. Each week, we feature some of the most exciting and relevant news in overincarceration discourse that we've spotted from the previous week. Check back weekly for our top picks.
U.S. Prison Population Falls for Third Straight Year
Every year, the Bureau of Justice Statistics (BJS) publishes a report on the national prison population. This week, BJS released its preliminary report for 2012, in which it found that the U.S. prison population declined for the third straight year, decreasing by 27,760, or 1.7 percent.
There are a couple of stories in this data. The first is that state populations actually declined even more than the national numbers. States prison populations declined by more than 29,000 prisoners; that decline was offset nationally by a small rise in the federal prison population, which has risen every year since 1980.
The second story is that California is responsible for much of the decline, as it was last year. Under the federally mandated prison-reduction plan called Realignment, California has been sending lower-level offenders to county jails instead of prison since October 2011. Lower admissions to state prison last year meant a reduction of 15,000 state prisoners—more than half of the decline among all states. A further decline of about 10,000 should occur by the end of this year.
In all, prison populations declined in 27 states. Incarceration rates fell in 29 states. Even better, those groups are fairly heterogeneous—they include a number of states from each region; large states and small; states with large urban populations and largely rural states.
The change is small, but the trend is in the right direction. More importantly, the trend toward larger prison populations has finally stopped and reversed in many states. Ten years ago, only ten states had reduced their prison populations over the previous year; 2012 was certainly progress. BJS will release its full report on 2012 later this year.
Want to know how addicted your state is to incarceration? Check out our new map for updates on recent activity in state legislatures to reduce prison populations, with contextual information about each state.