Protesting Activists' Firings, Walmart Workers Plan the Biggest Mobilization Since Black Friday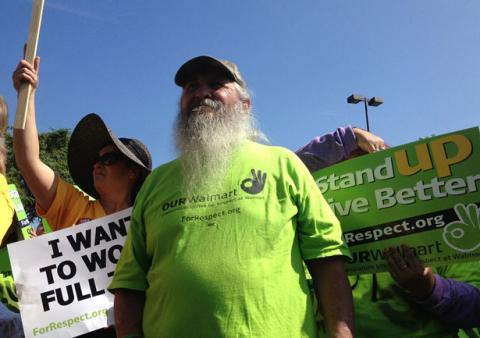 Sixty-four-year-old David Cruse, who worked at the Walmart in Baldwin Hills for eight years but has retired, participates in the Walmart strike on October 4, 2012. ,Matt Hamilton via Flickr
Walmart workers and supporters plan to mount protests in fifteen cities Thursday, a mobilization that the union-backed group OUR Walmart expects will be its largest since last November's Black Friday strike. This week's rallies follow an August 22 civil disobedience action at which the campaign announced a Labor Day deadline for Walmart to raise its wages to at least $25,000 per year, and reverse the terminations of twenty workers who participated in a June strike.
As The Nation has reported, nearly eighty OUR Walmart members have been disciplined by the company since returning from the June walkout. OUR Walmart's response to the alleged illegal retaliation has included protest rallies, pressure on Yahoo! CEO and Walmart board member Marissa Mayer and outreach to members of Congress. The campaign has filed charges with the National Labor Relations Board alleging that the discipline violated federal labor law. Walmart has denied wrongdoing; a spokesperson told The Nation last month that "no associates were disciplined for participating in any specific protests." The company did not respond to a Monday request for comment regarding the strikers' demands and their deadline, which passed yesterday without any public concession by Walmart.
A Sunday mass e-mail to supporters from the allied Making Change at Walmart campaign referenced "intensified actions nationwide" Thursday if the retail giant didn't respond by Labor Day. Fired employee Barbara Collins told The Nation prior to last month's civil disobedience that "if they don't reinstate us, our actions are going to be bigger and stronger every time, and this is just the beginning."

Thursday's actions will include a march through downtown Los Angeles to the site of a proposed Walmart in Chinatown, and a demonstration in Washington, DC, where all sides are awaiting word on whether Mayor Vince Gray will veto a bill (passed by City Council in July but formally sent to his desk last Friday) that would require "large retailers" like Walmart to pay employees at least $12.50 in total hourly compensation. Thursday actions are also planned for cities in the East, West, South and Midwest: Baton Rouge, Boston, Chicago, Cincinnati, Dallas, Denver, Miami, Minneapolis, New York, Orlando, Sacramento, San Francisco and Seattle.
According to the campaign, Thursday's rallies will have the largest total turnout by Walmart employees, and the biggest overall number of participants, of any Walmart mobilization since the one-day November 23 strike last year, in which organizers say 400-some workers walked off the job and thousands of supporters turned out to support them. Since then, organizers say hundreds of workers took part in collective confrontations with local management over scheduling on April 24, and over a hundred participated in the longer June work stoppage, which included a week of protests in and around Walmart's Arkansas hometown. United Food & Commercial Workers union official and OUR Walmart strategist Dan Schlademan told The Nation in April to expect "much bigger actions" in 2013, saying, "Either we prove it's growing or it's not. And we're certainly going to prove it's growing this year."
The OUR Walmart campaign has asked the National Labor Relations Board, whose pace and penalties labor has long charged are insufficient for protecting workers, to seek an injunction to more quickly address Walmart's recent alleged retaliation. (The NLRB did not respond to The Nation's request for comment last month.) According to the campaign, the NLRB recently indicated that it has found sufficient merit in some charges filed against Walmart in California last fall—including alleged illegal intimidation in the lead-up to the Black Friday strike—to issue a complaint (similar to an indictment) unless the Labor Board reaches a settlement with the company.
"We don't want to be silenced," Collins said last month before being arrested with other OUR Walmart activists outside a Washington, DC, Walmart office last month. "We're not going to be silenced. And we're getting stronger every day, and we're fighting back harder every day."