ALEC Facing Funding Crisis from Donor Exodus in Wake of Trayvon Martin Row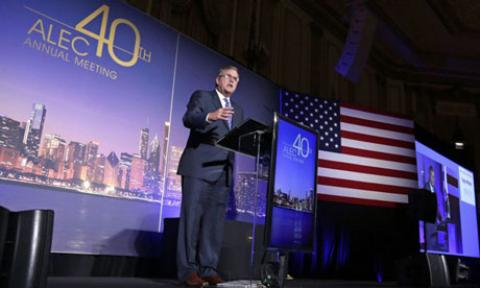 Ex-Florida governor Jeb Bush speaks at Alec's 40th annual meeting in August. Alec has identified more than 40 lapsed corporate members., M Spencer Green/AP
An influential US lobbying network of Republican politicians and big businesses is seeking to avert a looming funding crisis by appealing to major donors that have abandoned it over the past two years following criticism of its policy on gun laws.
The Guardian has learned that the American Legislative Exchange Council (Alec), which shapes and promotes legislation at state level across the US, has identified more than 40 lapsed corporate members it wants to attract back into the fold under a scheme referred to in its documents as the "Prodigal Son Project".
The target firms include commercial giants such as Amazon, Coca-Cola, General Electric, Kraft, McDonald's and Walmart, all of which cut ties with the group following the furore over the killing of the unarmed black teenager Trayvon Martin in Florida in February 2012.
Alec was embroiled in the controversy surrounding Florida's 2005 "stand-your-ground" law under which George Zimmerman, the neighbourhood watch volunteer who shot and killed the 17-year-old Martin, initially claimed self-defence. The Florida law was picked up by Alec, and, working in partnership with the National Rifle Association, used as a template for one of its "model bills", which was then taken up by other states across the country.
The Guardian has learned that by Alec's own reckoning the network has lost almost 400 state legislators from its membership over the past two years, as well as more than 60 corporations that form the core of its funding. In the first six months of this year it suffered a hole in its budget of more than a third of its projected income.
The reference to the Prodigal Son Project is just one of many revelations contained in a batch of internal Alec documents that have been obtained by the Guardian. The documents, prepared for its most recent annual board meeting in Chicago in August, cast light on the inner workings of the group.
They show that:
Read more here.