labor
UIC Faculty Union Flexes Muscles in Showdown Over Adjunct Pay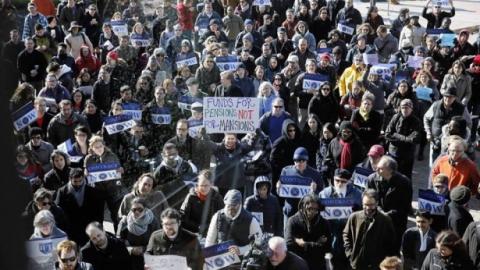 UICUF members and supporters rallied in November to push the university administration to settle their contract.,Photo from UICUF's Facebook page
2)    "March of the Jobless Corps"  Daniel Kahn and the Painted Bird
The teaching force at the University of Illinois Chicago (UIC), which unionized in 2011, has been at the bargaining table fighting for changes that include improved compensation for non-tenure-track professors and shared governance in the university decision-making process. And after 15 months without results, they're starting to get fed up. Faculty voted last week to authorize a strike if contract negotiations remain at an impasse.

About 79 percent of union members participated in the vote, with 95 percent agreeing to authorize a strike if necessary, according to John Shuler, spokesperson for the University of Illinois Chicago United Faculty (UICUF). This overwhelming endorsement reflects "the conviction that we deserve a fair and honest contract, and the frustration with how long this process has taken," says Shuler, who is also a member of UICUF's bargaining committee.
In the hopes of averting a walkout, bargaining will continue through early January with the help of a federal mediator. Such a strike would be another unprecedented labor action at the University of Illinois from UIC faculty, whose push to organize in 2011 was both a first for the state's public research universities and one of the first nationwide since a wave of unionization at state universities during the 1960s and '70s died down.
The successful drive two years ago was part of a combined effort by the American Association of University Professors (AAUP) and the American Federation of Teachers (AFT) to organize top-tier research universities.
But shortly after faculty members filed for recognition with the National Labor Relations Board in April 2011, they ran into trouble—the university's Board of Trustees challenged the union petition, contending that nonpermanent and tenured or tenure-track faculty could not be part of the same bargaining unit under state law.
As Scott Jaschik explained at Inside Higher Ed, the challenge was based on a highly specific interpretation of that law:
At issue in Illinois is the legislation that authorized faculty unions at the campuses of the University of Illinois. The legislation reads: 'The sole appropriate bargaining unit for tenured and tenure-track academy faculty at each campus of the University of Illinois shall be a unit that is comprised of non-supervisory academic faculty employed more than half-time and that includes all tenured and tenure-track faculty of that university campus.
The university has asked the state labor board to reject the faculty union on the grounds that the statute means that a single faculty union can 'only' include tenured and tenure-track faculty members. The union brief in response states that the university is misreading the word 'includes.' While the university argues that it essentially means 'includes only,' the union says that is not the case and cites various other bills in which such language does not limit participation to those specifically named.
Ultimately, the university prevailed in court. Though the union must now negotiate two separate contracts for non-tenure-track and tenure-track faculty, it has the same set of officers, the same bargaining team and the same core demands for both.
"Nothing changed as a union," explains Shuler. "We've just had to do our work twice because of the administration."
When contingent faculty members are part of combined bargaining units with tenure-track and tenured professors, they often complain that their interests take a backseat to other agendas. In the UIC contract fight, however, demands for improvements to non-tenure-track faculty wages and working conditions have taken center stage. The union is demanding a minimum salary of $45,000 for full-time non-tenure-track faculty, as well as multi-year contracts and "a real system of promotion." Additionally, the union wants a 3.5% pay raise for all members.
The struggle at UIC reflects a growing conversation about the low wages frequently paid to contingent faculty at universities around the country. The story of Mary Margaret Vojtko, an 83-year old part-time French instructor who died destitute after 25 years of teaching at Duquesne University in Pittsburgh, Pa., made national news this fall, inspiring headlines like "Adjuncts are the new working poor" and "Adjunct faculty members struggle for living wage." And according to a 2012 study by the Coalition on the Academic Workforce, annual pay for adjunct faculty averages $21,600 a year nationwide.
Non-tenure-track faculty at UIC are better off than their counterparts at many other universities—most are full-time, and as state employees they're entitled to health and retirement benefits. But most full-time non-tenure-track faculty members at UIC still make only about $30,000 annually, which employees say doesn't amount to a living wage in Chicago.
To combat this, UICUF is demanding increased salaries across the board, which they claim could be covered by the university's surplus funds. After the strike authorization vote, though, UIC Provost Lon Kaufman wrote a letter to the union claiming "the majority of [surplus dollars] are committed to specific projects as a normal matter of course, just as any checking account can appear to be flush before outstanding checks hit. … UIC has a relatively small reserve of available cash that allows us to meet payroll as necessary."
Scott McFarland, executive vice president of UICUF, says this response is disingenuous. "We're not talking about the restricted funds—we're talking about the unrestricted funds," he says. Based on reports of auditors and bond ratings, the union contends that the university has close to $500 million in undesignated funding.
"It's almost as though the university has been running a profit-making business," said UICUF President Joe Persky at a teach-in held by the union last month.
Faced with large shifts toward decreased funding in the higher education landscape, faculty unions have sometimes responded tepidly.
In a recent issue of New Labor Forum, Dan Clawson chastised higher education unions for playing defense, writing, "Many higher education unions in practice, although not typically in theory, are content to manage an orderly retreat, holding the troops together and avoiding a full-scale rout."
But the academic labor movement has also been heating up of late, thanks in part to stronger alliances between contingent and tenure-track faculty. At the University of Oregon, for example, the two groups united to win gains that included a $36,000 wage floor for adjuncts in the union's first contract in October.
And at UIC, such cooperation may be a key to winning rights for all faculty members. Noting the steady adjunctification of the higher education teaching force—as many of three-quarters of faculty members nationwide are working on a contingent basis—McFarland asserts, "the only way to stop that trend is unionization."
UIC's efforts to keep contingent and tenure-track employees from bargaining together has been an example of "divide and conquer," McFarland continues, but "one of our goals as a union is to become a model for what other schools should be doing."  
Copyright, In These Times. Reprinted with permission. May not be reprinted without permission
ABOUT THIS AUTHOR
Rebecca Burns, In These Times Assistant Editor, holds an M.A. from the University of Notre Dame's Kroc Institute for International Peace Studies, where her research focused on global land and housing rights. A former editorial intern at the magazine, Burns also works as a research assistant for a project examining violence against humanitarian aid workers.
2)     "March of the Jobless Corps"  Daniel Kahn and the Painted Bird
http://www.youtube.com/watch?v=6KFVVKFxr60
MARCH OF THE JOBLESS CORPS / ARBETSLOZER MARSH
Music & Yiddish: Mordechai Gebirtig / English: Daniel Kahn
one, two, three, four, join the Marching Jobless Corps
no work in the factory / no more manufacturing
all the tools are broke & rusted / every wheel & window busted
through the city streets we go / idle as a CEO, idle as a CEO
1,2,3,4. . . .we don't have to pay no rent / sleeping in a camping tent
dumpster diving don't take money / every bite we share with twenty
let the yuppies have their wine / bread & water suit us fine
1,2,3,4. . . .worked & paid our union dues / what did years of that produce?
Houses, cars & other shit / for the riches benefit
what do workers get for pay? / hungry broke & thrown away
eyns, tsvey, dray, fir, arbetsloze zenen mir
nisht gehert khodoshem lang / in fabrik dem hamerklang
s'lign keylem kalt fargesn / s'nemt der zhaver zey shoyn fresn
geyen mir arum in gas / vi di gvirim pust un pas
1,2,3,4. . . . yorn lang gearbet shver / un geshaft alts mer un mer
hayzer, shleser, shtet un lender / far a heyfele farshvender
undzer loyn derfar iz vos / hunger, noyt, un arbetsloz
one, two, three, four, pick yourselves up off the floor
unemployment marches on / so we'll sing a marching song
for a land, a world of justice / where no cop or boss can bust us
there'll be work for every hand / in a new & better land
eyns, tsvey, dray, fir, ot azoy marshirn mir
arbetsloze trit nokh trit / un mir zingen zikh a lid
far a land, a velt, a naye / vu es lebn mentshn fraye
arbetsloz iz keyn shum hand / in dem nayem frayn land