Chicago Teachers' Union Report on School Closings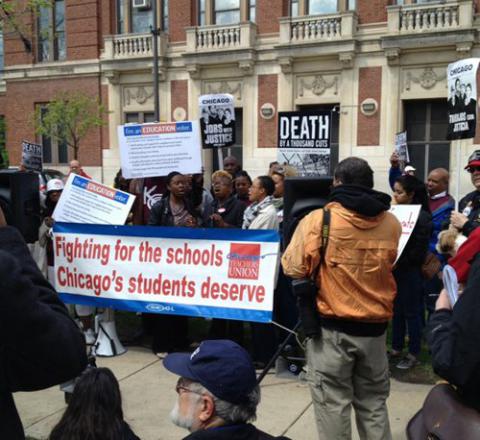 Crowd at Nathaniel Pope Elementary School marking the 60th anniversary of Brown v. Board of Education. Pope is one of 49 elementary schools closed on orders of Chicago Mayor Rahm Emanuel. The protesters promise not to let the closed schools be forgotten., Substance photo by Bernice Eshoo
It is in PDF format and should be downloaded so that the charts and graphs can be studied, too.
"The Chicago Teachers Union (CTU) released today a report on the state of Chicago Public Schools (CPS) one year after the Board of Education (BOE) voted to close 49 elementary schools and one high school program, the largest, one-time school closing action in U.S. history and a decision made in the wake of massive opposition and protests throughout the city of Chicago," a CTU press release stated. The report was embargoed until midnight May 21, 2014.
The 13-page study, titled "Twelve Months Later: The Impact of School Closings in Chicago," looks at what happened as a result of the mass school closings of 2013, and answers such questions as: -- Were CPS promises for receiving schools kept? -- How much money was saved? Did resources increase at affected schools? -- Have services increased for special education students at consolidated schools.
On May 22, 2013, Mayor Rahm Emanuel's handpicked Board of Education, on a motion from his hand-picked "Chief Executive Officer" Barbara Byrd Bennett, voted to shutter 50 neighborhood school and despite warnings disrupt and in some cases devastate their communities. At that time, the Board also voted to "turn around" five schools and "co-locat" 17 others. Faced with widespread opposition to this action, CPS promised hundreds of millions of dollars in capital improvements and transition supports for schools receiving students from closed schools.
But a lengthy CTU examination of the evidence has found that promises made to receiving schools were hollow in many cases and only partially fulfilled in others. Looking beyond the talking points of City Hall and CPS, the study makes it clear that most of what has been reported and claimed by school officials and Chicago's mayor were lies or, at best, half truths based on a spinning of the information. During the winter of 2013 - 2014, for example, Rahm Emanuel and CPS officials held a celebration for the underpaid "Safe Passage" workers and proudly announced that the CPS closings had been a success because nobody was killed along the Safe Passage routes during the first six months of the 2013 - 2014 school year. Among the findings of the CTU study:
Receiving schools (which were called "welcoming schools" in the Orwellian world of Rahm Emanuel's Chicagoland) are still disproportionately under-resourced compared to other elementary schools.
Students were moved to schools with libraries, but funds weren't available to hire librarians. Just 38% of receiving schools have librarians on staff, whereas across CPS, 55% of elementary schools have librarians.
Computer labs were upgraded at receiving schools but only one-fifth of these schools have technology teachers.
CPS touted iPads for all receiving-school students, but included few related professional learning opportunities for teachers.
CPS spent millions on large-scale programmatic changes at 30 elementary schools, but the success and continued funding of STEM (Science, Technology, Engineering and Math) and IB (International Baccaleureate) programs remain to be seen.
"Shuttering our schools was touted as a hard and difficult choice by the mayor and the Board, but this was the easy, draconian choice," said CTU President Karen GJ Lewis. "Parents, teachers, and the public demanded resources and supports for these education communities. Sadly, by making promises that remain unfulfilled, these schools and the students they serve have been dealt yet another blow—from failed policy to broken promises."
For this report, the CTU interviewed teachers from seven of the receiving schools to gather information about the fulfilment of CPS promises. Additionally, researchers reviewed CPS material on the school closures, operating and capital budget documents, position files, vacancy reports, class size data, and other public data.
The Chicago Teachers Union represents 30,000 teachers and educational support personnel working in the Chicago Public Schools and, by extension, the students and families they serve. CTU, an affiliate of the American Federation of Teachers and the Illinois Federation of Teachers, is the third largest teachers local in the country and the largest local union in Illinois. For more information visit CTU's website at www.ctunet.com