labor
College Cafeteria Workers Win Back Health Care Benefits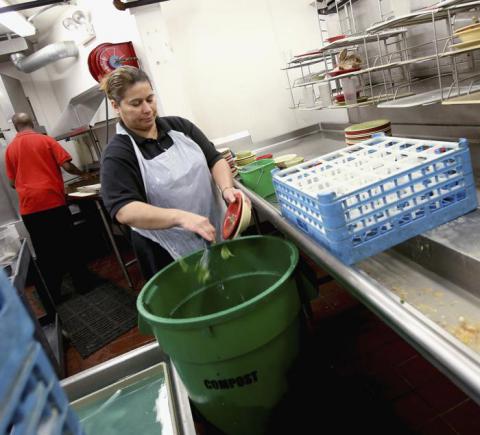 After booting several thousand cafeteria workers off its health care plan last year, the food service company Sodexo announced Thursday that it would re-establish health benefits for many employees. ,Bev Horne
After booting several thousand cafeteria workers off its health care plan last year, the food service company Sodexo has had a change of heart.
The Associated Press reports that French food giant announced Thursday that it would reestablish health care benefits for many employees who have lost coverage since January.
Sodexo—which employs 4,800 cafeteria workers on 30 university campuses in Massachusetts, according to The Boston Globe—had originally argued that Obamacare was forcing the company to rethink the way it distributed health care benefits.
The Affordable Care Act (as had Massachusetts's 2006 health care reform legislation) imposes heavy penalties on employers who fail to provide health coverage for full-time employees, but Sodexo managed to skirt those restrictions reaction the the national law by reclassifying many employees as part-time.
Someone who works more than 30 hours a week is legally considered a full-time employee. But when Sodexo started to use average hours clocked over a year to determine eligibility, many of its workers fell short.
Those people were often university cafeteria workers. Although cafeteria workers often log more than the requisite 30 hours during the school year, many fell short when Sodexo included the summer months that school cafeterias lie vacant into its weekly average calculations. That pushed them into part-time territory, leaving them to find health coverage on their own.
After changing course Thursday, the company says it plans to reestablish those workers as full-time employees, once again eligible for insurance.
"We've realized we can change the way we are determining eligibility and still remain competitive in the market," Sodexo VP of Benefits Julie Peterson said, according to the AP.
The decision marks the culmination of months of activism on the part of Sodexo employees.
The food service company has long been a magnet for labor controversies, and its decision to shift health care benefits had ignited virulent outcry, including college campus protests.
Sodexo, however, maintains that the decision Thursday was unrelated to public pressure. Company representatives told the AP that the change simply resulted from a routine evaluation of company policy.