labor
Venezuela Takes Over Clorox Factory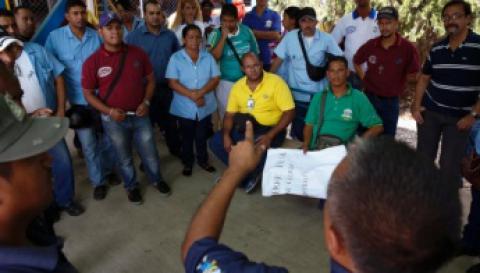 Workers gather in assembly to discuss their plans to reactivate the factory, Reuters
1)   Venezuela Takes Over Clorox Factory
2)   Venezuelan Socialist Party Legislator Robert Serra Assassinated
Venezuela Takes Over Clorox Factory
On Friday, the Venezuelan government initiated a takeover of the abandoned Clorox factory with the country's Vice President Jorge Arreaza calling an assembly of the company's 475 workers to reactivate the plant's activities.
Clorox Venezuela called workers and left voicemails stating that they were liquidated due to the company's decision to leave the country on Monday. The U.S.-based company claims that economic challenges influenced its decision to close the factories doors.
"They [the workers] worked until last Friday, completely normal, and when they came in on Monday the doors were closed. Five minutes later, they received voice messages on their cell phones on behalf of the company's president, Oscar Ledezma, where he tells them, 'we are leaving Venezuela, we deposited your liquidation package in your account ... The factory will not operate anymore'," detailed Arreaza.
Arreaza also explained that the government issued an official order for the company to resume their activities, which the owners ignored only to subsequently leave Venezuela.
The Venezuelan leader said that neither workers nor government officials have been able to speak with the owners of the transnational. "We haven't been able to talk to any of them, only with a representative in Argentina via video conference, the only one that stayed is a representative of a law firm that defends the bourgeoisie all the time."
The company's employees called on the government to temporarily takeover the factory following Clorox's failure to fulfill the order to resume production. The factory is located outside of Caracas in Los Valles del Tuy, Miranda.
Arreaza along with Minister for Social Protection of the Labor Process, Jesus Martinez and the company's workers attended Friday's assembly, telling the assembled workers that they will receive support from the government and chemists in order to reactive the factory. While workers know how to handle the chemicals they work with, Arreaza emphasized that pressured decisions cannot be taken and workers cannot be put at risk.
"[Saturday] a group of experts, including representatives from other national companies will come to make themselves available to these workers," Arreaza confirmed.
Additionally, Arreaza said the government plans to open investigations into Clorox Venezuela and, "those who committed this crime against almost 500 families, 474 families are here, workers... we cannot allow this to happen."
Clorox began their operations in the South American nation in 1990 with the distribution of Pine-Sol.
Venezuelan Socialist Party Legislator Robert Serra Assassinated
by Ewan Robertson
http://venezuelanalysis.com/news/10940
Robert Serra (27), a legislator of the governing United Socialist Party of Venezuela (PSUV), and the National Assembly's (AN) youngest parliamentarian, was found dead in his Caracas home yesterday.
Authorities confirmed last night that Serra and his partner Maria Herrera had been murdered in their residence. According to daily newspaper Ultimas Noticias, unofficial reports say that Serra's body showed signs of torture before he was killed.
The minister of interior affairs, Miguel Rodriguez Torres, informed state television VTV last night that an investigation had been launched into the murders.
"They were horribly assassinated in their house...a motive still hasn't been determined, what we can assure is that there is a specialised team at the site to investigate who is responsible for this act," he stated, while asking PSUV members to "remain calm".
Serra was a rising figure within Chavismo, and had been a prominent student leader in the PSUV. Originally from the western city of Maracaibo, the law graduate and criminologist also spearheaded initiatives to tackle violent crime in Venezuela. He was elected to the AN for the PSUV in 2010.
Tributes to Serra from members of the government and PSUV came pouring in upon the news of his murder. President Nicolas Maduro first reacted to the news on Twitter, writing, "We will continue your example Robert, loyal and firm in the path of the revolution that you always defended with passion".
National Assembly president Diosdado Cabello told VTV that he felt "immense pain" at the "horrendous crime" and loss of "one of the PSUV's new, best generation".
Former opposition presidential candidate Henrique Capriles recognised Serra's death on Twitter, however attempted to tie the killing to high crime rates in Venezuela, for which the opposition blames the government.
"The death of any Venezuelan deserves our most energetic rejection, there is a national clamour for violence to be ended, peace to the soul of Dep. Robert Serra," he wrote, continuing, "Don't forget that in our mistreated homeland 50 Venezuelans are killed every day".
Several commentators from within Chavismo argued that Serra's murder was part of an alleged strategy of targeted assassinations and an "economic war" to undermine the Bolivarian government.
Writing on popular pro-government community forum Aporrea, political science professor Jesus Silva wrote of the event, "It's not a myth, it's a reality: there is a national plan for the targeted assassination of mid-level socialist political leaders".
He continued, "300 NGOs are being financed by governments and companies in and outside of the country to implement political terrorism in Venezuela".
History of assassinations
Robert Serra's murder joins the list of other assassinations of government figures. In April, PSUV local councilor and former intelligence chief Eliecer Otaiza was murdered in Caracas. Serra's bodyguard, detective Alexis Barreto, was also assassinated two years ago.
Alleged assassination plots and attempts have also been reported against top government officials. Last October, then price control enforcer Eduardo Saman survived a suspicious armed assault that he said was an assassination attempt.
The cases recall the car bomb assassination of state lawyer Danilo Anderson in 2004, who at the time was responsible for prosecuting several anti-government figures suspected of participating in the 2002 coup against the administration of Hugo Chavez.
A wake for Robert Serra and Maria Herrera is being held today.