labor
Judge Strikes Down Wage Boost for Some Home Workers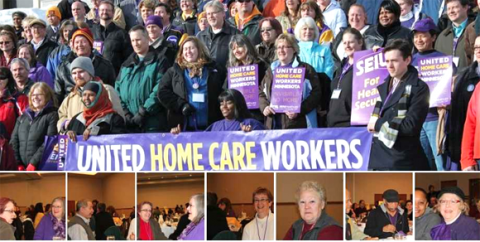 ,
 WASHINGTON — A federal judge on Monday struck down Labor Department regulations that would have meant higher pay for some home health care workers.
U.S. District Judge Richard Leon said part of the rules approved last year conflict with federal law that has long exempted third-party providers of in-home care for the elderly and disabled from complying with minimum wage and overtime laws.
President Barack Obama had announced the rules in 2011 as part of his effort to boost the economy and help about 2 million home care workers without going through Congress. They are set to go into effect next year.
But the home care industry trade groups sued, arguing that higher wages would destabilize the industry and make it tougher for families to afford care for aging parents.
Worker advocacy groups had pushed for the higher wages, saying many home care workers live at or below the poverty level.
Under the ruling, home care agencies and other third-party employers can continue denying minimum wage and overtime pay to workers who provide primarily "fellowship and protection" as opposed to more extensive care.
The ruling also means that workers who live in their clients' homes and are employed by home care agencies are not eligible for overtime pay.
Leon said that the exemption enjoyed by third-party care providers for the past 40 years "is not an open question" that the Labor Department can change through rules "to effectively rewrite the exemption out of the law."
Labor officials are not certain how many of the 2 million home care workers would still be eligible for overtime and minimum wage under the new rules. The rest of the rules remain intact, but other challenges from the industry are still pending.
Labor Department spokesman Carl Fillichio said the agency strongly disagrees with the decision and is considering an appeal.