Thank Postal Workers by Fighting to Save the Postal Service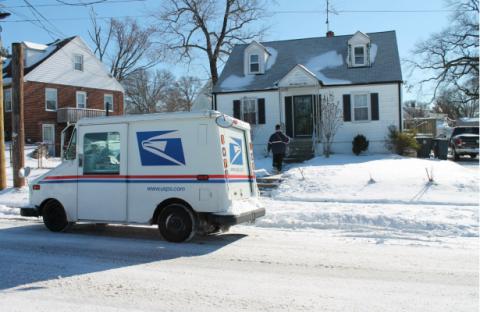 , Elvert Barnes, CC BY-SA 2.0
Postal workers, mail handlers, letter carriers and rural carriers will process and deliver more than 15.5 billion packages, letters, and parcels this holiday season. It's intense, demanding, long-hours, late-night and weekend work that keeps the promise of a robust national Postal Service outlined in Article 1 of the United States Constitution.
There is something profoundly wrong—not to mention profoundly absurd—about the notion that any federal official would abandon that promise and the workers who keep it.
Yet that is precisely what is happening. Even as United States Postal Service employees get the job done, with a better track record of care and efficiency than private competitors, the postal service itself is under attack. Pressured by extreme demands from Congress and hamstrung by outdated restrictions on how it can operate, the USPS faces financial challenges that are real—but those challenges can be addressed with relative ease. Unfortunately, instead of taking steps to ease the burden it created (with a 2006 requirement that the service prefund retiree benefits for the next 75 years), Congress ignored the issue. The House and Senate passed a "CROmnibus" spending bill packed with giveaways to Wall Street, big banks and big corporations and then quit town.

Congress failed to take what the unions representing postal workers identify as the most necessary immediate step to aid the postal service: initiation of "a one-year moratorium on a reduction in service standards and plant closings." Congress also failed to reach an agreement on a stand-alone postal bill.
Now, argue American Postal Workers Union leaders, "The situation is urgent because the lower service standards are scheduled to take effect on Jan. 5. In addition to disrupting the lives of thousands of postal employees whose work assignments will be changed, the reduction in service standards will slow mail throughout the country and virtually eliminate overnight delivery of first-class mail. It also will set the stage for the closure of 82 mail processing plants."
That's a view shared by other major unions that have been working with APWU—the National Association of Letter Carriers, the National Postal Mail Handlers Union and the National Rural Letter Carriers' Association—to save the postal service. The unions have won strong support from community groups across the country, from national groups such as the Leadership Conference on Civil and Human Rights, and from responsible members of Congress—51 senators and 178 representatives have backed a moratorium on closures and cuts.
Yet Congress continues to fail Americans who rely on the service and the communities that will be rocked by the planned closures.
"It's an outrage," says APWU president Mark Dimondstein. "Eight years after Congress ginned up a fake financial crisis for the Postal Service, its members still refuse to take even the smallest steps to prevent a major hit on this great national treasure."
The fight is not done, however.
The Postal Service still has genuine advocates in Congress—led by Senators Bernie Sanders, I-Vermont, John Tester, D-Montana and Tammy Baldwin, D-Wisconsin, and House members Pete DeFazio, D-Oregon, and Mark Pocan, D-Wisconsin—who are fighting to prevent closures and cuts. When Congress returns in January, it could still intervene. And the USPS could, and should, delay devastating assaults on the USPS infrastructure and on the workers who maintain it.
"We strongly urge the USPS to delay implementation of any mail processing consolidations until feasibility studies are completed and there has been adequate time for public comment and consideration of those comments," a bipartisan group of senators wrote in a December 1 letter to Postal Service officials. "Completed feasibility studies should include service standard impacts worksheets based on the revised service standards expected to be published on January 5, 2015. There is no reason that the USPS cannot delay its consolidations to provide time for the public to see and comment on the service standard worksheets. It is only fair to allow the process to unfold in this way, and the USPS gains little by deciding to continue the consolidation process on its current, arbitrary timeline."
The senators are right.
The United States Postal Service is an American treasure that we should all appreciate this holiday season.
For Americans who hope to appreciate the service next holiday season, however, now is the time to thank postal workers by fighting to save the Postal Service.
Copyright c 2014 The Nation. Reprinted with permission. May not be reprinted without permission. Distributed by Agence Global.
Please support our journalism. Get a digital subscription to The Nation for just $9.50!