One Million Food Stamp Recipients to Lose Benefits in 2016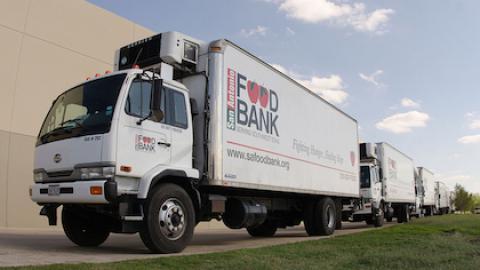 Food Banks and charity organizations won't be able to feed the additional 1 million people who will have their food stamps cut in 2016. , USDA/Lance Cheung
Food stamp eligibility rules are tightening in states across the country, causing up to 1 million current recipients to lose benefits and resulting in "serious hardship for many," according to a new report from the Center on Budget and Policy Priorities.
The new benefit restrictions will take effect as various states reimpose work requirements they had let lapse in the aftermath of the financial crisis. Able-bodied adults without dependents (referred to as ABAWDs in U.S. Department of Agriculture jargon) may typically access year-round food stamp only if they are either working at least 20 hours per week or participating in a federally approved workfare program. However, states with elevated unemployment levels may apply for a waiver on these rules.
Without the waiver, jobless ABAWDs are entitled to just three months' worth of food stamp benefits over three years.
In 2009, with the fallout of the Great Recession still being felt hard by low-income families, the Department of Agriculture found that 34 states and the District of Columbia were eligible to waive work requirements because of mass unemployment.
Unemployment has since declined. But as recently as May 2014, 36 states and the District of Columbia were eligible for waivers. Nonetheless, at least 17 governors have opted to reinstate the requirements, many of them citing improved economic conditions.
One of those governors, Maine's Paul LePage, announced in July 2014 that his state would not apply to extend its waiver on work requirements for another year. He said that imposing work requirements would help the state "protect our limited resources for those who are truly in need and who are doing all they can to be self-sufficient."
"People who are in need deserve a hand up, but we should not be giving able-bodied individuals a handout," he said.
But anti-hunger organizations like Feeding America, the country's largest network of food banks, are dreading the impact of further food stamp roll reductions. Feeding America spokesman Ross Fraser said jobs and training programs that meet federal requirements are still scarce enough that many ABAWDs will be simply incapable of meeting eligibility requirements.
"Jobs are the best solution to hunger and poverty, and we support efforts to strengthen and expand job training and placement programs for people on SNAP to help them move out of poverty," said Fraser in an email, referring to the Supplemental Nutrition Assistance Program. "Unfortunately, many childless unemployed adults will lose their SNAP benefits due to a lack of jobs or training programs."
While the nationwide employment outlook has improved somewhat in recent years, food banks around the country are reporting soaring levels of food insecurity and demand for emergency food assistance. That is due in part to other recent cuts to food stamps, including a $5 billion across-the-board cut that took effect on Nov. 1, 2013. An additional $6 billion in automatic cuts are expected to occur over the next two years.
Claire Benjamin, a spokeswoman for the advocacy group Food Policy Action, said that waiving work requirements on top of those cuts would have a "sobering and disproportionate effect on very poor individuals."
"Charity organizations simply cannot feed an additional 1 million people this year," she said.
[Ned Resnikoff is a reporter for AlJazeera America and can be reached @resnikoff.]