Recommended Summer Reading: Alternative Lists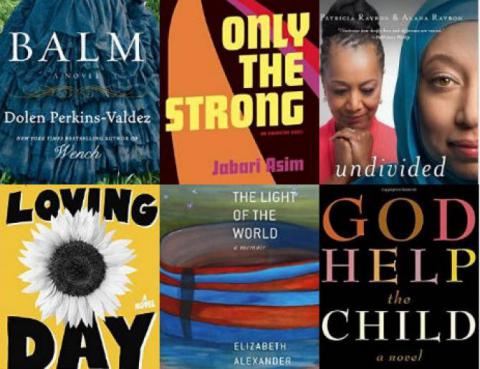 Amazon
The Root's Summer Reading List: 10 Great Books
By Hope Wabuke, The Root 
May 25, 2015

Looking for a book to read this summer? Here are 10 releases by African-American authors published during the first half of 2015. Ranging from memoirs to classics, mysteries to satire, there is something here for readers of all tastes.
1. The Light of the World, by Elizabeth Alexander
This powerful, poignant memoir by the poet details the loss of her beloved husband and the importance of love and family. The story begins, Alexander writes, when she met her husband: "I felt a visceral torque, I would tell people, a literal churn of my organs." Here, Alexander shares a wealth of wisdom and insights amassed from her experience as wife, mother, artist and educator.
2. God Help the Child, by Toni Morrison
This is the latest classic from the Nobel- and Pulitzer Prize-winning author, the first lady of African-American literature. God Help the Child reckons with the pain of childhood trauma and how we can transcend that pain later in life through healing. But it also asks larger questions about society's apathy toward child abuse and what needs to be done to protect children from harm. "What you do to children matters," Morrison writes, "and they might never forget."
3. Only the Strong, by Jabari Asim
In the 1970s, the fictional community of Gateway City, based on St. Louis, struggles to survive in the changing political climate after the death of the Rev. Martin Luther King Jr. We are introduced to Gateway City through Guts Tolliver, a hard-boiled heavy-now-turned-legitimate businessman: He has decided not to kill people anymore—unless they really, really deserve it. "The night Dr. King went down in Memphis, Guts had steered his sedan through streets aflame and undergone a change of heart." Asim, editor-in-chief of The Crisis, the magazine of the NAACP, is a master of crafting fiction that is at once highly entertaining but also socially conscious.
4. Pleasantville, by Attica Locke
Locke, also a writer-producer on the hit TV show Empire, delivers a page-turning mystery set in the world of high-stakes Texas politics. Jay Porter, Locke's activist lawyer first seen in Black Water Rising, returns for a second installment of sleuthing and courtroom heroics after a third young woman is kidnapped. We never knew how hungry we were for well-written thrillers starring black heroes, and are eagerly awaiting the next installment in this series.
5. Jam on the Vine, by LaShonda Katrice Barnett
This powerful historical novel is the story of Ivoe Williams, a young girl growing up in the segregated Jim Crow South who achieves the impossible: a scholarship to a prestigious college. But when Ivoe returns home, the only jobs that are available to her are the menial work that her parents and nearly all blacks in the South were regulated to. Undaunted, Ivoe leaves the South for good and founds the first-ever woman-run African-American newspaper in Kansas City, using her words to give voice to the struggles of the black community and advocate for social change. Inspired by the true story of Ida B. Wells, here is a sweeping, epic, debut novel that manages to foreground the intimate details of a woman's life.
6. Undivided, by Patricia Raybon and Alana Raybon
A  Christian mother and her Muslim daughter struggle to heal their relationship, broken on the battleground of religion. "The elephant is in the room and it's big," begins Patricia, "still my daughter and I talk around it, pretending our ten-ton problem isn't there, insisting it will stay quiet and be okay if we just ignore the obvious and keep on moving." This heartwarming memoir perfectly articulates the many nuances of family relationships as love eventually triumphs over difference.
7. Loving Day, by Mat Johnson
After his marriage fails, Warren Duffy returns to America from Wales to the house in Philadelphia that his father left him. "In the ghetto there is a mansion, and it is my father's house," opens Johnson's novel. In Philadelphia, Warren discovers the long-lost daughter he never knew he had. Here is a tale of daughters, fathers and identity—all crafted in Johnson's trademark hilarious prose.
8. The Sellout, by Paul Beatty
Beatty's irreverent, astute novel takes on the question of segregation in a new light. Recognizing how the end of segregation resulted in white flight away from black families moving in and an ensuing denial of resources to these newly black areas, Beatty asks, in his own unique way, "What if we did something different?"
9. Ordinary Light, by Tracy K. Smith
This memoir by a Pulitzer Prize-winning poet details how a girl from Northern California  wound up winning the nation's highest literary prize and teaching at Princeton University by way of Harvard. "It's been twenty years now," writes Smith after describing her mother's death, "I've forgotten so much that I once forbade myself to forget, but I do remember this: snipping five or seven strands of her hair with a pair of nail scissors from her bureau." Here is a beautiful tribute to the nurturing and intelligence of Smith's mother and father—to the perseverance and strength of the black family.
10. Balm, by Dolen Perkins-Valdez
This much anticipated follow-up to Wench is set after the Civil War. Madge, Sadie and Hemp migrate north to Chicago in search of  better lives—"reveling in the city's spirit, brimming with the effervescence of the newly baptized"—but each must deal with unresolved issues from the past before being able to truly embrace the future.
Hope Wabuke is a Southern California-based writer and a contributing editor at The Root. Follow her on Twitter.
Recommended Summer Reading: An Alternative List
By Liberty Hardy, Book Riot
May 22, 2015
Today the New York Times and NPR released their summer reading recommendations. While there is nothing wrong with the books they have chosen, it seems they would have you believe that only white people are writing books worthy of summer reading. Here are 20 alternative books to read that more fairly represent the authors out there.
French Concession by Xiao Bai Bai's English language debut is a pulse-pounding literary thriller about international intrigue set in 1930s Shanghai. (Out 7/7)
Only the Strong by Jabari Asim Set amid political and social upheaval of 1970s St. Louis, Only the Strong is a riveting tale characters and a community desperate for change.
The Fair Fight by Anna Freeman Lady boxing in Victorian England – what's not to love? (Every time I think about this book, I get this stuck in my head.)
The Fifth Season by N. K. Jemisin Jemisin, the author of the amazing Inheritance trilogy, kicks off a new series, set in a dystopian future rife with danger and darkness. (Out 8/4)
Loving Day by Mat Johnson Warren Duffy returns to America after a failed relationship and encounters family ghosts and real relations, in the form of a previously unknown teenage daughter. (Out 5/26)
An Ember in the Ashes by Sabaa Tahir Laia is a slave in ancient Rome, working at a military academy while she plots to free her jailed brother. There she falls for an unlikely soldier who may be the help she needs.
Escape from Baghdad! by Saad Hossain A known torturer promises to take his captors to gold if they let him go free. Along the way they encounter assassins, American soldiers, and jinn. (This is one of the best books I've read this year.)
Time Salvager by Wesley Chu A fast-paced time travel adventure about a criminal selected for a dangerous mission to help save the Earth's inhabitants. (Out 7/7)
Tiny Pretty Things by Sona Charaipotra and Dhonielle Clayton Pitched as "Black Swan meets Pretty Little Liars," it's compelling teenage drama set amid the students at a cutthroat ballet school.
The Liminal War by Ayize Jama-Everett Taggert suspects his old enemy of kidnapping his daughter in this mind-bending thriller. (Out 6/16)
Shadowshaper by Daniel José Older Sierra had grand plans for her summer vacation, but then a corpse crashed the first party of the season. And that's just the beginning of the weirdness. (Out 6/30)
The Book of Speculation by Erika Swyler A young librarian in Long Island receives a mysterious old book, written by the owner of a traveling carnival. Night Circusfans, take note! (Out 6/23)
Diamond Head by Cecily Wong A hot summer day is perfect for this sweeping multi-generational family saga which takes the reader from China to Hawaii.
Pleasantville by Attica Locke Lawyer Jay Porter helps investigate the disappearance of a young girl when a mayoral candidate's nephew is accused of the crime.
Positive by David Wellington What's summer with a great zombie novel? Fans of The Passage and The Girl With All the Gifts should sink their teeth into this one.
The Meursault Investigation by Kamel Daoud Daoud puts a spin on The Stranger by Camus by retelling the story from the point of view of the murdered Arab's brother. (Out 6/2)
Lagoon by Nnedi Okorafor A rapper, a biologist, and a rogue soldier handle humanity's first contact with an alien ambassador after the aliens land on Earth. (Out 7/14)
Modern Romance by Aziz Ansari Comedian and Parks and Recreation actor Ansari takes on dating in the digital age in this humorous essay collection. (Out 6/16)
The Luckiest Girl Alive by Jessica Knoll A successful young woman's facade begins to crumble when her past catches up with her. This is a great thriller!
Land Where I Flee by Prajwal Parajuly (Out 6/2) Three grandchildren are in for a surprise when they fly to India to help their grandmother celebrate her birthday.