labor
Obama-Backed Trade Bill Fails in the House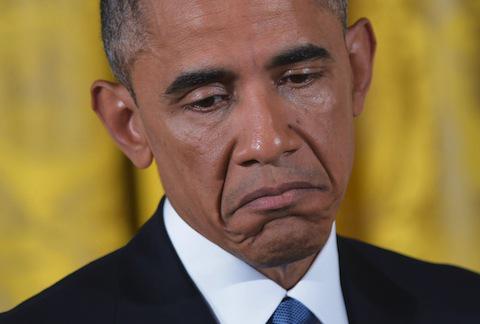 , (Mandel Ngan/Agence France-Presse via Getty Images)
President Obama suffered a major defeat to his Pacific Rim free trade initiative Friday as House Democrats helped derail a key presidential priority despite his last-minute, personal plea on Capitol Hill.
The House voted 302 to 126 to sink a measure to grant financial aid to displaced workers, fracturing hopes at the White House that Congress would grant Obama fast-track trade authority to complete an accord with 11 other Pacific Rim nations.
"I will be voting to slow down fast-track," House Minority Leader Nancy Pelosi (D-Calif.) said on the floor moments before the vote, after keeping her intentions private for months. "Today we have an opportunity to slow down. Whatever the deal is with other countries, we want a better deal for American workers."
The dramatic defeat could sink the Trans-Pacific Partnership (TPP), a sweeping free trade and regulatory pact that Obama has called central to his economic agenda at home and his foreign policy strategy in Asia. Obama's loss came after a months-long lobbying blitz in which the president invested significant personal credibility and political capital.
Republican leaders, who had backed the president's trade initiative, pleaded with their colleagues to support the deal or risk watching the United States lose economic ground in Asia.
"The world is watching us right now," Rep. Paul Ryan (R-Wis.) said before the vote.
Obama had rushed to Capitol Hill on Friday morning to make a last-ditch plea to an emergency meeting of the Democratic caucus. The president urged members to vote with their conscience and "play it straight," urging them to support the financial package for displaced workers, which Democrats have long supported.
"I don't think you ever nail anything down around here," Obama told reporters on his way out of the Capitol. "It's always moving."
But Democrats opposed to Obama's trade agenda pushed hard to block the financial aid plan, knowing that its defeat would also torpedo a companion measure to grant Obama fast-track authority to complete the TPP. That bill was later approved with overwhelming Republican support in what amounted to a symbolic vote because it could not move forward into law without the related worker assistance package.
The legislation is now paralyzed in the House -- "stuck in the station," as Pelosi described in her speech. House Speaker John A. Boehner (R-Ohio) has decided to give Obama the weekend to try to coax enough Democrats into supporting the worker assistance package by bringing it up for reconsideration next Tuesday.
White House Press Secretary Josh Earnest insisted that the president's trade agenda was still alive and vowed that Obama would continue to urge passage of the package in the coming days. He noted that the Senate approved the fast track legislation last month after initially voting to block it.
"To the surprise of very few, another procedural snafu has emerged," Earnest said in an attempt to play down the outcome.
In a message on Twitter, AFL-CIO President Richard L. Trumka, one of the most vehement opponents of the trade deal, hailed Pelosi as "a champion for workers."
[The trade deal, explained for people who fall asleep hearing about trade deals]
Obama made an impassioned plea during his visit to Capitol Hill. But he appeared not to have changed many minds among fellow Democrats. After the president departed, two anti-trade Democrats, Louise Slaughter of New York and Gene Green of Texas, came out of the meeting determined to oppose Obama.
"I don't want this trade bill to go through," Slaughter, who represents the economically depressed area of Rochester, said of the fast-track bill.
Several members said Obama took no questions and received applause on several occasions when discussing his previous efforts to deliver on Democratic priorities.
Lawmakers said the White House had pushed harder on trade than any legislative issue since the health-care reform effort during his first year. After keeping trade on the back burner, Obama joined forces with business-friendly Republicans after the midterm elections in pursuit of a rare bipartisan deal and launched a fierce effort to win support from his usual Democratic allies over the intense opposition of labor unions.
"The president and his counselors understand that this is a legacy vote for his second term," Rep. Gerald E. Connolly (D-Va.), who supported the fast-track bill, said Thursday. "It's a philosophical battle, a political battle and an economic battle. The president finds himself in the crossfire with the base."
The debate among Democrats has at times been raw and personal, and it has exposed old divisions on trade as the party attempts to coalesce around a common agenda ahead of the 2016 campaign to select Obama's successor. Other Democratic leaders, including Sen. Elizabeth Warren (D-Mass.), have questioned Obama's commitment to workers and the middle class, while union officials accused the president of marginalizing them.
"I would ask that you not mischaracterize our positions and views -- even in the heat of a legislative battle," Trumka wrote this week in a letter to the president. "You have repeatedly isolated and marginalized labor and unions."
White House officials had cast the dispute with labor as a difference of opinion that does not reflect a deeper divide within a party focused on stemming the nation's growing wealth divide. Obama has framed the 12-nation TPP as a way to lock in rules to ensure U.S. economic primacy in the fast-growing Asian-Pacific region against increasing competition from China. In the president's view, that would benefit American workers as the world's economy shifts toward high-tech industries in which the United States maintains an advantage.
A failure on fast-track could lend weight to Chinese claims that the United States does not have staying power in Asia.
The president's pitch was met with widespread skepticism among Democrats who blame past trade deals for killing jobs and depressing wages for Americans in traditional manufacturing work.
On Thursday night, Obama made a surprise visit to the annual Congressional Baseball Game for Charity at Nationals Park to woo Pelosi and other Democrats.
"The president is personally engaged on this," Wyden said Thursday. "He's all in."
Despite the intensive campaign, however, Obama struggled to convince more than a sliver of House Democrats to back his push for the fast-track authority. The legislation would have allowed him to submit the trade pact to Congress for a vote in a specified timetable without lawmakers being able to amend it.
The White House has called such powers crucial to persuading the other 11 nations involved in the TPP negotiations to put their best offers on the table in the final round of talks this summer.
But opponents said they feared that approving the fast-track measure would be akin to ratifying a pact that is still being negotiated and whose terms have been kept largely hidden from public view. (Lawmakers are permitted to read draft sections of the agreement in a classified setting and are prevented from talking about specifics in public.)
On Thursday, White House Chief of Staff Denis McDonough and other Obama aides huddled with House Democrats in a bid to alleviate objections.
But at each turn, the administration was met by a determined coalition of opponents, made up of labor unions, environmental groups and progressive Democrats. Led by Rep. Rosa L. DeLauro (D-Conn.), the coalition has been meeting for two years with individual Democrats, and with small groups, to pressure them to oppose a fast-track bill.
Trumka met with the same House Democrats on Thursday soon after the White House officials had departed.
Mike DeBonis and Kelsey Snell contributed to this report.