tv
Gender and Identity in the Wachowskis' "Sense8" on Netflix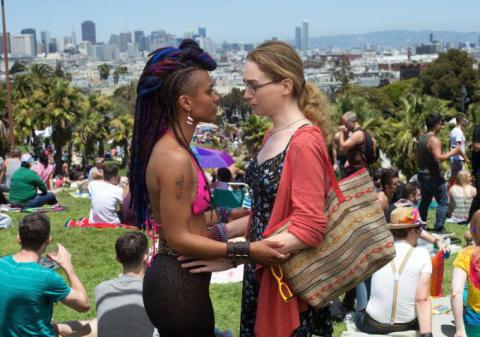 Freema Agyeman and Jamie Clayton in "Sense8.", NetFlix
Ever since "The Matrix," I've been hoping the Wachowskis (formerly the Wachowski brothers) would do something else really worthwhile. I'm not sure if the directing duo's "Sense8" (on which they teamed up with "Babylon 5" creator J. Michael Straczynski) is it, but I think it comes closer than any of their recent films, and definitely supports the idea that the small screen is where a lot of the most adventurous storytelling is happening right now.
I'm also not sure I can entirely explain what their new Netflix series is about, but I'll try: Eight strangers around the globe are psychically linked after experiencing violent visions involving a woman (Daryl Hannah) unknown to any of them. ("Sense8" will be available for streaming on Netflix starting June 5.)
The eight characters are about as diverse as you can get in terms of location, culture, race, economic situation, sexual orientation and occupation. As Lana Wachowski put it in an interview with io9 earlier this year, the show is "trying to get at the human question of how are we the same, and how are we different. Is there a universalness to the human condition, or is it all culturally formed?"
These characters find, increasingly, that they slip into and out of each other's realities. In the three episodes available for preview, this happens fairly slowly and subtly, with each character thinking he or she is going nuts. (The show is a little slow going at first, having to introduce us to so many disparate storylines.) But they have a guide of sorts in "Lost" alum Naveen Andrews, who, as an associate -- or possibly lover -- of Hannah's character, begins to fill them in on what's happening and why.
As someone who's always been curious about Lana Wachowski, I can't help wondering how much of herself she put into this story. She's purposefully stayed out of the limelight for many years (and has said that her reticence was not about her transition, but about the advantages that come with anonymity), and I respect that. But I do think that the fluidity with which these characters exchange perspective must have some relation to the transgender experience and to the increasing volume of discussion about how gender is nonbinary. Speaking around the release of "Cloud Atlas" (which explored similar themes), Lana spoke about "the pathology of a society that refuses to acknowledge the spectrum of gender in the exact same blind way they have refused to see a spectrum of race or sexuality."
Relatedly, one of the eight characters in "Sense8" is a trans woman -- and she's the one I'm most interested in so far. Played by trans actress Jamie Clayton, Nomi is in a relationship with a woman named Amanita (Freema Agyeman), whose fabulously peacock-colored mohawk calls to mind Lana's own pink dreadlocks. (One of the show's first sex scenes, of which there are several racy ones of various straight and gay pairings, sees these two using a strap-on.) The San Francisco-based couple is celebrating Pride during the first couple of episodes, giving the show a great occasion to showcase the huge crowds and the Dykes on Bikes parade in particular. Nomi eventually finds herself in the hospital after falling off her bike during a vision of Andrews' character, and she's told by a sketchy-seeming team of doctors that there's something wrong with her brain that must be operated on immediately. Meanwhile, her estranged mother is at her bedside, insisting on calling her "Michael" and forbidding her girlfriend from entering the room.
So, we don't know to what extent this is a meditation from the co-creator on her own experience, or views on being trans more generally, but I like that Nomi is in there, representing part of the normal scope of humanity.
Another of the eight is a gay man named Lito (Miguel Angel Silvestre) who's a Spanish celebrity living in Mexico City, showily dating a woman (Erendira Ibarra) to hide the fact that he's living with his boyfriend (Alfonso Herrera). His own inner conflict -- fueled by a career playing an uber-macho sex symbol onscreen -- is echoed by Nomi's description of her upbringing: "I was taught by my parents that there was something wrong with me. Something offensive. Something you could never love."
The remaining six main characters also all have secrets and bifurcated lives in some respect. For example, Sun (Bae Doona) is a seemingly prim, respectable Korean businesswoman who turns out to be a rising star in the underground mixed-martial-arts subculture. Kala (Tina Desai) is a woman in Mumbai about to marry a fabulously wealthy man -- he even puts on a full Bollywood number for her at their engagement party, one of the show's most thrilling set pieces -- whom she doesn't actually love. Will (Brian J. Smith) is a Chicago cop, from a cop family, who fears mockery from his co-worker about his psychic leanings, which seem antithetical to being a salt-of-the-earth male police officer.
So -- per the trailer, though not revealed in the first few episodes -- apparently their "sensate" status will eventually enable them to fully access each other's abilities and perspectives. It also represents, perhaps, an idealized view of what the world might be like if people could actually walk in one another's shoes, as well as a sci-fi-minded view of human evolution. "Sense8" is sprawling and messy and interesting and beautiful. I have no idea where it will end up in 12 episodes, but it's certainly playing around with some timely notions about identity -- including gender -- being more fluid than previously thought.