Spain's New Gag Law: Covering the News Could Be Costly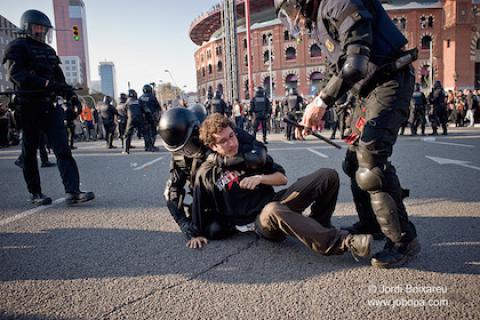 Police respond to a 2012 student anti-austerity protest in Barcelona, Spain,Jordi Boixareu
ONE EVENING LAST MONTH, a police helicopter swooped over my neighborhood of mid-sized apartment blocks in Barcelona. The city has very little street crime; L.A.-style police pursuits coordinated by helicopters overhead are exceedingly rare. The police helicopter was flying low enough that my windows rattled.
I walked to a plaza near my house, where the helicopter was hovering. A bystander said a demonstration near the plaza had become violent, and a group of vandals had shattered the windows of a neighborhood bank. Police were looking for the perpetrators.
A few minutes later, a van pulled up and six riot cops in helmets and body armor leapt out. The cops ran aggressively at a group of young people nearby, who screamed and put their hands up. The cops had batons out and one was swinging a gun used to fire tear gas or non-lethal projectiles. I raised my phone to take a picture. Then, to my surprise, I lowered it.

That is partly because the police eased off at the last minute, searching the suspects respectfully (their backpacks turned out to be full of snacks). But the other reason I hadn't snapped the picture was that I realized it would be hard to publish. A new law taking effect in Spain today could subject its publisher to a 30,000 Euro ($34,000) fine.
The so-called Citizen Security Law makes it illegal to disseminate pictures, video and other content deemed "damaging" to Spain's police and security forces. Coinciding with a wave of demonstrations over austerity programs and bank bailouts, the law criminalizes demonstrations in front of some government agencies and public buildings, and includes stiff fines for documenting the police response.
In a written statement, a key Spanish legal organization, the Colegio de Abogados de Madrid (the Madrid Lawyers' Association) called the law an "arbitrary and unjustified" restriction of freedom to information that "employs unclear legal concepts allowing police and security forces to use excessive and illegitimate force, with impunity."
The law doesn't appear targeted at mainstream international media, like the BBC or CNN, who don't cover Spain daily anyway. A reporter here on assignment for a few weeks isn't likely to notice it.
But for domestic media—Spanish TV, radio, magazines and newspapers, and also foreigners based here full time—it's now part of the legal framework. It will also restrict protests by political organizations and NGOs, and press coverage of those actions. The day before the law took effect, activists from Greenpeace's Spain chapter climbed a crane towering over the Spanish Parliament and hung a banner opposing the law. Video of the protest, which aired on the website of national newspaper El Mundo on Monday, includes a brief confrontation between a police officer and a Greenpeace member holding a sign. In theory, both that protest and shooting a video of it are illegal in Spain as of today.
The law has been challenged in Spain's Supreme Court, which has yet to announce whether it will hear the complaint. Meanwhile, it has already changed how a journalist like me covers a sudden police presence in a Barcelona neighborhood.
A FEW WEEKS AFTER THE INCIDENT in the plaza, I called Elsa Gonzalez, president of Spain's Federation of Journalists, the main professional organization for the 21,500 accredited reporters in this country of 46 million. The association opposes the Citizen Security Law, which opponents refer to as the Ley Mordaza, or "gag law."
Gonzalez said she was less concerned about journalistic self-censorship like mine than about prior restraint by the police. What if I had shot the picture, and the police officer who appeared in it—I'd have aimed at the guy with the gun—demanded to look at my phone, to decide whether to ticket me for the image? "At what point have you broken the law," Gonzalez said, "when you haven't published anything yet?"
The law also appears to lump reporters together with demonstrators. By criminalizing free assembly, with fines as high as 600,000 Euros (about $670,000), the law also names reporters covering those demonstrations as complicit. By taking a picture of crowd control officers at a protest, I, like the demonstrators, could be accused of illegal acts toward state institutions.
That, Gonzalez argued, could empower police to look at imagery or notebooks right there in the field, before publication. "The law doesn't say so, but it's imprecise, you can't count it out," she said by phone from Madrid. "How do they know if something concerns them, if they don't look at the image before it's broadcast?"
"THERE WERE A TON OF DEMONSTRATIONS, evictions, and this discomfited the government." That's Malén Aznárez, Spain's representative for Reporters Without Borders, the French NGO focused on freedom of the press.
The European financial crisis, which drove Spanish unemployment to a dizzying 25% nationally, and far higher in many regions, caused a surge in mortgage defaults among the country's poorest. A national campaign against forced evictions, led by a Barcelona social activist, Ada Colau, found fast success. By packing dozens of protesters into residential stairwells and stacking themselves 10 deep in front of doorways, Colau's group managed to stop hundreds of crisis-related evictions. She later ran for mayor of Barcelona, and won; I'd been on my way to cover her inaugural address when the helicopter had zoomed onto my street.
Aznárez noted that the Citizen Security Law contains language specifically mentioning coverage of police carrying out forced evictions. This is unusual for a national security law, she said, and places special focus on what is arguably Spain's biggest story— the ongoing financial crisis; it suggests, albeit circumstantially, that the law is politically motivated. "When [the government] saw so much mobilization in the street, and this reflected in the media, the images came out, the video came out, they didn't like that at all," she told me.
"THEY," IN THIS CASE, would be the current administration of Spanish Prime Minister Mariano Rajoy, of Spain's conservative Populist Party. Swept into office by landslide amid the worst days of the financial crisis, Rajoy's administration has enjoyed an absolute majority in Spain's parliament. The Citizen Security Law passed without a single vote by any other of Spain's many political parties, right or left. Opposition political parties are the key sponsors of the current attempt to challenge the law in the Supreme Court, though it is worth keeping in mind it is an election year, and a legal defeat for Rajoy would benefit his rivals in parliament.
Though one of Europe's key democracies, Rajoy's Spain has a history of hostility toward reporters. At its most extreme, the Spanish government has charged several journalists for writings or photography under an existing law against enaltecimiento of terrorism, a vague term meaning roughly "heightening" or "improving the environment for terrorists." Last month, Al Jazeera reported the stories of three Basque journalists working for local newspapers who had served as many as seven years each after courts ruled they had aided terrorism by reporting on it.
Iraitz Salegi, another Basque journalist, recently beat enaltecimiento charges resulting from her filming a 2013 pro-independence event for a local website focused on Basque separatist issues. Salegi, 24, was facing 18 months in prison, but was acquitted on Monday, two days before the security law went into effect.
Rajoy has had a difficult relationship with Spain's press. Never a comfortable public speaker, he has on several occasions held press conferences via closed-circuit television; in at least one case, he sat in the next room talking into a camera. He did not take questions, and was not even able to hear them. His last video press conference was just two weeks ago.
A series of missteps hasn't helped. In 2013, following a fatal train disaster in the country's northeast, Spanish media noted that Rajoy's official statement offered the Prime Minister's condolences to the residents of Gansu, China, after staff copied from a previous statement on a similar crash there. Last year, after crisis talks between Rajoy and the leader of breakaway region Catalonia, the Catalan leader gave a two-hour press conference. Rajoy did not appear before reporters.
INTERNATIONAL MEDIA COULD PRESUMABLY afford to risk the new law's steep fines, but it's not clear they are aware of the new restrictions, which have received little coverage outside Spain. I contacted the BBC's media office in London to ask if they thought their Spanish coverage would have to change after July 1; no one got back to me.
Elsa Gonzalez of the Journalists' Federation, who previously worked in radio for conservative channel COPE, said she expects the law to be enforced against smaller organizations, including Spain's lively regional press, that would find it harder to absorb more than a few 30,000 Euro fines. "Telecinco [a large national TV news station] can pay a fine," she said. "But the small broadcaster can't."
In an election year, the risk of a political backlash on major opinion pages, which remain influential in Spain, would be another concern for politicians who advocate fines for major outlets like El Pais or radio's Cadena Ser. "No political party wants to receive this complaint, that they are limiting freedom of expression."
I find myself thinking about the upcoming election. It will be tight at the polls this year, and the contest will be heated. If previous years are a guide, the riot police will be out, as will protesters. The picture I passed on in June will almost certainly appear before my camera again. I'd feel obligated to explain the risk of a fine to a client publication if I were trying to sell a story or photograph I thought skirted the line. I'm not looking forward to that conversation.
If an incident like the one I saw develops into something newsworthy, I'll take the picture, I think. But then I'll do something else I've never done before in a democracy: I'll run like I'm fleeing the scene of a crime.
[Marc Herman is a reporter based in Barcelona. He is the author of The Wizard and the Volcano, The Shores of Tripoli, and Searching for El Dorado, and a co-founder of Deca.]