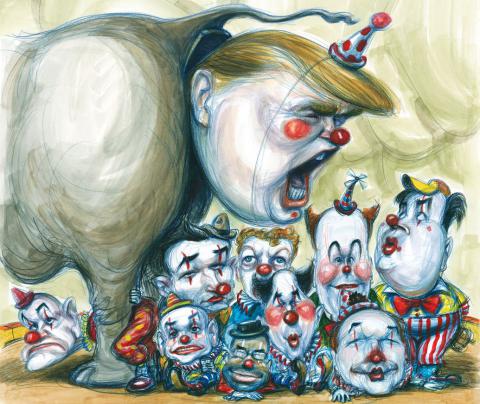 Matt Taibbi hit the road with the Republican Party circus,Victor Juhasz
T
he thing is, when you actually think about it, it's not funny. Given what's at stake, it's more like the opposite, like the first sign of the collapse of the United States as a global superpower. Twenty years from now, when we're all living like prehistory hominids and hunting rats with sticks, we'll probably look back at this moment as the beginning of the end.
In the meantime, though, the race for the Republican Party presidential nomination sure seems funny. The event known around the world as hashtagGOPClownCar is improbable, colossal, spectacular and shocking; epic, monumental, heinous and disgusting. It's like watching 17 platypuses try to mount the queen of England. You can't tear your eyes away from it.
It will go down someday as the greatest reality show ever conceived. The concept is ingenious. Take a combustible mix of the most depraved and filterless half-wits, scam artists and asylum Napoleons America has to offer, give them all piles of money and tell them to run for president. Add Donald Trump. And to give the whole thing a perverse gravitas, make the presidency really at stake.
It's Western civilization's very own car wreck. Even if you don't want to watch it, you will. It's that awesome of a spectacle.
But what does it mean? Or to put it another way, since we know it can't mean anything good: Is this enough of a disaster that we shouldn't laugh?
I went to Iowa to see for myself.
R
ockwell City, Iowa, evening, July 30th. I've just rushed up from Des Moines to catch my first event on the Clown Car tour, a stump speech by TV personality Mike Huckabee, whom the Internet says was also once governor of Arkansas.
Traditionally, in these early stages of a presidential campaign, very little happens. Candidates treat their stump work like comedians practicing new material between the lunch and dinner hours. In the old days, they tiptoed their positions out before small audiences in little farm towns like this in an effort to see what minor policy tweaks might play better later on in the race, when the bullets start flying for real.
That's what one normally expects. But 2016 is very different, as I found out in Rockwell City right away.
Two factors have combined to make this maybe the most unlikely political story of our times. The first is the campaign's extraordinary number of entrants. As The Washington Post noted last fall, this is the first time in recent memory that there is no heir-apparent candidate (like a Bob Dole). For some reason, during the last years of the Obama presidency, the national Republican Party chose not to throw its weight behind anyone, leading a monstrous field of has-beens and never-weres to believe that they had a real shot at winning the nomination.
So throughout this spring and summer, a new Human Punchline seemingly jumped into the race every week. There were so many of these jokers, coming so fast, that news commentators quickly latched onto the image of a parade of clowns emerging from a political Volkswagen, giving birth to the "clown car" theme.
But the more important factor has been the astounding presence of Donald Trump as the front-runner. The orangutan-haired real estate magnate entered the race in mid-June and immediately blew up cable and Twitter by denouncing Mexicans as rapists and ripping 2008 nominee John McCain for having been captured in war. 
Both moves would have been fatal to "serious" candidates in previous elections. But amid the strange Republican leadership void of 2016, the furor only gave Trump further saturation among the brainless nativists in his party and inexplicably vaulted him to front-runner status. The combination of Trump constantly spewing crazy quotes and the strategy actually working turned his campaign into a veritable media supernova, earning the Donald more coverage than all of the other candidates combined.
This led to a situation where the candidates have had to resort to increasingly bizarre tactics in order to win press attention. Add to this the curious dynamic of the first Republican debate, on August 6th, in which only the top 10 poll performers get on the main stage, and the incentive to say outlandish things in search of a poll bump quickly reached a fever pitch. So much for the cautious feeling-out period: For the candidates, it was toss grenades or die.
Back in the Rockwell City library, the small contingent of reporters covering the day's third "Huckabee Huddle" was buzzing. A local TV guy was staring at his notes with a confused look on his face, like he couldn't believe what he read. "Weirdest thing," he said. "I was just in Jefferson, and Huckabee said something about invoking the 14th and 5th amendments to end abortion. I'm really not sure what he meant."
A moment later, Huckabee sauntered into the library for an ad-hoc presser, and was quickly asked what he meant. "Just what I said," he quipped. "It is the job of the federal government to protect the citizens under the Constitution."
He went on to explain that even the unborn were entitled to rights of "due process and equal protection." The attendant reporters all glanced sideways at one another. The idea of using the 14th Amendment, designed to protect the rights of ex-slaves, as a tool to outlaw abortion in the 21st century clearly would have its own dark appeal to the Fox crowd. But it occurred to me that Huckabee might have had more in mind.
"Are we talking about sending the FBI or the National Guard to close abortion clinics?" I asked.
"We'll see when I get to be president," he answered.
Huckabee smiled. Perhaps alone among all the non-Trump candidates, Huckabee knows what kind of fight he's in. This GOP race is not about policy or electability or even raising money. Instead, it's about Nielsen ratings or trending. It's a minute-to-minute contest for media heat and Internet hits, where positive and negative attention are almost equally valuable.
Huckabee launched his campaign on May 5th, running on a carefully crafted and somewhat unconventional Republican platform centered around economic populism, vowing to end "stagnant wages" and help people reach a "higher ground."
But emphasizing economic populism is the kind of wonky policy nuance that doesn't do much to earn notice in the Twitter age. After an early bump pushed him briefly up to fourth place, Huckabee began a steady slide in the polls as the unrestrained lunacy of Trump began seizing control of the race. By late July, Huckabee's numbers had fallen, and he had to be worrying that he would land out of the top 10.
But then, on July 25th, Huckabee gave an interview to Breitbart News in which he shamelessly invoked Godwin's Law, saying that Barack Obama's deal with Iran "would take the Israelis and basically march them to the door of the oven."
The quote hit the airwaves like a thunderclap. Virtually everyone in the English-speaking world with an IQ over nine shrieked in disgust. The Huckster's "ovens" rant brought MSNBC host Mika Brzezinski to near-tears on air. Huckabee even prompted an Israeli transportation minister to exclaim, Dirty Dancing-style, "Nobody marches the Jews to ovens anymore."
Even in Huckabee's own party, he was denounced. Jeb Bush, anxious to cast himself as the non-crazy, Uncola Republican in a field of mental incompetents, called on everyone to "tone down the rhetoric." Wisconsin Gov. Scott Walker, known as one of America's most dickishly unscrupulous hate merchants, said, "You're not hearing me use that sort of language."
But far from being deterred by all of the negative attention, Huckabee shrewdly embraced it. Much like the Donald, Huckabee swallowed up the negative press energy like a Pac-Man and steamed ahead, and was soon climbing in the polls again.
Huckabee had stumbled into the truth that has been driving the support for the Trump campaign: That in this intensely media-driven race, inspiring genuine horror and disgust among the right people is worth a lot of votes in certain quarters, irrespective of how you go about it. If you're making an MSNBC anchor cry or rendering a coastal media villain like Anderson Cooper nearly speechless (as Trump has done), you must be doing something right.
In Rockwell City, it seemed like Huckabee was consciously trying to repeat his "ovens" stunt. He smiled as the media in attendance filed out of the presser, surely knowing we would have the "we'll see" quote up on social media within minutes.
At the event, he was glowingly introduced by Iowa Republican Congressman Steve King, who revved the crowd by bashing the Supreme Court ruling clearing the way for gay marriage. King had apparently been told on good authority by a lawyer friend that Obergefell v. Hodges meant that only one party in a marriage had to be a human being. "What that means," he said, "is you can now marry my lawn mower."
A reporter next to me leaned over. "King's lawn mower is gay?"
I shrugged. In the modern Republican Party, making sense is a secondary consideration. Years of relentless propaganda combined with extreme frustration over the disastrous Bush years and two terms of a Kenyan Muslim terrorist president have cast the party's right wing into a swirling suckhole of paranoia and conspiratorial craziness. There is nothing you can do to go too far, a fact proved, if not exactly understood, by the madman, Trump.
Huckabee's speech tossed plenty of red meat into the grinder, explaining that America was divinely created by "providence of almighty God," which is the only explanation for the extreme longevity of the Constitution. He stepped down to hearty applause, giving way to a performance by a group of Rockwell City Republican women, who sang what they called a "rap song." There was no beat and each of the 10-odd singers was off from the next by a word or two:
People want the freedom
To make medical and personal choices!
And we want representatives
To listen to our voices!
Listening, I suddenly worried that the International Federation of Black People would detect this "rap" performance from afar and call in an air strike. Sneaking out the front door, I checked my phone to see how Huck's abortion-clinic play was doing: He'd already set off a media shitstorm.
Within 24 hours, he was being denounced across the blogosphere, but he was soon riding up in the polls again, one of the few shoo-ins to get on the main stage of the August 6th debate. 
I
t was astounding, watching the other entrants try to duplicate Huckabee's feat. Former Texas Gov. Rick Perry was last seen on the national stage choking on his own face in an infamous 2011 debate performance, when he was unable to name the three federal agencies he himself had promised to do away with. He returned to the race this year basically the same gaffe-spewing yutz he was four years ago, only dressed in preposterous "smart" glasses, a deadly error in a fight with a natural schoolyard bully like Donald Trump.
"He put glasses on so people will think he's smart," Trump croaked. "And it just doesn't work!"
Perry was so grateful to even be mentioned by Trump that he refocused his campaign apparatus on an epic response, apparently in an attempt to draw the Donald into a Drake/Meek Mill-style diss war. He tossed off a 3,000-word speech denouncing "Trumpism" as the modern incarnation of the Know-Nothing movement (one could almost hear Trump scoffing, "What the fuck is a Know-Nothing?"). He decried Trump himself as a "barking carnival act" and a "cancer" that the party should "excise" for its own sake — and, one supposes, for Rick Perry's.
Trump, too busy being front-runner to notice Perry's desperate volleys, basically blew the Texan off. A week later, Perry was in a tie for 10th place in the polls. Asked if his campaign was finished if he didn't make the debate cut, Perry replied, in characteristically malaprop fashion, that making the debate was "not a one-shot pony." He ended up missing his shot, or his pony, or whatever, and was squeezed out of the debate.
Many of the entrants tried nutty media stunts to re-inject energy into the race. Kentucky Sen. Rand Paul attempted to revive his flagging libertarian-niche campaign by putting out a video. In it, the candidate appears dressed in shop goggles and jeans, curly hair flying, chain-sawing the tax code in half. He looks like Ryan Phillippe doing a Billy Mays ad.
Then there was South Carolina Sen. Lindsey Graham, one of the few candidates with a sense of humor about how much of a long shot he is. "I do bar mitzvahs, birthday parties, weddings, funerals – call me, I'll come," he cracked. Once in the race, though, Graham immediately trolled Trump by calling him a "jackass," then briefly enjoyed some press limelight when the furious front-runner gave out Graham's telephone number to the public. 
Graham responded to the blessing of a Trump insult by putting out a video celebrating his Trump-victimhood. In it, the candidate chops up his cellphone Ginsu-style, mixes it in a blender in a foul-looking yellow liquid, and whacks it with a nine-iron, or maybe a wedge (note: the Graham camp says it was a nine).
All of this actually happened. Can we be that far from candidates putting out dueling cat videos?
I
n late July, in a cramped conference room of a Marriott in West Des Moines, Graham showed up to introduce himself to voters. In person, he's an odd character, like an oversize ventriloquist's dummy, with too-bright eyes and cheeks frozen in a half-grin.
He calls his event a "No Nukes for Iran" rally. Clearly gunning for a Cabinet post in Defense or Homeland Security, Graham is running almost a one-issue race, campaigning on being the candidate who most thinks Barack Obama's Iran deal sucks.
Of course, all 17 of the Republican candidates think Obama's Iran deal sucks, but Graham wants you to know he really thinks it sucks. Part of his stump speech is ripped straight from Team America: He thinks the Iran deal will result in "9/11 times a hundred." Actually in Graham's version, it's 9/11 times a thousand.
"The only reason 3,000 of us died on 9/11 and not 3 million," he said, "is they could not get the weapons."
Graham would seem to be perfectly suited for this Twitter-driven race, because he has a reputation in Washington for being a master of the one-liner and a goofball with boundaries issues who not infrequently crosses lines in his humor. "Did you see Nancy Pelosi on the floor?" he reportedly once quipped. "Complete disgust. If you can get through the surgeries, it's disgust."
But in person, Graham is a dud. His nasal voice and dry presentation make Alan Greenspan seem like Marilyn Manson. Still, it doesn't take too long for him to drift into rhetoric that in a normal political season would distinguish him as an unhinged lunatic, which is interesting because pundits usually call Graham one of the "sane" candidates.
First, he firmly promised to re-litigate the Iraq War. "I'm gonna send some soldiers back to Iraq," he said. "If I'm president, we're going back to Iraq."
Promising concretely to restart a historically unpopular war is a solid Trump-era provocation, but Graham then took it a step further. He pledged to solve the Syria problem by channeling Lawrence of Arabia and leading an Arab army in an epic campaign to unseat the caliphate.
Graham, a politician who reportedly once said that "everything that starts with 'al-' in the Middle East is bad news," insisted he was just the man to unite the Saudis, Egyptians, Jordanians, Turks and other peoples in battle, and also get them to pay for the invasion (getting dirty foreigners to pay for our policies is another Trump innovation). "We're going into Syria with the Arabs in the lead," Graham said. "They will do most of the fighting, and they're gonna pay for it because we paid for the last two."
I looked around the room. No reaction whatsoever. An old man in the rear of the hall was picking a cuticle off his middle finger, but otherwise, nobody moved. There were reporters, but Graham's hawkish bleatings don't rate much in an America obsessed with Caitlyn and Rachel Dolezal and the Donald.
Instead, later that same day, news leaked out that a Trump political adviser, Sam Nunberg, had once referred to Al Sharpton's daughter as a "n-----" on Facebook. This is news. It virtually obliterated all other campaign information.
Within a day, polls showed Trump surging like never before. One Reuters poll released on August 1st showed him scoring nearly 30 percent of the vote. The second-highest contender, Jeb Bush, was now nearly 20 points off the lead. When Trump completed the news cycle by giving Nunberg an Apprentice-style firing, his triumph was total.
I
f the clowns who engaged Trump mostly came out looking awful, the ones who didn't engage him came out looking even worse, including several of the ostensible favorites.
Jeb Bush was supposedly the smarter Bush brother and also the presumptive front-runner in this race. But on July 4th, just a few weeks after entering the race, Trump basically ended the fight in one fell swoop with a single kick in the balls, retweeting that Bush has to like "Mexican illegals because of his wife."
With a wife's honor at stake, most self-respecting males would have immediately stalked Trump and belted him in the comb-over. But Bush stayed true to his effete Richie Rich rep and turtled. He said nothing and instead meekly had an aide put out a statement that Trump's words were "inappropriate and not reflective of the Republican Party's views."
It was such a bad showing that the Beltway opinionators at Politico ran a story asking, "Is Jeb Bush turning into Michael Dukakis?" Game, set, match! Bush has been plunging in the polls ever since.
A similar fate befell Marco Rubio, the boy-wonder Republican. Rubio cruised through the early portion of the race, when voters were impressed by his sideswept, anal-retentive, Cuban-Alex-Keaton persona, rising as high as 14 percent in the polls. But then Trump entered the race and blasted the clearly less-than-completely-American Rubio for favoring a pro-immigration bill. "Weak on immigration" and "weak on jobs," Trump scoffed. "Not the guy."
He battered Rubio with tweet after tweet, one-liner after one-liner. Trump aides hit Rubio for having "zero credibility" and being a "typical politician" who favored a "dangerous amnesty bill." Rubio meanwhile defended Mexicans in general after Trump's "rapists" line, but has passed on engaging Trump's personal attacks. As a result, Rubio's support for a path to citizenship for the undocumented has stood out like a herpes sore, and he's plummeted to five percent in the polls.
The only candidate to really escape Trump's wrath has been Texas Sen. Ted Cruz, and that's because Cruz has spent the entire political season nuzzling Trump's ankles, praising the Donald like a lovesick cellmate. The Texas senator, whose rhetorical schtick is big doses of Tea Party crazy (his best line was that Obama wanted to bring "expanded Medicaid" to ISIS) mixed with constant assurances that he's the most Reagan-y of all the candidates, even reportedly had an hourlong "confab" with Trump. "Terrific," he said of the meeting, calling Trump "one of a kind."
The subterranean Cruz-Trump communiqués are a fantastic subplot to this absurdist campaign, hashtagClownCar's very own Nazi-Soviet nonaggression pact. It could mean the two plan to run together, or it could mean Cruz will plead for Trump's votes if and when the party finds a way to beg, threaten or blackmail Donald out of the race. Whatever it means, it's a microcosm of the campaign: simultaneously disgusting and entertaining.
It's not surprising that Trump's most serious competition will likely come from Wisconsin's Walker, who is probably the only person in the race naturally meaner than Trump. 
GOP Gov. Scott Walker listens as Donald Trump responds at the first Republican debate. Scott Olson
A central-casting Charmless White Guy who looks like a vice principal or an overdressed traffic cop, Walker traced a performance arc in the past year that was actually a signal of what was to come with Trump. Back in February, when addressing the Conservative Political Action Conference, Walker answered a question of how he would deal with Islamic terrorists by saying, "If I can take on 100,000 protesters, I can do the same across the world."
Like Trump's Mexican remarks, Walker's gambit comparing American union workers to head-chopping Islamic terrorists seemed like a bridge too far even for many Republicans. He was criticized by the National Review and future opponent Perry, among others. But instead of plummeting in the polls, Walker, like Trump, gained ground.
The irony is that this was supposed to be the year when the Republicans opened the tent up, made a sincere play for the Hispanic vote, and perhaps softened up a bit on gays and other vermin. But then the lights went on in the race and voters flocked to a guy whose main policy plank was the construction of a giant Game of Thrones-style wall to keep rape-happy ethnics off our lawns. So much for inclusion!
W
aterloo, Iowa, August 1st. New Jersey Gov. Chris Christie showed up at Lincoln Park downtown to attend the Cedar Valley Irish fest, a multiday fair with street cuisine, tents full of hand-made crafts, live music and a 5K road race. In a state where a more typical event is a stale VFW hall buffet or a visit to the world's largest truck stop (the I-80 meet-and-greet is a staple of Iowa campaigning), the Irish fest is a happening scene, featuring good food and sizable numbers of people under the age of 60.
Two years ago, Christie's arrival at an event like this would have been a major political event. Back then, Christie was a national phenomenon, a favorite to be dubbed presumptive front-runner for 2016.
Christie's the type of candidate political audiences have come to expect: Once every four years, commentators in New York and Washington will fall in love with some "crossover" politician who's mean enough to be accepted by the right wing, but also knows a gay person or once read a French novel or something. In the pre-Trump era, we became conditioned to believe that this is what constituted an "exciting" politician.
Christie was to be that next crossover hit, the 2016 version of McCain. Washington's high priest of Conventional Wisdom, Mark Halperin, even called him "magical," and Time called him a guy who "loves his mother and gets it done."
But two years later, Christie has been undone by "Bridgegate," and the buzz is gone. When he showed up at Cedar Falls, there were just a few reporters to meet him. One of the Iowa press contingent explained to me that with the gigantic field, some of the lesser candidates are falling through the cracks. "We just don't have enough bodies to cover the race," the reporter said. "It's never been like this."
Christie and his wife, Mary Pat, made their way patiently through the crowd, shaking hands and talking football and other topics with a handful of attendees. It was old-school politics, the way elections used to be won in this country, but it was hard not to watch this painstaking one-person-at-a-time messaging and wonder how it competes in the social-media age.
After the event, I asked Christie whether the huge field makes it difficult to get media attention. "Well, I've never had any trouble getting attention," he said. "I just think it's differentiating yourself. I think it plays to our strengths, because we've always worked really hard."
Right, hard work: that old saw. Later in the day, back across the state in Rockwell City, former Pennsylvania Sen. Rick Santorum played the same tune at the town's "Corn Daze" festival. Dressed in jeans, a blue oxford and a face so pious that Christ would be proud to eat a burrito off it, Santorum rushed through a speech explaining that it is in fact he who is the hardest-working man in politics.
"I just want to let you know that we've gone to about 55 counties," he said. "Last time, we went to 99. We'll probably have 99 done here in the next few weeks."
I asked how anyone can distinguish himself or herself in a field with so many entrants? "Win Iowa," he answered curtly.
Right, but how? "What happens in August stays in August," he said mysteriously, then vanished to his next event. He had, like, 11 events in three days, far more than most other candidates.
Santorum actually won the Iowa race four years ago with his overcaffeinated, kiss-the-most-babies approach. But watching both he and Christie put their chips on the shoe-leather approach to campaigning feels like watching a pair of Neanderthals scout for mammoth. In the Age of Trump, this stuff doesn't play anymore.
Not that the old guard will go down without a fight. The much-anticipated inaugural Clown Debate in Cleveland was an ambush. Fox kicked off the festivities by twice whacking Trump, Buford Pusser-style, asking him to promise not to make a third-party run (he wouldn't) and sandbagging him with questions about his history of calling women "fat pigs" ("Only Rosie O'Donnell," Trump quipped). After the show, Fox had Republican pollster Frank Luntz organize a focus group that universally panned Trump's performance. "A total setup," one of Trump's aides complained on Twitter.
Trump didn't seem to care. Hell, he didn't even prepare for the debate. "Trump doesn't rehearse," an aide told reporters. All he did was show up and do what he always does: hog everything in sight, including airtime. As hard as Fox tried to knock him out, the network couldn't take its eyes off him. He ended up with almost two full minutes more airtime than the other "contestants," as he hilariously called them on the Today show the morning after the debate. It's the scorpion nature of television, come back to haunt the "reality-makers" at Fox: The cameras can't resist a good show.
P
olitics used to be a simple, predictable con. Every four years, the money men in D.C. teamed up with party hacks to throw their weight behind whatever half-bright fraud of a candidate proved most adept at snowing the population into buying a warmed-over version of the same crappy policies they've always bought.
Pundits always complained that there wasn't enough talk about issues during these races, but in reality, issues were still everything. Behind the scenes, where donors gave millions for concrete favors, there was always still plenty of policy. And skilled political pitchmen like Christie, who could deftly deliver on those back-room promises to crush labor and hand out transportation contracts or whatever while still acting like a man of the people, were highly valued commodities.
Not anymore. Trump has blown up even the backroom version of the issues-driven campaign. There are no secret donors that we know of. Trump himself appears to be the largest financial backer of the Trump campaign. A financial report disclosed that Trump lent his own campaign $1.8 million while raising just $100,000.
There's no hidden platform behind the shallow facade. With Trump, the facade is the whole deal. If old-school policy hucksters like Christie can't find a way to beat a media master like Trump at the ratings game, they will soon die out.
In a perverse way, Trump has restored a more pure democracy to this process. He's taken the Beltway thinkfluencers out of the game and turned the presidency into a pure high-school-style popularity contest conducted entirely in the media. Everything we do is a consumer choice now, from picking our shoes to an online streaming platform to a presidential nominee.
The irony, of course, is that when America finally wrested control of the political process from the backroom oligarchs, the very first place where we spent our newfound freedom and power was on the campaign of the world's most unapologetic asshole. It may not seem funny now, because it's happening to us, but centuries from this moment, people will laugh in wonder.
America is ceasing to be a nation, and turning into a giant television show. And this Republican race is our first and most brutal casting call.