Education Activists Go On Hunger Strike Over Dyett High School's Future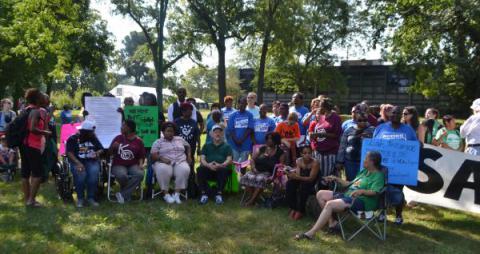 , Progress Illinois
Twelve supporters of revitalizing Chicago's Dyett High School campus began a hunger strike Monday morning as they continue their call for the Chicago Public Schools (CPS) system to adopt a long-proposed community plan to turn Dyett into a "global leadership and green technology" high school.
The Coalition to Revitalize Dyett High School, which created the plan to re-open Dyett as a global leadership and green technology school, spearheaded the hunger strike. The 12 hunger strikers, including community and faith leaders, education activists and public school parents, held their protest outside the now-closed school, located in the Washington Park neighborhood at 555 E. 51st St.
"We are tired of our voices not being heard," said hunger striker Jitu Brown with the Kenwood Oakland Community Organization, one of many groups behind the Coalition to Revitalize Dyett High School. "There has to be accountability to the public for the destabilizing of schools in our community and the sabotage of our children's education."
Brown said the hunger strikers will only drink water and "light liquids" and are prepared to remain outside Dyett "as long as the creator allows us to be out here."
"We don't plan to leave," he said. "We plan to be here."
The coalition is one of three organizations pushing competing proposals to CPS to install a new open-enrollment, neighborhood high school at Dyett, which officially closed this June after the school board voted to phase it out in 2012 because of poor academic performance and declining enrollment. Following increased community opposition to the school's closure, CPS began accepting proposals in late December for a new school to re-open at the Dyett campus in the 2016-2017 school year.
 "Chicago Public Schools is carrying out a community-driven process to select a new high-quality school for the former Dyett site," CPS spokesman Bill McCaffrey said in a statement in response to the hunger strike. "Identifying a high-quality education option for the former Dyett site is a priority for the district, and CPS is reviewing school proposals to determine the best open enrollment, neighborhood education option for the site."
CPS was slated to hold a public hearing on the three proposals last Monday, but pushed it back to September 10. The district is currently in the midst of dealing with its 2016 budget, and school officials said earlier this month that the hearing needed to be postponed to ensure there was "adequate time to review community feedback and proposals."
Coalition members are upset because they say the proposal's wait for consideration has been too long. Although the Coalition to Revitalize Dyett High School officially launched in November 2013, Brown said members of the group have been discussing their vision for Dyett with CPS officials since 2009.
"We've been jumping over every hoop. We've gone to every board meeting. We have sat with every important CPS official, only for them to leave, and then having to start over again," Brown said. "So no, we're not waiting anymore."
Another hunger striker argued that CPS is not listening to what the community wants.
"We feel like we are being pushed to this drastic measure," said Prudence Browne with Teachers for Social Justice, which helpd craft the coalition's proposal. "And that's why I'm out here, because I don't know what else to do. I helped to write a proposal. I show up to board meetings. I advocate, and it's not being heard."
Hunger striker Jeanette Taylor-Ramann, Local School Council president at Irvin C. Mollison Elementary, began to cry when asked why she's participating in protest.
"There's not enough of us doing this to show (the children that) they are loved, to show them that (there's) people out here who care about them, to show them that education is the way you can be anything you want to be," she said.
The hunger strikers saw support from their allies this morning, including Cook County Commissioner Jesus Chuy Garcia. He applauded them for standing up for what's "fair and just," and said he was "very moved" by the group's decision to go on a hunger strike in an effort to improve public education for Chicago students. 
Here is more from Garcia plus comments from Brown and another hunger striker, the Rev. Robert Jones of Mt. Carmel Missionary Baptist Church: watch Progress Illinois video on YouTube. 
In addition to the global leadership and green technology plan, CPS has received two other proposals for the Dyett campus. The non-profit Little Black Pearl, which operates a contract school in the North Kenwood-Oakland area, is proposing to run an arts high school at the Dyett site. The third proposal, which CPS accepted despite its late submittal, is for an athletic career academy spearheaded by Dyett's former principal Charles Campbell.
Check back with Progress Illinois as this story develops.
UPDATE 1 (08/18/15, 1:36 p.m.): The Rev. Jesse Jackson Sr. is expected to stand in solidarity with the 12 Dyett hunger strikers later this afternoon at the Rainbow/PUSH national headquarters, 930 E. 50th St., according to the Coalition to Revitalize Dyett High School. Coalition members are in day two of their hunger strike.