Skateboard Diplomacy: A D.C. Group's Plan to Help Thaw Relations with Cuba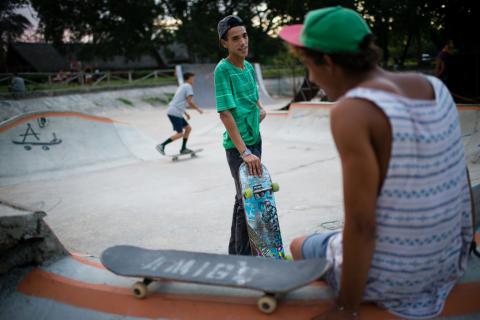 Orlando Enrique Rosales, 24, left, skateboards on a Sunday evening at a skate park in Havana. He has received equipment from Cuba Skate, a nonprofit organization in the United States.,Sarah L. Voisin/The Washington Post // Washington Post
A typical skateboard - no wheels - weighs about three pounds. Ten to 15 of them will fit into a standard suitcase, stacked. Another 10 will fit into a large duffel bag, slung over the shoulder.
Those numbers are familiar to Miles Jackson, who regularly travels with up to 50 skateboards at a time. He and his friends, through their nonprofit organization Cuba Skate, have ferried more than 200 skateboards in the past five years to aspiring skaters in the island country.
Secretary of State John F. Kerry visited Cuba last week to raise the American flag on Cuban soil for the first time in a half-century, marking last month's restoration of diplomatic ties between Cuba and the United States.
But even before the long-awaited thaw between the countries, Jackson and a college friend had been building a different kind of diplomacy: one on wheels. Their hope is that skateboarding can help pry open a notoriously stiff relationship and encourage a new generation of skateboarders to join an international sporting community.
"I look at how ping-pong was for Nixon," said Neftalie Williams, Cuba Skate's chairman, referring to the 1971 exchange of table-tennis players that preceded the president's visit to China. "Skate diplomacy can be that kind of diplomacy."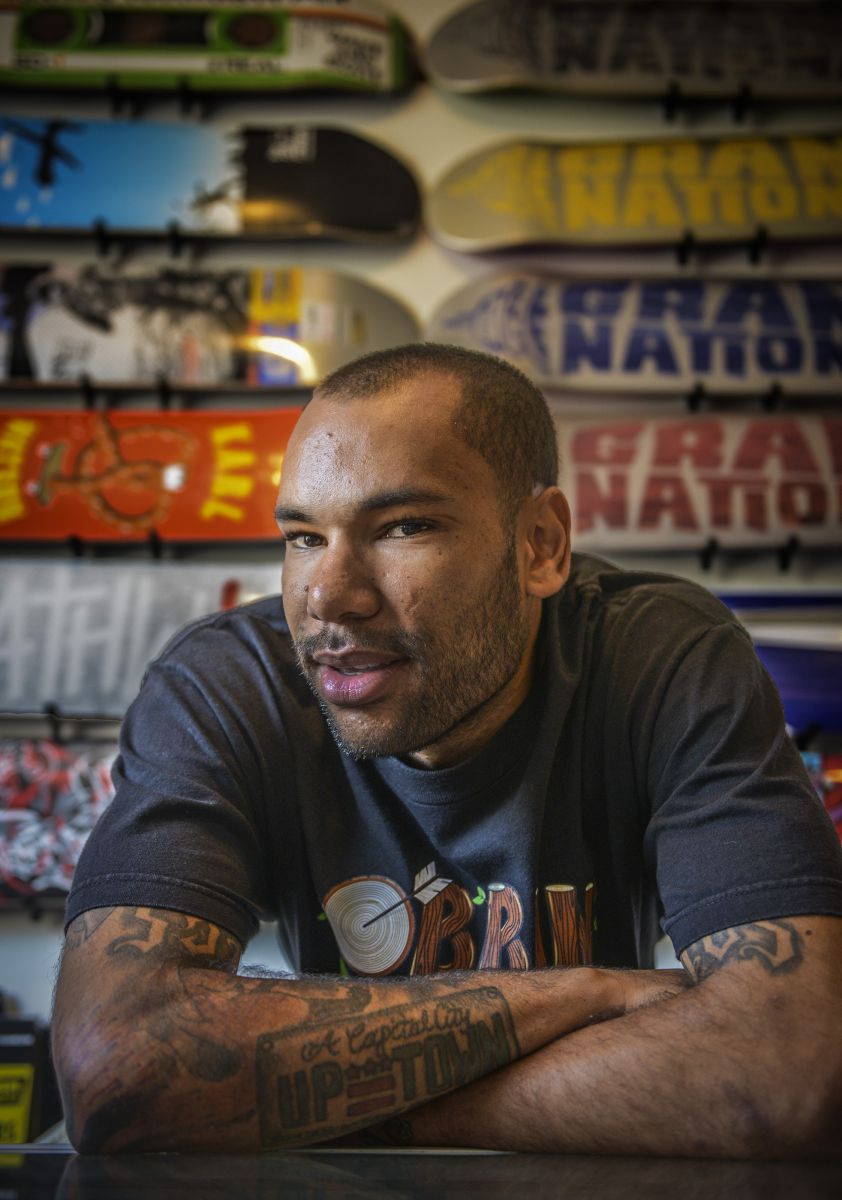 Miles Jackson, co-founder of the Cuba Skate nonprofit, which donates skateboards to young people in Cuba, works at Art Under Pressure, a skate shop in Washington.
photo: Bill O'Leary/The Washington Post
Cuba's skateboarding community is nascent yet growing, with about 200 skaters, mostly in their teens or early 20s. Resources for enterprising skaters are scarce in a country where half a century of embargoes and trade restrictions have throttled economic growth.
Skaters can go through multiple shoes and boards in the space of a few months, but Cubans have no local shop for repairs. The only skate park in the country has begun to rust and collapse.
Still, Cuba Skate's members are optimistic that skate diplomacy is as viable here as ping-pong diplomacy was in China more than four decades ago.
"No one says when you play with a basketball that you're supposed to grow the community," Williams said. "You don't play skateboarding. You become a skateboarder."
`Freedom of expression'
Williams, who studied sports diplomacy at the University of Southern California, said skateboarding is uniquely suited to bridging the U.S.-Cuba gap.
"It has freedom of expression and self-determination," he said. "On the other side, it also has this collectivist mentality. Building and creating that space around the sport - that's something Cuba can get behind."
After Jackson was diagnosed with diabetes at age 6, his father came home with a skateboard from Wal-Mart, with black grip tape and an emerald-green underside.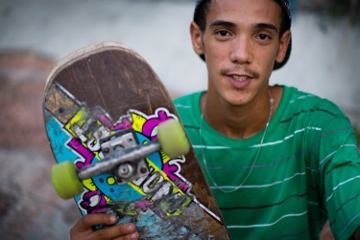 "For people who don't have much in their life, [skateboarding has] done a lot," Orlando Enrique Rosales said. "Between us all, there is a lot of support. We are like a family."
photo: Sarah L. Voisin/The Washington Post
It was 1994, and few kids were skating on the streets of Jackson's Columbia Heights neighborhood. The board itself, cheap and plastic, also deterred his interest. Instead, Jackson turned to soccer and was recruited to play at the University of Michigan.
After a micro-fracture in his knee and two surgeries sidelined him from the soccer field in 2008, Jackson, then a rising junior, turned to other pursuits: travel and skateboarding.
When the American-cultures major decided to study abroad in Havana, he found a skateboard-friendly city designed like a grid with one-way streets.
"People definitely skate from spot to spot," Jackson said.
Jackson took to Cuba, enrolling in drumming classes and introducing Lauren Bradley, a classmate on the trip, to skateboarding. The local skaters - still few and far between - became more than just friends: He ate and hung out with them even when not skating, and presented a birthday cake when one of them turned 15.
They became "my little brothers," Jackson said.
The youths were awed by Jackson's longboard, a larger version of a typical skateboard that they had never seen before. Jackson and Bradley quickly noticed the scrappy feel of skateboarding in Havana, with skaters cobbling together boards and equipment in the absence of professional supply shops.
"Boards break all the time," and there is no one to replace them, Jackson said. "You do flips and slides and grind, whether in the street or on a rail or ledges or whatever."
When he and Bradley returned from Havana in March 2010, Bradley suggested keeping their interest in Cuba's skateboarding culture alive. They started a blog.
"At that time, there was no talk of lifting the embargo," Bradley said.
Jackson and Bradley began traveling to Cuba that September to drop a few boards off. Because direct travel from the United States was limited, their first trips went through Toronto, Bradley said.
As they recruited other college students and acquaintances, a routine emerged. Gathering boards and supplies from donors. Packing the boards in duffel bags and suitcases. Taping five or six more boards together to carry onto the plane. Occasionally, other supplies made it in - clothes, shoes, a DVD player.
Waiting for them in Havana would be teenagers and young adults eager for new supplies and the latest skateboarding news.
`We've created a community'
The Cuba Skate trips are a lifeline to the wider skateboarding community, said Yojani Perez Rivera, 26, who has been skateboarding in Cuba since he was 14. It's difficult to keep up with competitions, trends and stars because Cuba's Internet service is pretty bad, he said. So he relies on Cuba Skate and visiting foreigners for news, he said.
Skateboard culture is international, he added. "We've created a community. We all understand one another."
Orlando Enrique Rosales, 18, no longer has to wait for supplies from friends and family members returning from trips to the United States.
"For people who don't have much in their life, [skateboarding has] done a lot," Rosales said. "Between us all, there is a lot of support. We are like a family."
The ultimate goal is to bring other skaters to Cuba - and for Cuba "to reimagine itself as a global participant," Williams said. "There was a time when Cuba was really focused on sport. Here's a new way we can look great on the global stage."
Members of the organization plan to travel again to Havana in September, when they hope to start an ambitious renovation of the country's only official skatepark, El Patinodromo, on the outskirts of the city. During the rainy season, the park floods, and the metal ramps and rails have begun to rust.
"They have all the love for the sport, but they don't have a safe outlet for the sport," Williams said.
With the embargoes relaxed, Jackson hopes to replace the aging ramps and rails over five to eight weeks, pending permission from the State Department.
Jackson is also planning to bring two skaters from Cuba to the United States in the fall for a month-long tour from Miami to California to promote skateboarding and U.S.-Cuban relations.
"What I would love to do is to show people that this is their real experience," said Ellis Rua, Cuba Skate's liaison to universities. Rua, 26, said he hopes the tour will open eyes to conditions on the ground in Cuba.
"Our policy has ripple effects on the lives of people who have no interest in politics," Rua said.
Jackson quit his job in the Department of Heath and Human Services in 2013 to accommodate his travels with Cuba Skate. Nowadays, he spends most afternoons working at Art Under Pressure, a gritty shop on U Street that sells skateboard accessories and has donated supplies to Cuba Skate. Boards emblazoned with logos and comic-book illustrations are slotted into racks on the white-painted brick walls, and plastic neon wheels wrapped in four-packs are illuminated in a glass display case.
It's the kind of shop that Rivera, in Havana, hopes Cuba will see one day. He and his friends are trying to figure out how to get enough money and support to open their own skateboard store. It would be the first in Havana - but perhaps not the last.
"Little by little, between all of our efforts, it's going to happen," he said.
Antonio Olivo contributed to this report.
[Elizabeth Koh reports on local politics for The Washington Post.]