tv
'Show Me A Hero' Takes You To The Front Lines Of An Historic Desegregation Battle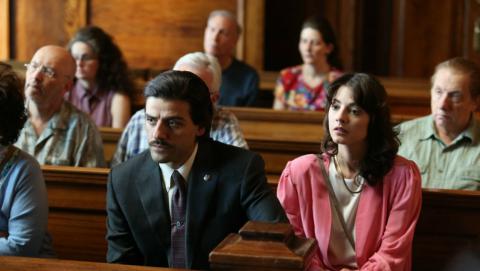 , HBO/PAUL SCHIRALDI
David Simon probably doesn't care if you like Show Me a Hero. He has already gone on the record to say he does not think anyone will watch it. He has disdain for your desire to express your love for The Wire, the show that launched him into the almighty showrunner pantheon, by making brackets to determine which character is the coolest. Was Treme a show that wanted you to watch it? Or was it a show that you wanted to want to watch, as episodes piled up on your DVR and you finally had to admit it just wasn't going to happen in this lifetime?
Simon's latest venture is Show Me A Hero, based on a 1999 book of the same name by Lisa Belkin, then a New York Times reporter, about the implementation of public housing in the city of Yonkers, New York. The resulting six-hour miniseries, which premiered on Sunday, was written by Simon and Wire alum William F. Zorzi, who also worked alongside Simon at the Baltimore Sun, and is directed by Paul Haggis (writer-director of worst-Best Picture winner Crash).
Show Me A Hero has none of the usual HBO trappings to offer. It is not sexy or bloody or graphic or even particularly profane. (And, in the vein of HBO's latest acquisition, there are no muppets.) The closest the show comes to reaching for popular appeal is the careful placement of a few Bruce Springsteen songs. And again, it seems highly unlikely that Simon is invested in making something that is easy to like.
But did he ever.
We start in Yonkers, in the late 1980s, as the 28-year-old Nick Wasicsko (Oscar Isaac) becomes the mayor of Yonkers — which makes him the youngest mayor in America — and inherits a crisis. The city was sued seven years prior by the Department of Justice and the local NAACP branch over segregated housing and schools. The result: Yonkers was ordered to build 200 low-income housing units and 800 affordable housing units, in all-white middle-class neighborhoods, or the city would be found in contempt and fined into bankruptcy.
Show Me a Hero is gripping, emotional, and excellent all the way through, anchored by outstanding performances, not just from Isaac but the whole cast, including Winona Ryder as Vinni Restiano, Wasicsko's colleague and confidant, and Alfred Molina as slick future-then-former mayor Hank Spallone, who kicks his feet up on every desk in defiance.
Much of the miniseries unfolds in board rooms and council meetings and the mayor's office– not places one typically associates with friction and passion and grit. But Haggis floods these spaces with feeling. Debates feel like battle scenes. Council meetings are tense, heated, and just so loud. There is such a real sense of the chaos there, barely contained, impossible to overpower, as the last holdouts on the council vote against compliance over and over, sinking Yonkers into debt while raising their own political capital. Show Me dramatizes the legislative processes that gird almost all social progress, the wonky behind-the-scenes of advancement.
Part of what makes Wasicsko an interesting force here is that he is not, at the beginning, a proponent of the housing plan; he tried and failed to appeal the court order, and his real motivation here is compliance with the law, not creating an integrated city. He is not, in the usual way that crusaders are presented, driven wholly by the kind of ideology we can all cosign. This representation of Wasicsko is the result of deep, years-long reporting efforts by two different investigative journalists — Zorzi extensively re-reported Belkin's work — and it shows. Wasicsko is on the right side of the argument for only some of the most righteous reasons. He is not heroic in that textbook way.
At first glance, the title sounds a little shmaltzy to be Simon's — Show Me a Hero, really? — unless you know its origin, which is explained in an early episode. It's the first half of an F. Scott Fitzgerald quote that ends "…and I'll write you a tragedy." That's the tension that propels the story forward: Watching Wasicsko rise, rise, rise, only to be voted out of office for his trouble and watch lesser politicians reap the benefits of the work he sacrificed his likeability to achieve.
Nothing is without nuance. Even the widespread resistance to public housing, which in a lesser retelling would be brushed away as "well, they were all a bunch of racists," gets a thoughtful rendering. The mob outside the council meeting might sound like a monolith, but Show Me introduces Yonkers residents across the spectrum, from overtly, virulently racist to the older residents clinging to property values they're convinced will plummet with the influx of a less desireable "element," so, those who are acting out of what they think is self-interest but which viewers recognize as the ingrained racism of those who don't know, or care, that their fears are fueled by hate.
Catherine Keener is especially affecting as a longtime Yonkers resident who gets caught up in both sides of the conflict as her definition of what it means to be invested in her community shifts when different politicians disappoint her. Hers is a style of "not in my backyard" activism that, through an impressive feat of writing and performing, makes her point of view sympathetic. She has this modest brick home that she's always wanted. That she cannot control what springs up beyond those walls feels as deeply unfair to her as the lottery for spots in the housing, when it eventually opens, feels to those trapped on the wait-list.
The book upon which the miniseries is based is focused on Wasicsko, so by design, it is through his eyes that much of the story is told. In that Simon way, other characters' lives unfold throughout, in scenes that seem disparate at first but cohere as the series goes on. These are the individuals who need low-income housing and they, too, are based on real people: Among them are Carmen (Ilfenesh Hadera) the single mother from the Dominican Republic who keeps shuffling her family back and forth from DR to New York to make ends meet; Doreen (Natalie Paul) and Billie (Dominique Fishback), young black women who lose the fathers of their children to death and crime, respectively; Norma (LaTanya Richardson Jackson) an aging black woman nearly blinded by diabetes, who needs a "handicapped-accessible unit" but struggles with the indignity of asking for a "favor."
Show Me also serves as a reminder that some of the worst segregation in America persists above the Mason-Dixon line. The whole mess Wasicsko inherited was the result of a 1985 ruling by federal Judge Leonard Sand (Bob Balaban) stating that Yonkers had "illegally and intentionally" segregated housing and schools. By the time Wasicsko takes office, the U.S. Department of Housing and Urban Development has already reached a settlement with the NAACP agreeing to build the 200 units of low-income housing on the mostly-white east side of town. But the mayor who preceded Wasicsko, Angelo Martinelli (Jim Belushi), has no interest in following through on the promise, and the citizens who elected him celebrate his refusal to cave to law.
Simon's favorite doom-and-gloom subjects all get their due here, notably how institutions fail the people who need them the most. But running through it all is a theme that is maybe the sweetest Simon has ever aimed for: There's no place like home.