labor
Supreme Court OKs Longer Arguments in High-Stakes Union Case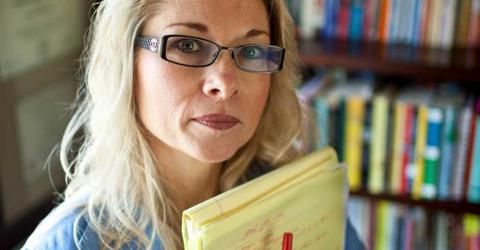 Represented by the conservative Center for Individual Rights, Rebecca Friedrichs is the lead plaintiff in a Supreme Court case that could financially cripple public employee unions., calwatchdog.com
Reflecting the high stakes in an upcoming union case, the Supreme Court on Monday accepted a request from government lawyers to expand arguments on whether public employees can be required to contribute funds to a public-sector union.
The court added time to the Jan. 11 argument, which was set to last one hour, giving an additional 10 minutes to accommodate lawyers representing the Obama administration and California's attorney general.
The case has strong partisan implications.
States which permit agreements compelling contributions to a public-sector union are largely in the Northeast, Upper Midwest and Pacific Coast, and typically lean toward Democrats. Public employee unions, which generally support Democratic candidates, have been powerful political forces in several of those states.
According to the Center for Individual Rights, a Washington-based advocacy group that is representing the plaintiffs, all the teachers suing to end union payment requirements are Republicans or independents.
The court is considering whether to overrule its 1977 decision allowing states to require public employees to join a union or pay a fee to cover collective bargaining costs. A win for the plaintiffs—a group of California teachers who say they oppose union efforts to increase pay and protect job security—could cripple public sector unions in about two dozen states that have "agency fee" laws.
Supreme Court precedents already allow represented employees to obtain refunds for the portion of union dues used for conventional political activities such as supporting candidates or ballot measures. The plaintiffs argue that, in essence, any communication with a local school board is political activity, even bargaining over wages and working conditions, because they can influence a public agency's budgetary and policy decisions.
Unions, California and the Obama administration say that collective bargaining produces direct benefits to employees, and that without agency-fee provisions people who don't pay union dues can take advantage of that service while passing its costs on to coworkers who do.
The principal defendant is the California Teachers Association, which is represented by Washington lawyer David Frederick.
California Attorney General Kamala Harris, a Democrat seeking to succeed retiring U.S. Sen. Barbara Boxer (D., Calif.), intervened in the case to defend the 1975 state law authorizing agency fee provisions. She, joined by Mr. Frederick, moved to divide the standard 30 minutes her side would receive between Mr. Frederick and the California solicitor general, Edward DuMont.
The U.S. solicitor general, Donald Verrilli, supported that motion and requested an additional 10 minutes to present the Justice Department's view that agency-fee requirements are constitutional. The Supreme Court customarily grants the solicitor general argument time when requested.
The court granted the plaintiffs, represented by Washington lawyer Michael Carvin, an additional 10 minutes so that each side would have equal time.