TransCanada Announces It Will Sue U.S. Over Keystone XL Denial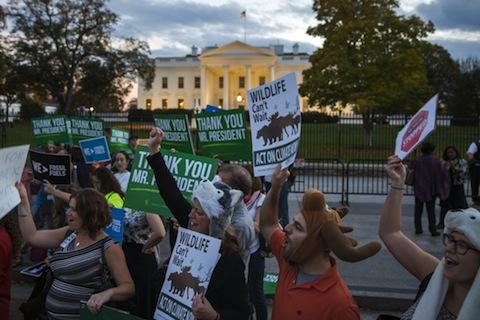 Demonstrators cheer during a gathering in front of the White House to celebrate President Barack Obama's rejection of the Keystone XL pipeline on Friday, Nov. 6, 2015, in Washington.,AP Photo/Evan Vucci
TransCanada, the company behind the Keystone XL pipeline, announced Wednesday it is filing a claim under the North American Free Trade Agreement (NAFTA), saying that the project's permit denial was "arbitrary and unjustified." TransCanada is seeking $15 billion in costs and damages due to the denial, and has also filed a separate lawsuit against the U.S. in federal court.
Under NAFTA, companies can sue governments that put investments at risk through regulation. If it proceeds, the case will go in front of an international tribunal. (A U.S. company sued Montreal in 2013 over a fracking ban, using the same rationale). The tribunal cannot overturn the permit denial, but it can force payment of damages.
A NAFTA challenge had been previously identified as a potential legal recourse for the company.

In the notice to submit a claim for arbitration, TransCanada notes that two previous pipelines, carrying oil from the same tar sands region across the U.S. border, were both approved. This, TransCanada claims, suggests that the denial was political in nature, which is prohibited under NAFTA.
"Environmental activists … turned opposition to the Keystone XL Pipeline into a litmus test for politicians—including U.S. President Barack Obama — to prove their environmental credentials. The activists' strategy succeeded," TransCanada states in its filings. "Stated simply, the delay and the ultimate decision to deny the permit were politically-driven, directly contrary to the findings of the Administration's own studies, and not based on the merits of Keystone's application. The Administration's actions violated U.S. obligations under the North American Free Trade Agreement ("NAFTA")."
The company even headed the notice with a quote from White House Press Secretary Josh Earnest: "I would venture to say that there's probably no infrastructure project in the history of the United States that's been as politicized as this one."
In the suit filed in federal court in Houston, the company alleges that President Obama exceeded his constitutional authority by denying the Keystone XL permit.
"The Administration's action was contrary to Congress' power under the U.S. Constitution to regulate interstate and international commerce," TransCanada states.
TransCanada spent seven years going through the process of getting a permit from the Administration, before the project was denied late last year.
When the permit was denied, Obama said that the State Department's Environmental Impact Statement indicated that the pipeline would not be in the country's national interest. "I agree with that decision," he said at the time.
Secretary of State John Kerry, who oversaw the denial, said in a statement that the State Department found that the pipeline's construction "raises a range of concerns about the impact on local communities, water supplies, and cultural heritage sites," and would "facilitate transportation into our country of a particularly dirty source of fuel."
Environmentalists reacted negatively to the news Wednesday evening, though they said TransCanada's attempt probably won't succeed in resurrecting Keystone XL.
"This isn't going to get the pipeline built, and it is going to remind Americans how much of our sovereignty these treaties give away," 350.org founder Bill McKibben said in a statement. "The idea that some trade agreement should force us to overheat the planet's atmosphere is, quite simply, insane."