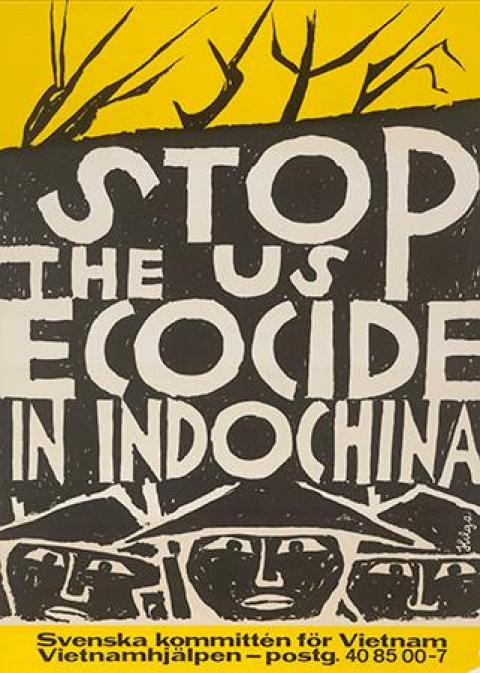 Stop the US Ecocide in Indochina,
Stop the US Ecocide in Indochina
Swedish Committee for Vietnam
Offset, circa 1970
Sweden
42010
CSPG's Poster of the Week
recalls that the U.S. practice of war includes herbicides targeting productive croplands. The poster refers to the more than 11 million tons of Agent Orange used in Viet Nam in the 1960s and 70s. 
Agent Orange is a powerful herbicide that, decades later, continues poisoning the Vietnamese people and U.S. GI's, as well as causing birth defects in their offspring.
Our allies have learned from us. Israel recently sprayed herbicides on the crops of Palestinian farmers in Gaza close to an Israeli imposed security zone on Palestinian territory, thus depriving the Palestinian population of a food source while maintaining strict limitations on food imports into Gaza. This recent example of unrestrained Israeli warfare against the Palestinians is revealed in the Israeli news blog +972, the Russian RTTV, the Iranian PressTV, and ignored by U.S. corporate media at the service of anti-Palestinian U.S. foreign policy.
Shai Grunberg, spokesperson for Gisha, an Israeli rights group that works to promote freedom of movement for Palestinians in Gaza, said, "Spraying crop-killing pesticides, like opening fire at people of all ages and gender in the vicinity of the fence, puts civilian lives at risk and hurts livelihoods ... By virtue of Israel's substantial control of the Gaza Strip, international law requires it to facilitate normal life in the Strip."
Sources:
http://www.presstv.ir/Detail/2015/12/24/443019/Israel-chemical-substances-farms-crops-Gaza-Strip-Khan-Yunis/
http://www.aspeninstitute.org/policy-work/agent-orange/history