labor
Rotterdam Dockers Strike – A Test Case for Europe?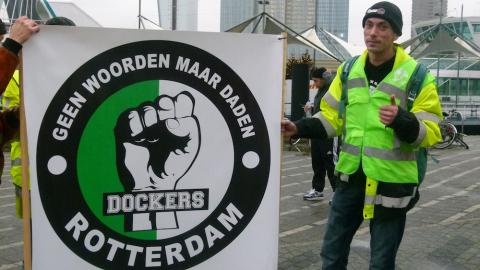 "Not words but deeds" – Rotterdam docker at an earlier action. ,Photo by ITF
Hundreds of dockworkers who blocked and paralysed part of Rotterdam's container port for 24 hours last week could soon strike again unless an agreement is reached with employers over job cuts.
Union leaders say the battle in Europe's biggest and highly-automated container port is being closely watched as it could set an important precedent.
"It's a real crucial test," Livia Spera, political secretary for Dockers and Fisheries at the European Transport Workers' Federation (ETF), tells Equal Times. "The current situation is due to bad, blind business choices."
The port's expansion in recent years, combined with the economic crisis, has resulted in overcapacity. Plans have been announced to cut as many as 700 jobs from the current workforce of about 3,600 employees. Meanwhile, Rotterdam is competing with the ports of Antwerp, Hamburg and Le Havre, Spera explains.
"That's why other unions joined in," she says. "It's not just a battle for the Dutch union but for all the unions that are involved. What happens in port of Rotterdam has implications for other ports."
Joining with the Dutch dockers' union FNV Havens in the 24-hour walkout from 7 to 8 January 2016 were the ETF as well as the International Transport Workers' Federation (ITF), the BTB from Belgium, Ver.di from Germany and the CGT from France.
From the picket line, Niek Stam, national secretary for FNV Havens, told Equal Times that the strike participation was "close to 100 per cent. All the big terminals are closed. There are fences, piles of tyres."
The port reacted by inviting the unions and operators to meetings aimed at restarting negotiations, he said. "If there are no negotiations in the coming days or weeks, we will start new strike action again, but we're giving no information ahead."
At a news conference, Stam told reporters that hundreds of jobs were being put at risk "because there just isn't the industry growth in Rotterdam to sustain these new terminals as well as the existing ones; employers are trying to play musical chairs with our jobs!"
ITF Vice Chair Torben Seebold said that: "after months of fruitless negotiation and on an issue this important, dockers here have been left with little choice. They have the support of transport workers around the world."
Port of Rotterdam spokesperson Tie Schellikens tells Equal Times that "a few kilometres" of the 40-kilometers of waterfront at the port were affected by the strike.
"Only the container terminals were involved, seven ships. Every day there are 100."
But the strike's impact is serious, he says. "It's all about the reliability of the port. It's the first strike in 13 years. We don't like that. We are working on an agreement. We were very, very close. We hope, we believe, there will not be another strike."
Spera says Rotterdam "didn't consider the social consequences" when it decided to expand. "There are other cases in Europe where automated terminals were built, but in full consultation with the union. The consequences of this automation process were more balanced, accompanied by shift of working models, of pension schemes."
That's why in Rotterdam, "the unions are asking for compensation from the port authorities," she says.
Another issue in Rotterdam, Spera adds, is the lack of collective bargaining. "Talks are at company level; there is no employers' association, no framework agreement."
"Unions are ready to hold additional strikes in the coming weeks," she says. "It depends a bit on how they the employers and the port, will react to this strike."
Chris Burns is a Brussels-based journalist and Euronews talk show host