tv
Showtime's Billions Enters Tricky World of Wall Street Drama and Delivers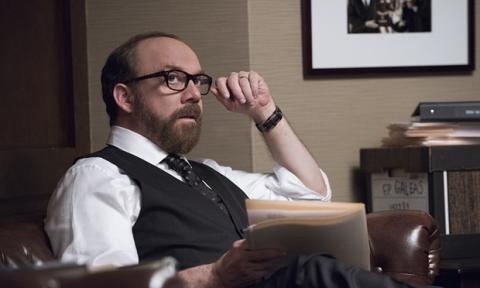 Paul Giamatti plays a district attorney Chuck Roades in Billions and embarks on one prosecution and one arrest after another., Jeff Neumann
In Showtime's new drama series, Billions, a grim-faced procession of FBI agents and other law enforcement personnel march down the glass-walled hallways of a top hedge fund, brandishing subpoenas and ordering the firm's traders to step away from their computers.
In the last decade or so, in the real world, that kind of scene has become all too familiar. The Securities and Exchange Commission, federal prosecutors and the real-life equivalents of the Billions character played by Paul Giamatti (a district attorney) have embarked on one prosecution and one arrest after another.
This scalp-hunting seems to have culminated in an agreement hammered out between the (in)famous hedge fund manager Steven A Cohen and the SEC. Under its terms, Cohen will be banned from managing outside money until 2018 and his firm, formerly named SAC Capital, has written a check for $1.8bn in criminal and civil penalties after acknowledging guilt in cases of securities and wire fraud.
Cohen didn't face criminal charges himself. He neither admitted nor denied guilt in settling regulatory charges associated with failure to supervise an employee who was one of six SAC traders who later admitted charges of insider trading.
So, scenes of raids and subpoenas aside, how much did the creators of Billions get right about Wall Street?
I came to the show fresh from watching The Big Short, where characters earnestly over-explain core financial concepts that they would have known. (Admittedly they do so for the benefit of the audience and in a very entertaining way, much of the time.) In contrast, Showtime has nailed it.
This series is replete with the kind of insider jokes of the kind Wall Street denizens will love.
Early on, hedge fund manager Bobby Axelrod (Damian Lewis), whose possible misdeeds are the focus of an investigation by US attorney Chuck Rhoades (Giamatti), goes one-on-one in a public debate with a rival hedge fund manager. It's a nod to the Sohn Investment Conference, held early every May at Lincoln Center in New York. In this case it's a throwback to an epic battle over Herbalife between famed hedge fund managers Carl Icahn and Bill Ackman.
The series also gets right one of the aspects of Wall Street that too many of its critics miss: that many of its biggest winners, far from being born with a silver spoon in their mouths, come from the wrong side of the tracks.
Axelrod, the sole surviving partner of Axe Capital after 9/11, didn't go to Harvard or Yale but to Hofstra, a commuter college on Long Island. He caddied at a golf club for people who treated him like dirt – and that motivated him to be able to buy them out. For Axe, revenge – or justice – is sweet, and money is a way to reward friends and deliver that justice.
And he loves the fruits of his success. "Who's more low key than me?" he demands of his closest colleague, just before climbing into his private helicopter, en route to a benefit.
Small details are true-to-life, including the fleece tops the hedge fund guys wear to aggressive and edgy Axe Capital morning meetings, where colleagues challenge each other and "Axe" makes rapid-fire decisions about how much to buy: "50 on the tape, and we'll size up later."
There's even one scene where the team gathers around to bet on how fast a trader can scarf down a plateful of pastries, screaming and cheering him on.
It's clear that Axe Capital and the crusade by DA Rhoades to shut it down is modeled at least in part on the years-long battle by US attorney Preet Bharara to take down Cohen. Bharara, like Rhoades, took aim at Cohen's closest allies one at a time, dragging them in front of grand juries and trying to obtain enough evidence to shut down a $14bn empire. Like the fictional Axe, Cohen had a remarkably high fee structure and remarkable performance results: too remarkable, many market insiders believed.
Clearly, Rhoades is cut along the same lines as Bharara: driven to nail his target at all costs. Cohen, however, may want to consider giving the Showtime crew and Damian Lewis a big bonus for making him look so glamorous and (relatively) warm-hearted.
The real Cohen, a trader with a penchant for buying art (from Picassos to pickled sharks) isn't known for his warmth or people skills. A camera trained on his face at his desk captures the commands that he shouts to his subordinates. Lewis's characterization presents Axe as a guy from the wrong side of the tracks for whom you can't help rooting, even if he might have done something slightly illicit; someone who knows how to bond with his team even when he demands that they deliver the max.
There's a lot of financial jargon here that likely will fly right over the heads of many non-Wall Street folks – offhand references to short squeezes, alpha and phenomena such as "classic trading flow". Clearly, the producers figure that the pacing and overall drama of the story – there's enough sex, deception, lies and betrayals in the first six hours to keep your mind whirling – will mean that you won't fuss too much if you don't grasp all the nitty gritty details.
And they're probably right. Why wouldn't you want to watch a drama where one of the characters snarls about another: "He's nothing but a filthy money pig"?
Turning finance into drama is tricky, and rarely works well – especially if, as the producers suggest, they were trying to tackle the question of "duality", of good and evil packaged together inside key characters. (By the time Axe and Rhoades sit down for a key face-to-face meeting in episode six, you can almost predict just what sparks will start flying, and why …) Sure, Gordon Gekko makes a great antihero in Wall Street, but that's precisely because his "greed is good" mantra is so absurd and patently untrue.
The best financial dramas I've seen, the ones that capture what really happens on Wall Street as opposed to just its exterior glitz, tend to be those that are quieter, more subtle and very nuanced, like Margin Call. The Big Short is very entertaining, in its own way, and did a good job (with the help of Jenga blocks) making sure people understood what a collateralized debt obligation is. But it also painted a rather selective and opinionated view of how we should respond to the financial crisis.
But even if books – fiction or non-fiction – tend to do a better job than movies or television in putting us on a Wall Street trading floor, whether they are penned by the likes of Michael Lewis or (and early favorite of mine) British financial thriller writer Michael Ridpath, Billions has all the ingredients of a compelling financial suspense novel such as the just-released The Underwriting, by Michelle Miller.
Now that I don't need to worry about encountering any horrible bloopers (inaccurate terminology, impossible or improbable behavior) on the part of the Wall Street characters, I can't wait to see what happens next.