labor
Detroit Teachers Launch Massive Protest After Learning They Won't Be Paid This Summer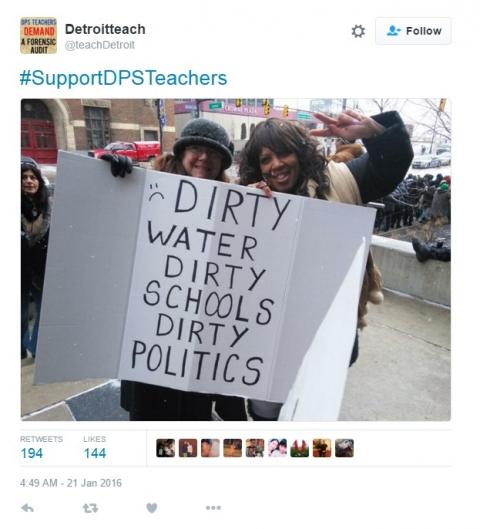 ,
Teachers across Detroit called in sick to work on Monday — a "sick-out" protest that ultimately shut down all but three public schools in the city because there weren't enough teachers in class.
The coordinated protest, which was organized by the Detroit Federation of Teachers, came soon after the school district's emergency manager, Judge Steven Rhodes, announced that there won't be enough money to pay teachers after June 30.
"Detroit teachers deserve to be paid fairly for their work like every other working person… But Detroit Public Schools has just informed us that it cannot guarantee to pay these dedicated men and women for their work. This isn't right. It isn't fair," the president of the teachers union, Ivy Bailey, told the Detroit News.
In January, in an effort to bring attention to the condition of Detroit schools, teachers used the same "sick-out" tactic to shut down many schools. They posted photos to social media of inedible food, dead rodents, and cracks in the floors, among other problems. After the sick-outs, Detroit Mayor Mike Duggan (D) called for inspections of all of the schools and found evidence of many of the same problems teachers cited.
Detroit Public Schools is in major financial distress, and lawmakers and educators have been concerned the school system will go bankrupt. After being sued by the teachers union and dealing with weeks of sick-outs, DPS filed a lawsuit against the state last month, claiming that the state violated the civil rights of students through its emergency manager law.
Michigan Gov. Rick Snyder (R) signed legislation for emergency funding of $48.7 million to keep the school system running until the end of the school year, but now students and educators are left without a long-term solution for paying their salaries and funding summer school programs. The state legislature is considering a restructuring plan to pay off the school system's operating debt.
Teachers will protest outside the Fisher building, a skycraper in the city, and they plan to hold an emergency meeting on Tuesday night, Detroit Free Press reported, to decide whether to "authorize a major collective action." Though it's unclear whether that could mean a strike, the union's president told the Detroit News that every option is on the table.
Strikes by public employees such as teachers have been illegal since the 1947 Hutchinson Act passed, but that hasn't stopped teacher strikes throughout the years. In the 1960s, the law was changed so that there were no longer penalties for striking, MichiganLive.com reported.