House Democrats End Gun Control Sit-in After 26 Hours; Concern Over Civil Liberties, Muslim Profiling
Rep. John Lewis (D-Ga.), the civil rights icon, spearheaded the effort, denouncing Congress for its failure to act in the wake of mass shootings. Democrats sat down on the floor of the House chamber Wednesday - and forced a temporary recess.,Huffington Post
By David Smith and Sabrina Siddiqui
June 23, 2016
'We are going to win this struggle' says John Lewis in vowing to continue fight after July Fourth recess as Republicans signal they will still oppose reform.
Democrats concluded a historic
sit-in
on the floor of the House of Representatives on Monday, capping their 26-hour protest with vows to press on in the fight for gun control reform.
Republican leaders signaled continued opposition to any reform, in the wake of the
attack at an Orlando LGBT nightclub
that left 49 dead in the worst mass shooting in US history.
"Never ever get lost in a sea of despair," said John Lewis, the
congressman from Georgia
who was a leading participant in the civil rights movement and who led the sit-in. "We are going to win this struggle."
Nancy Pelosi, the House Democratic leader, stood on the steps of the Capitol to declare "a new dawn of a new day in our fight to disarm hate".
With deliberate reference to the civil rights era,
Democrats
defied the rulebook on Wednesday, speech after impassioned speech demanding a vote on gun safety measures.
Members held up the names and photos of shooting victims, sang the 1960s civil rights anthem We Shall Overcome and drowned out the gavel-wielding House speaker, Paul Ryan, as
Republicans
looked on silently or chatted among themselves. The protest inspired members of the public to punch the air and cheer from the gallery or gather on Capitol Hill for a spontaneous show of support.
The time-honoured form of civil disobedience was boosted with cutting-edge technology. After the House leadership switched off the TV cameras and microphones, members broadcast speeches live via Facebook or Periscope.
The historic moment was nonetheless unlikely to produce a breakthrough on gun reform. Speaker Ryan dismissed it as a "publicity stunt" motivated by politics over policy.
"I don't think this should be a very proud moment for democracy," he told reporters on Capitol Hill on Thursday, while adding that the tactics employed by Democrats set "a very dangerous precedent" for the legislative process.
"We are not going to allow stunts like this to stop us from carrying out the people's business," he said.
Over in the Senate, proponents of reform secured the narrowest of victories as a bipartisan compromise designed to prevent individuals on the terror watchlist from purchasing firearms survived a test vote. The bill, which would bar gun sales to people who are on the no-fly list or subject to extra screening at airports, secured the backing of eight Republican senators along with a majority of Democrats.
While the Senate must still vote on its passage, the amendment received enough support to clear a procedural hurdle despite efforts by Republican leaders to kill it on the floor by bringing up a competing alternative.
Those Republicans voting in favor of the bill, which was sponsored by Maine senator Susan Collins, included vulnerable incumbents facing touch re-election battles this year: Kelly Ayotte, of New Hampshire, Mark Kirk, of Illinois, and Pat Toomey, of Pennsylvania. Former Republican presidential candidate Marco Rubio,
who is seeking re-election in Florida
, voted against the compromise.
With Congress adjourning for a week-long recess, Democrats pledged to return from the 4 July holiday with a renewed effort. On Thursday, they were content with having sent a message they said would reverberate across a nation increasingly frustrated by gun violence that claims about 90 lives a day.
As the House protest passed 24 hours in length, New York representative Sean Patrick Maloney performed an adaptation of the St Crispin's Day speech from Shakespeare's Henry V, declaring that Republicans "shall think themselves accursed they were not here".
The drama had observers reaching for the archives and veteran representatives saying they had never seen anything like it. It showed Democrats' willingness to push boundaries after years of political deadlock that has brought Washington into widespread disrepute.
In countless speeches, members told stories of people killed by guns and said they felt compelled to cause "trouble" after years of inaction, particularly after the recent massacre of 49 people and wounding of 53 at an LGBT nightclub in Orlando. Throughout the night, they chanted "No bill, no break!" and frequently paid homage to Lewis, who had advocated "getting in the way".
Lewis, 76, spent long spells sitting on the carpeted floor with colleagues. He told the Guardian: "Sometimes you have to do something out of the ordinary to dramatise an issue, to make it real, to make it plain so the American people could understand what it's all about.
"At another period of our history, at the height of the civil rights movement, we had sit-ins and stand-ins and rioting so maybe, just maybe, we thought it would be effective by having something similar on the House floor."
Lewis was beaten by police in the 1965 civil rights march in Selma, Alabama, and led sit-ins at segregated lunch counters in Tennessee.
"It brings some unbelievable memories but I never thought, never dreamed that one day I would be sitting down on the floor of the
House of Representatives
, not on a chair, but on the floor, to say to the leadership of the House, bring a bill to the floor, give us a vote to do something about gun violence," he said.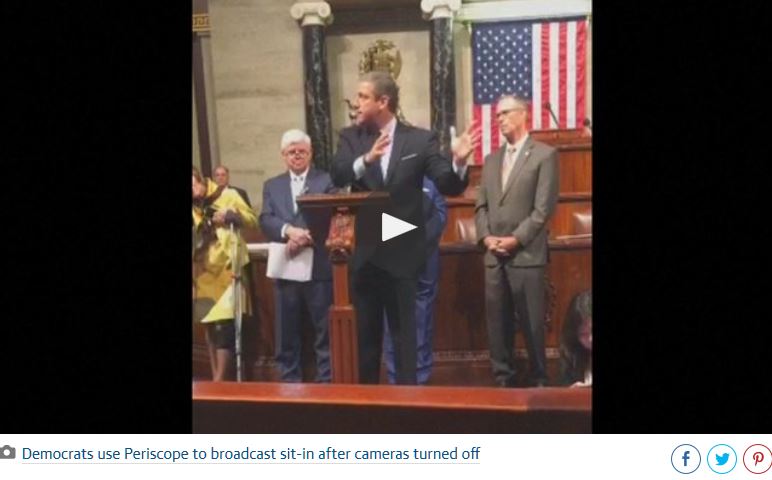 Credit:  The Guardian
The collective demand for a vote on measures to expand background checks and block gun purchases by individuals on the FBI's terror watchlist had made little headway during conventional business. It has been a constant frustration for President Obama, who has openly wept when discussing the victims of mass shootings, including children.
The rebellion began at 11.25am on Wednesday and continued into Thursday morning as one extraordinary day on Capitol Hill merged into another. A group of Democrats led by Lewis occupied the "well" in front of the dais and sat on the floor, some cross-legged.
Raucous scenes continued through the evening and past midnight as the group defied Ryan with shouts, chants, songs and boos. There were ugly exchanges with Republicans, including raised voices and jabbed fingers.
At one point Louie Gohmert, a Texas Republican, stood toe to toe with Corrine Brown of Orlando in a confrontation that looked set to spiral out of control until Lewis and others intervened.
"Radical Islam killed these people!" Gohmert shouted.
The Texan later told the Guardian he was angered by disregard for the procedures of the House, which he called a "last bastion of civility", and that "these 49 victims [of Orlando] were being disrespected . I'm amazed here on the House floor that to them [Democrats] it's all about guns. The truth is that radical Islam is at war with western civilisation and moderate Muslims want this to stop."
Gohmert condemned the sit-in, saying: "It is really outrageous and it should have been stopped many hours ago. It is a complete violation of the rules on filming, on taking pictures and just disrupting. You're not allowed to speak unless you're at one of the microphones and you're recognised. To just completely take over the floor when we're supposed to be in session: it's unprecedented."
In his press conference on Thursday, Ryan placed the blame for Orlando on terrorism and also criticised Democrats for fundraising on the back of the protest, holding up solicitations for donations sent by the party's electoral committees.
"If this isn't a political stunt, then why are they raising money off this, off of a tragedy?" Ryan said.
"Now, Democrats can talk all they want - I'm really not sure what their plan or endgame is here - but the bottom line is despite these distractions, we did our job. We did the people's business. And we will continue to do so."
The sit-in continued through a series of legislative proceedings - unrelated to gun control - that dragged into the early hours of Thursday, with representatives coming and going to take part in votes while the Democrats maintained their encampment. As the night wore on, numbers thinned out and some members clutched blankets and pillows.
Representative Mike Doyle of Pennsylvania shouted: "We've had it. We're not going to watch any more people in this country get slaughtered and do nothing!"
Representative John Garamendi of California unleashed an angry tirade at the absent House speaker. "Where the hell are you?" he shouted. "Take your responsibility seriously and give us a vote!"
Representative Maxine Waters of California said: "I am willing to stay here until hell freezes over. We're here because we can't take it any more . We can't take burying our young people."
There were also lighter moments during the long night. Representative Ted Deutch quoted the poet Rudyard Kipling and singer Bruce Springsteen.
One member asked: "When was the last time you sat on the floor?" Someone shouted back: "The 60s!"
Republican leaders ordered the C-Span TV network's cameras to be switched off but Representative John Larson of Connecticut said: "They can turn off all the TV they want, but they can't stop us from doing what we know is the right thing here in this well."
Representative Beto O'Rourke, one of the main sources of live streaming, sat for hours with his phone pointed at the speakers.
"Tens of thousands of people are vigorously debating these issues on Facebook, on Periscope," he said. "The only place in this country where we have not had this debate and this urgency is the floor of the House of Representatives."
A senior Republican House leadership aide said that according to rules voted on by all members of the House at the beginning of the Congress, cameras are only switched on when the House is in session.
Obama expressed support for the demonstration. His Twitter account said: "Thank you John Lewis for leading on gun violence where we need it most." Hillary Clinton, effectively the Democratic nominee for president, tweeted: "This is what real leadership looks like."
A week earlier, Senator Chris Murphy staged a near 15-hour filibuster to force votes in the Senate on gun legislation,
which ultimately failed
. Murphy said: "John Lewis is a true hero. No one in Congress has done more throughout the course of their life to stand up for justice and righteousness. I'm proud of my Democratic colleagues in the House today."
[David Smith is the Guardian's Washington correspondent. Sabrina Siddiqui is a political reporter for Guardian-US based in Washington DC. She previously covered US politics for the Huffington Post and worked with the White House team at Bloomberg News.]
The historic sit-in in the House is impressive to behold, but the two proposals the Democrats are demanding a vote on are very problematic
By Phyllis Bennis
June 23, 2016
It was almost midnight when I found myself glued to the live video of scores of Democratic congressmembers then about twelve hours into their historic sit-in. They were occupying the House chamber, jerry-rigging a social media-based broadcast when the Republican leadership shut-down the C-Span cameras, rising one after another to speak with passion, reminding the nation that business as usual is no longer okay. They are proud of themselves and each other, as they should be. They are grateful to civil rights icon and Georgia Congressman John Lewis who has been leading them in speaking truth to power.   By late morning Thursday they were continuing to occupy the House.  Despite the Republican leadership announcing that the House is not in session, they are insisting that there be no congressional recess without voting on the proposed bills, and they are demanding that the public, filling the galleries, be allowed to stay.
They are reminding the world that since 1968 more Americans have been killed in gun violence than in all the wars in US history. They are demanding a vote on gun safety laws. It's a moving, empowering thing to see.  It's rare, powerful, and should be applauded.
"It's a moving, empowering thing to see... And yet. There's a huge problem."
And yet. There's a huge problem. The two proposals the Democrats are demanding a vote on are very problematic.  One bill proposes only a small, completely insufficient expansion of background checks.  The second would not only be ineffective in preventing gun violence, but would cause a dangerous increase in racial profiling and Islamophobia.  That second bill is the basis for the slogan "no fly, no buy" – which refers to making sure that no one on law enforcement's so-called "no-fly" lists is ever allowed to buy a weapon. 
If we were talking about actually preventing real terrorists from buying weapons, that would be a no-brainer.  But the "no-fly" lists are not lists of terrorists; they are lists of people –  American citizens, green-card holders, visitors, citizens of other countries – who end up on the FBI's or other law enforcement agencies' lists for reasons we and they never know. Maybe they share a name with someone once suspected of knowing someone whose second cousin once skyped with someone thought to be a would-be terrorist. Maybe their college roommate ended up trying to go to Syria. For some few of them, maybe they really do have dangerous intentions. But there are thousands of people on these lists. Most of them can't even find out why they're not allowed to fly, let alone succeed at challenging the prohibition.  We should not forget that President Nelson Mandela remained on the US "terrorist" watch-list until 2008. What the American Civil Liberties Union calls our "error-prone and unfair watch-listing system" doesn't produce a list of terrorists at all.
If it was up to me, I'd prohibit anyone – anyone, on or off those lists – from buying or possessing these lethal weapons.  But it's not up to me.  And unfortunately the "no fly, no buy" rule being proposed in the newly militant House tonight is not going to prevent gun violence either.  What it is going to do, unfortunately, is further legitimize these watch lists, now as the basis for a politically more popular version of gun control.  But as the ACLU noted, "Our nation's watch-listing system is error-prone and unreliable because it uses vague and overbroad criteria and secret evidence to place individuals on blacklists without a meaningful process to correct government error and clear their names." 
And we know that those "vague and overbroad criteria" end up being applied disproportionately to Muslims, Arabs, South Asians and others wrongly assumed to be linked to terrorism.  It is terribly sad that some of our most principled, consistent members of Congress – members of the Black Caucus, the conscience of the Congress, and the Progressive Caucus, whose members work against racism, against racial profiling, against Islamophobia and hatred, against war and beyond – are among those accepting and urging even greater reliance on this "error-prone and unreliable" system in the name of preventing gun violence.
The Democratic leadership is refusing to allow their now-insurgent party to officially endorse the most sensible (however insufficient) versions of gun control laws:  outlawing assault weapons, removing the prohibition on federal research on the public health consequences of gun violence, and universal background checks.  Those things, lethally opposed by the NRA, would not stop the epidemic of gun violence in this country but unlike the no-fly lists they would certainly help.  Some in the sit-in rejected those restrictions. At12:35 in the morning, Texas Rep. Beto O'Rourke, one of those who had set up the live-streaming of the debate after the Republican leadership turned off the cameras, rose to call for all three of those goals.
The congressional sit-in is bringing moral power and renewed urgency to the cause of gun control. Watching the Democrats shout down Republican leaders desperately trying to reclaim control of the House might challenge the partisan bickering that has paralyzed Congress for years. It may mark the beginning of a turn towards the re-legitimation of Congress, long demonized as the least effective, least useful, least popular institution around. That renewed legitimacy, though, would be far more likely achieved if these members of Congress, as they consolidate their new moral credibility, would finally reject the current iteration of "no fly" lists as the basis for gun control – or indeed, as a valid method of counter-terrorism.
The Congressional sit-in protesters should be congratulated for standing up for their principles. And they should be pressured to make sure their plans to act on those principles don't undermine other principles of civil rights and equality.
[Phyllis Bennis directs the New Internationalism Project at the Institute for Policy Studies.  Her most recent book is Understanding ISIS and the New Global War on Terror. Other books include Understanding the Palestinian-Israeli Conflict: A Primer, Understanding the U.S.-Iran Crisis: A Primer, Ending the Iraq War: A Primer, and Ending the Us War in Afghanistan: A Primer. If you want to receive her talking points and articles on a regular basis, click here and choose "New Internationalism." You can find her on Facebook here. ]
This work is licensed under a Creative Commons Attribution-Share Alike 3.0 License