labor
U.S. Labor Board: Graduate Students at Private Colleges Can Unionize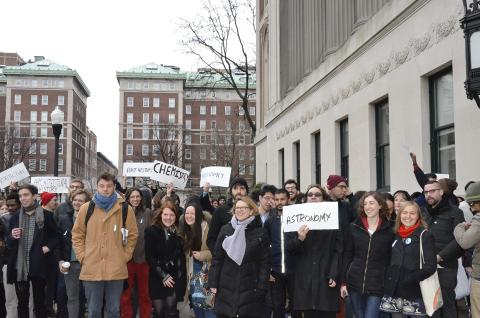 More than 100 graduate students at Columbia University in New York City march in 2014 to demand that the university recognize their union.,Kadaja Brown/Columbia Spectator
Columbia University graduate students who work as research and teaching assistants can form a union, the U.S. labor board ruled on Tuesday, opening the gates for graduate student organizing on private campuses all over the country.
In a 3-1 vote, the National Labor Relations Board (NLRB) said that graduate students working as academic assistants are employees who get organizing rights under federal labor law.
The NLRB's decision allows Columbia University research and teaching assistants to vote on whether they want to join a United Auto Workers affiliate.
The decision only applies to private colleges. Organizing rights for graduate students at public colleges depend on each state's labor laws. Graduate students have formed unions in more than a dozen states.
Columbia University disagrees with the decision, university spokeswoman Caroline Adelman said in a statement.
"First and foremost, students serving as research or teaching assistants come to Columbia to gain knowledge and expertise, and we believe there are legitimate concerns about the impact of involving a non-academic third-party in this scholarly training," Adelman said.
UAW official Julie Kushner praised the decision during a press call, saying that it marks an "historic day" for graduate students.
Columbia University graduate students are ready to vote to unionize as early as this fall, after the NLRB regional director in New York determines who is eligible to participate in the election, Kushner said.
Kushner said the UAW is working with graduate students at Harvard University and the New School. Graduate students at the New School already have a petition for a union election pending at the NLRB.
Graduate students at private colleges such as Duke University, Northwestern University, St. Louis University and American University have also taken steps towards unionizing, the Service Employees International Union said in a statement.
With Tuesday's decision, the NLRB overturned its own ruling from 2004 that had barred graduate student unionization. It is the second time the NLRB has said graduate students can unionize.
The NLRB first found that graduate students at New York University could form a union in 2000, when the board was controlled by Democratic members.
Partisan control of the board flipped after the 2000 election of Republican President George W. Bush, clearing the way for the 2004 decision that graduate students could not unionize.
The NLRB has been controlled by Democratic members since the 2008 election of President Barack Obama.
(Reporting by Robert Iafolla; Editing by Alistair Bell and Alan Crosby)